by: -RoG-
...CONTINUED
WELL HERE'S ONE PLACE WE DON'T NEED TO DECORATE BECAUSE IT'S ALREADY GREAT! LOOKS LIKE THE WITCH WHO OWNS THIS HOME HIRED A GARDENER WHO ACCIDENTALLY SPRINKLED MIRACLE GROW ON HER CAT INSTEAD OF HER PLANTS! THAT'S OKAY THOUGH, BECAUSE THIS KITTY CAN BOP WITH THE BEST OF 'EM! HEY KITTY, DON'T LITTER! GET IT? KITTY LITTER! HAHA! THE POPSTER IS FILLED WITH SO MANY HILARIOUS JOKES THAT CAN COAX MANY FOLKS TO CHOKES WITH HALLOWEEN GUFFAWS! NICE MEETING YOU, HEPCAT, BUT WEREWOLF POP AND I HAVE SOME DECORATING TO DO! LET'S SKEDADDLE!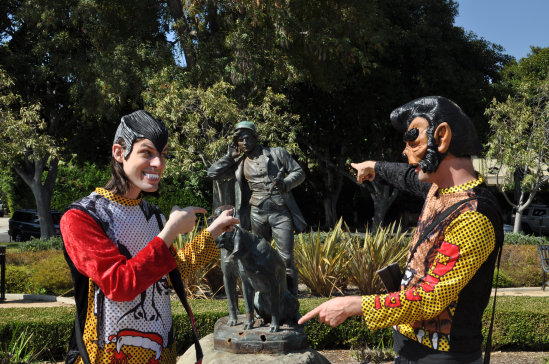 LOOKEE HERE! WE HAVE A MAN AND HIS DOGS FEELING LOOKING ALL GRAY. GRAY LIKE THAT MOVIE "GRAY LADY DOWN", ONLY THEY'RE NOT DROWNING UNDER THE OCEAN IN A SAD SUBMARINE, THEY'RE DROWNING ON LAND IN A SAD PARK WITHOUT HALLOWEEN!
WAIT A MINUTE! LOOK CLOSELY AT MISTER STATUE THERE! HE'S TRYING TO GIVE US A CLUE AS TO WHAT WE SHOULD DO!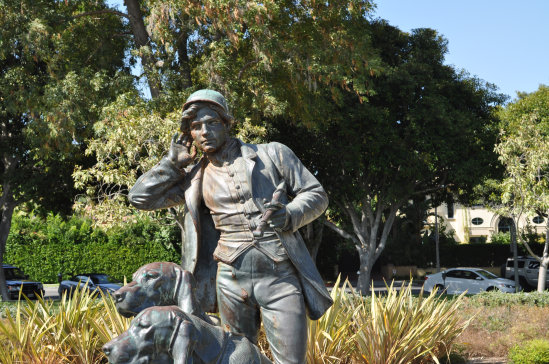 LOOKS LIKE HE'S LISTENING OUT FOR SOME OF THE FINEST ROCKABILLY TUNES THAT ROCKTOBER HAS TO OFFER! WELL THE OL' POPSTER HAS JUST THE THING TO MAKE HIS JUGULARS JINGLE WITH JUBILATION!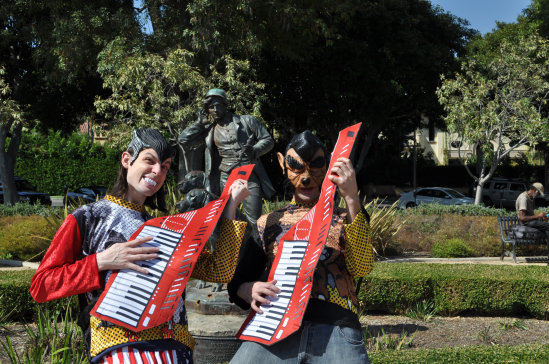 IT'S TIME FOR A SPAR WITH DUELING KEYTARS TO MAKE THEM DOGGIES HOWL AT THE MOON! THOUGH, IN ALL HONESTY, THAT WOULD BE PRETTY RIDICULOUS FOR THEM TO HOWL AT THE MOON RIGHT NOW SINCE IT'S NOT EVEN NIGHTTIME OR FRIGHTTIME!
HOLD ON HEPCATS! MAYBE THAT'S WHAT HE NEEDED ALL ALONG! HE NEEDED SOME MUSIC TO PLAY SO THEY CAN HOWL AT THE MOON COME NIGHTFALL! WELL, WE HAVE WAY TOO MANY THINGS TO DECORATE HERE IN THE CITY OF LOS HALLOWANGELES, BUT LET'S DECORATE THIS GLUM GRAY CHUM WITH SOME ROCKABILLY RED!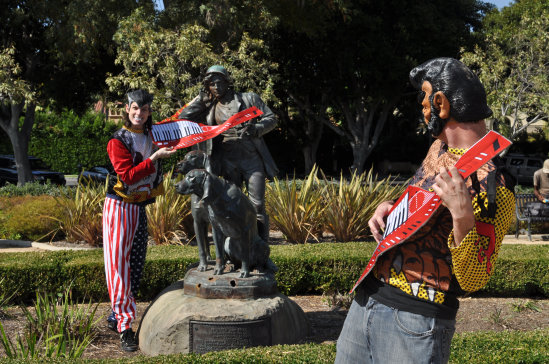 THERE YA GO! NOW YOU CAN PLAY YOUR RADICAL RED KEYTAR ALL THROUGH THE WEE HOURS OF THE NIGHT UNTIL EVERYTHING TURNS ONCE AGAIN FROM DARK TO LIGHT! SORRY WE CAN'T LEAVE YOU WITH BOTH KEYTARS, BUT WE GOTTA KEEP ONE SO WE TOO CAN HAVE SOME RABID RED ROCKTACULAR FUN! CATCH YA LATER TATER!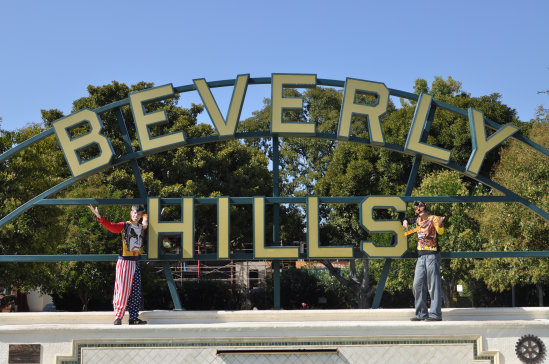 NOW HERE WE ARE AT THE BIG BEVERLY HILLS SIGN! WHERE ARE THE HILLS? WHERE ARE THE BEVERLIES? I DON'T KNOW, BUT EVEN WORSE, IS THEY HAVE NO SIGNS OF HALLOWEEN AND THAT'S NOT TOO KEEN! FORTUNATELY, WEREWOLF POP AND I HAVE JUST THE CURE FOR A SIGN THAT TENDS TO BORE!
THEY MAY NOT HAVE HILLS OR BEVERLIES, BUT NOW THEIR SIGN IS SHOWING SOME REAL HALLOWEEN PUMPKIN PALS PRIDE! MAYBE NOW THEY CAN CHANGE THEIR NAME TO BOOOOOOOOOVERLY CHILLS! I'D LEAVE MORE DECORATIONS FOR THEM, BUT THE OL' POPSTER HAS A FEELING THE PEOPLE WHO LIVE HERE CAN AFFORD SOME DECORATIONS OF THEIR OWN - EVEN THOUGH THEY PROBABLY WON'T BE AS NICE AS THESE ONES! THESE DECORATIONS ARE SURE TO CATCH ON LIKE WILDFIRE ANYWAY, SO IT'S ONLY A MATTER OF TIME BEFORE THE ENTIRE CITY LOOKS LIKE HALLOWEEN GAVE BIRTH TO IT!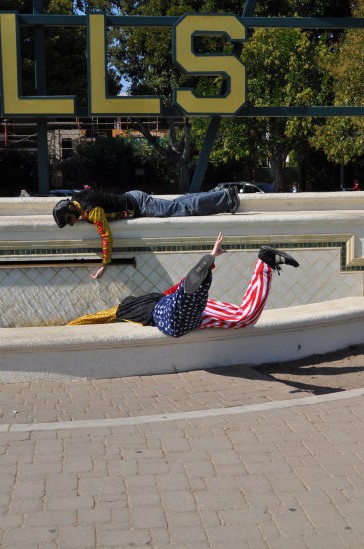 WE'VE ALREADY CONVERTED TWO LOS HALLOWANGELES LOCATIONS INTO SPOOKTACULAR SIGHTS! I THINK WE DESERVE A LITTLE REWARD! COME ON WEREWOLF BUDDY! LET'S DRINK FROM THE FOUNTAIN! DID YOU KNOW THAT IF YOU THROW A PENNY IN A FOUNTAIN, YOU CAN MAKE ONE WISH? OF COURSE YOU KNEW THAT! BUT DID YOU KNOW IF YOU DRINK FROM A FOUNTAIN, YOU CAN MAKE ALL THE WISHES YOU WANT AND THEY'LL ALWAYS COME TRUE? THE POPSTER WOULDN'T KID YOU ABOUT SUCH SERIOUS MATTERS! IT'S REFRESHING TOO, BECAUSE FOUNTAINS HAVE CLEANER WATER THAN MOUNTAIN SPRINGS! IF YOUR POP PAL WASN'T A GALACTIC BOPPER POPPER, HE'D BOTTLE THIS FOUNTAIN WATER AND GO INTO BUSINESS!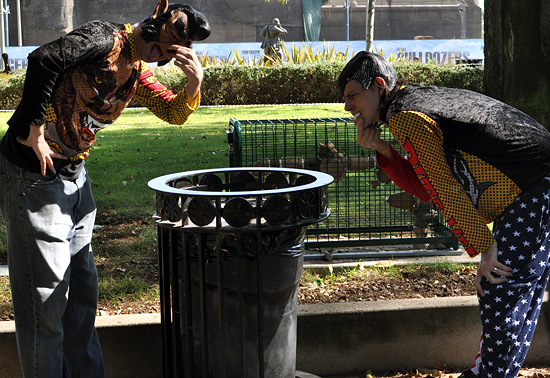 WEREWOLF POP: "BLAAAAAAAAARGHHH!! THIS THINGS IS SUPER STINKY! IT SMELLS LIKE A BIG OL' VAT OF BILE BAT BARF!"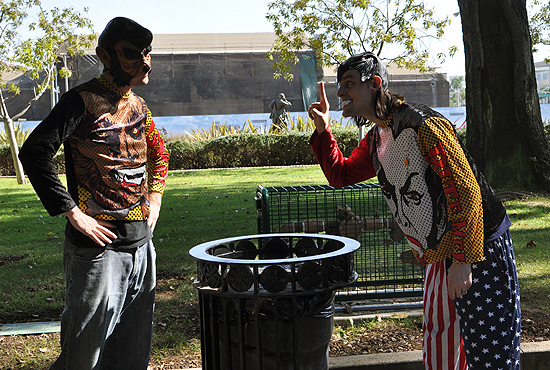 HAHA! OH WOLFY, YOU'RE RIGHT THAT THIS CAN DOESN'T SMELL TOO GREAT, BUT THAT'S JUST THE PEOPLE AROUND HERE TRYING TO CELEBRATE HALLOWEEN! IT'S A SPOOOOOOKY DOOKY SMELL! BUT DON'T WORRY, SINCE IT'S A TRASH CAN, WE CAN IMPROVE IT WITH A DECORATION OF OUR OWN!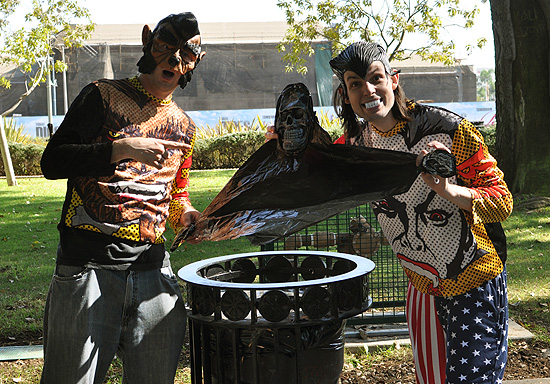 TRASH CAN GHOST TO THE ROCKTOBER RESCUE!!!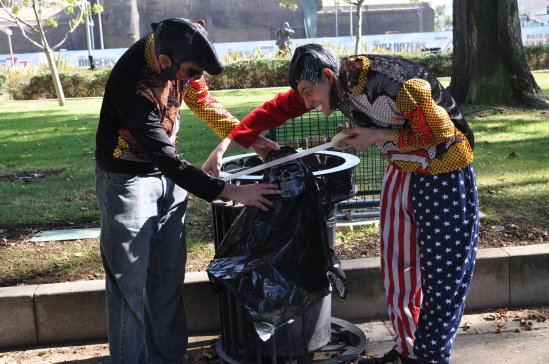 ALL WE GOTTA DO IS TAPE THIS BIG BAD BOOGEDY BOPPER ONTO MISTER STINKY TRASH CAN HERE, AND IT'LL INSTANTLY BECOME THE SPOOKIEST ROGUE RECEPTACLE THIS TOWN HAS EVER SEEN!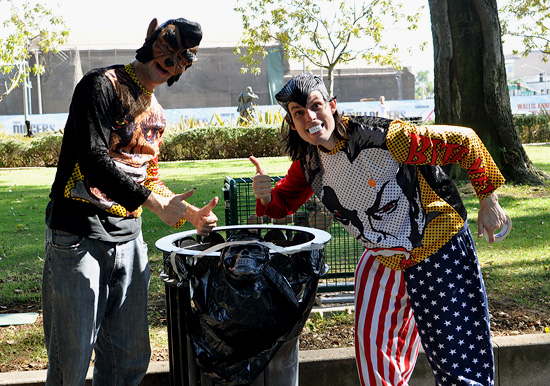 NOW IF THAT ISN'T SOME PHANTASMAL POP PERFECTION, I DON'T KNOW WHAT IS! I STAKE MY PATENTED AMERIPANTS™ ON MY HALLOWEEN DECORATING SKILLS THAT PAY THE BILLS! IT'S NOT EVERY DAY THAT A ROCKABILLY VAMPIRE USES THE WORD "STAKE", SO WHEN HE DOES, YOU KNOW HE MEANS BIPPITY BOPTOBER BUSINESS!!!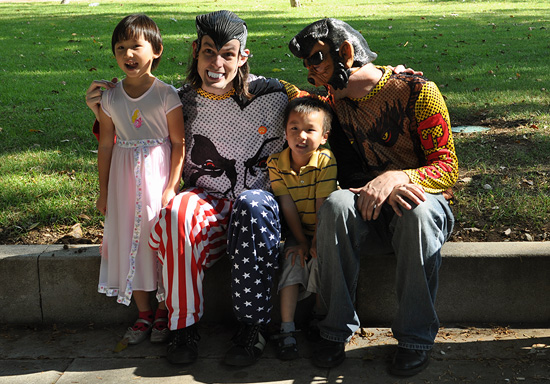 OH HERE WE GO! THIS HAPPENS ALL THE TIME! WHEREVER OL' COUNT POP GOES, HIS FANS ARE SURE TO FOLLOW! THESE WERE THE FIRST OF HUNDREDS OF COUNT POP FANS WHO WANTED TO GET MY AUTOGRAPH AND TAKE A PHOTO WITH ME! WELL THAT'S NO PROBLEMO, BECAUSE THE POPSTER IS MORE THAN HAPPY TO POSE WITH HIS HALLOWEEN BUDDIES!
NO WEREWOLF POP! DOWN BOY! YOU'RE NOT ALLOWED TO EAT COUNT POP'S FANS! IF YOU EAT THEM ALL, THEN WHO'S GONNA LISTEN TO MY ROCKABILLY TUNES!? NOBODY BUT THE FISHES IN THE SEA, AND THEY ALREADY LISTEN TO AQUAMAN'S ACAPELLA ALL THE TIME AND COUNT POP DOESN'T WANNA UPSTAGE HIM!
TELL YA WHAT, WOLFY! I CAN TELL YOU'RE GETTING HUNGRY SINCE YOU TRIED GNAWING ON THAT LIL' FAN'S NOGGIN, SO LET'S GO GRAB A PIZZA PIE FOR MY FAVORITE SIDEKICK GUY!
Oh but there's still much more!
CLICK HERE TO CONTINUE TO
PAGE 3 OF COUNT POP'S STORY!