---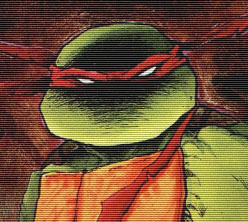 Now you've done it...
As soon as you started jumping around and doing "ninja kicks" like a complete jackass, trying to act like a Teenage Mutant Ninja Turtle, the entire gang started bursting into laughter.
"This dumb kid thinks he's a ninja! bwahahahahaha!", said the leader..
As embarrassed as you were, you thought that they might actually let you go since you amused them. And that may have been true, but unfortunately for you, there was a manhole cover nearby.
Guess who was down in the sewer there listening to your entire conversation? Yup. Raphael... the Ninja Turtle with a BAAAAAD temper. As soon as he saw you doing a bad impersonation of his moves, he could no longer contain his rage. He exploded onto the surface from under the sewer and proceeded to hand you the beating of a lifetime. The gang cheered him on as they continued to laugh about your pathetic "ninja display".
"You think you're a turtle, kid? Well I'm gonna open you up to see if there's any green in you at all!", said Raphael.
And open you up, Raphael did. Once he was done beating you and tearing you to shreds, he threw your lifeless body to the ground. So what have we learned here today?
DON'T IMPERSONATE A NINJA TURTLE UNLESS YOU CAN BACK IT UP!