---
"BWAHAHA! TOILETRIES YOU SAY? TOILETS DON'T GROW ON TREES!" you exclaim. "BUT TOILET PAPER DOES! WHY? BECAUSE PAPER COMES FROM TREES. AND TOILET PAPER IS MADE FROM PAPER! ISN'T THAT FANTASTIC!? WHY, I THINK I'LL GO RETURN SOME TOILET PAPER TO WHERE IT CAME FROM!"

Just then you dash off into the night and begin your conquest to return all toilet paper back to the trees where they came from. By the end of the week you've covered damn near all of the trees in town with toilet paper. That's all fine an dandy until a certain legendary Indian discovers what you've done.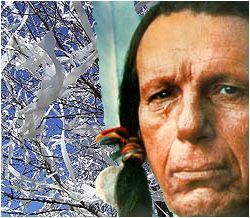 Iron Eyes Cody thought he'd seen the worst of pollution in the past when he cried on national television. Then you pulled this stunt. But he's done shedding tears. Now he's taking scalps, and guess who's first on his list?