---
Mongoose may be tough 'n all, but nobody can pull off crazy like you can. NOBODY! You look Mongoose directly in the eyes and ask him one very simple question: "Say there Mongoose ol' buddy ol' pal, can you tell me what throat tastes like?" He looks confused and replies, "Uh, no, but you've got about five seconds to tell me before I show you what fist tastes like!" Your eyes glaze over as you cackle like a madman, "HAHAHAHAHA! WITH PLEASURE!"
Just then you pounce on Theodore Bomblehomper and tear out a huge chunk of his throat with your teeth! Theodore tries to scream, but due to all the blood, he just makes this nasty gurgling sound and then passes out. Covered in blood you look up at your terrified bunkmates, "Throat tastes fine! MIGHTY FINE!"
Mongoose shits his pants within a matter of seconds and then faints. Francis Franklin Finglefinker just stands there like a deer in headlights, too afraid to even blink. You walk over to Mongoose and slap him in the face until he wakes up, and then you instruct him to pry up one of the floorboards in your cabin and bury the lifeless body of poor Theodore Bomblehomper.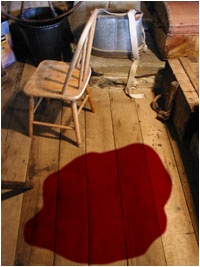 Mongoose goes to work but even when he's done, there's a huge bloodstain on the floor of the cabin, so you just cover it with a bearskin rug that just happens to be nearby. "You'll speak of this to nobody, unless you want to join him. Understood?" you warn them both. They nod in nervous agreement.
You then try to calm them down and explain your actions, "Look, he was obviously the kind of person who would've slowed us down in a deadly situation. You know, like a giant river of lava would be headed our way, and we'd try to help him out, only to have our legs melted off in the process. Something like that." "Whatever man! Just don't eat our throats man! Please! Oh god please!" Mongoose whimpers.
"Sure, no problem. Now let's all step outside and get some fresh air."
The three of you step outside and just as you start to go for a walk, a portal opens up and a giant angry watermelon appears before you! "WHAT IN THE HELL OF ALL THAT IS HELLISHLY HELLISH IS THIS HELLACIOUS THING!?" you all somehow scream in perfect unison.
The watermelon gazes upon the three of you, "I AM MELONOMA, THE DEMON OF JUICINESS! IN A PREVIOUS LIFE, I LIVED IN THE CABIN WHICH YOU HAVE JUST DEFILED WITH HUMAN BLOOD. I CONSIDER THIS AN ACT OF WAR, AND WILL KILL WHOEVER IS RESPONSIBLE FOR IT!"
While you're admittedly nervous, you decide to hide it because you don't want the other two to think you're a wimp. Not that they would, since you just tore out some poor bastard's throat, but still, you've now got a rep to maintain. "PASHAW! I AIN'T AFRAID O' NO STINKIN MELON! HAVE AT YOU!"
And so, the battle is on. Man vs. Melon. Well, you gotta admit, it can't be any worse than Alien vs. Predator. You quickly run back into the cabin and grab a bag of Cheetos, because if there's one thing that life has definitely taught you, it's that the only thing which can stop a giant demonic watermelon from hell is a bag of Cheetos!
note: you'll need the Macromedia's Flash player to play this game.
If you don't have it or you just can't get it to work, well then you're just pathetic.
Awww, don't worry, you can still continue the story by clicking here instead, pansy.