---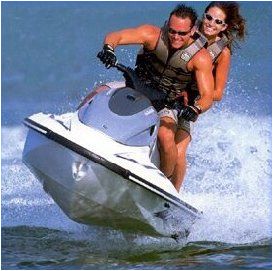 "Pat, there's only one prize for me," you say with a confident smile, "the Jet Ski." You can already picture yourself racing along the salty waves wearing your "cool guy" shades, the wind blowing through your hair, and two bikini-clad babes clinging to you affectionately as you zip daringly between the larger boats coasting off the shore.
Hey, don't you hate how these stories are supposed to be about you, and yet they almost always assume that the reader is male? I mean, what's with that shit anyway? When are the ladies going to get a story of their own, huh? This is BULLSHIT! Last year, it was a camp story, and what were you? A fucking guy, that's what! Yeah, you were in the boy's bunk. And the year before that, it was about the haunted treasure hunt, and you were totally a dude in that one as well. When are we going to have the first truly unisex story? Never, that's when, because this is all male-dominated patriarchal bullshit! I fucking quit. I'm done. You can take your "Select Your Destiny" story and shove it up your ass, I-Mockery! You hear me!? Yeah, that's right!
Oh yeah, and when you get home with the Jet Ski you realize that you live in Kansas. There's no water anywhere for like, millions of miles. Not even to drink.
YOU JUST DIED OF THIRST, MORON! START OVER!
---
help support I-Mockery by supporting our sponsors: