---
"You guys DO know what movie I'm talking about, right?" you ask. The silence continues for a few minutes until one lad speaks up.
"You mean Braveheart?" The entire town gets excited instantly and they all start shouting, "Yeah, Braveheart! That's the greatest goddamned movie on the goddamned planet! Freeeeeeeeeeeeeeedoooooooooooooooooooommmmmm!!!"
You try to explain to them that this was NOT the movie you were talking about, but it's too late. They're all in "Braveheart" mode and they're dragging you off to one of their fan-frenzy reenactments of the Battle of Stirling Bridge. You chuckle to yourself for a minute when you picture a bunch of Scottish warrior actors fighting an Alien Invasion. Then you remember that the aliens wouldn't be acting and everybody would probably be slaughtered.
After being dragged onto the field to start the mock battle, you shout at the townsfolk some more to listen to you about the aliens. They eventually grow tired of your whining and decide to put you on the side of the English. Unfortunately for you, they take their "acting" a little too seriously, and you find yourself impaled on a handmade wooden spike by the time the battle is over.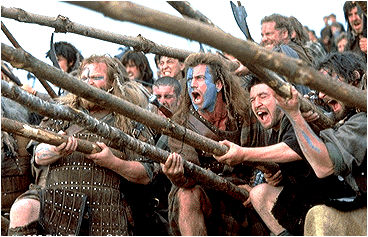 SONS OF SCOTLAND! LEND ME YOUR GUTS! START OVER!
---
help support I-Mockery by supporting our sponsors: