Oh, sweet Jesus Toast, is that Wolverine?!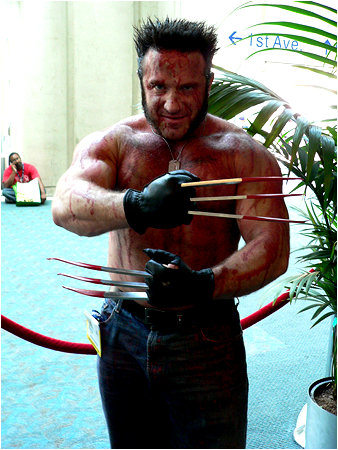 That's it, that is IT! Somebody is going to have to give that little Canadian Mutant a talking to, and it looks like it's going to have to be you.
"Ok 'Logan', ok, look, there is just no need for you to be here. Once upon a time you were my favorite character, but I was twelve then and pretty lonely and you only showed up once a month and you were frequently well written. But nowadays, I can't hardly spit without it landing on Wolverine! You're in all eleventy billion X-books and we're supposed to just swallow that, like you're Wolverine and friggin' Jamie Maddox The Multiple Man as well, you're in the friggin' Avengers for Christ's sake, cause apparently being on every friggin' X-team wasn't enough for you, every time any marvel superhero gets to the end of the book there you are lurking in the shadows of a splash panel and it's supposed to be a friggin' surprise, and the movies and the upcoming solo movie, and the toys and the candy and the friggin Wolverine moist towletttes, I mean excuse the frig out of me, do you not know how to say 'No?' Do you not get tired of being spread thinner than the friggin' cream cheese on a friggin' Dunkin' Donuts bagel?! All that's not enough, now you gotta worm your way into the annual I-Mockery Halloween 'Select Your Dest'-"
START AND YOU DON'T SAY ANYTHING ELSE BECAUSE BY THEN HE'S KILLED YOU, BECAUSE WHAT ARE YOU, A MORON, MOUTHING OFF TO WOLVERINE THAT WAY EVEN IF HE IS OVERUSED? THE MAN'S A FRIGGIN' KILLING MACHINE, HE'S THE best there is oh god I'm boring myself, I mean, Jesus Toast, Wolverine, seriously,
START AGAIN DEAD GUY!