"Not so fast, Hawking!" you cry out, spinning around and pointing your finger assusingly. "I know what you're up to, but it's not going to work!"
"YOU TREMENDOUS IDIOT," Hawking replies with his computerized voice. "I HAD THIS SITUATION WELL UNDER CONTROL, AND NOW YOU HAVE COST ME THE ELEMENT OF SURPRISE." At this point you notice the quite-distinct-from-Stephen-Hawking gunman pointing his pistol at the cashier behind the register.
"HOWEVER, I AM NOTHING IF NOT CAPABLE OF ADAPTATION." And with that, he blows into his control straw, his motorized chair beeps, and suddenly a small black hole forms in the air in front of the chair, swirling and sucking in bags of potato chips from the rack nearby. The gunman looks in horror as the pull of the black hole increases, slowly stretching and distorting his features before pulling him into the hole, his screams fading into obscurity as quickly as they began.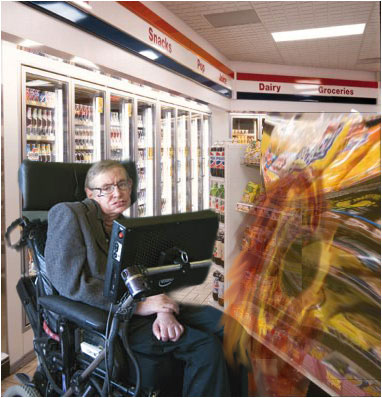 Then he turns his attention towards you, the black hole still spinning in front of him. "YOU MISERABLE DUMBFUCK. I WAS GOING TO BUY SOME CHIPS, BUT NOW THEY ARE GONE. NOW I WILL HAVE TO WASTE MY VALUABLE TIME BY GOING TO ANOTHER--" he continues, but you don't hear him anymore. In fact, it's hard to hear anything, the way your eardrums are stretching, the way your face is warping, twisting, slowly drawn to the gaping black hole in the sky. The last thing you see is Stephen Hawking scolding you and looking at you disapprovingly before your eyes stretch so badly you can't see anymore, but the pain is so excruciating at that point you don't even notice anyway.
YOU SUCK. CUZ IT'S A BLACK HOLE. GET IT?
WAIT UNTIL A NEW UNIVERSE IS BORN AND START OVER!