You stare down the wide-eyed man brandishing the gun and he stares right back at you. You're gonna have to move as quick as lightning if you're gonna stop him from committing whatever heinous crimes he's about to commit. You pick up a bowl of Ramen noodles and throw them over his shoulder in an attempt to distract him. When you see his eyes follow the flying bowl of noodles, you make your move and tackle him. Once on the ground, you unleash a fury of fisticuffs onto his face. Soon his face and the now bloody floor beneath it become indistinguishable from one another.
WAY TO GO, CHAMP! YOU JUST SAVED THE DAY! YOU'RE A GODDAMNED HERO! THAT'S WHAT YOU ARE! THE ENTIRE CITY IS GONNA THROW YOU A PARADE! ALL BECAUSE YOU WERE BRAVE ENOUGH TO STOP A CRIMINAL IN HIS TRACKS!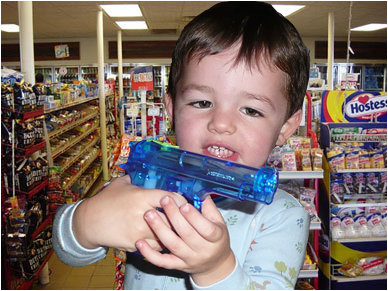 Ok, so... not really. You're actually going straight to jail for murdering a kid who was brandishing a deadly water gun.
YOU SURE KNOW HOW TO SCOPE OUT THE CRIMINAL ELEMENTS, EH SHERLOCK? START OVER!