...CONTINUED
Knowing that Dr. Boogie would be covering a wide variety of games at E3, I wanted to make sure I captured all the sights of the event so you could see exactly what went down. Believe it or not, this was my first time ever attending E3 even though I had the chance to many times in the past. Oh how the busy life of a comedy web site webmaster can get in the way of attending big media events. It's a life of servitude I tells ya. Actually, the truth is the requirements for a member of the press to get into E3 are a bit absurd compared to other larger events (such as the San Diego Comic-Con) so I often didn't care enough to bother sending in my credentials. They really gotta work on that.
Anywho, while many other members of the press were still whining about how "E3 just isn't what it used to be", from what I saw, it was definitely a step up in quality from recent years. And honestly, I didn't mind that the crowds weren't as huge as they were back in the day... it made moving around the convention a lot easier, and I didn't have to wait in huge lines to play any of the games I was interested in.
The following is a collection of photos of what I saw at E3 this year and while most of you probably didn't attend it, I hope these photos help you get an idea of exactly what it was like.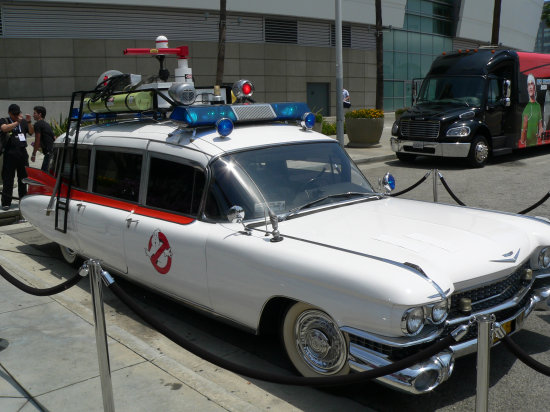 When I was driving around the LA convention center looking for parking, the first thing I noticed was the
Ecto-1 from The Ghostbusters parked out in front of the West building. Naturally, I had to get some photos of it.

They really didn't skimp on any of the fine details with this one, right down to the old yellow New York Ecto-1 license plate.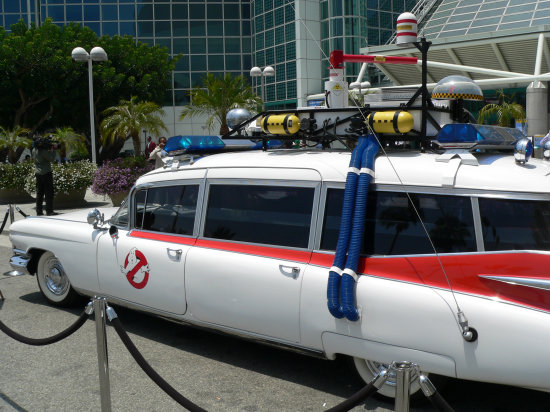 It's a thing of beauty and a hell of a good way to promote the upcoming video game.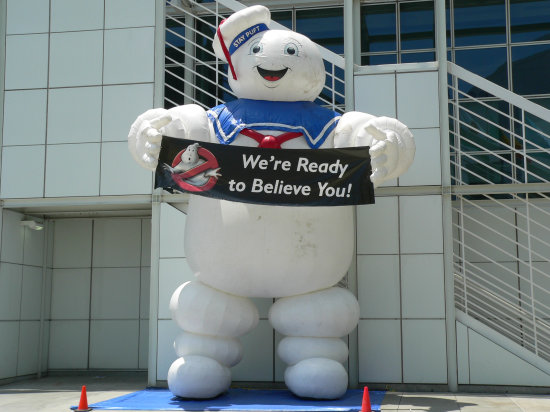 And just to the left of the Ecto-1 was a giant inflated Stay Puft Marshmallow Man.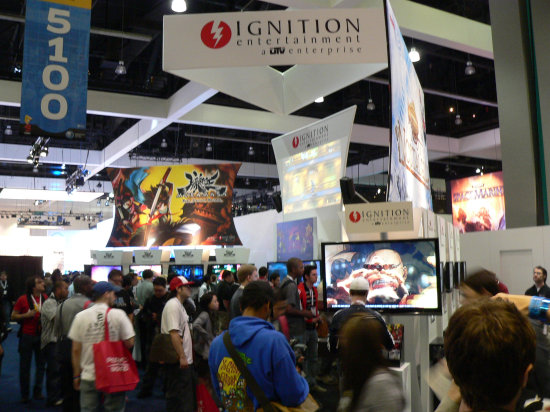 When I first walked in, there were plenty of crowds, but still plenty o' room to move around.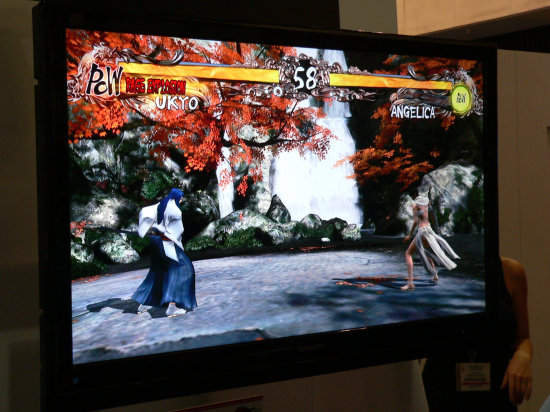 The new Samurai Showdown was a big letdown for me. I'm a huge fan of the series, but the general
consensus among all the people who were playing it (myself included) was that it felt like they took a generic
3D fighting game and slapped the "Samurai Showdown" name on it just to help sell some more copies.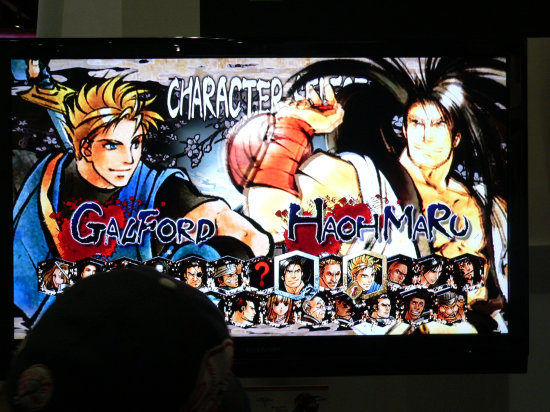 Oh well... at least the character select screen was still in 2D.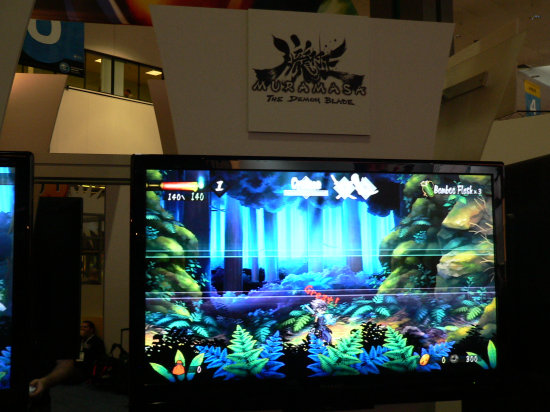 Muramasa: The Demon Blade, however, looked absolutely fantastic and I'm definitely looking forward to playing it.

OH MAN! OH MAN! OH MAN! THIS IS GONNA BE THE BEST SYSTEM EVER! 75 GAMES INCLUDED!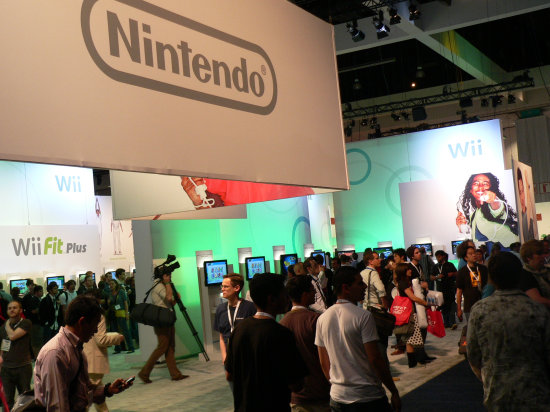 Video gamers and exercise... who would've ever thought the two could get along.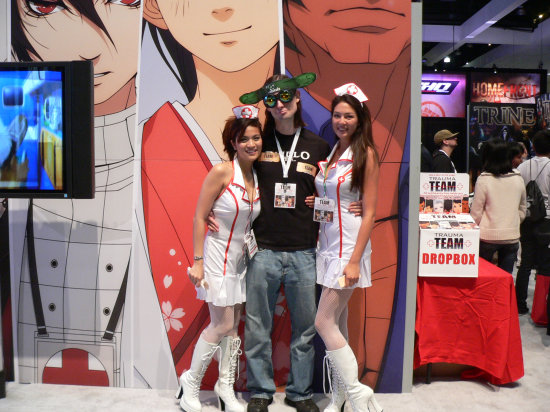 These two Trauma Team nurses demanded I take a photo with them. Apparently I was bleeding profusely from
my chest because the two of them slapped some band-aid stickers on me. Thanks for saving me, nurses!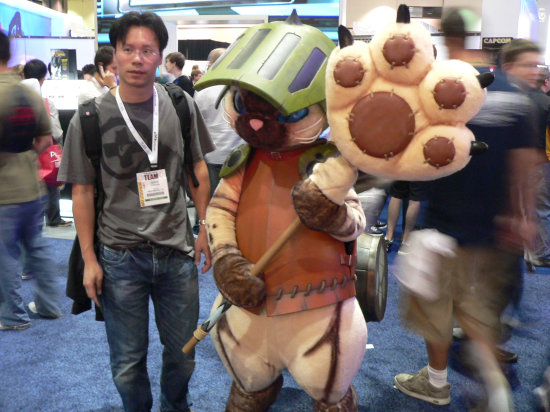 Ah Cosplay...

One of the more popular freebies at the convention were Nyko's big inflatable Wiimotes.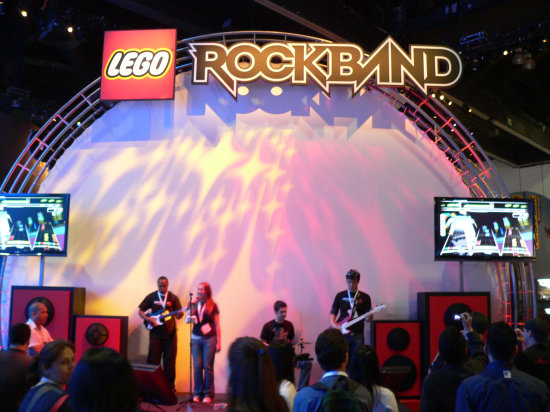 Want to drive people away from your booth quickly? Let anybody off the street get up and sing karaoke.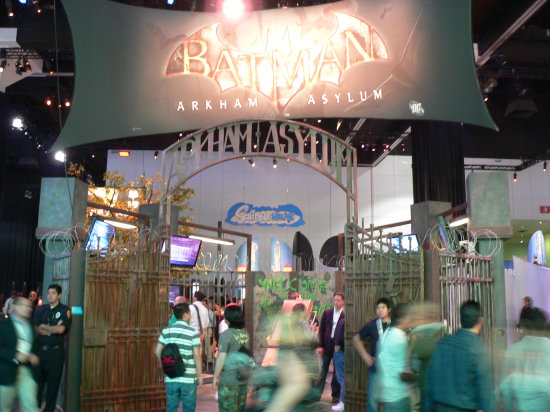 The booth for the upcoming "Batman: Arkham Asylum" game was fantastic.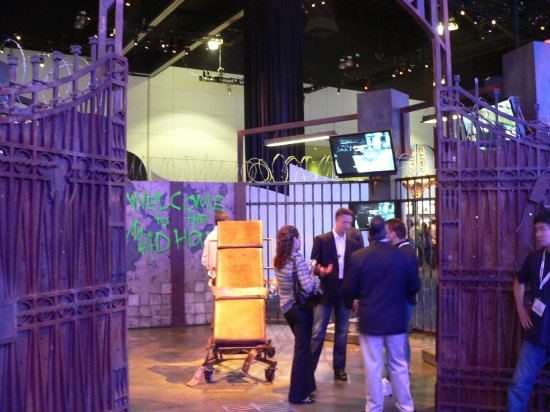 As you can see, it was lined with stylish purple gates and barbed wire.

If you didn't want to wait your turn to play the game, they were more than ready to strap you into the loony chair.

The game itself was pretty badass and I'm sure it's gonna prove to be the best Batman game ever.

And speaking of Batman, the old Tim Burton movie Batmobile was parked right outside of the booth!
Where does he get those wonderful toys?
There's still more to see from
I-Mockery's coverage of E3 2009!
Click here to continue onward to page 3!