by: -Roger Barr and John Bower
...CONTINUED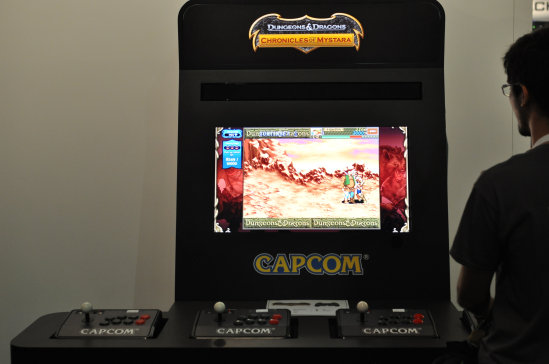 Looks like he needs three more players.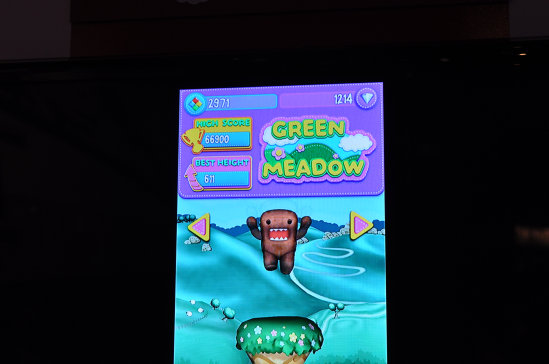 Jump Domo, jump!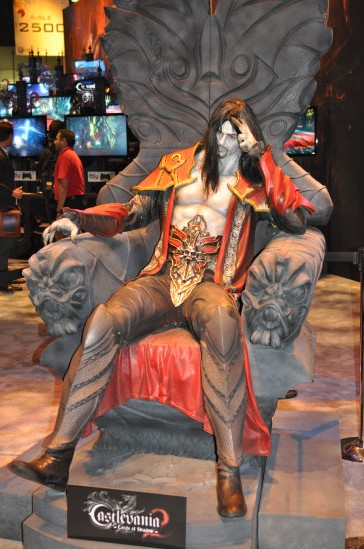 Dracula looks bored. Probably because he'd rather see a new 2D Castlevania game as well.

Loved this Capcom classic arcade cabinet. Had a good time getting some Ghosts 'n Goblins gameplay in while I was there.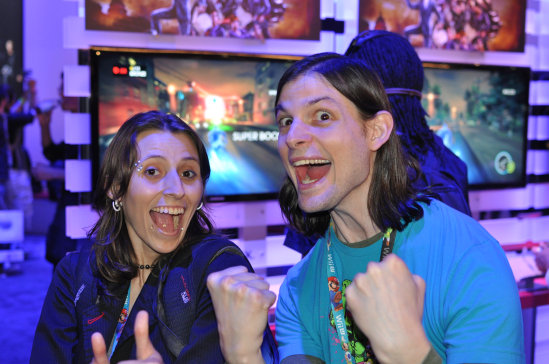 It's Laura!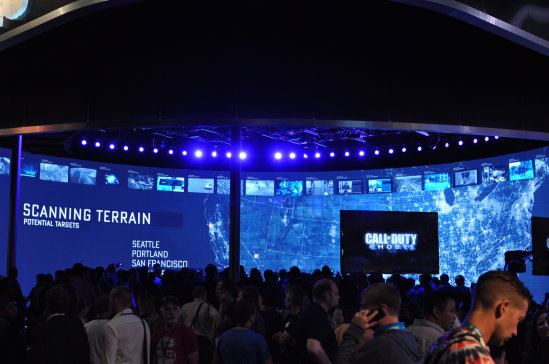 The Activision Blizzard booth was pretty massive, complete with a huge main screen and monitors moving on robotic arms.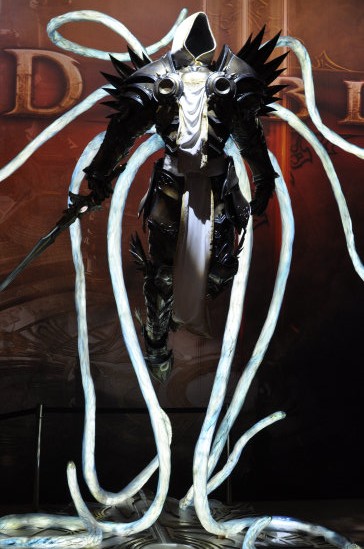 A really nice statue of Tyrael from Diablo III.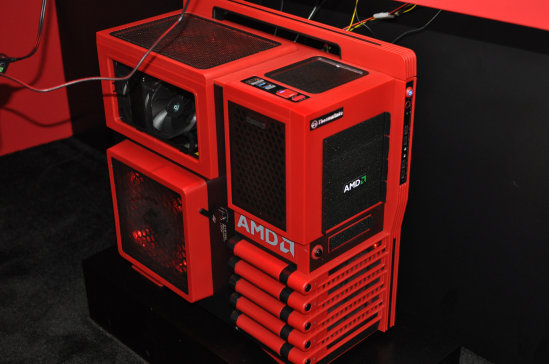 Needs more power.

I'm pretty sure nobody is planning on having this many monitors, but it's
still pretty cool to see an entire game world in your peripheral vision.

The world of TRON is expanding.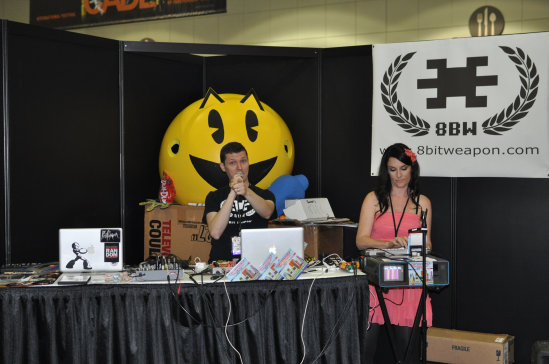 8 Bit Weapon rocked the gaming history museum and even dedicated their cover of Devo's "Jerkin' Back 'N' Forth" to me.
Keen!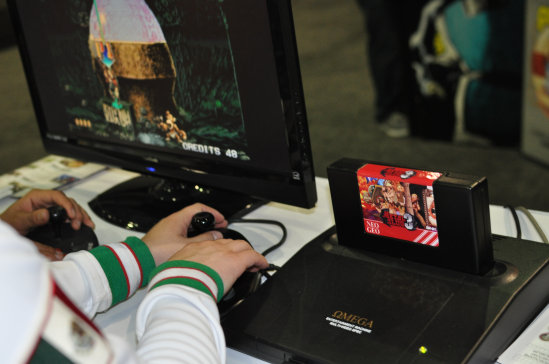 Playing Metal Slug 3 on a consolized Neo Geo MVS.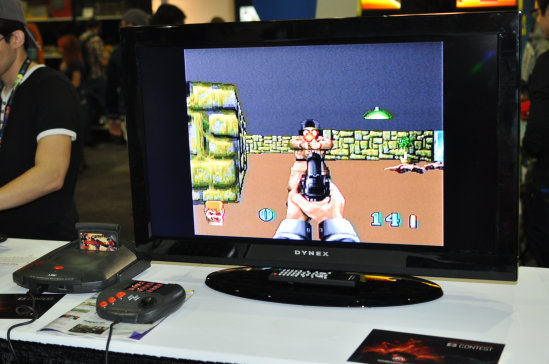 Atari Jaguar still holds honor of having the worst console controller ever made if you ask me.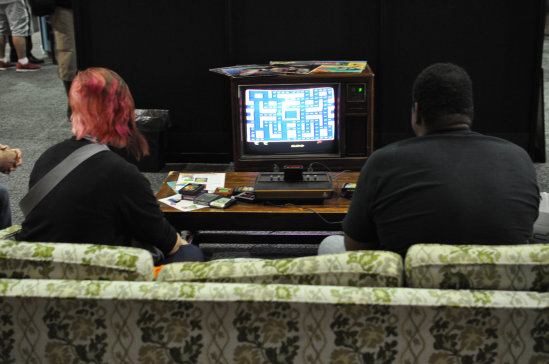 Transported back to a living room from the past once again.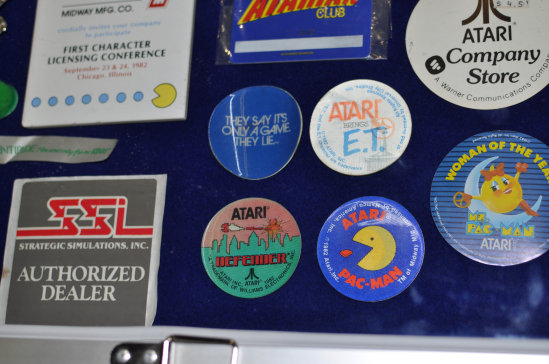 That Atari Defender sticker was one of my favorite childhood stickers. I hope I still have it in a box somewhere.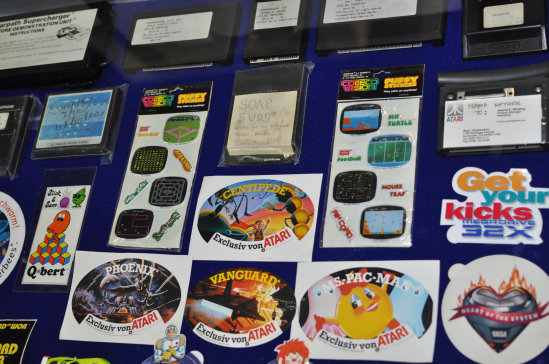 Various video game promotional items, including some old ColecoVision puffy stickers.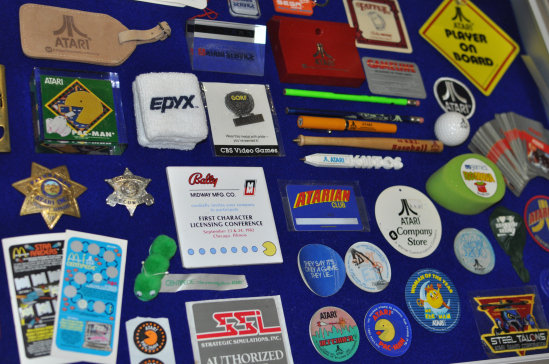 Mor promotional items, including some old McDonald's scratch-offs and EPYX wrist bands.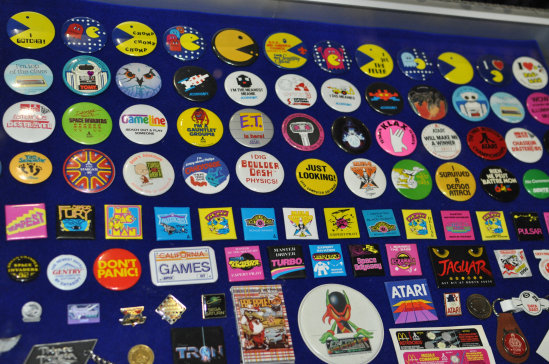 Buttons galore.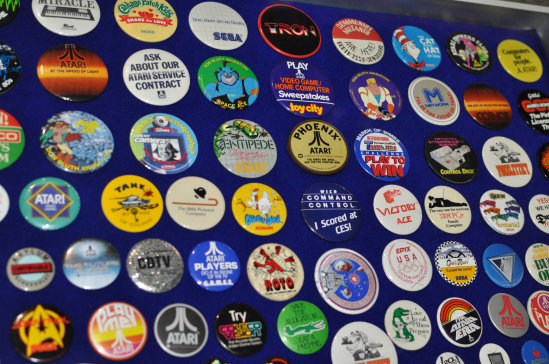 And more buttons.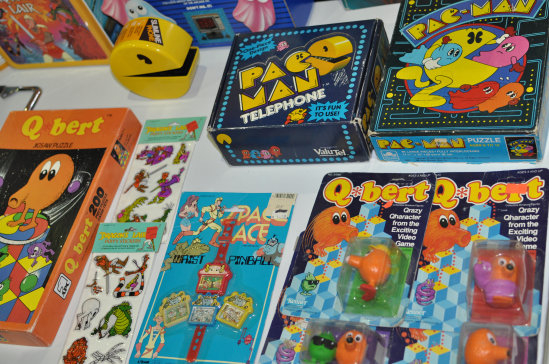 The best thing about the old Q*bert toys was their description on the packaging:
"Crazy character from the exciting video game."
Also, I always wanted that Pac-Man telephone, and still do, even though I don't have a land line.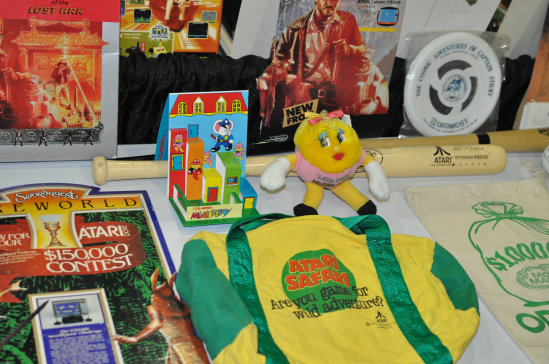 A Mappy fold-out, a Ms. Pac-Man plush doll, and an Atari Safari adventure bag.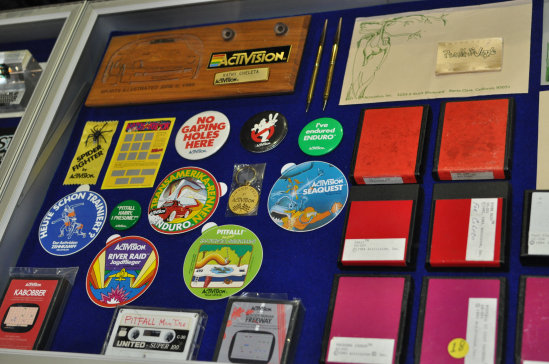 Activision classics and more.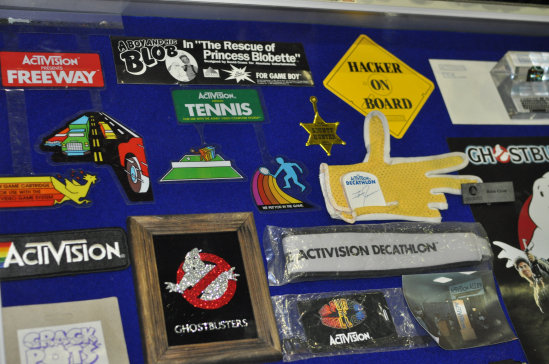 It's pretty hard to come by a bumper sticker for A Boy And His Blob. Nice Ghostbusters glitter plaque too.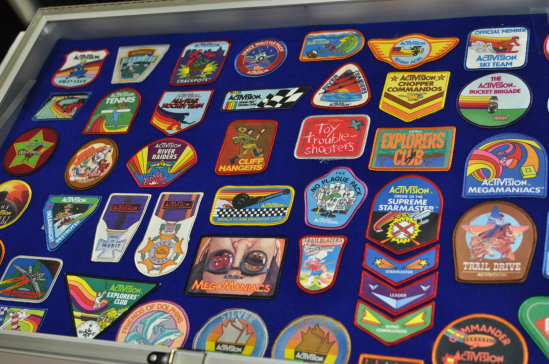 I wish companies would give out patches like Activision used to for their video games.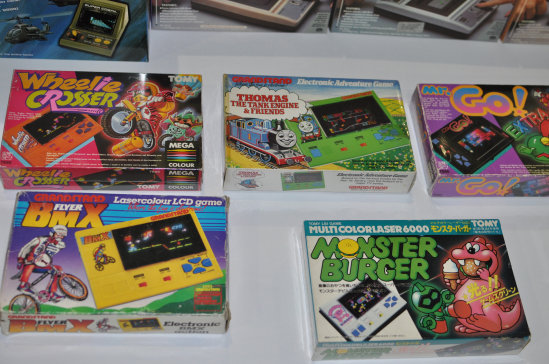 Some rare handheld games:
Wheelie Crosser, Thomas The Tank Engine & Friends, Mr. Go!, Grandstand Flyer BMX, and Monster Burger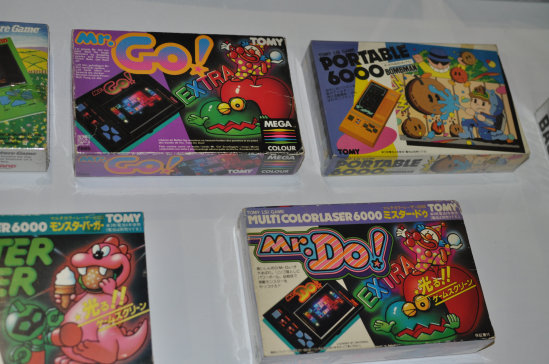 Also, Bombman and Mr. Do!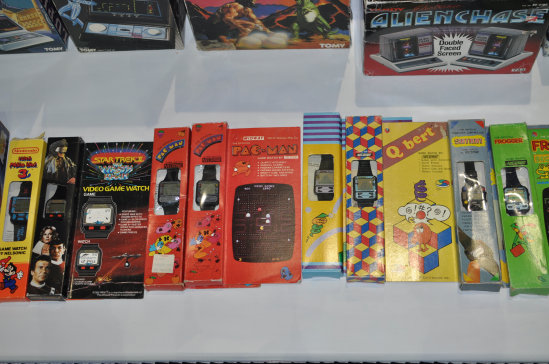 How did we pass the time in school back in the day? We secretly played games on our watches.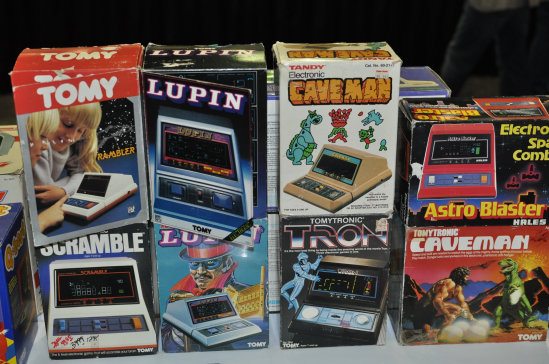 Tabletop arcade games:
Scrambler, Lupin, Caveman, Astro Blaster, Scramble, and TRON.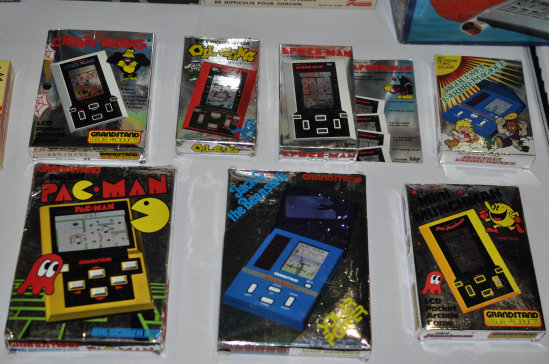 Crazy Kong, Pac-Man, Jack & the Beanstalk, Munchman, Puck-Man, and more.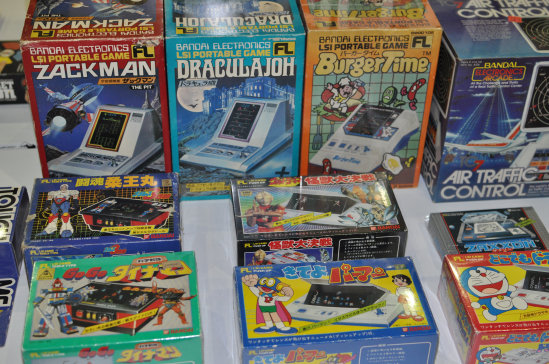 Zackman, Draculajoh, BurgerTime, Air Traffic Control, and more.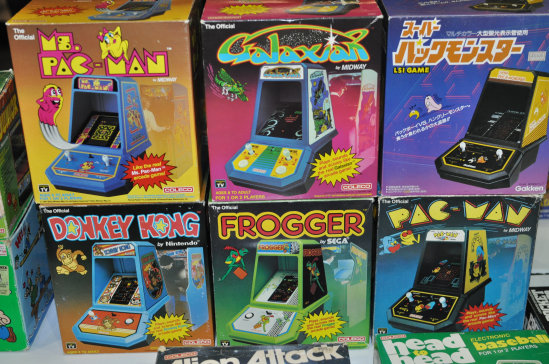 Everybody's favorite tabletop classics from Coleco:
Ms. Pac-Man, Galaxian, Donkey Kong, Frogger, and Pac-Man...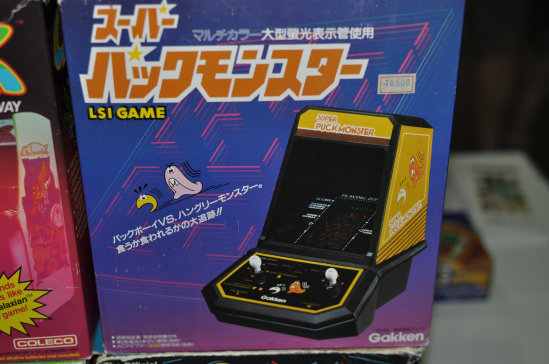 ...plus, the rare Super Puck Monster tabletop arcade game.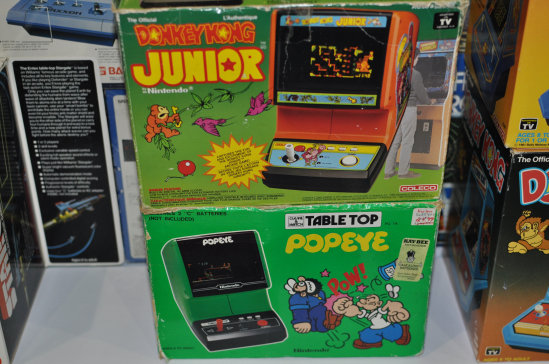 Donkey Kong Junior and Popeye tabletops from Coleco.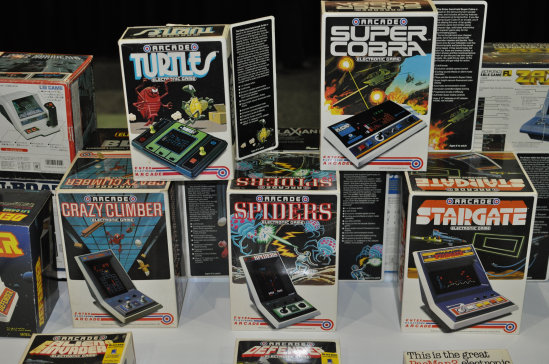 Turtles, Super Cobra, Crazy Climber, Spiders, and Stargate.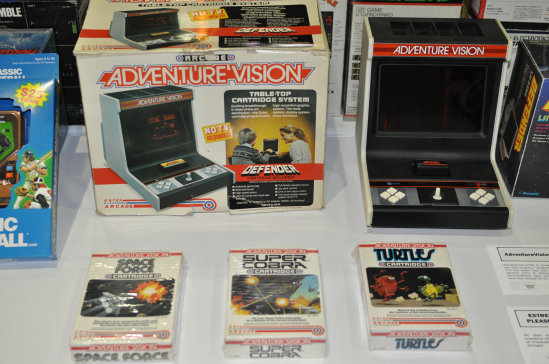 Space Force, Super Cobra, Turtles for the classic Adventure Vision system.
There's still much more to see from
I-Mockery's coverage of E3 2013!
Click here to continue onward to page 4!