...CONTINUED

As always, I wanted to make sure I captured many of the sights of E3 2014 since John would be covering a nice variety of game highlights on his own (when he wasn't dealing with the shame of numerous defeats that yours truly handed to him). I had a great time playing a variety of upcoming indie games, checking out the ever-growing Video Game History Museum, and running into some good chums from around the country. Also, if you enjoyed my yelling videos last year, you'll be glad to know that we shot another one for E3 2014 which you'll be treated to at the end of this article.
But before we get to the video footage, I have some my own batch o' photographs to share with you. The following is a collection of photos of what I saw at E3 this year, and if you didn't attend the event, I hope these pics help you get a sense of what it was like. Enjoy!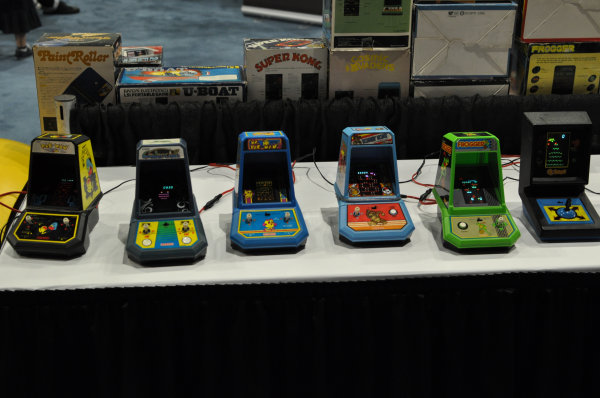 Coleco table top arcade games, all wired together and ready to play. Let's take a closer look: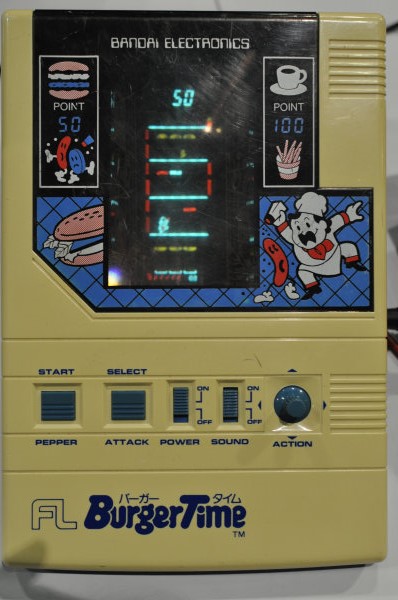 BurgerTime!

Q*bert!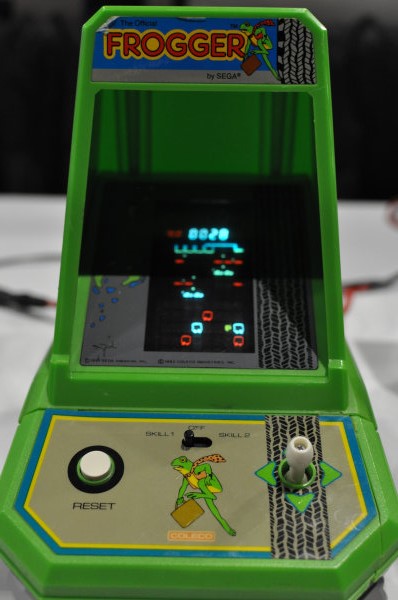 Frogger!

Donkey Kong!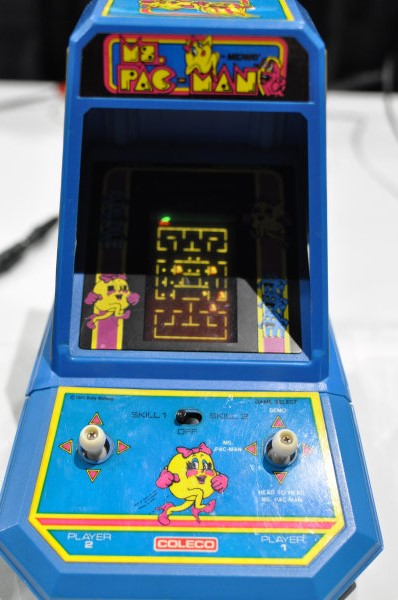 Ms. Pac-Man.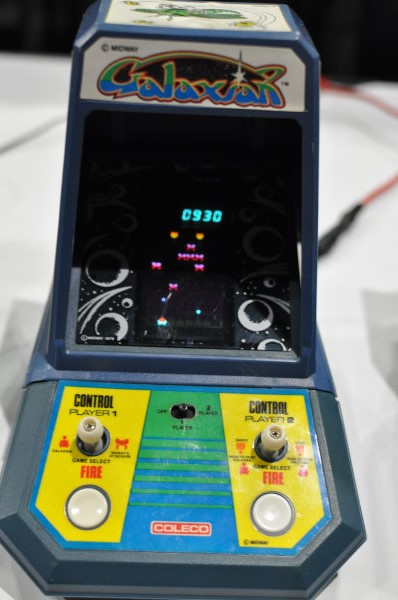 Galaxian.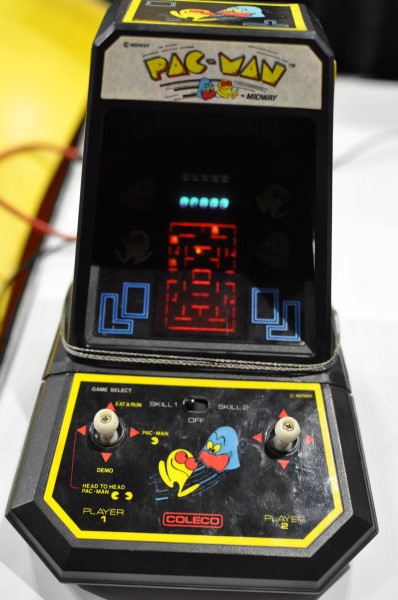 Pac-Man.

One of the most exciting things in the Video Game History museum for me was a sneak peek at the Intellivision Flashback console. I was hoping they would produce one of these after the Atari 2600 one, and it looks absolutely fantastic.
It mimics the look of the original console and the controllers also appeared to be a very faithful recreation.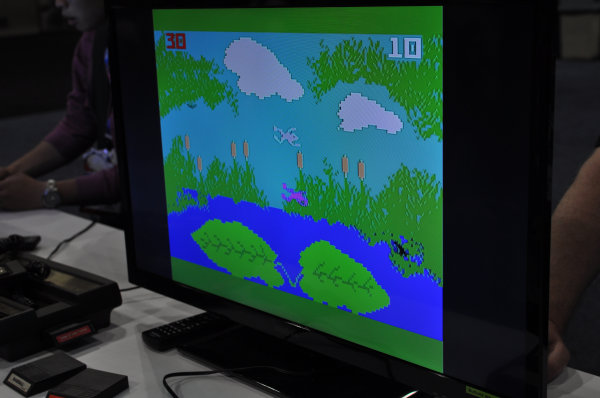 And yes, Frog Bog is one of the built-in games. It's supposed to come with 60 games (including overlays).
Supposedly due out this October, I'm really looking forward to spending some time testing it out.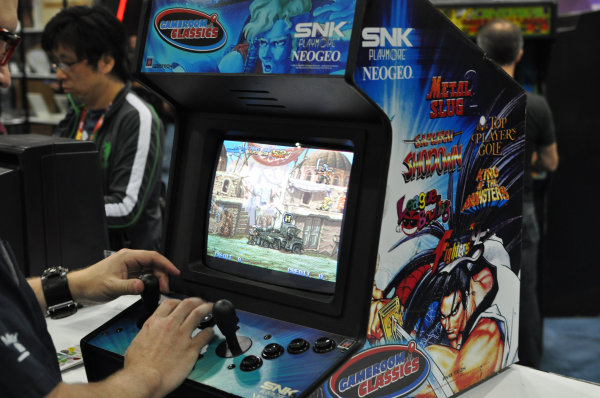 People were enjoying SNK Neo Geo classics like Metal Slug on this mini cabinet.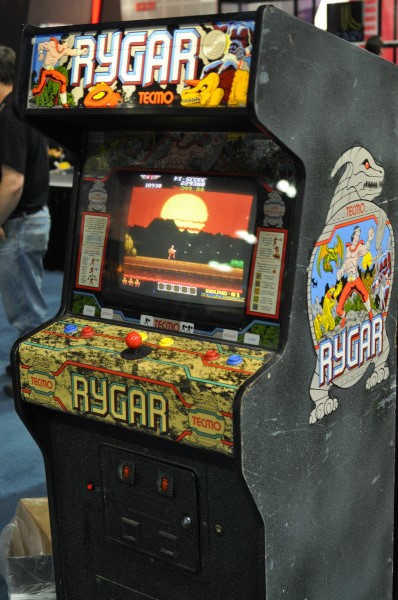 It's always good to see an old arcade favorite of mine like Rygar.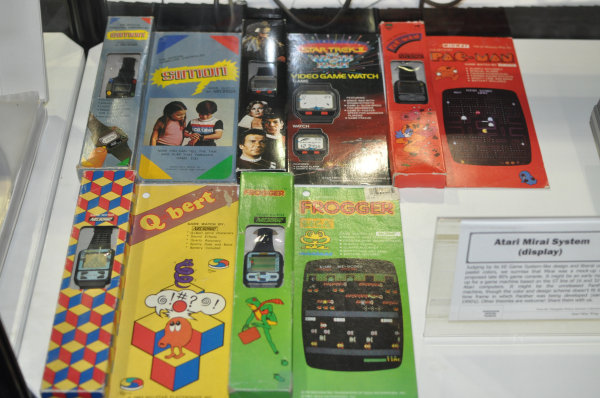 Who cares what time it is when you can actually play a video game on your watch?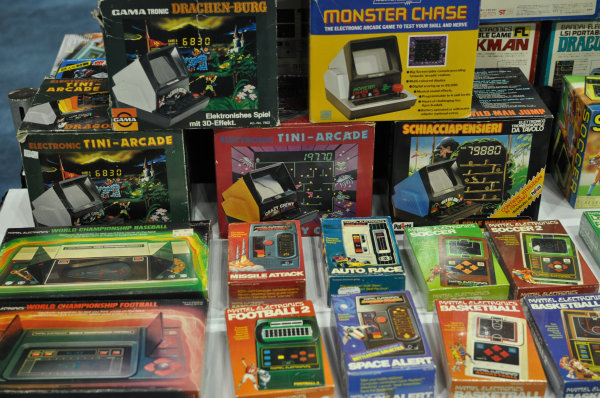 More handheld and tabletop games.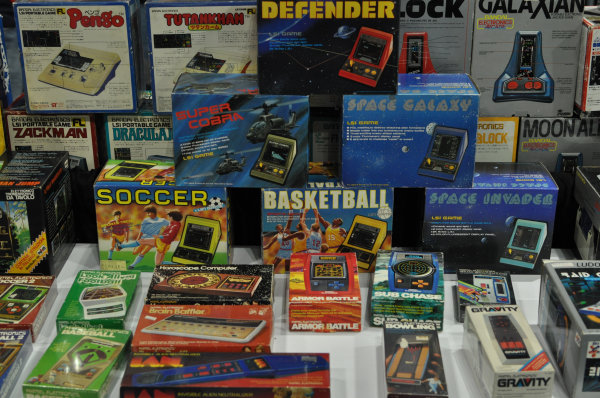 And more...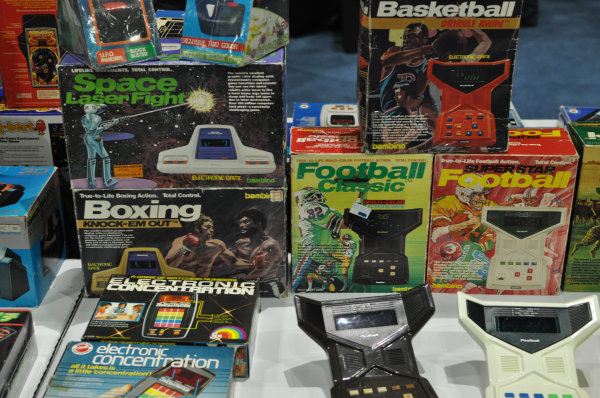 ...and more.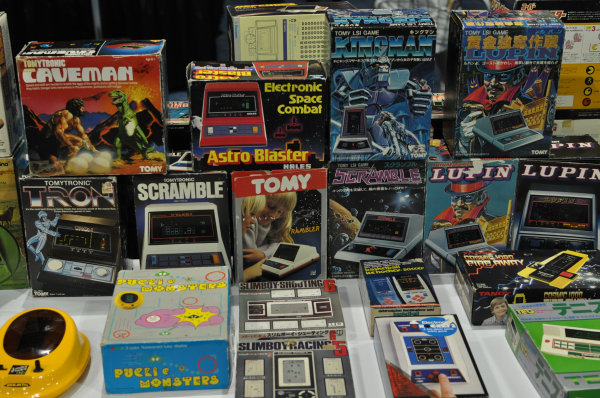 Yep, still more.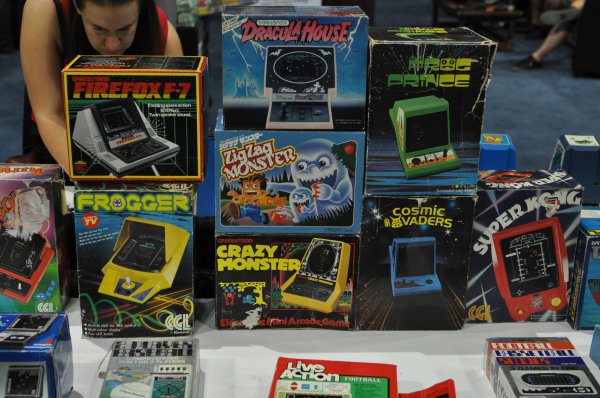 My point is, they have a LOT of tabletop games.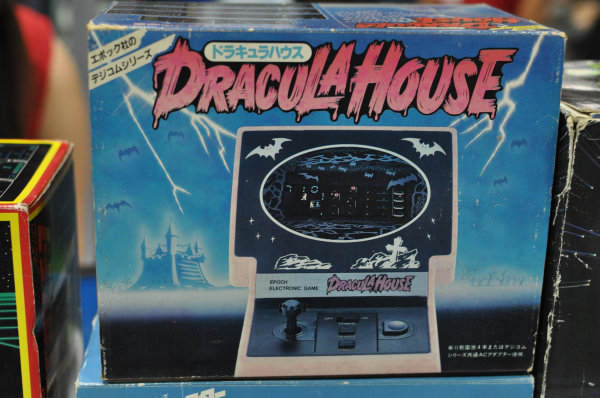 I really wanted to to play this Dracula House game from Japan, but sadly, it wasn't hooked up.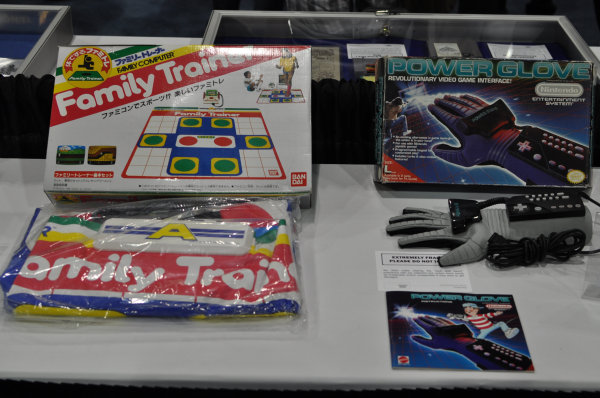 Now you're playing with power.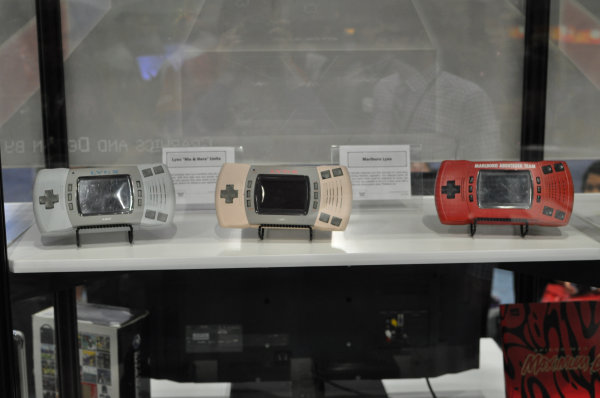 The same "his & hers" and Marlboro Atari Lynx units we've seen in the past.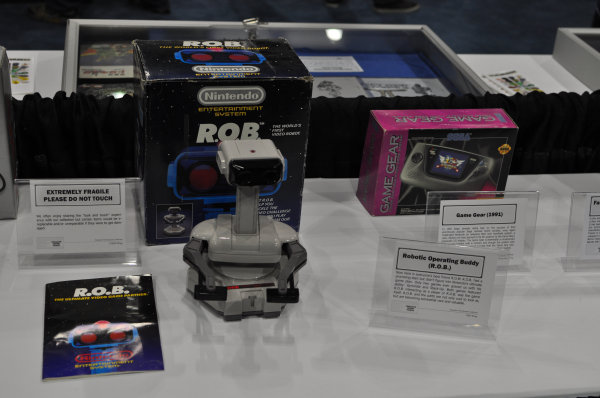 R.O.B. wants to be buddies with the Sega Game Gear.

A very rare SmartBoy rental cartridge from South America.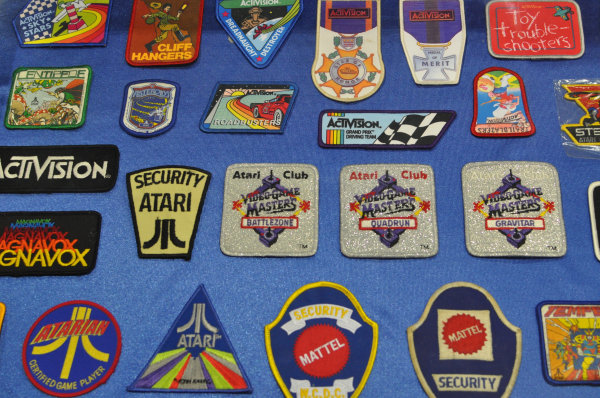 Activision & Atari patches.

Who wouldn't want a "Friends of Dolphins" or "Save the Chicken Foundation" patch?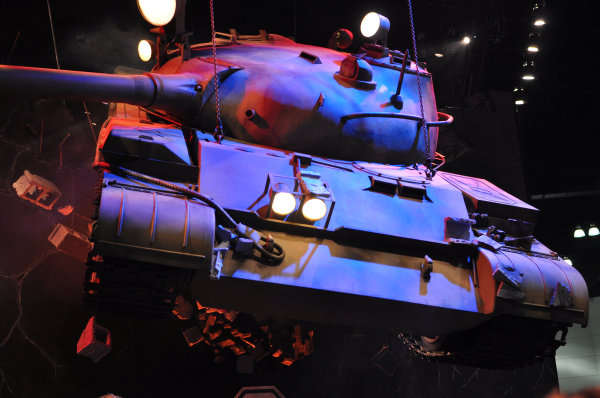 World of Tanks had this tank hanging from the ceiling and they would shoot a quick Matrix-style bullet-time video of you underneath it. We shot a few which you'll be able to see in the coda of the video at the end of this article.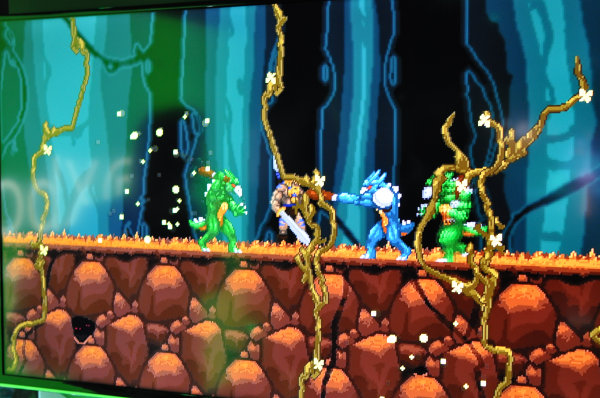 Volgarr, just before getting clubbed to death by monsters.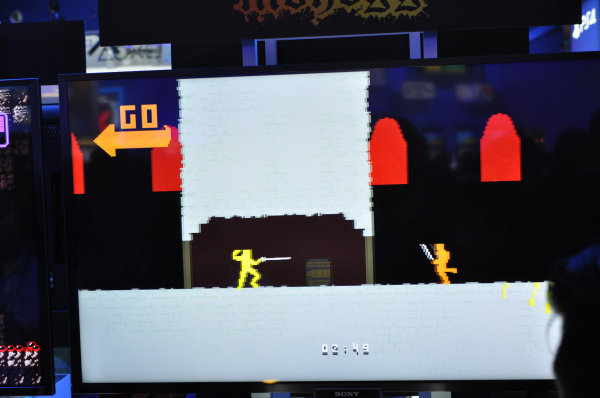 Nidhogg may look simple, but I think John and I had more fun going head to head in this game than any other at E3.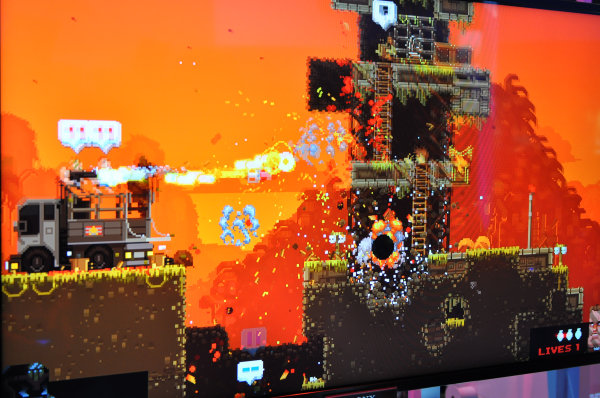 Bro Force is a fantastic game, with loads of action & fun characters, but I honestly prefer to play it in single player mode.
It's just a bit too chaotic with two players, and I can't even imagine how ridiculous it gets with four of 'em.
So yeah, while the game is definitely a must-buy, it's one I plan on finishing with the single player campaign.

While waiting in line for a photograph, John directed my attention to the ceiling where this giant Sunset Overdrive inflatable was dangling above us. Sadly, given where it was placed, I think about 99% of people walked by without even seeing it.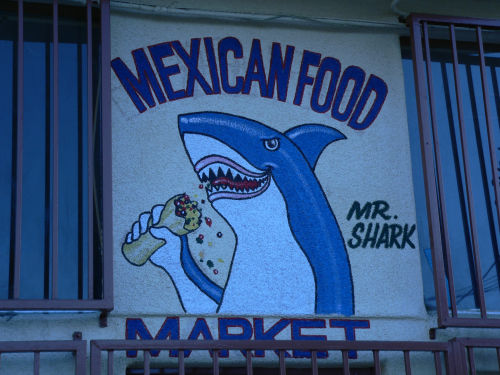 In more somber news, it is with a heavy heart that I inform you of the loss of Mr. Shark. As longtime readers are aware, one of our post-E3 traditions has always been walking by the building where this Mexican food market icon once stood. In recent years, a new tenant took over the building and while they tried to paint over the glorious image of Mr. Shark, you could still see his faded visage behind it all. Unfortunately, the entire front of the building was completely redone, and Mr. Shark is long gone. We'll miss seeing him as he and his burrito-holding arm waved goodbye each year, but we'll always have this photo to remember him by. Godspeed, Mr. Shark... you're the best burrito-wielding shark we've ever known.
Now I promised you some video highlights of all the best things you could see and do at E3 2014, and I'm a man of my word. Especially when that word is "YEAHHHH!!!". I hope the following video helps capture the magic of E3 for you once again:
And that pretty much wraps it up for our joint coverage of the 2014 Electronics Entertainment Expo! Hope you guys enjoyed it all and have at least a handful o' new games that you're looking forward to playing. Be sure to share your thoughts about the expo, the games and all the announcements that were made in the comments area below. See ya next year E3!
Have any questions or comments about this piece?
SHARE YOUR THOUGHTS IN THE READER COMMENTS SECTION BELOW!