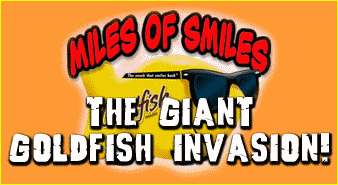 by: -RoG-
When I first heard that the evil Pepperidge Farm people were coming to my town on their "Miles Of Smiles" tour with a giant goldfish by their side, I knew that I was the only one who had a chance at stopping them. Miles of smiles? Sure, we could all easily live off their addictive goldfish crackers forever, but at what cost? They want to control our minds! So what would happen if I was unable to stop them from carrying out their evil plans? Thousands of inhabitants of my town would be turned into mindless zombies that are only capable of singing the Evil Goldfish Jingle™:
"Here's our jingle for Goldfish®
We wrote a song for Goldfish

The wholesome snack that smiles back
until you bite their heads off!

See the fishes swimming...
Oh look the pretzel's winning...

Didn't that make you feel good about Goldfish?

Here's our Jingle for Goldfish
Crunchy little Goldfish

Oh good we're at the part
Where we show that they're baked and not fried

Did you know they're made
with real cheese
Even though they look like fishies

The snack that smiles back Goldfish."
You know you've heard the jingle before. Hell, they've probably been to your town already and taken control over you. But I'd be DAMNED before I let them take over my town! Not without a fight! So it was time to infiltrate the Pepperidge Farm Goldfish encampment, which was in the parking lot of my local grocery store... Stop & Shop.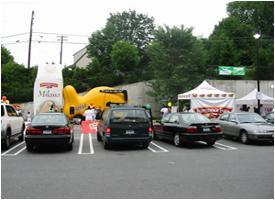 They've already setup a strong base!
I couldn't believe my eyes... I was just expecting the giant Goldfish Mobile, but they brought all their forces with them on this grim day. Families were already gathering around with wonder... I knew I had to work fast if there were to be any survivors! Pepperidge Farm was ready for me however, they had many-a-distraction picking away at my brain from the moment I entered their carnival of cracker corpses.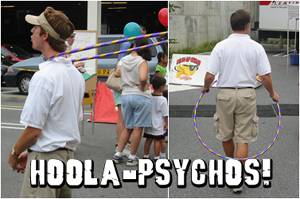 Oh my sweet bastard, is this what happens when you become part of the Pepperidge Farm collective? Yes folks, part of the "entertainment" they had for the crowd were young men wearing official Pepperidge Farm t-shirts that I will from this point on refer to as HOOLA-PSYCHOS. They hoola-hooped like madmen. Swinging the hoops around their stomachs and even their necks! One of them even started to use the hoola-hoop as if it were a jump-rope! EVIL!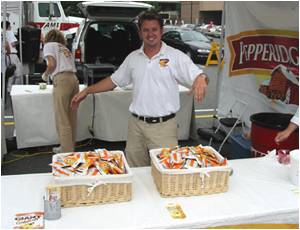 "I can fly if I flap my arms fast enough!!!"
I decided to follow one of the HOOLA-PSYCHOS back to his tent. He was eerily happy to see me as he presented to me two huge baskets of Goldfish Cracker sample packs. As if anybody really needs to "sample" them... we've all had them before. We know how addictive those little bastards are. Still, he felt the need to push them on me...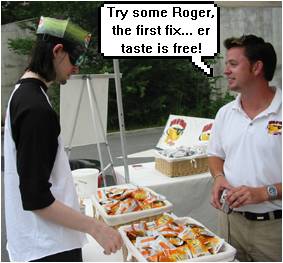 Hoola-Psycho: "Go on Roger, you know you want to try some."
Roger: "What the!? How the hell do you know my name!?"
Hoola-Psycho: "The Giant Goldfish knows all, Roger. And soon you will join us. Be one with the Goldfish, Roger... EAT THE GOLDFISH. THEY'RE FREE."
Now I'd like to say I had strong enough will-power to fight off the temptation of his free Goldfish crackers, which were probably laced with mind-altering drugs. But...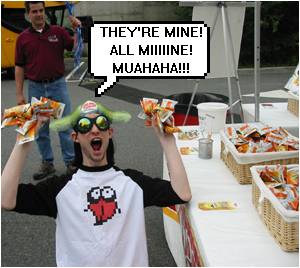 Oh shut up... you would have caved in just the same. They were Goldfish Crackers and they were free goddamnit! FREE! Well anyway, that wasn't the end of the free goodies. Not by a long shot...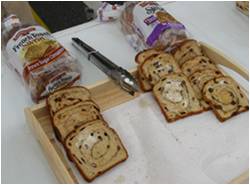 Right around the corner of the tent was another peddler of Pepperidge Farm products, and this time it was their swirly bread. They had evil swirly bread samples, hot with butter glistening on them as if to say, "Come hither Roger... we want to be your friends." Again, my I succumbed to the will of the almighty Pepperidge Farm.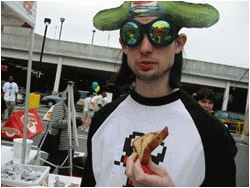 YUM!!!
note: those people in the background really did just appear and disappear like that.
It is in no way a result of delayed photography and/or crappy animation.
In a way, my eating their food was good, because not only was I being fed for free, but I was saving all the other people in my town from these obviously evil, tasty temptations. Just doing my part to help save the world... er, my town from evil.
By now, the Pepperidge Farm people had noticed that my mind was stronger than they thought. "Maybe that Pickle Hat on his head shields him from our control, kind of like Magneto in X-Men?" Well, I didn't actually hear them say that, but it would be pretty friggin' cool if they did. Anyway, they decided to try and tempt me with something other than food...

BALLOONS!
Balloon Guy: "Here Roger, have a balloon."
Roger: "How do all you sons-a-bitches know my name!?!?"
Balloon Guy: "We already told you, the Giant Goldfish knows all, Roger. I noticed the Pickle Hat on your head and thought you might enjoy this green balloon. Tell me about the Pickle Hat, Roger..."
Roger: "Well it all started when I called up this pickle company and..."
Balloon Guy: "Give me the Pickle Hat, Roger. You no longer need it. You are one of us now. Obey. Obey Giant. Obey Goldfish. OBEY!"
And on that note, I realized that this guy wasn't my friend. He just wanted to take away my Pickle Hat because they DID believe it was what had allowed me to escape their grasp thus far! When I refused he just walked away and tried giving balloons to some kids. There had to be something evil about those balloons. They wouldn't just be handing them out for free if there wasn't something evil about them! So rather than let the balloon agent deliver what were probably mind-controlling helium floatation units to helpless children, I took matters into my own hands.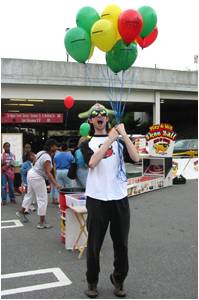 I TOOK THEM ALL! MUAHAHAHA!
That's right, I grabbed all of his balloons and made a run for it. Actually, I didn't have to run. He just broke down and started to cry. Maybe the balloons were controlling him the whole time, and without them, he was brought back to reality only to find that Pepperidge Farm had taken advantage of him. Another soul saved!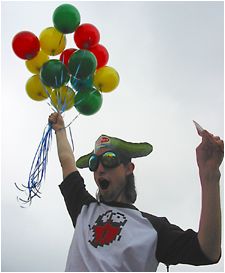 WHOAAAAAH!
One thing I hadn't planned on was the balloons lifting my lanky ass up into the air.
They had just started to carry me away when all of a sudden...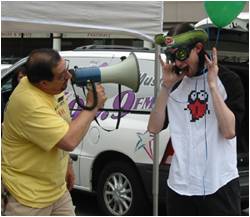 "GIVE US THE BALLOONS BACK ROGER!!!"
Yep, this guy yelled right in my ear with a megaphone. The rest of the Pepperidge Farm army wasn't about to sit back and let me run off with their balloons. They were going to use the balloons to capture children one way or another and were determined to get them back at any cost. This included having a DJ from a local radio station sneak up on me and yell into my ears with a friggin' MEGAPHONE! My ears are still ringing from that one, believe me... but it didn't work out the way they had planned it. For when he yelled at me, I jumped and let go of all but one of the balloons by accident.
Roger: "Haha sucka! Now you'll never get your balloons back!"
Megaphone Man: "THAT'S JUST GREAT YOU JACKASS! THOSE WERE FOR THE KIDS TO ENJOY! NOW, THANKS TO YOU THEY CAN'T!"
Roger: "Drop the act, buck-o! I know what you guys are up to!"
Megaphone Man: "WHAT THE HELL ARE YOU TALKING ABOUT?"
Roger: "Goddamnit, put the megaphone down!"
Megaphone Man: "NO. I LIKE IT. IT GIVES ME PLEASURE."
At that point I was sick of talking to the megaphone guy, so I moved onward. Those crazy HOOLA-PSYCHOS appeared again and pointed me over towards a sign and said, "See Roger? We're really here to help kids, not promote evil. We just want you to join us. Join the collective." I began to investigate this innocent looking sign.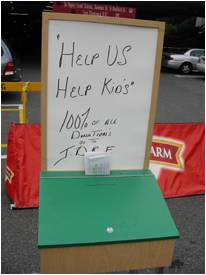 Aww, maybe they're good people after all!
Sure the sign looked legit enough, but I was really suspicious, so it was time for me to put my Wacky-Space-Goggles™ to some good use. A little known fact about my goggles is that I had a special "They Live" button installed inside the Goggles. When pressed, the button activates the Goggles' "They Live" mode which unveils evils that are normally undetectable to the human eye. And sure enough... the goggles exposed the truth about their "Help Us Help Kids" sign:

I KNEW IT!
See folks, these Pepperidge Farm people have had you all fooled. Oh yeah they want you to help them help the kids alright... help them help the kids on a one way trip straight to HELL! TO HELL!!!!!!!!!
Even though they knew I was onto them, they continued to throw distractions at me. First it was the free food, then it was the balloons, and now?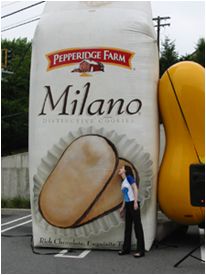 NO! NOT MRS. MOCKERY!
It turns out they had switched gears and gone after the missus! They had already wooed her with the giant Milano inflatable cookie display. She started licking the display as if it had taken complete control over her. But nothing... NOTHING could prepare me for what was to come next.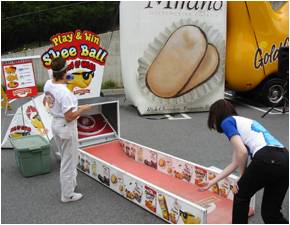 SKEE BALL!
Damn those sneaky Pepperidge Farm bastards! How low could they possibly go!? They had completely lured my wife in with their "Play & Win Skee Ball" game. And just what prizes were they offering for those who could roll the ball with l33t sk1llz?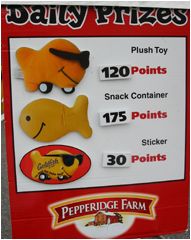 THE PRIZES!
Of course, the prizes were all promoting their Goldfish overlord and the game made you WANT to win the prizes. A sticker, a snack container, and a plush toy were the prizes. And man, she was determined to get that friggin' plush toy. So how did she fare?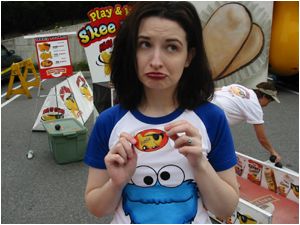 IF THIS PICTURE DOESN'T BREAK YOUR HEART, YOU'RE A COMMUNIST.
Crap, she only won the sticker. And since you only get one try per person, you know it was up to me. And if I didn't win her the plush toy? There would be no secks for me. :(

GO ROG! DO IT FOR THE SECKS!
I rolled that ball with all of my might, almost completely breaking the skee ball unit. I couldn't help it though... I was so enraged that Pepperidge Farm was not only taking over my town, but making my wife desire a little plush goldfish toy more than me. So what did all of my efforts get me?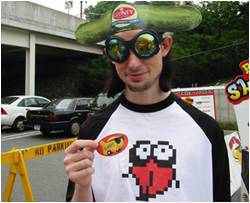 A Friggin' Sticker!
Now at this point you're probably thinking, "Why is he smiling so much? He just lost the game and now he won't ever get to have the secks!" Yeah, normally that would be the case. But you see, unlike everybody else, I got to play TWICE! How? The answer is quite simple really...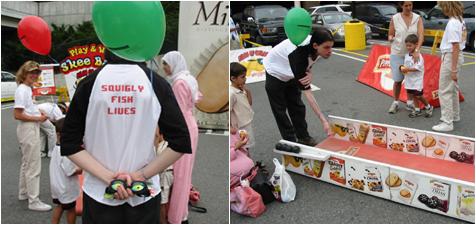 WITHOUT THE PICKLE HAT AND WACKY-SPACE-GOGGLES
IT'S AS IF I'M A COMPLETELY DIFFERENT PERSON!
Damn straight. I was like a ninja, sneaking back into the game without my usual attire on. They didn't even realize it was me. I also took my green balloon with me this time just to add some more distraction to it. And it gets better...
Having already played the game once, I know had a "feel" for the game. I now owned this game. I was going to make this skee ball game my bitch. And my bitch it was...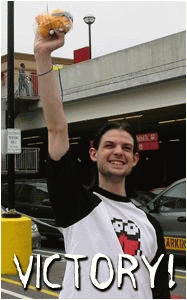 That's right, I won that friggin' Goldfish plush toy because I'll be damned if I was going to ever let Pepperidge Farm get between me and the secks! I gave her the plush toy and Pepperidge Farm's control of her mind had instantly vanished. For the only way they could control her was to make her keep wanting something that she could never have... the plush toy. But now that she had it, she no longer could be enslaved by their evil fishy company.
So having saved my wife from certain doom, I figured that there wasn't much left for me to do. That is until I heard all of the Pepperidge Farm servants chant in perfect unison: "The Goldfish is here! He has come to lead us all to salvation!!!"
Naturally, I figured they were all a few ingredients short of a ginger bread man (haha, get it!? Pepperidge Farm sells ginger bread men and I was making a subtle reference to that with my joke! Get it!? HAHAHAHA! THAT'S SO GODDAMNED FUNNY I COULD PUKE! HOLY BASTARD THAT RULED!). However, when I turned around I soon realized that this "Goldfish" character they were speaking of was for real!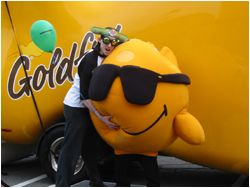 ATTACK!!!
I didn't have much time to think, so I ran up to the evil fish and gave it a bear hug of death! But the fish was twice as wide as me, so not only was the bear hug ineffective, but looking back on the photo... it just made it look like I was humping the poor thing. Then I tried biting it, but it still didn't get the job done since it wasn't made of the tasty cracker substance that I usually associated with Pepperidge Farm.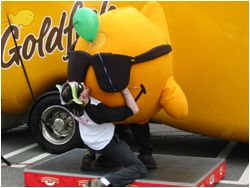 AAARGH!
And apparently the fish thought I was humping it too, because Mr. Goldfish quickly got fed up with me and unleashed his brutal cheesy power. I gasped for air and he brought me to my knees. Luckily, I was able to break free of his grasp by poking his left eye. I ran away quickly... it was time to regroup. I hate to admit it, but that Goldfish really psyched me out. I was petrified of it and didn't see how I could possibly defeat it.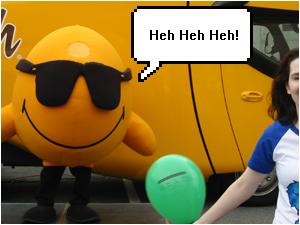 Even worse, when I wasn't looking the Goldfish had apparently convinced my wife to show her the plush toy she just got. Then when she walked away, Mr. Goldfish just started laughing. At first it was quiet... but then it was so loud that he sounded like a complete maniac. What was he laughing about!? What did he do to her!?!?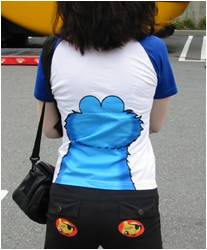 NOOOOOOOO!
That bastard! That dirty, rotten BASTARD! He put stickers on her ass! And not just any stickers, Pepperidge Farm Goldfish Stickers! This was the last straw. If I couldn't beat him in hand-to-fin combat, I was going to take his Goldfish Mobile and run him down along with the rest of his accomplices!


THERE IT IS... THE GOLDFISH MOBILE!
Ok there were two problems with me driving the Goldfish Mobile.
I don't know how to drive a Goldfish. I can barely drive my own car,
let alone a giant fish. I don't think I'll ever know how to drive a Goldfish.

I had to somehow sneak past their HOOLA-PSYCHO security guards.
Well, the way I figured... there wasn't enough time to go pick up a pamphlet at my local DMV on "Goldfish Mobile Operation and Traffic Rules," so I was just going to have to try to figure out how to drive it once I made my way inside the fishy vehicle.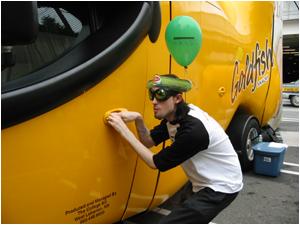 Sneaking into the Goldfish Mobile... NINJA STYLE!
Like a true Ninja, I went around the side of the Goldfish Mobile completely undetected. I was pickle-wearin' stealth warrior on a mission! Too bad me and my ninja-wannabe ass didn't consider that there might be an alarm on the car. As soon as I started to open the door it went off...
"INTRUDER ALERT! INTRUDER ALERT! KILL THE INTRUDER!"
CRAP!!! I turned to make a quick escape, but it was too late. A HOOLA-PSYCHO had already arrived at the scene! And this time, he wasn't here to entertain me with cheap hoola-hoop tricks. No, this time he was here to hand out some PAIN:

"HELP!!!!!!!!!"
I screamed for help as he tried to choke me, but that just made him him angrier. And then he called his other HOOLA-PSYCHO pal over to help dish out the beating.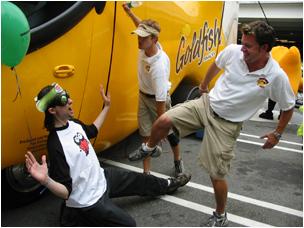 I might have been able to fend off just one HOOLA-PSYCHO, but two of them? That's just too much to ask of anybody. So there they were, kicking and beating me with a water bottle while I helplessly begged for mercy. I tried everything from, "Touch me and I'll sue!" to "Don't kick me in the stomach, I'M PREGNANT!" Nothing worked.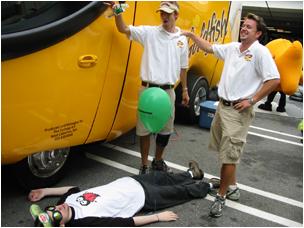 "Ha Ha Ha! That was too easy!"
"Yeah it was! Now let's go take over this town!"
They just kept beating me until I was unconscious and unable to stop them from taking over the town. They even laughed about how badly they really beat me as I just laid unconscious on the pavement. Pepperidge Farm hires some sick bastards I tell ya.
A few hours later I awoke to find that the entire town was now under the control of Pepperidge Farm. I had lost the battle. But the war? The war is far from over. And don't think I didn't do any damage to them. Oh I left my mark on them alright...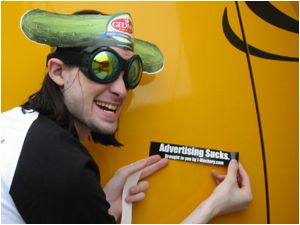 MUAHAHAHA! I-MOCKERY LIVES ON!
I tagged the giant Goldfish Mobile with one of my "Advertising Sucks. (brought to you by I-Mockery.com)" stickers! I may not have been able to stop them, but at least they'll be driving across the nation while unknowingly advertising my stupid web site.
And when I think about it... that's really all that matters.
the end.
[Click to visit Pepperidge Farm's Goldfish site]
(they might be taking over the planet, but damned if their crackers aren't tasty!)
---
Running a big site like I-Mockery takes a lot o' time and costs moola too.
Want to help show your support?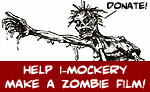 DONATE TO OUR ZOMBIE MOVIE!
Come talk about this piece & more on our Message Forums!
click here for more minimocks!

---


[Minimocks] [Articles] [Games] [Mockeries] [Shorts] [Comics] [Blog] [Info] [Forum] [Advertise] [Home]


Copyright © 1999-2007 I-Mockery.com : All Rights Reserved : ()
No portion of I-Mockery may be reprinted in any form without prior consent
We reserve the right to swallow your soul... and spit out the chewy parts.