by: -RoG-
...CONTINUED
Black Forest Gummy Tarantulas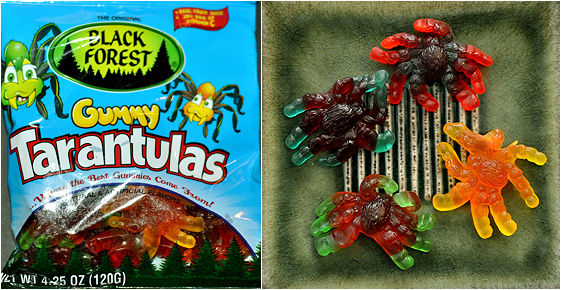 If you're into gummy spiders, these are pretty much the créme de la créme of gummy spiders. Black Forest Gummy Tarantulas are tasty, colorful, and the detail in them is fantastic. I mean, we all know that tarantulas are hairy, but how many gummy candy companies are going to take the time to draw the hairs on their spiders to let you know that they are, unquestionably, tarantulas? Only one company: Black Forest. They're colorful, hairy works of art, so you should probably feel guilty about eating them, but bon appetit anyway.



out of 5 crazy Jacks
Black Forest Juicy Oozers Gummy Skulls

As much as I love their Gummy Tarantulas, Black Forest also released Juicy Oozers Gummy Skulls this year, and they are easily one of the tastiest Halloween treats of 2010. Last year I reviewed the generic CVS brand gummy skulls, but I'm glad to have found the real deal this go around. These are fresh and delicious as it gets folks. With each bite, you have a burst of cherry blood liquid hitting your taste buds. If I didn't have better self-control, I could easily see myself downing an entire package of these in one sitting and then still looking to devour more. The packaging is obviously an improvement over the generic version too, especially with with the skull on the front and a nice blood spatter dripping all around their logo, so I'm more than happy to bump these up to the full five outta five rating. Find these by any means necessary, because they are a vital Halloween treat this year.





out of 5 chainsaws
Gummi Skulls And Bones Candy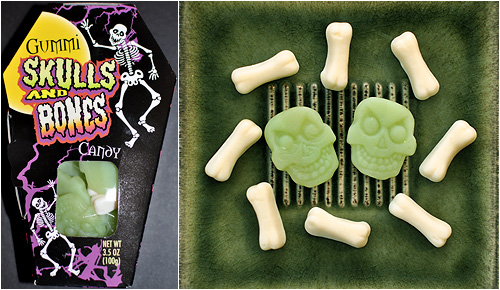 Here we have the Gummi Skulls and Bones Candy pack. It comes in a nice coffin, which oddly has a window where a person's crotch would be. You'd think if you were gonna put a window on a coffin, it would be where a person's face is, but I guess some people will only be remembered for their crotches. Alas, edible crotches are no worry here, for all they include are gummy green skulls and white bones. While the gummy treats look fine, they're not nearly soft enough and the weak apple flavoring pales in comparison to the delicious Black Forest ones. I do give them points for including some tombstone gags on the side of the packaging though, such as "Yetta Nuther R.I.P.", "Gil A. Teen. A Tisket a tasket, his head is in the basket.", "Yul B. Nexxt" and "May B. Ewe". Who appreciate a terribly cheesy tombstone gag? I sure do.
out of 5 Kiefer vampires
Fright Bites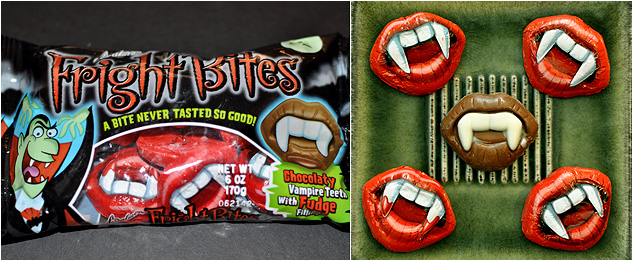 Upon seeing these Fright Bites, they immediately made me think of wax lips. I love wax lips. These, however, are chocolate vampire teeth with a fudge filling. They're actually pretty decent, though when I bit into them, I didn't see any fudge center. It all looks like solid chocolate to me. If you've ever had a generic brand chocolate easter bunny, then you already know what these taste like. Not bad, and the packaging is certainly nice (especially since the fangs vary between non-bloody and bloody), but you're more likely to leave these out for decorative purposes than to actually eat a lot of 'em at once. Probably because the chocolate is so rich.



out of 5 Freddy gloves
Cookies n' Scream


Found these at a dollar store and, wel... that's about all they're worth. First off, I like how the packaging on these varies from green skulls and terrified skulls to band-aid skulls and pirate skulls. That said, they only made the treats look like the band-aid skulls. Personally, I would've gone with the pirate, cuz how many eyepatch wearing skulls does one get to eat during any given Halloween season? I'm also a bit bewildered by the description: "Creamy candy with cookie gifts!" They make it sound like the cookie part of these are like toys or something. As if some kid is gonna open these up and scream, "Look mom! I got a gookie gift with my candy! Wowie-zowie!" Calling these cookies on the packaging is kinda deceptive too, since these are basically solid piece of white chocolate, and it's not even that great for white chocolate. Yes, I know some of you would say there's no such thing as good white chocolate, but you're wrong. Nonetheless, these aren't anything special, and you can't taste any of the tiny, crunchy cookie bits inside each piece. But really, what'd you expect for a dollar?


out of 5 hearses
Butcher's Choice: Tender Cuts - Chuck's Hand


While most gummy candies that have crazy designs like this tend to taste bad, Chuck's Hand is surprisingly decent for a lime flavored gummy candy. I'm not saying you should run out and buy a ton of them, because they're that delicious, but these are very soft and easy to eat. That said, why would you want to eat such a fine work of art? This may be the bloodiest gummy candy I've seen to date. I mean look at it... the hand has been squashed, bone is exposed and blood is spurting out of every possible spot. To top it all off, Chuck's Hand is packaged in the Butcher's Choice container to make it look as though it came straight outta the meat market. You can buy the fake placstic severed hands in the butcher containers for $15 - $20, or you can buy one of these for only 3 bux. The choice is obvious.




out of 5 Frankensteins
Butcher's Choice: Body Parts Platter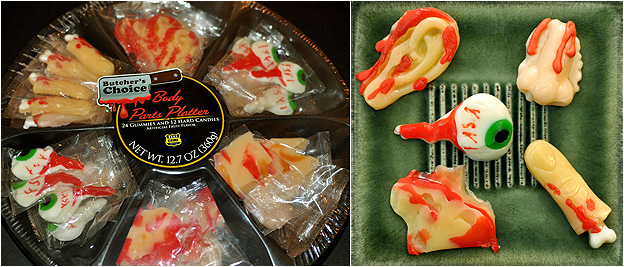 Butcher's Choice is definitely on a roll this year, because they've also released this huge Body Parts Platter. If you're throwing a Halloween party, this thing is mandatory. Even if you're not a fan of the actual candies, it's gonna raise a few eyebrows at the very least. The platter has a mix of 24 gummies and 12 hard candies, all of which have an artificial fruit flavoring. The gummies are easily the tastier of the two, as I wouldn't recommend even trying the hard candies, so I guess it's good they included twice as many. The body parts include bloody ears, eyes, noses, fingers and random slabs of flesh that could've come from just anybody anywhere on a human body. What's odd is that you can barely tell which ones are the gummies and which are the hard candies. For example, the only difference between the eyeballs, is the gummies have a red trail of sinews, whereas the hard candy sinews are pure white and it makes them look like giant cyclops sperms. When you think of it that way, this platter just got even scarier.



out of 5 zombie hands
Freak Street Gummy Brain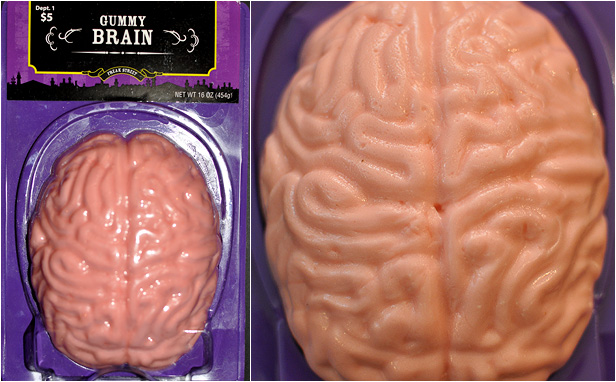 DING! DING! DING! DING! We have a winner folks. A winner for the most disgusting candy of the 2010 Halloween season. The Freak Street Gummy Brain is a massive, slimy pile of gray pink matter. Upon holding it in your hand, the first thing you'll say is, "Wow! This thing has some real weight to it!" The second thing you'll say is, "Please, for the love of Halloween, get this nauseating glob of goo out of my hands and gimme some Purel, stat!" There's no lighting tricks going on here folks, the brain really is as slimy as it looks. Absolutely nasty in every way. It even smells nasty. If you're planning on dressing as a zombie, I recommend carrying around this brain and take a bite out of it every now 'n then to truly complete the costume.



out of 5 Edgar Allen Poe's.
Oh but there's more!
CLICK HERE TO CONTINUE TO
PAGE 3 OF THE CANDIES!