by: -RoG-
...CONTINUED
Pocky Halloween 3-Pack


I've always loved Pocky, so when I saw this special Halloween 3-pack I was super excited to try them out when I ordered them online from the same place that sold me my Black Garlic Pepper Halloween Doritos. First and foremost, the artwork on this set is sickeningly adorable in the best possible ways. Scared little ghosts flying around in witch hats? I'm dead. DEAD. Then the backs of each box have gorgeous Halloween party illustrations that double as games, including a pumpkin ghost maze, a Halloween version of "Where's Waldo?", and one of those "figure out what's different with these two nearly identical spooky pictures" puzzles. All this before you even open the box and taste the stuff!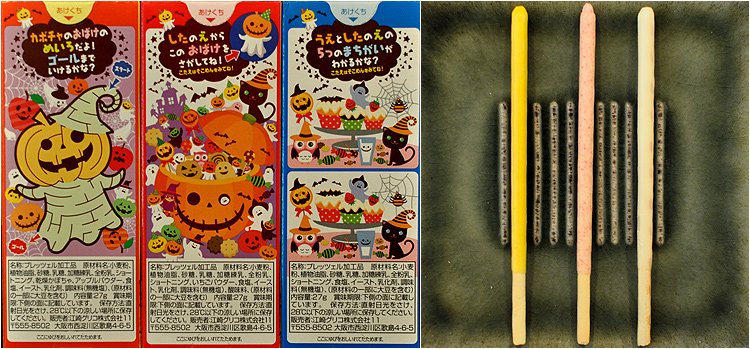 The three flavors are Strawberry, Milk, and Pumpkin / Apple. I've had Strawberry before, as have most people who've tried Pocky over the years, but the other two flavors are new to me. The Pumpkin / Apple flavor is extremely mild, and on some bites it's hard to taste anything but the cookie stick itself, but it's still tasty. The Milk flavor was a bit more noticeable, and definitely lived up to its name, with perhaps a bit of vanilla added in as well. I think I still like Strawberry the most. Overall, this 3-pack is a really fun release from Pocky, and I hope they continue to do these Halloween packs every year.



out of 5 Mad Scientists
Ghostbusters Hard Candy Halloween Mix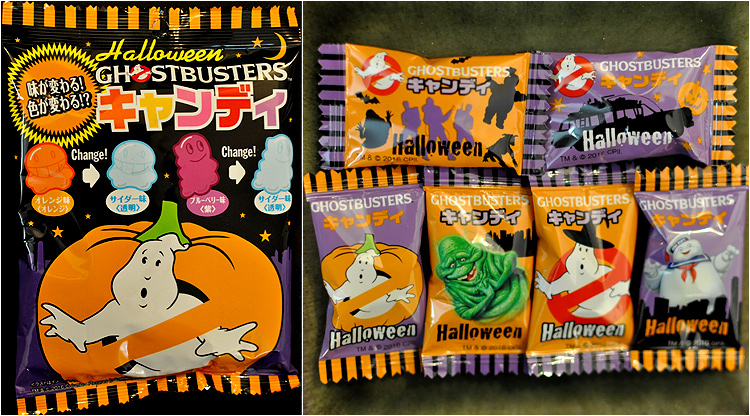 Another release from Japan that I couldn't resist was this pack of Halloween Ghostbusters hard candies. For starters, you have the Ghostbusters logo embedded in a pumpkin, so that's an instant selling point if I've ever seen one. I figured the same design would be on the individually wrapped candies inside, but instead, I found that there were six different wrapper designs! My heart melted the moment I saw Slimer smiling at me with the word "Halloween" written underneath him. You also have the Stay Puft Marshmallow Man, a silhouette of the Ghostbusters fighting various ghosts, the "no-ghost" logo wearing a witch hat, and the Ecto-1. Gotta love how they went the extra mile with the packaging on these.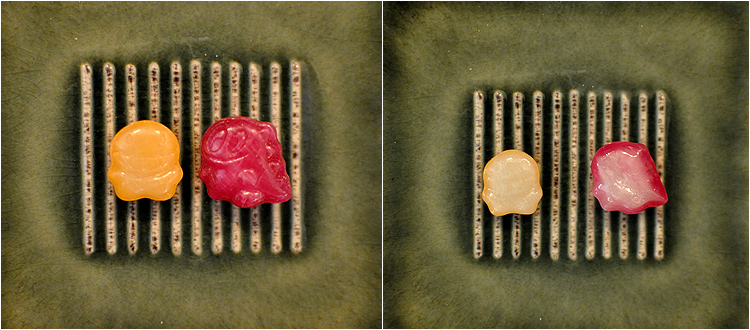 The candies themselves are shaped like little ghosts that actually change color and flavor as you eat them. The little orange-colored ghost changed to a spooky white as did the purple ghost. The orange one was orange-flavored, and the purple was raspberry, and both were delicious. As they turned white, they became a more random citrus blend that was equally tasty. And come on, how can you not love the novelty of eating them to slowly reveal their spooky white spectral nature hidden beneath. Between the excellent packaging and the delicious flavors, they really did a wonderful job on these. Would love to see them become more widely available next year instead of a Japanese exclusive.



out of 5 Audrey II plants
Halloween Mocolet Foaming Candy Toilet Kit


Brach's may have won the most random Halloween candy flavor this year, but the Heart company in Japan wins for the most random Halloween candy experience. No, your eyes are not deceiving you. This is indeed a Halloween candy toilet. It comes in two colors, purple or orange, and you get a small sheet of stickers to decorate it. The stickers you can get include a mummy, Frankenstein's monster, a vampire, or my personal favorite, a jack-o-lantern. I lucked out and somehow got both the orange toilet and the jack-o-lantern sticker pack, so it would seem that the Great Pumpkin was smiling upon me once again this season.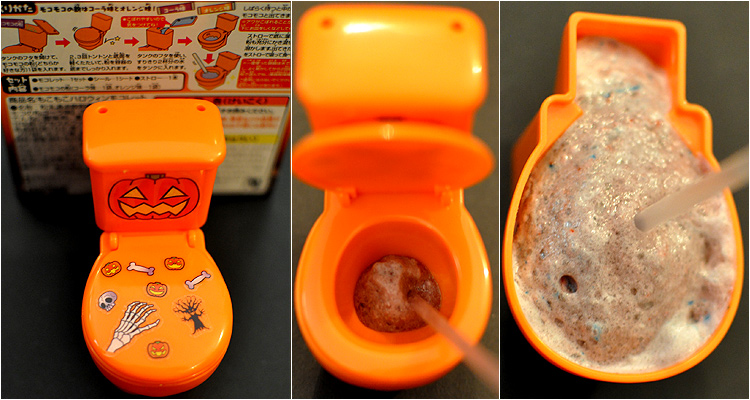 The plastic toilet container comes unassembled, and after building it, you get to apply the spooky stickers. I found myself laughing as I applied tiny pumpkin & bones stickers to an orange toilet lid. Next, you choose between two candy powder flavors to pour into it - orange and cola. I decided to go with the cola this time around. You just pour the powder in, add some water, stir it up, and watch it start to foam. Once it foams up, you stick in the included straw and drink it up. It's an extreeemely sweet cola flavor, and it's actually pretty good, but it's so strange to be drinking it in foam form... and out of a toilet. It's such a weird, wonderful, and wacky Halloween experience. I'll never forget that 2016 was the year that I drank cola-flavored candy out of an orange Halloween toilet. Good to know I can finally check that one off the ol' bucket list.




out of 5 Jaws
Werther's Original Caramel Apple Soft Caramels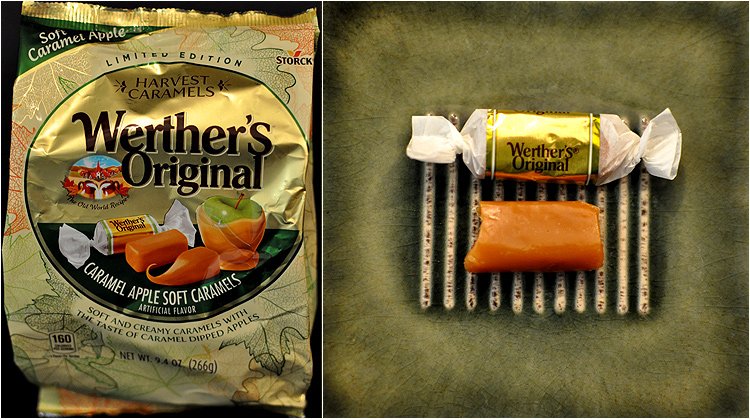 I may not be a grandfather sitting by a cozy fireplace like in their classic commercial, but I've always loved Werther's Original candies. They've been branching out their product line in recent times, with some absolutely delicious new treats, including bags of caramel-coated popcorn that should be illegal, because it's insanely addictive. Well, these new caramel apple flavored soft caramels are just as good. They practically melt in your mouth and have an incredibly perfect balance of buttery caramel and apple flavoring. I don't know how they do it. Combine that with the nice autumn leaves motif on the packaging and this is a most welcome addition to Halloween. Once again, these say "Limited Edition", but I really hope they continue to produce these come Halloween season every year. They're just too damn good to be a one-off. An absolute must buy.





out of 5 hungry piranhas
Halloween Junior Mints


Yes! How can you not love Junior Mints? Better yet, how can you possibly improve them? Well, you could Halloweenify them. They're such a refreshing candy, and now they've finally hopped aboard the Halloween express by introducing spooky mints with black and orange centers? Are you kidding me!? The package design is absolutely great too, completely with a full moon to showcase the new mints alongside a cemetery silhouette filled with spooky trees, bats, and tombstones. I've already devoured two boxes, and I couldn't possibly love these any more than I already do.





out of 5 Grim Reapers
So that does it for my Ultimate Guide to the Halloween Candies of 2016. There weren't a ton of crazy novelty candies this year, but I was really happy to see there were quite a few more than usual that I was able to give high rankings to. As always, I must remind you that many of the candies I reviewed last year and other previous years are still available stores again this season, so be sure to keep an eye out for them as well and read my old reviews to get the scoop on 'em. If you happen to spot any candies that I haven't covered yet, drop me a line and let me know so I can try to track 'em down and update this article with a quick review before Halloween rolls around.
Now if you'll excuse me, I'm gonna go turn my car into a hybrid vehicle by punching a hole in the floor. How does that work? Simple. I have so much sugar pumping through my body, I can peddle it with my feet faster than Fred Flintstone himself. I'm gonna move that car so fast the Earth's rotation just might reverse!
Before I go, I can't even begin to tell you how much work goes into putting this article together every year, so I'd really appreciate it if you would please share my big candy review on your favorite social networks with all your pals. You can find the link to the first page of candies below to share with everyone. And speaking of below, be sure to drop a comment down there to lemme know what you thought of all the candies I reviewed and if there were any ones I missed out on this season. Thanks for reading my big review; now get out there, eat a ton of candies, and have another keen Halloween!!!
Click here to return to page 1 of the Halloween candy reviews!
Enjoyed this article? Wanna support my efforts?
Please consider buying something from the I-Mockery Store!

Have any questions or comments about this piece?
SHARE YOUR THOUGHTS IN THE READER COMMENTS SECTION BELOW!