by: -RoG-
...CONTINUED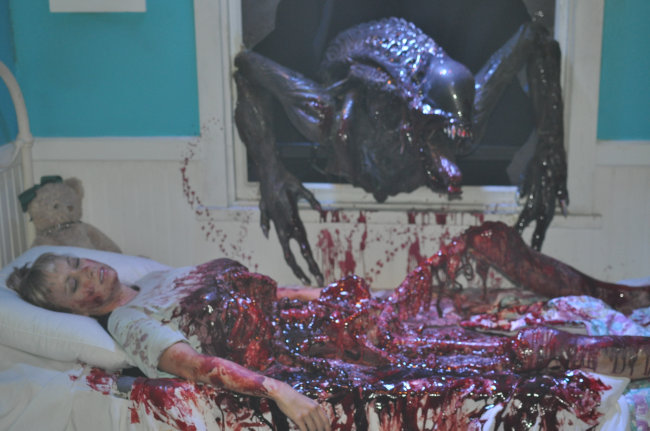 No ninjas bugging this alien, however. He's enjoying quite the feast.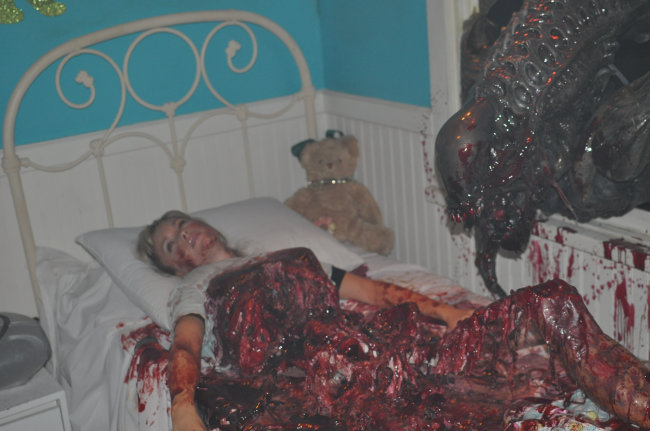 Somebody give that thing a bib!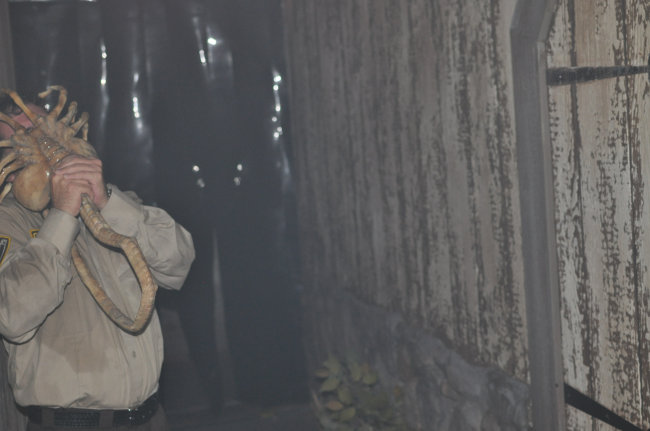 This guy was seriously hamming it up as he struggled with the attacking facehugger.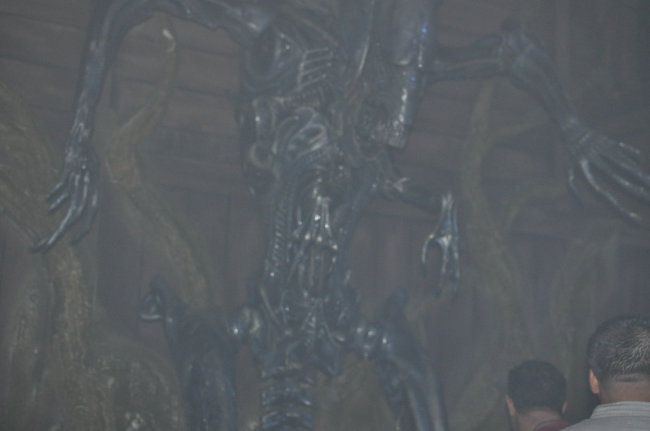 The giant Alien Queen that we saw last year was still as impressive as ever.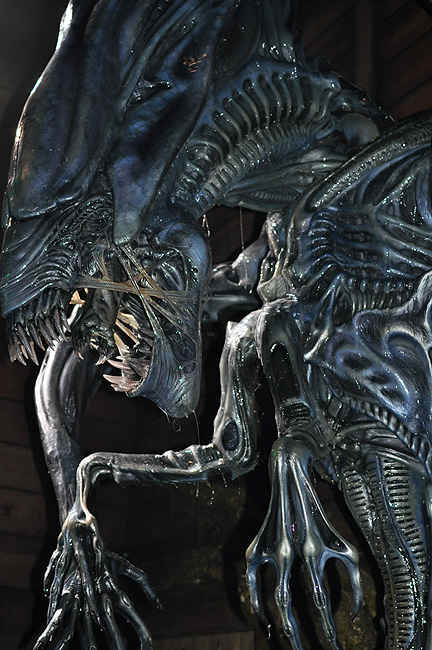 Seriously awesome, and still the best thing about the AvP maze.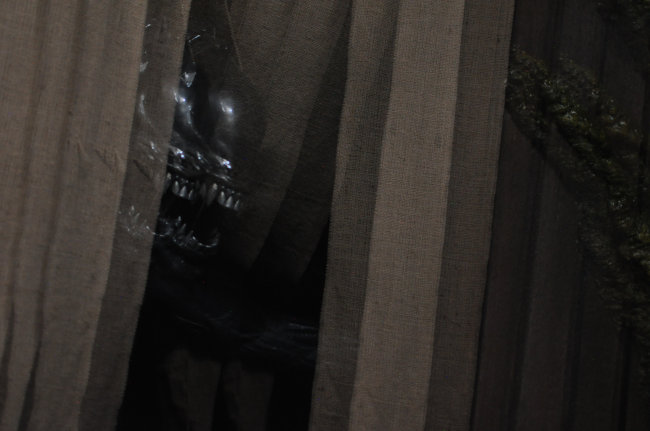 Guess who's peeking through the curtains!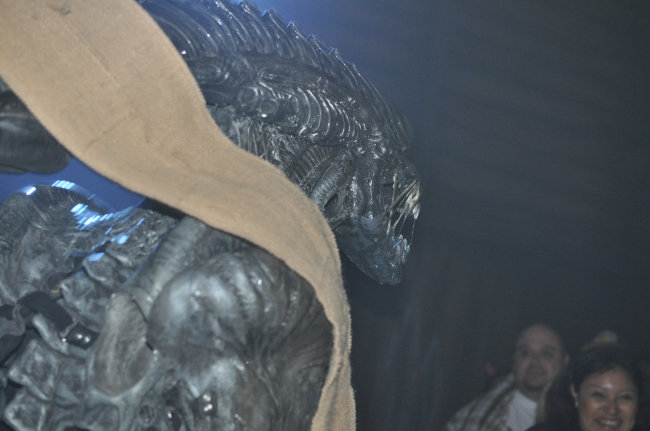 That's right! It's another alien! (I love this shot)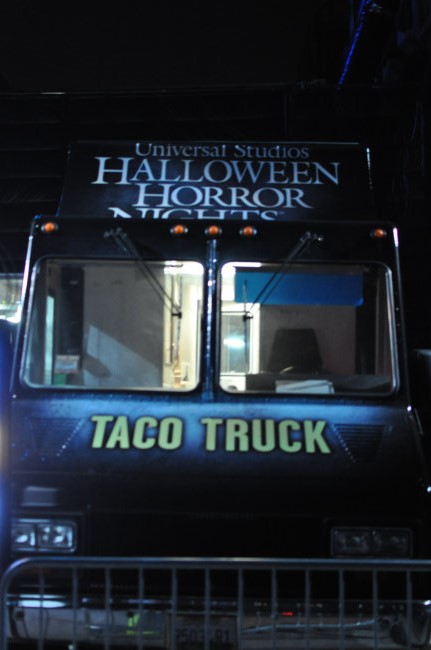 After the AvP maze, we made our way to the next maze, and came upon the Horror Nights Taco Truck.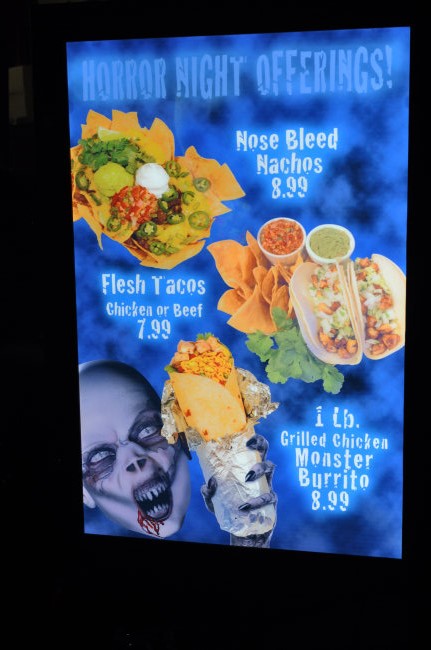 Monster Burritos, Flesh Tacos, and my personal favorite, Nose Bleed Nachos!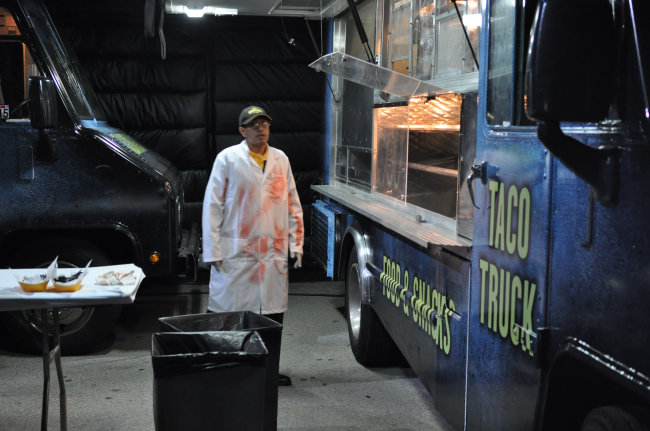 Even better, the guy working the truck was wearing a blood-soaked smock. Well played, sir!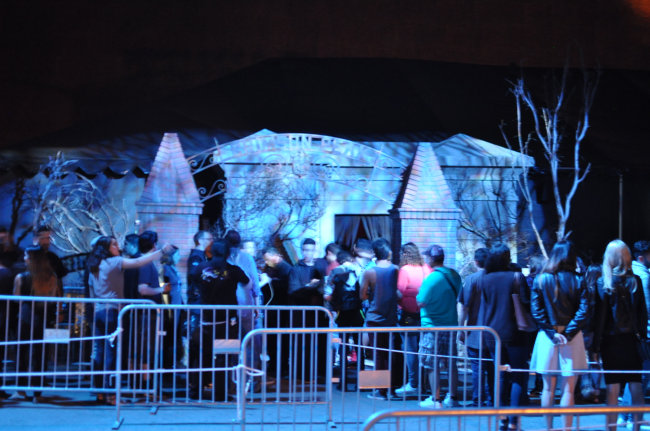 Our next maze was Crimson Peak: Maze of Madness by Guillermo Del Toro.
I haven't seen the movie yet, so hopefully I'll get the references later on when I do.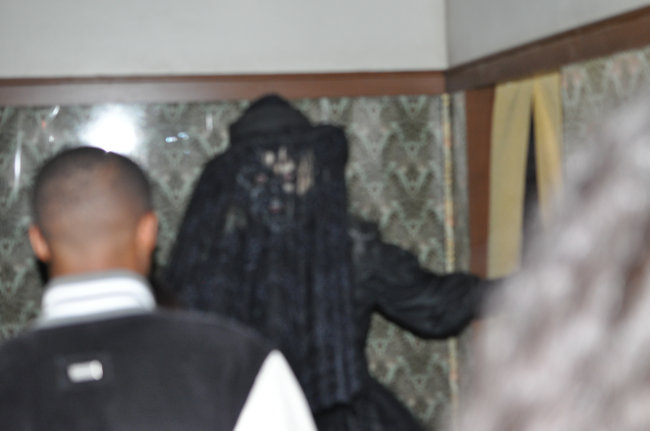 Much like Insidious, we were greeted by another creepy person in all black.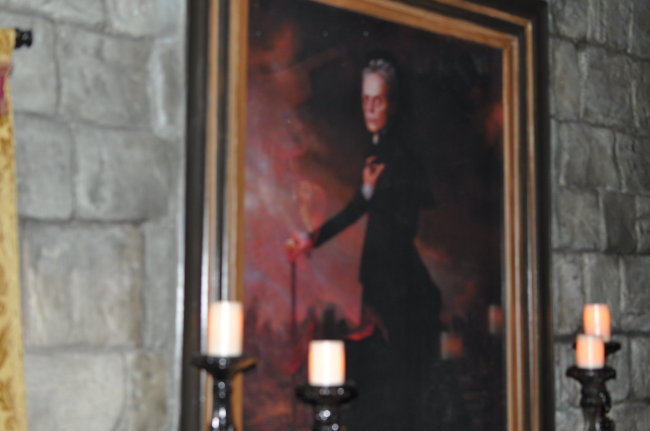 The painting on the wall kept changing from this...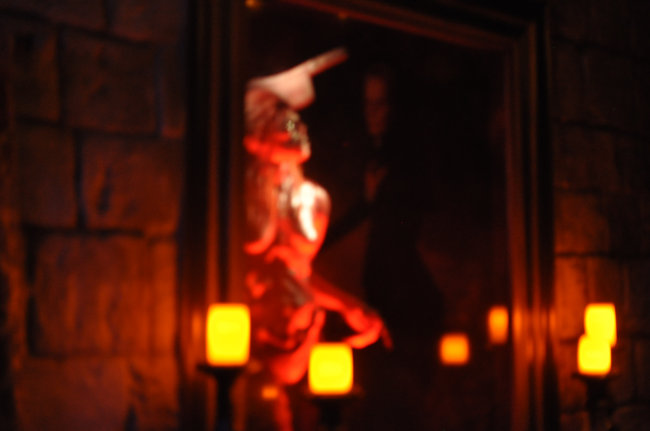 ...to this person with a cleaver embedded in their skull.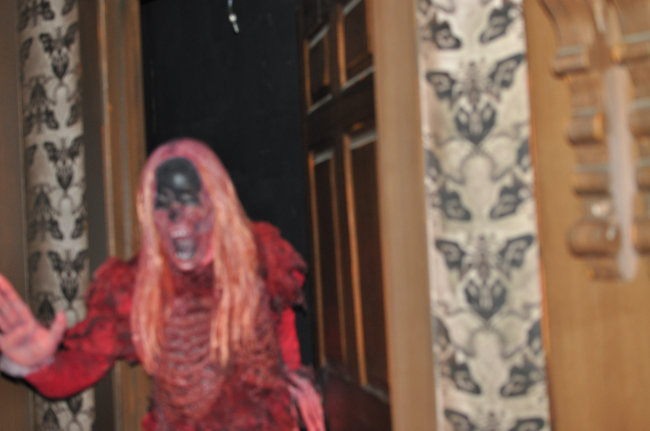 She sure looks like a happy camper!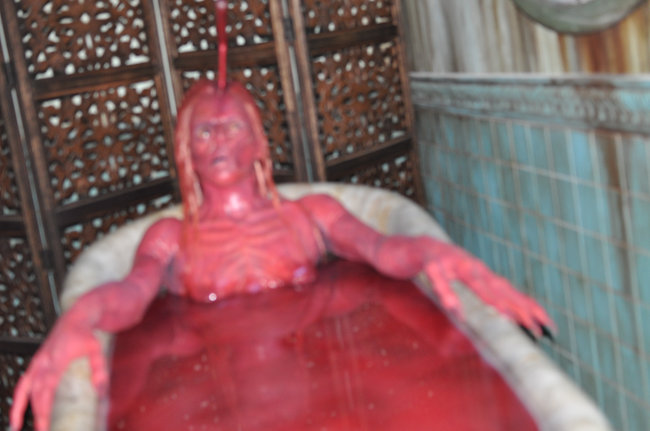 If I'm reading into this movie correctly, everyone is covered in blood and has cleavers embedded in their skulls.
Yeah, I'll buy a ticket to go see that.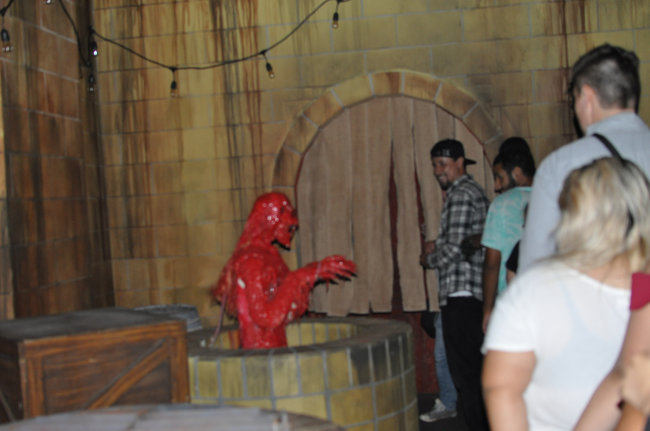 Fun room where bloody skeletons randomly pop out of wells. Felt like a horrific version of whack-a-mole.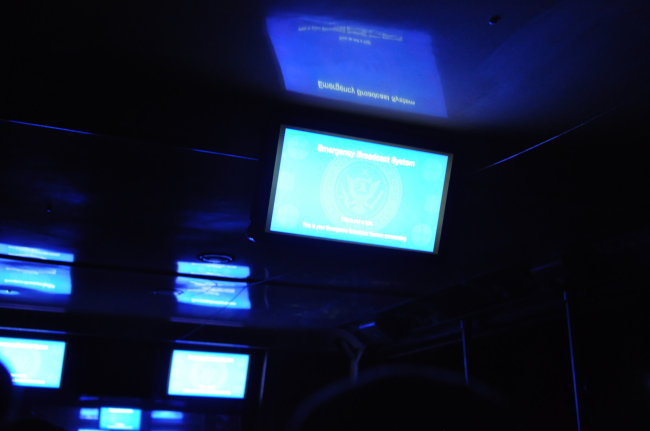 After Crimson Peak, we made our way down to the Terror Tram, and wouldn't you know it...
The Purge warning came up again.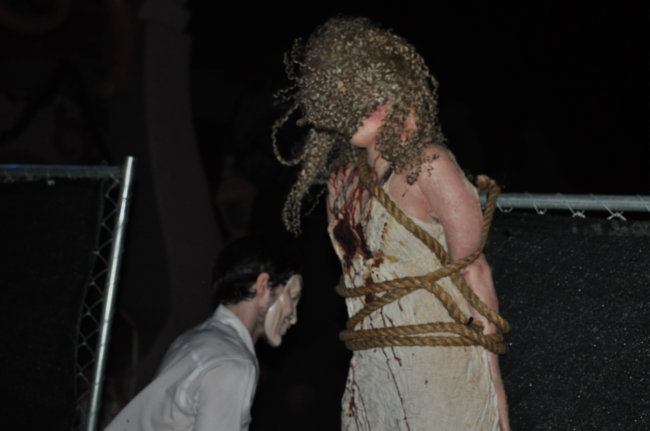 Survive the Purge was this year's Terror Tram theme. By the looks of it, the real victim here was this lady's hairdo.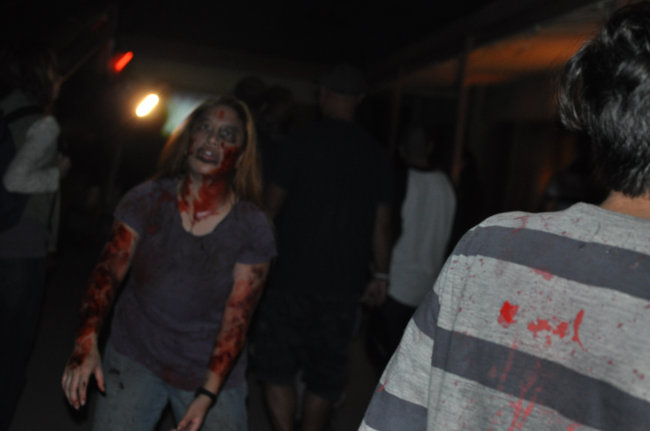 Looks like someone tried to purge her of her life.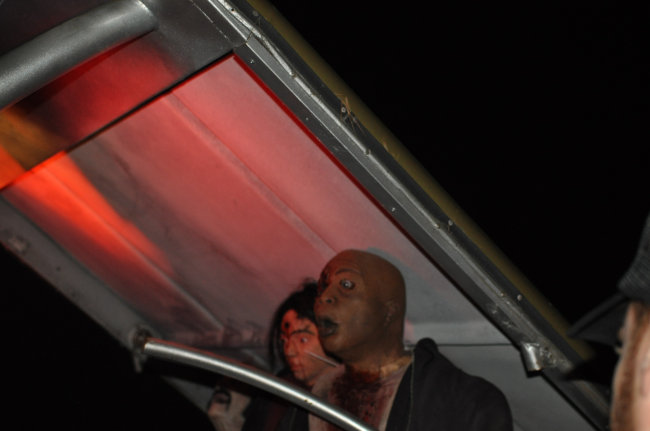 This mannequin is very surprised to be a mannequin!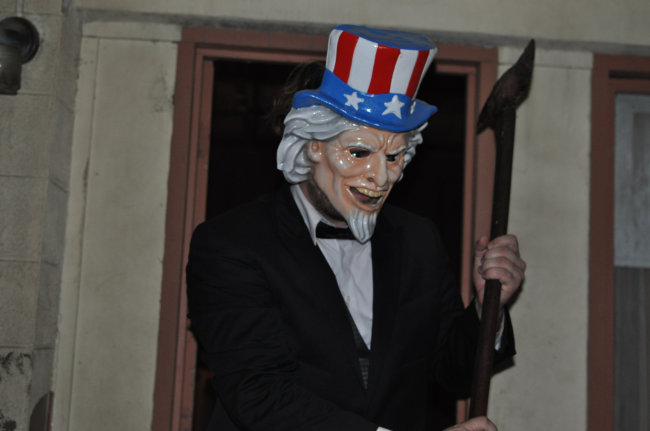 Uncle Sam has joined the Purge and he WANTS YOU.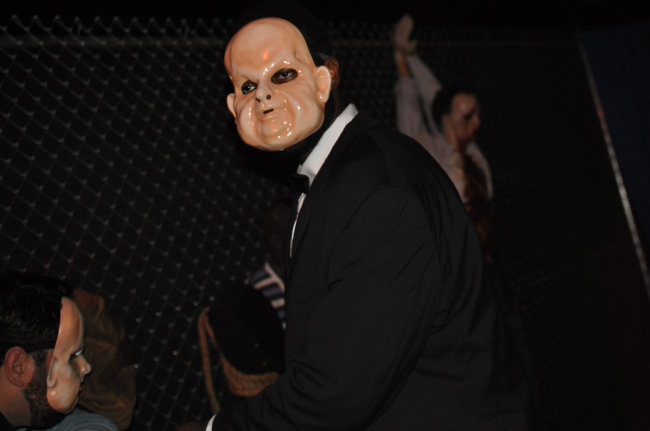 I don't trust babies, and I don't trust grown-ups wearing baby faces.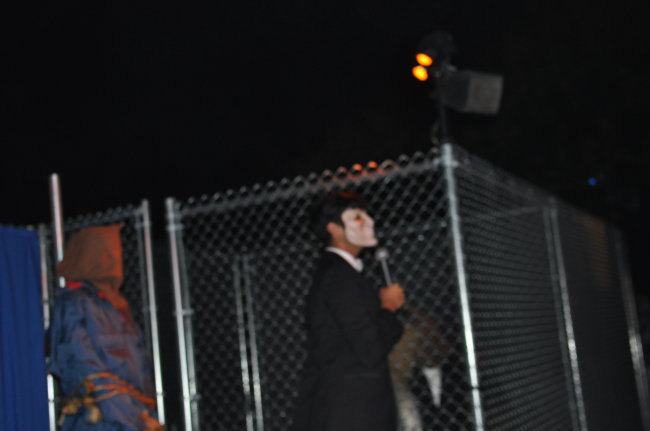 Auctioning off the rights to kill this person? I think he/she may be dead already.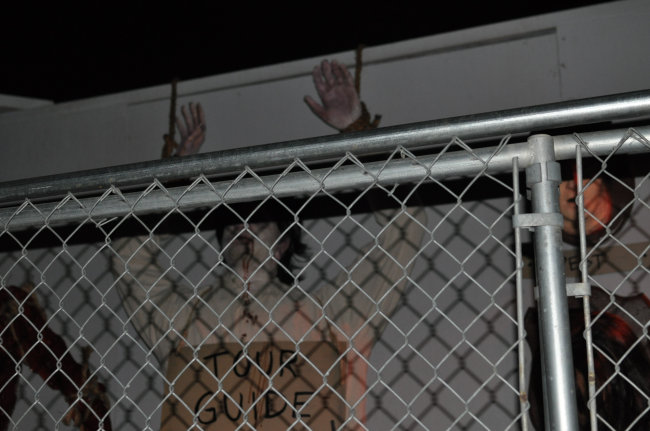 Inside the armory, we discovered that the previous tour guide didn't fare too well.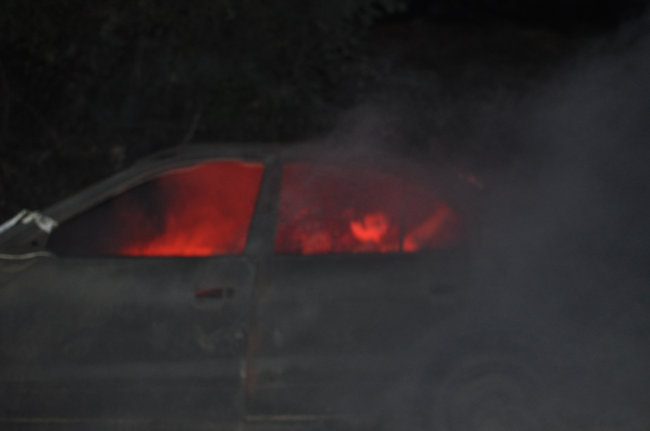 Then again, neither did most folks outside of the armory either.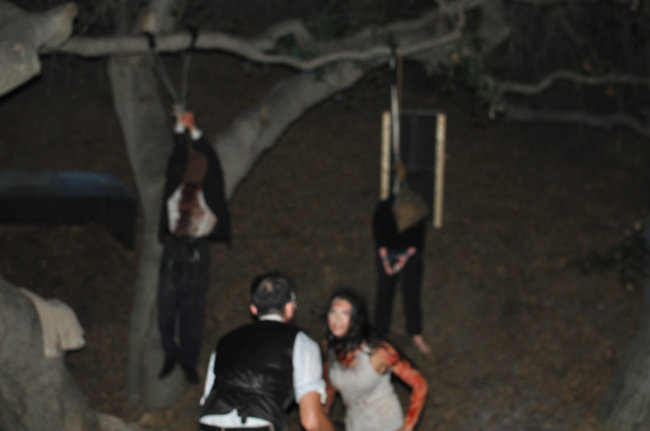 More victims hanging from trees while one woman runs for her life.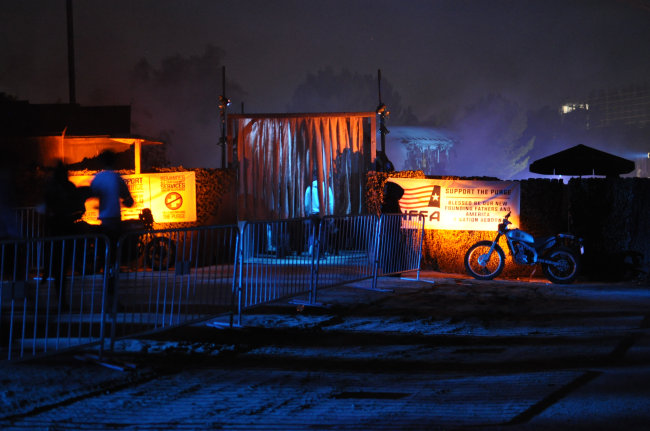 We'll continue with the Purge momentarily, but first...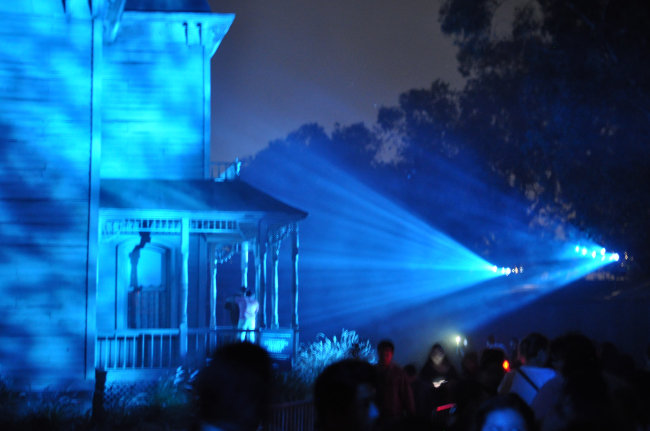 It's time to continue with our annual tradition and pay a visit to the original Psycho home once again for a photo op!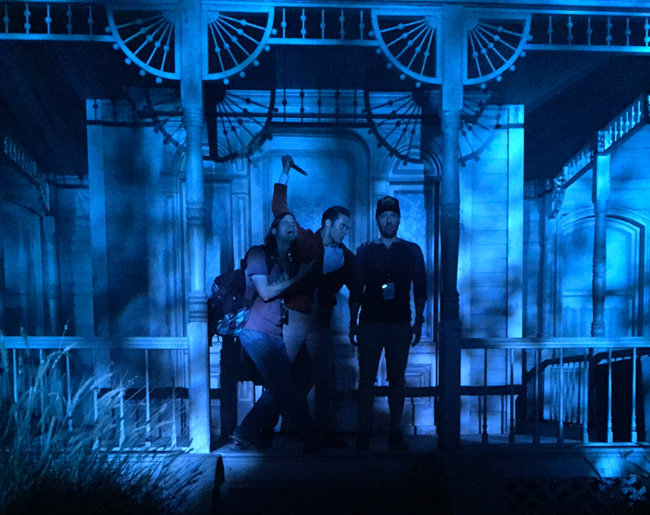 Ethan about to get stabbed by Normal Bates is always good for a laugh.
There's still more Halloween Horror fun to see!
Click here to continue onward to page 5!