by: -RoG-
...CONTINUED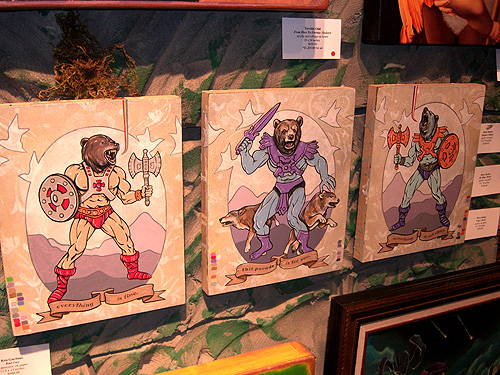 He-Man, Skeletor and Faker - the three bears.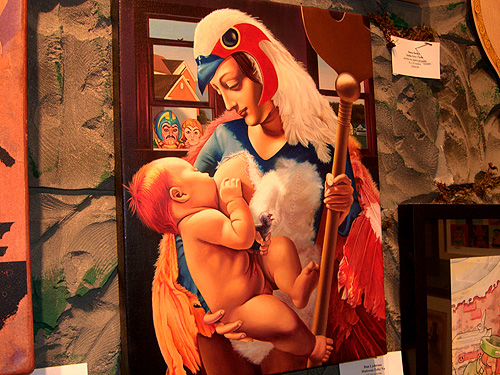 Milk straight from the source... er... Sorceress.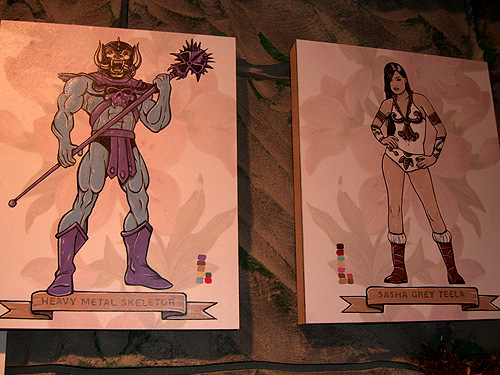 Heavy Metal Skeletor and Sasha Grey Teela? Sure, why not.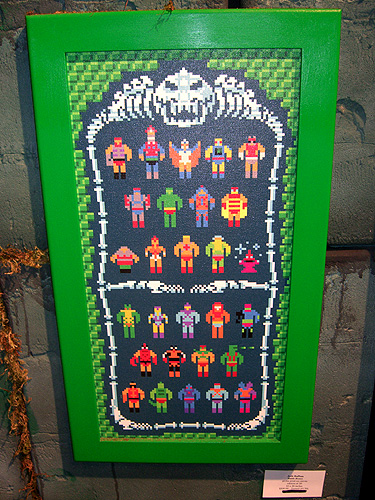 I really wanted this Masters of the Universe pixel art piece, but couldn't afford it.
Here's hoping the artist puts out some prints in the not too distant future.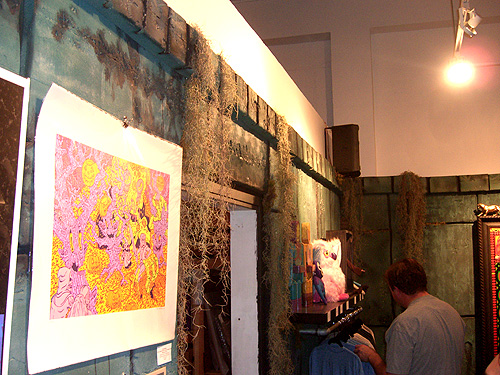 Just a little sampling of how the entire gallery was lined with makeshift Grayskull walls.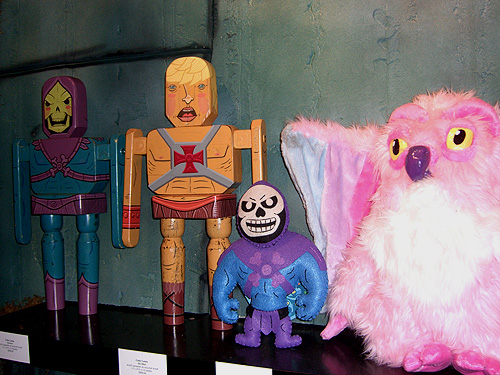 Well, they do have just about as much articulation as the original toyline.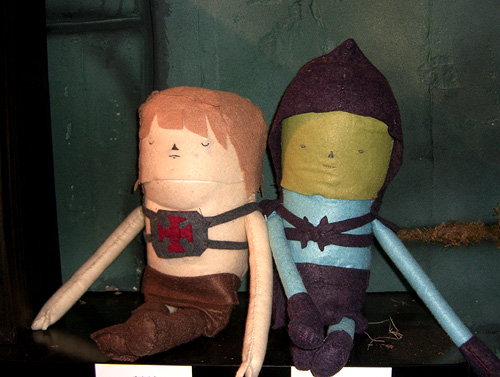 Awww!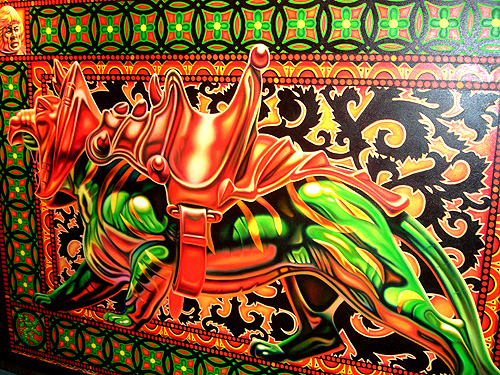 This photo just doesn't do this piece any justice. It was a huge wall-sized painting of Battle Cat and sold
for over $10,000. Whoever bought it will surely have one hell of an impressive centerpiece for their room.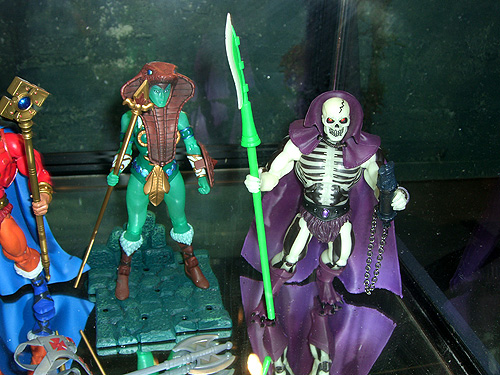 Scareglow! Good to see another one of my favorite classic figures getting a nice modern remake!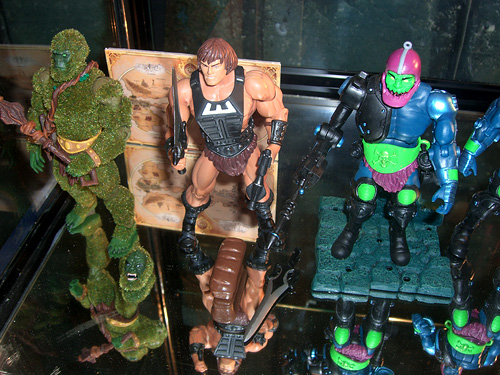 Moss Man will forever rule the world of flocked action figures.
Also, who can't appreciate Wonder-Man and his powerful loaf of bread?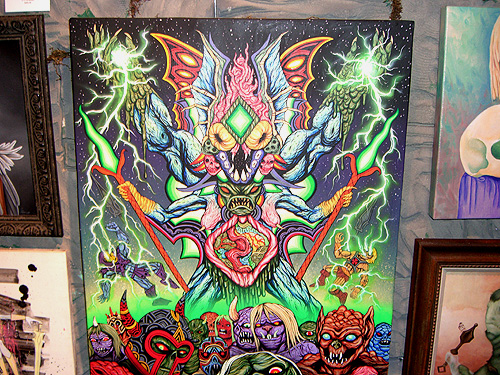 Where is your god now?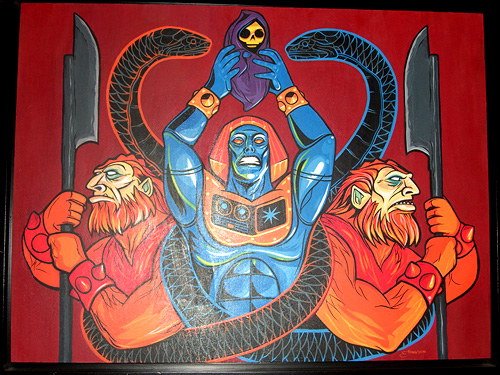 All hail Faker and Baby Skeletor!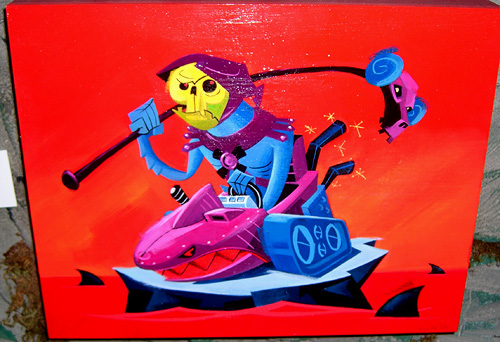 I never thought I'd see a painting featuring one of the most hilariously absurd vehicles from
the original Masters of the Universe toyline, but there it is... Skeletor's Land Shark!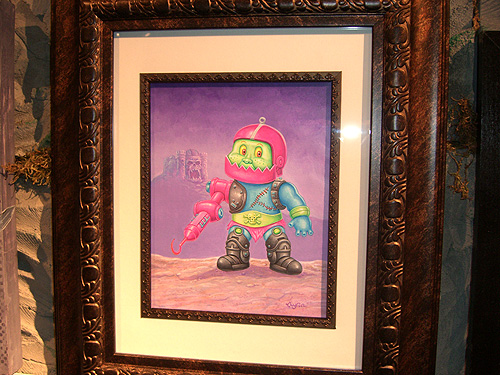 I also never thought I'd see Trap-Jaw as a Garbage Pail Kid. Clearly, this art show was full of childhood dreams.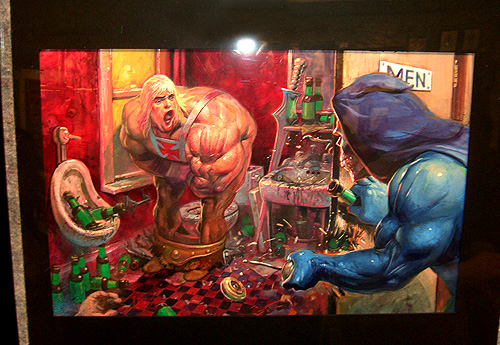 A killer painting depicting the origin of He-Man and Skeletor's ongoing feud.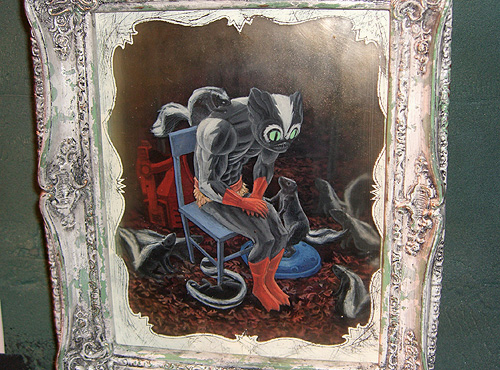 Last but not least, Stinkor hanging out with the only friends he ever had... skunks.
If there was ever a candidate for a scratch-n-sniff painting, this would be it.
That's all for the photos I took of the He-Man art show opening reception. Wish I could've taken more pics, but I only had the small camera with me. Still, I think the photos give a pretty good feel of what the show was really like, so I hope you enjoyed 'em! For those of you in or near Los Angeles, don't fret if you missed the opening reception... the show is still going on at Gallery 1988 until January 29th, 2010 in case you wanna check it out. As you can see from all the pics, it's absolutely worth your time and the good people of Eternia are depending on your patronage.
Have any questions or comments about this piece?
Email -RoG-