Hostess cupcakes and Twinkies. When one thinks of classic junk food snacks, these two delicious chemically engineered treats are sure to pop-up on the list. After seeing them advertised in countless superhero comics back when we were wee lads (sometimes even being part of the actual comic storylines) it was damned near impossible for us kids to resist the temptation to eat 'em up. I mean, for crissakes... Batman ate Twinkies, so how the hell could we not do the same?
Now that the new millennium has arrived, we're supposed to be getting all sorts of things that they talked about in science fiction tales back in the day, right? Flying cars, laser guns, flashlights that were turned into twisted sex toys because the bulb was replaced with a plastic vagina, and last but not least... the ability to make our very own Hostess Cupcakes and Twinkies.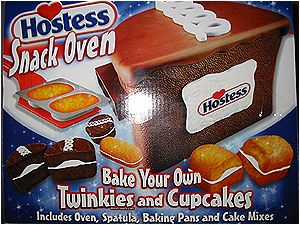 I damn near shot out a load of my own special crème filling when I saw this box at my local K.B. toy store. For a mere 10 bux, I would be able to create my own Hostess treats for the rest of my life without ever having to leave the comfort of my own home. Too good to be true? Probably. But I wasn't going to let that stop me from at least giving the thing a shot. Besides, the oven itself was shaped like a giant friggin' cupcake! How could you go wrong with that?
Now before we begin, let's take a quick look at an important warning:
DO NOT IMMERSE OVEN IN WATER AT ANY TIME. That's some sound advice if I've ever seen it. Why, that advice ranks right up there with "DO NOT SET THE HOUSE ON FIRE", "DO NOT MURDER PEOPLE", "DO NOT EAT LIVE ELECTRIC EELS", and "DO NOT TAUNT THE LIONS BY REPEATEDLY BY THRUSTING YOUR GENITALS IN THEIR GENERAL DIRECTION WHILE SHOUTING 'COME SEE THE REAL EYE OF THE TIGER, BITCHES!' AT THEM." Thank you Hostess, without your words of wisdom, we'd all be doomed.
Now that we're well educated on proper giant-cupcake oven maintenance, we can get to the good stuff. As you can see, there aren't a whole lot of accessories with this particular bake set. While some of the other sets I've featured in the past came with all sorts of goodies, this Hostess one is pretty much a bare bones deal. You get the oven, the Cupcake and Twinkie pans, a plastic swirly mold for the cupcakes, the cake and frosting mix packets, and the spatula. We had to buy a 100-watt light bulb for it too, but were disappointed to find that the Hostess logo didn't light up in the front when you plugged it in. So it definitely doesn't compare to the ol' Queasy-Bake Oven as far as glowing aesthetics are concerned.

Another thing that caused us to raise an eyebrow was the fact that the pans looked significantly smaller than the Hostess Cupcakes and Twinkies that we remembered. So, we ran across the street to 7-Eleven and bought one pack of each for comparison. Ok, we were actually just hungry as hell and wanted to eat 'em, but damnit, I swear this was for scientific experimentation too! As you can clearly see in the photographs above, these pans were nowhere near the size of the store-bought Cupcakes and Twinkies. The Twinkies were definitely a bit smaller, but the Cupcakes were what really surprised us. I mean just look at that shit. I'm sorry, but that pan isn't going to produce a real Hostess cupcake, it's going to produce a tiny morsel roughly the size of a mouse turd.

Another problem we noticed before we even began to make our treats was that Hostess fucked up big-time with the packaging. They forgot to include the chocolate cupcake mix and instead gave us TWO "Yellow Cake" mixes instead. SON OF A BITCH! So yeah, it appeared we would have to make due with what we had and bake a vanilla-flavored cupcake instead. Looking back on it now, I'm guessing that this fuckup was intentional. Yep, they conveniently sell chocolate cupcake mix refill packs for $6.95. What a steal!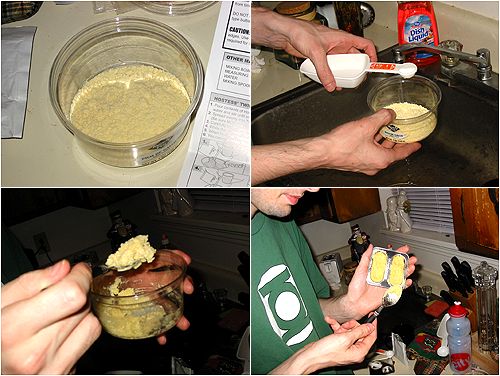 We decided to start off by making the Twinkie first, so we poured in the miniscule amount of water required to turn the cake mix into something that resembled what a cat would yack up. Let me tell you, this stuff was sticky as hell. If you were running low on cement, you could easily hold some bricks together with this shit. I'm sure it'd stick to the walls of your stomach for years to come. The Hostess Snack Oven - it's the gift that keeps on giving.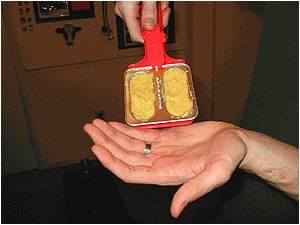 After spending a couple minutes of forcing the damned Twinkie mix off of the spoon and into the pan, we were finally ready to shove it into the oven and let it cook. The spatula they provided was actually pretty cool because it has a clamp which grasps the edge of the tray. In other words, it would be a lot easier to get this tray out of the oven once the Twinkies were cooked. That's usually not the case with these toy oven deals.

With great excitement we said goodbye to our Twinkie pal as it went into the cupcake oven to cook for 12 minutes. You really have to wonder about the health ramifications of a food product that can be cooked completely in 12 minutes by a mere light bulb. Eh, I grew up eating Boo Berry to start off the day... nothing can kill me!
While the Twinkie was baking, we started making the cream filling mix and goddamn there was a shitload of it! They provide you with waaaaay too much sugary creme filling mix. It's supposed to be enough for both the Twinkie and the Cupcake, but the amount they provide you with could easily fill up your intestines faster that a barium enema. So what does one do when faced with the global crisis known as "extra creme filling mix"? It's quite simple... you snort it for a sugary high.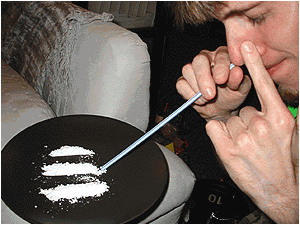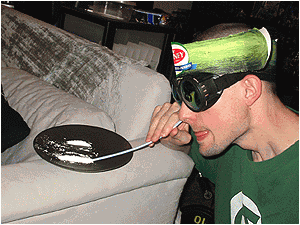 Scarface doesn't have shit on us. My pal Andrew did a huge line of the creme-filling mix. In all honesty, I think he could've finished all 3 lines without flinching once. Wanting to be a macho-man myself, I began to snort a line of the creme-filling mix as well. Within seconds I felt as though my head was going to explode and then I blacked out for about 5 minutes. When I awoke, my pants were missing and the handle-end of the spatula had somehow made its way into my ass. Andrew claimed to have nothing to do with it, but I'm not sure I believe him. Last time I checked, there weren't any spatula-wielding Hostess gremlins running around my fucking house looking for an opportunity to rape.

Moving right along, we made the cream filling mix and it did NOT look appetizing. Not in the least. It sure as hell didn't look like the delicious fluffy cream filling you'd find inside a real Hostess Cupcake or Twinkie. It did, however, look like monkey spunk. And I'll be damned if the normal store-bought Hostess treats contain monkey spunk. Well, they might, but at least it's tasty monkey spunk.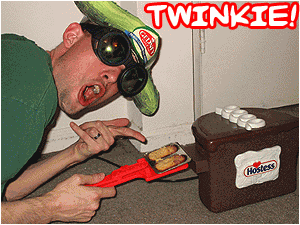 Sure enough, the spatula with the built-in grip worked great when it came to removing the Twinkie pan from the cupcake oven. Unfortunately, my excitement was cut short when I realized that it didn't look much like a Twinkie at all.

Not only were they fairly torn-up on top, but they were burnt on the bottom! How the hell does the food on the bottom of the pan get burnt by a friggin' light bulb!? And in case you were wondering, no the Twinkie didn't expand to normal Twinkie size after being cooked. It was still way smaller and less appetizing than a real Twinkie. But that's not the worst part.

Fact. Twinkies do not come in two separate parts. Sad Fact. The Twinkies that Hostess provides you with in this kit do. Yep, you're expected to take the monkey spu... er... icing and spread it on the Twinkie as if it's some kind of mutated peanut butter sammich. Uh no. Twinkies do not come in two parts and the cream filling is not spread onto them, it's injected! That's right, what they should've done is provided us with a mold for one solid Twinkie and a syringe to inject the cream filling into it with. So far the Twinkie is aesthetically inaccurate and unappealing. But would it at least taste like a Twinkie?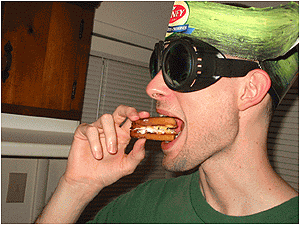 No. Wait, let me rephrase that. FUCK NO. First off, I couldn't even taste the cream filling. You'd think that with the amount of cream filling we put on it, you'd at least be able to taste it. Don't get me wrong, I'm sure it wouldn't have tasted good anyway, so it's probably for the best that I didn't taste it. And then there was the Twinkie cake itself. It was like eating some horrible mixture of cake, sand, and glue. My mouth was dry as hell for an hour after eating it. I think I drank half a carton of orange juice to dry to return some meager form of moisture to my mouth. Pseudo-Twinkies 1. RoG 0.
At this point we didn't have much to look forward to. I mean, according to the instructions we had all of the necessary ingredients to make a near-perfect Twinkie reproduction and it turned out like crap. For the Hostess Cupcake we didn't even have the chocolate cake mix, so how good could it turn out? We made the icing for the swirls that would go on top of the Cupcake and put them in the swirly mold and then left them in the freezer. We could already tell there was no way in hell it was going to work, but we played along anyway. More on how that turned out in a bit.
So we made the Cupcake mix by using the one vanilla cake packet that we had left. Now according to the instructions you're supposed to be able to pour the mix into the Cupcake pan. Haha what a joke. Take a look:
Not even the Hulk could shake this stuff out of the mixing bowl, we had to pry it out with the spoon. And don't give me that whole "well it's because you used the vanilla cake mix instead of the chocolate cake mix" spiel. Other than the taste, there's not much difference between vanilla and chocolate cake. Maybe, just maybe it won't pour because you're supposed to basically use 2 drops of water for an entire packet of cake mix. No wonder the Twinkie tasted so godamned dry. And the chocolate frosting is no different either...

A half teaspoon of water to make that chocolate icing. I'm amazed that it was able to more or less mix it all completely. Still, that doesn't change the fact that it looked absolutely unappetizing. We were both in total agreement that it looked like dog shit. The resemblance was uncanny.

Well the 12 minutes passed and it was time to remove the Cupcake from the oven. Surprisingly, the Cupcake appeared to cook a little better than the Twinkie did.
There weren't even any burn marks on the Cupcake, so at least there was some shread of hope with the thing. Well, not really... but we had to lie to ourselves to keep our spirits up. So the icing and frosting was applied to the Cupcake, and I have to say... it looked more like a muffin that had been ravaged by the black plague than a Cupcake.

Oh well, at least we'd be able to put the candied icing swirl on top of it, right? Wrong. Just as we had predicted, it was impossible to remove the icing from the miniscule swirly mold. I tried bending it every which way, but this candied swirl was nothing of the kind. Even when I tried digging my fingers into it to give the thing a start, it just became complete mush. So we decided to scrap the candied swirl and just get the pain over with.

So there you have it, one genuine homemade Hostess Cupcake. Well, I already ate the nasty Twinkie and mouth was still dry as a desert, so it was Andrew's turn to step up the plate and face the demon.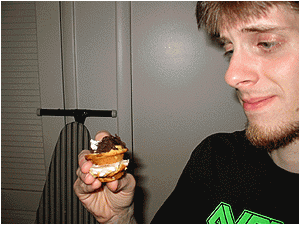 SCRUMDIDLEYUMPTIOUS!
As you can see by the expression on his face, Andrew absolutely LOVED the Cupcake. Oh yeah, just look at the excitement in his eyes. They're just lit up with the joys of eating a rich, succulent homemade Hostess cupcake. Why, I'm sure at this very moment he's sitting at home, twitching in a maddening rage due to an undying craving for just one more bite of those delicious cupcake sweets.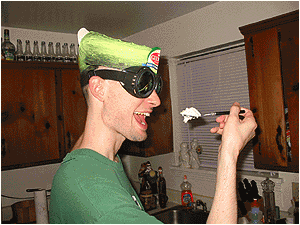 As you may or may not know, it's tradition that somebody always has to lick the spoon. It's one of those things that this country was founded on. To not have somebody lick the spoon would be to piss on the very foundations of our society. Worlds would collapse of someone didn't lick the spoon, ok? Unfortunately, anytime I do one of these food trials, nobody else wants to lick the spoon, so I'm always the one who gets stuck with the task.
So in the end, how do the homemade versions compare to the store-bought ones?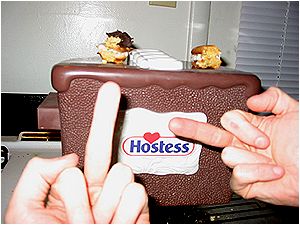 From the two of us: THANKS HOSTESS, THANKS A LOT.
If you really want your kids to feel like the failures they are, just buy them this Hostess Snack Oven. If they don't get completely upset on their own, just yell at them when they produce their very own hideous mutations of Twinkies and Cupcakes. They'll be scarred for life in an instant. Is it worth buying the oven for $10 just so you can have "fun" making these treats? No, not really. Not unless your idea of "fun" is simultaneously experiencing drymouth and nausea. Stick with paying under a buck for a pack of Hostess Cupcakes or Twinkies, they might not be good for you, but neither is wasting 10 bux.
the end.
---
Want to see some more crappy bake sets? Good. Check these out:
THE QUEASY-BAKE COOKERATOR OVEN!
THE THINGMAKER CHILL-A-TRON LAB!
---
Running a big site like I-Mockery takes a lot o' time and costs moola too.
Want to help show your support?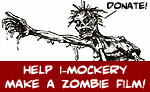 DONATE TO OUR ZOMBIE MOVIE!
Come talk about this piece & more on our Message Forums!
click here for more minimocks!

---


[Minimocks] [Articles] [Games] [Mockeries] [Shorts] [Comics] [Blog] [Info] [Forum] [Advertise] [Home]


Copyright © 1999-2007 I-Mockery.com : All Rights Reserved : ()
No portion of I-Mockery may be reprinted in any form without prior consent
We reserve the right to swallow your soul... and spit out the chewy parts.