...CONTINUED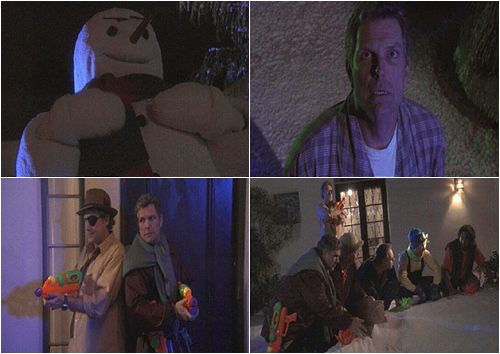 After killing off a bunch of the guests with snowballs and icicles, Jack goes up to Sam to say hello. Now Sam and Agent Manners are on the case, there's no doubt in their minds that Jack Frost is responsible for all the killings. Sam believes that he and Jack were somehow linked... he could almost sense Jack's presence. They set out armed with Supersoakers filled with anti-freeze. It stopped him once, logic would suggest that it could stop him again, right?

Wrong. They set an anti-freeze trap which Jack falls right into, but all it does is make him look like an angry pile of marshmallow fluff. Mmmm, marshmallow fluff. As if his surviving the anti-freeze isn't strange enough, before he runs off, Jack actually yacks up a hairball... er... a snowball. Jack apparently swallowed some of the anti-freeze when he fell into the trap, and it made him belch up the snowball. They're not sure what to do with it, so they take it back inside.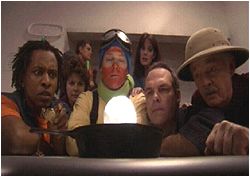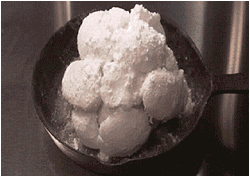 Back inside, they all keep a close eye on the snowball while Sam is busy rambling on and on about how the anti-freeze didn't kill Jack. Then the unthinkable happens. This snowball isn't a snowball, it's a SNOW EGG and it's hatching right before their very eyes!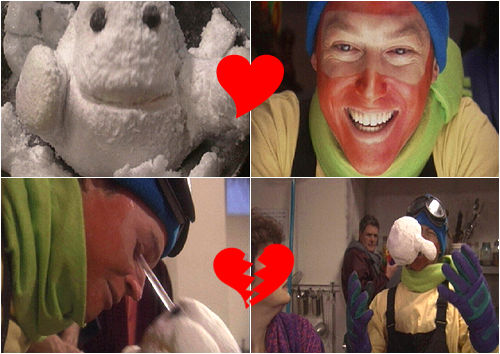 A sickeningly adorable mini-Jack baby emerges from the snow egg and calls Captain Fun his "Dadda!" Captain fun is absolutely in love with the cute lil' bugger and he goes in for a closer look. It's at that point when the mini-Jack goes from saying "Dadda" to "Kill Dadda" and a sharp icicle emerges from its skull and goes straight into Captain Fun's eye socket. It was a short-lived love affair, but I still believe it was the greatest pure love that has ever existed in the universe. Captain Fun, I'm sure you'll be missed. Not by me, but someone out there, some sick, sick person will definitely miss you. Maybe. Well, ok... no, probably not.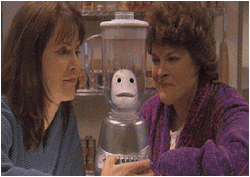 Now the mini-Jack turns into a CGI graphics mini-Jack. This thing is so poorly rendered that one of Gollum's turds would appear to be light years beyond it. Still, the humor is there, and that's what really matters. They capture the lil' guy and start to conduct all sorts of tests on it. The idea is, if they can figure out a way to kill off this little bastard, they can probably kill off Jack Frost too. The first test in which they put him in a blender doesn't work. In fact, mini-Jack appears to enjoy it quite a bit, even proclaiming, "That was fun!" And for those of you wondering what mini-Jack sounds like, if you've ever seen Aqua Teen Hunger force, he sounds almost exactly like Meatwad.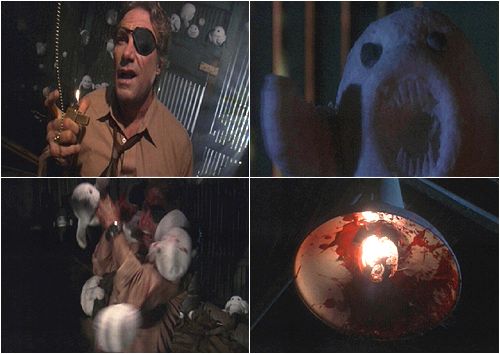 Elsewhere, Agent Manners has just walked into a shed in the middle of the woods where there appear to be hundreds of the mini-Jacks! Sam's wife calls him on his walkie-talkie to let him know that the mini-Jacks are vicious little killers. "Things that would have been useful to know 5 minutes ago." he grumbles. And soon enough, all of the mini-Jacks are attacking him. It's like a scene right out of one of the Critters flicks... they just tear him apart. Somehow, I don't think he'll be coming back in the sequel. I'm pretty sure they killed him this time. Then again, if they ever do make Jack Frost part 3, I guess he could still come back as a bed-ridden vegetable, who somehow still helps in tracking down a killer snowman. Also, I have to say, one of the mini-Jacks in particular just has the look of pure rage and unbridled hatred on his face: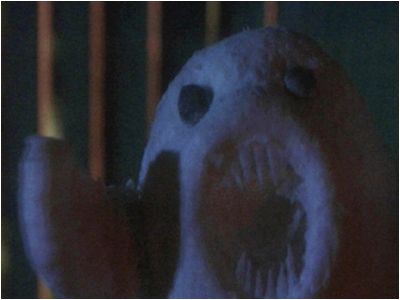 I mean come on, that is just fury personified folks. My pickle hat goes off to whoever designed this little guy. Never would I think that anybody could make something, that usually looks so cute, to look so absolutely filled with unfiltered anger. Beautiful.

Back at the lab, er kitchen, they're still conducting tests on the mini Jack. Awwww! He looks all nice 'n toasty after being placed in the waffle iron doesn't he? Well, since Sam has lost his mind after the failed anti-freeze attack, it's up to the others to try an stop all of the mini-Jacks. They decide that since they can't kill 'em, they can at least try to contain 'em. And goddamn, there are quite a few to contain. They're truly got their work cut out for them. Wanna know why? Because it's...

I have to say, this entire party scene seems like a blatant rip-off of Gremlins scene when they're all in the bar and having a good time. Still, these guys are all so disgustingly cute, I can't help from being completely mesmerized by the murderous little snowballs of doom. I mean just look at all the fun they're having here!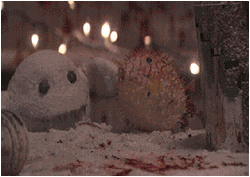 ATTACKING RUBBER BLOWFISH!


ENJOYING TROPICAL DRINKS IN RECLINER CHAIR AND SKATEBOARDING!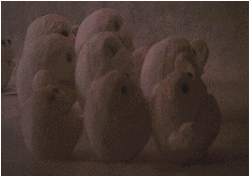 DANCING THE CONGO!

MORE DRINKING! (notice the mohawk a la' "Stripe" from Gremlins?)


And of course, no party is complete without the traditional
FEASTING ON THE FLESH OF THE DEAD!
I've been to some parties in my day, but I'll be damned if any of them were even half as fun as what this snowball festival looked like. I could watch this scene a hundred times and not be bored. A HUNDRED TIMES I SAY!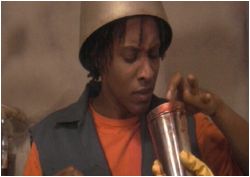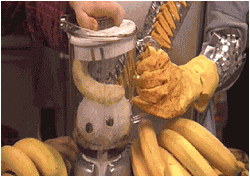 Admist all the chaos, Sam's wife throws a tropical drink at one of the mini-Jacks and it actually dies! She brings the cocktail back to Bobby to find out what's in the drink and he tells her it's his famous Island Daquiri, which contains lots of Bananas. BANANAS ARE WHAT CAN KILL JACK FROST!?!?!? Ok, allow me to explain... when Sam and Jack Frost fought in the first movie, their genes mixed with one another inside the anti-freeze. You see, Sam had a wound at the time, so that allowed some of Jack's genes to get in his system and vice versa. So that's why Sam was actually able to sense Jack's presence. Jack also picked up one of Sam's traits - Sam is allergic to bananas! So that's how they can kill off Jack and his mini-snowman army... with bananas! In other words, yeah, they really pulled this one out their asses. From deep within their asses.

They gather all the bananas they can find and start mashing them up into a liquid form so that they can shoot it out of their super soakers. Is there anything Super Soakers can't do? I feel I should note that a strange thing about this scene is that they inserted a completely random, and blatant advertisement for Organica cookies. Bobby holds a cookie up to the screen after taking a bite and says in his best/worst Jamaican accent, "You know, these Organica cookies are pretty darn good!" So there you have it folks, it appears that Organica cookies were responsible for the funding of this movie. Too bad for them, I think having ties to Jack Frost 2 would make most people not want to eat their cookies or anything else they sell. Suckers, you got scammed by a snowman. ROFL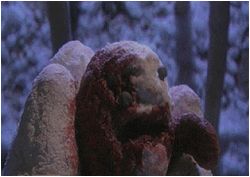 They go out armed with the banana-filled Super Soakers and the party quickly ends for the mini-Jacks. It's really quite sad seeing them all explode into bloody messes. It's an all-out massacre. One of the mini-Jacks makes it out, badly wounded and barely alive. He finds his way back to the original Jack Frost... and then dies in his arms.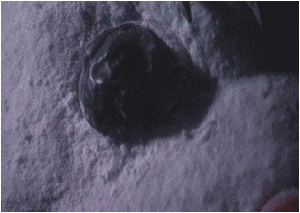 You really have to watch the scene. It's the most dramatic film sequence in a horror movie ever. The music, the lighting, the mood... it's all too perfect. And to seal it off, a tear runs down Jack Frost's face as he mourns the loss of his little buddy, mini-Jack. It's enough to make anybody cry. But the time for mourning is quickly over, because Jack Frost is extremely pissed off and, "NOW IT'S KILLING TIME!"

Colonel Hickering starts to celebrate their apparent banana-fueled victory over the army of mini-Jacks, when Jack shoves an icicle through the back of his skull. Or, at least through the back of a plastic dummy's skull. Eh, just pretend it was the Colonel, ok?

"I'm lookin' for the bitch who killed my family!" he screams. Jack then traps Sam's wife by creating a giant ice room around her and he starts closing the walls in on her when all of a sudden...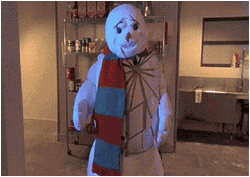 HEY LOOK! IT'S SAM! Yep, he's regained his sanity... well at least enough of it to shoot Jack with a banana arrow. It looks like those archery lessons from Captain Fun paid off in the end after all! Jack then explodes in another pathetic display of cheap CGI effects.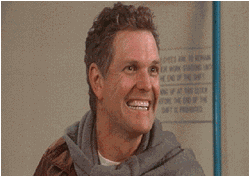 Oh well, at least we get to see Sam get covered in a bunch of goop...

...and crawling around on a floor of marshmallow fluff, red syrup, and soap suds (ie: the remains of Jack Frost) in search of his wife. He does find her and she's aok, and happens to look a lot like the Ghostbusters after they killed the Stay Puft Marshmallow Man. Well, this movie definitely wasn't as good as the original. The film quality alone appeared to be more like that of a made for television movie. Still, it does have some moments where it shines, and I absolutely love all the mini-Jacks. So with Sam having saved the day, the credits start to roll and just when you think it's all over, they show this shitty footage that appears to have been filmed on a home camcorder: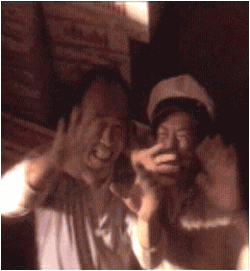 Yes, it appears that if they do make a Jack Frost 3, he will somehow be returning as a giant Jack Frost and attacking Japan. Jackzilla? Hmmm, sorta has a nice ring to it, yes? Welp, here's to hoping that they can raise the 100 bux to get that one filmed too.
the end.
---
CLICK HERE FOR A SPECIAL JACK FROST BONUS:
"HOW TO MAKE YOUR VERY OWN MINI-JACK!"
---
WANT TO GET YOUR VERY OWN COPY OF JACK FROST 2?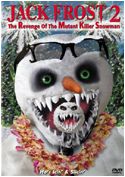 [click here to buy the "Jack Frost" DVD on Amazon!]
---
Running a big site like I-Mockery takes a lot o' time and costs moola too.
Want to help show your support?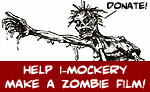 DONATE TO OUR ZOMBIE MOVIE!
Come talk about this piece & more on our Message Forums!
click here for more minimocks!

---


[Minimocks] [Articles] [Games] [Mockeries] [Shorts] [Comics] [Blog] [Info] [Forum] [Advertise] [Home]


Copyright © 1999-2007 I-Mockery.com : All Rights Reserved : ()
No portion of I-Mockery may be reprinted in any form without prior consent
We reserve the right to swallow your soul... and spit out the chewy parts.