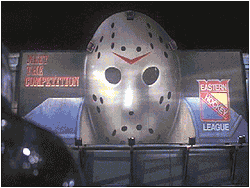 A "Meet the Competition" Eastern Hockey League billboard which depicts a goalkeeper whose mask just happens to look like Jason. I'll bet Rob Hedden was really proud of this moment when he wrote the script. Sadly, it probably is one of the better moments in the film. Ok fellow New Yorkers out there, I'm sure you know the answer to this next question. What's the first thing that happens to someone when they arrive in the big apple?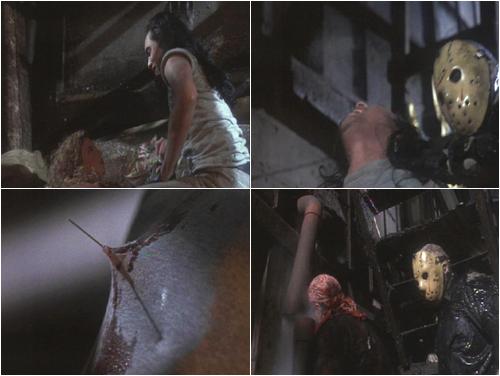 Correct! When you arrive in New York City, the first thing that happens is you get accosted by two gangbangers who will drug you up and then attempt to rape you. And normally they'd finish the job, but I guess it's Rennie's lucky day, because Jason pops up and stabs the first thug through the chest with his own syringe. He then takes the other gangbanger and shoves his head through a steaming lead pipe. Violence, murder... man, I'm beginning to think that Jason fits right in with the streets of New York!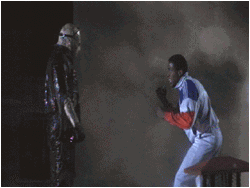 Float like a buttercup, sting like a pea!
Ah young Julius. Earlier in the movie we see him showing off his boxing skills in front of some o' the ladies. But now, it's Julius vs. Jason on top of a roof. Realizing he has nowhere left to run, Julius decides that he can take on Jason in a match of fisticuffs.

Julius starts laying into Jason with everything he's got for what seems like 5 minutes straight. Jason just stands there and stumbles around a bit, but shows no signs of being hurt. Personally, I think Julius is a friggin' idiot. He's punching Jason, not in the face, but on his hockey mask with his bare hands. After a few minutes, his hands are completely bloody and he is completely exhausted. Still, he's feeling a bit overconfident so he taunts Jason. "Go ahead...take your best shot, motherfucker!"

*BIP!*
One of my all-time favorite Jason deaths. With one punch, Jason knocks Julius' head clean off. It spins around in the air for a while and then lands perfectly in a dumpster down below. Three points! Definitely a classic kill.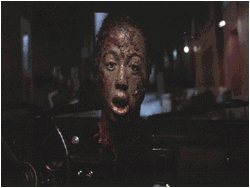 EEK!
The other survivors find a cop and tell him what's been going on, so he brings them to his squad car only to find the head of Julius sitting in the front seat. I guess Jason went dumpster diving for the head of Julius. He must've not been ready to part with that lil' trophy just yet. Jason then kills the cop, but Rennie is fed up with his shit. She gets behind the wheel and starts speeding directly towards Jason.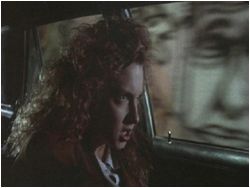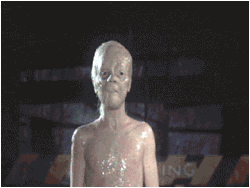 While she does successfully mow him down, she must have forgot to take her medication, because she starts seeing images of the young, drowned Jason Voorhees. It's almost as if she's in a trance as we get one zoom-in too many of his face.

I guess that's why her dumbass ran the car straight into a wall. Brilliant. Well, something good did come out of it all. The impact somehow made Rennie have a flashback to when she was a child. You see, she's always had a fear of water but she can't remember why. Well, when she was her kid, her dad (the asshole biology professor) pushed her into the water because she wouldn't try to learn how to swim. He told her that the little dead boy, Jason Voorhees, was under the water and that he would pull her down if she didn't learn how to swim. Long story short - she almost drowned and it's all his fault that she's had mental problems all these years. So what is her father's payback gonna be?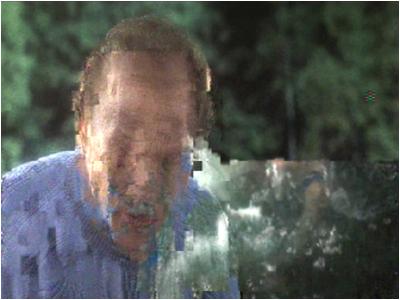 OH MY GOD! LOOK!
JASON SENT HER DAD THROUGH A TIME RIFT
AND IT'S TEARING HIS SOUL APART!
Actually, no, that would be a nice big fat scratch on the fucking DVD that I rented from the local video store which I had to spend a good 15 minutes cleaning before it was playable again. It's always good to know that the video store employees clean their DVD's off with fucking sandpaper...
Anyway, one of the few things we can count on in horror movies is that people will die if a) they have sex or b) their character is an asshole. And while Rennie's father, professor McCulloch, didn't actually get it on with the bimbo from earlier in the movie, he did manage to act like a complete bastard the entire time. So that right there clued you in on the fact that he would indeed die at some point. Jason decided to pick up pops and bring him to a nearby drum filled with sewage. There's even a dead rat floating in the top of it for effect. Cute.
Jason shoves McCulloch head-first into the vat of goop and thrashes around his body until he's sure the professor is dead. Definitely one of the more violent kills on Jason's resume... he comes off as really pissed off during this scene. Maybe he failed biology back in school and this was his way of getting some closure.

So Rennie and her boy toy, Sean, are now the only two survivors left. They hightail it over to a New York subway because, let's face it... even the subways in New York are safer than hanging around Jason Voorhees. I think. Well anyway, Jason somehow appears on the train and they pull the emergency brake and jump off. Jason then exits the train to look for them, and in an act of bravery, Sean tackles Jason.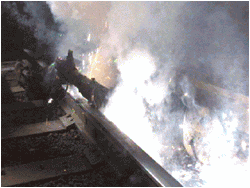 Poppity pop pop pop.
Jason lands on the railroad tracks and gets completely fried. I'm sure it doesn't help that he's completely soaking wet. Actually, during the entire movie he's pretty much dripping with goo. They must have gone through gallons and gallons of Karo syrup for this film. But still, are you really gonna kill someone who was brought back to life by electricity with the very same thing? Signs point to no.

After an extremely slow pan of all the advertisements in Times Square, we see Jason appear on the city streets. He's even more pissed off and he's right on the trail of Rennie and Sean.

He walks buy a couple of punks that are blasting heavy music and he proceeds to punt their radio into oblivion. Naturally, the punks don't take kindly to Jason's impressive kicking display, and threaten him. While I would have loved to see Jason tear these kids apart limb from limb, I think this next part was just as good.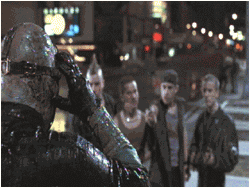 Jason turns around and lifts up his mask, unveiling his horribly mangled face to the punks, thus sending them running off faster than you can say Sid Vicious. I'm still undecided on whether this or the boxing scene is the funniest moment in the film. Tough call...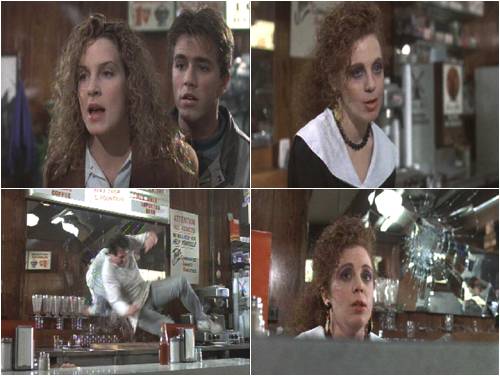 "You don't understand! There's a maniac trying to kill us!" -Rennie
"Welcome to New York." -Waitress
After trying to explain to a waitress their predicament, Jason comes smashing through the front door. This pisses off the cook, who is like a 7 feet tall behemoth man. Jason throws him across the room into a mirror as if he was a little school girl. So with the diner staff being of little help, Rennie and Sean run into the one place where they're sure to find help! THE SEWERS!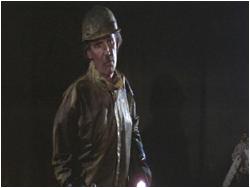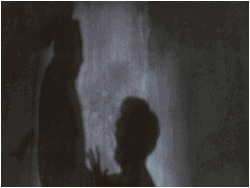 There's a sanitation engineer working down there who informs them that the sewers are going to be filling up with toxic waste in the next 10 minutes and that they need to get out of there fast. He starts to lead them to safety, but of course, Jason appears from nowhere and pummels the poor bastard with his own monkey wrench. And while they don't actually show the guy getting killed, you do get to enjoy a nice shadow puppet show of the death. Rennie then decides to play a big joke on Jason...
Rennie: "HEY JASON. WHO INVENTED THE STEAM ENGINE?"
Jason: "I DON'T KNOW!"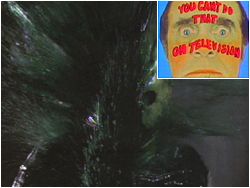 ROFL! YOU GOT SLIMED!
Ok, so that didn't really happen. Actually, while I would have liked to see an ode to "You Can't Do That On Television" somewhere in this movie, this scene was pretty good. She dumps a vat of toxic waste all over Jason that she just happened to find on the ground. His face starts smoking and you can tell the ol' guy is in pain. He tears off his hockey mask to unveil GQ's man of the year: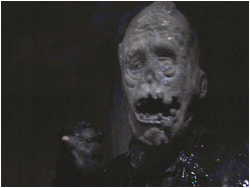 AG! AG! AG! AG! AG!
And just what does our man of the year, Jason, do when confronted with a flood of toxic sewage? He does what every person would do just before they're about to die.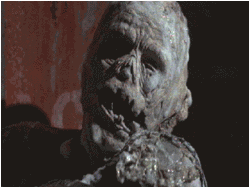 He vomits water.
Yep, for whatever reason, he pukes up a bunch of water. Very pleasant to watch. Jason then gets swept under the flood of toxic waste that has now filled the sewers. And while they were on a ladder, I'm still unsure of how the toxic fumes didn't kill Rennie and Sean. Maybe you just get used to the smell after a while. Ok, probably not.

Once the toxic waste washes away, they see the body of a young Jason Voorhees lying on the ground. Man, that's pretty deep. What's annoying is that we never really see how Jason comes back to life in Part 9, "Jason Goes To Hell". He's just somehow back. Maybe he grew up all over again and took a cab back to Camp Crystal Lake? I guess that theory will have to do...

In the end, we see Jason's burnt mask floating away in the sewage, and even though New York is a huge city, Rennie manages to find her lost dog. Where the dog was during most of the film? I don't know, perhaps he was taking a dump on the script. Either way, he's here now and we can put him to sleep along with the movie.
the end.
Questions or comments about this article?
Email -RoG-
---
If you enjoyed this piece be sure to check out:
---
BONUS DOWNLOADS!
CLICK HERE TO DOWNLOAD THE JASON TAKES MANHATTAN POSTER
THAT WAS RECALLED BECAUSE THEY DIDN'T THINK TO ASK NEW YORK'S
PERMISSION TO USE THE INFAMOUS "I LOVE NEW YORK" SLOGAN.
CLICK HERE TO DOWNLOAD THE FRIDAY THE 13TH NES GAME ROM!
CLICK HERE TO DOWNLOAD THE NES EMULATOR.
---
Want to see Jason takes Manhattan?
Buy it on Amazon!
---
Running a big site like I-Mockery takes a lot o' time and costs moola too.
Want to help show your support?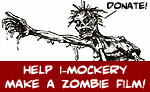 DONATE TO OUR ZOMBIE MOVIE!
Come talk about this piece & more on our Message Forums!