NOW BACK TO OUR SHOW!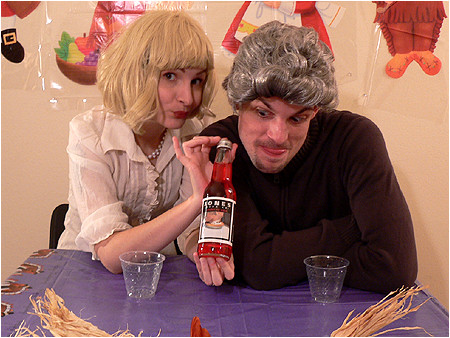 Kelly: Here we have the "Cherry Pie" flavor!
Chip: If Bobbie Brown comes and serves me the cherry pie soda, I think this grown man will cry!
Kelly: Somehow I don't think that's his prerogative!
Chip: Uh, you're thinkin' of the wrong person, Kelster!
Kelly: Oopsy!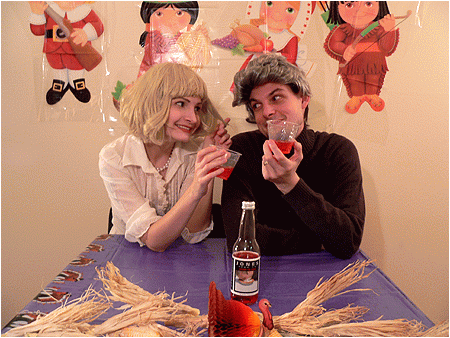 Chip: This one tastes like pure cherry grenadine! Smells like those maraschino cherries!
Kelly: Yeah! It reminds me of a Shirley Temple!
Chip: Been tasting many former child-actresses lately, have you?
Kelly: Oh you! You're so bad! You're so bad! Isn't he bad folks? You're so bad!
*UNCONTROLLABLE LAUGHTER*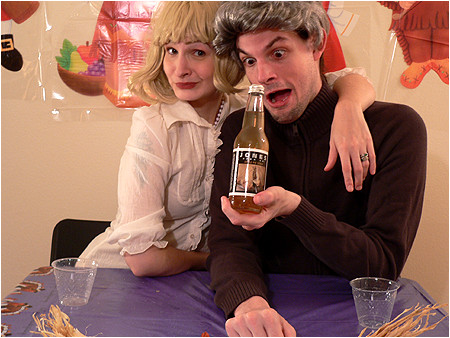 Chip: Look what we've got here; it's "Apple Pie" soda!
Kelly: An apple pie a day keeps the doctor away!
Chip: Ha, ha! Don't you just love her, America? Don't you just love her!?
Kelly: I'm American as apple pie!
*UNCONTROLLABLE LAUGHTER*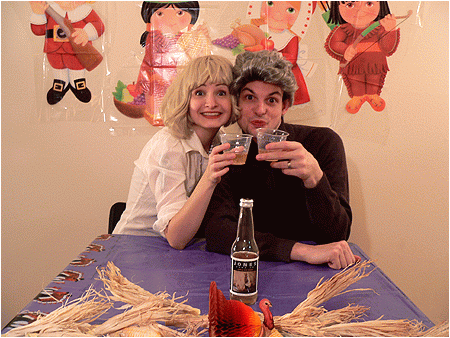 Kelly: It reminds me of ginger ale!
Chip: I think it's more like cinnamon, with a bubblegum aftertaste.
Kelly: Ok! Who put bubblegum in Chip's soda?
Chip: Yeah who put bubblegum in my soda! I bet it was our producer, Hellman!
Kelly: Hellman! Did you put bubblegum in his soda?
*HELLMAN, THE PRODUCER, SHRUGS*
Chip: His silence speaks a thousand words folks!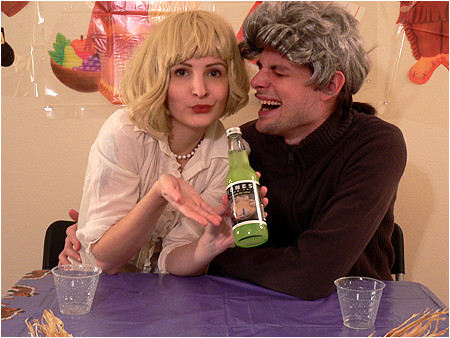 Kelly: Next up is "Key Lime Pie" flavor!
Chip: Let's hope it has the key to a real lime flavor!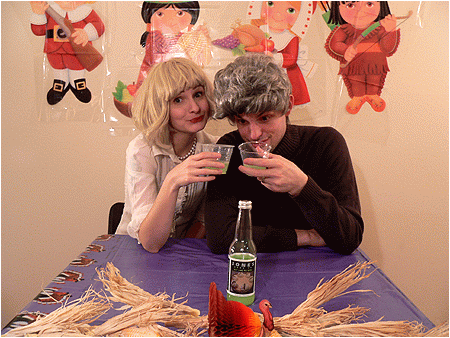 Chip: Yeee! That's sweeter than a lime Otter Pop!
Kelly: I like it! It tastes just like Wink Soda!
Chip: Or, if you don't pour it into your eyes, it tastes kinda like Sprite too!
Kelly: *WINK* *WINK*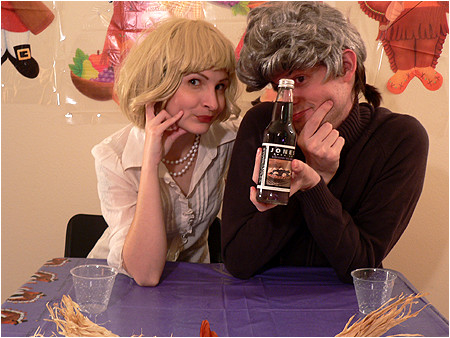 Chip: What's this one? It's "Blueberry Pie" flavor!
Kelly: Awww, don't feel blue, Chip!
Chip: I wouldn't be feeling blue if I wasn't about to drink something that was the same color as my toilet water!
*UNCONTROLLABLE LAUGHTER*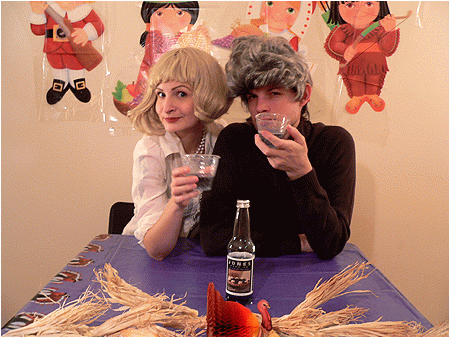 Kelly: That was like grape bubblegum gone bad!
Chip: Ha! Looks like somebody else has the bubblegum in their soda this time! I dunno, that one was a lot more mellow than I was expecting. Not too shabby, but nothing to write home about. Say, who writes home these days? Let's get a show of hands!
*AUDIENCE RAISES HANDS AND CHEERS*
Chip: Good for you, audience!
Kelly: Yeah, way to keep in touch with your parents! They miss you and love you!
Chip: So that does it for the Jones Soda Dessert Pack! Now it's time to move on to the main course!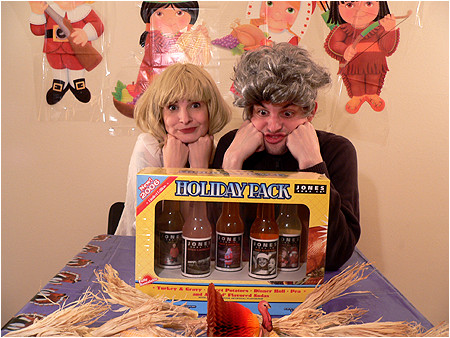 Kelly: It's the 2006 Jones Soda Holiday Pack!
Chip: Wait a minute! You mean to tell me that we're gonna be drinking pea flavored soda and antacid flavored soda?
Kelly: Don't forget the Turkey & Gravy flavor too!
Chip: I think I'm gonna need a bib for this meal!
Kelly: Well Chip, that's perfectly normal when a person gets to your age!
*UNCONTROLLABLE LAUGHTER*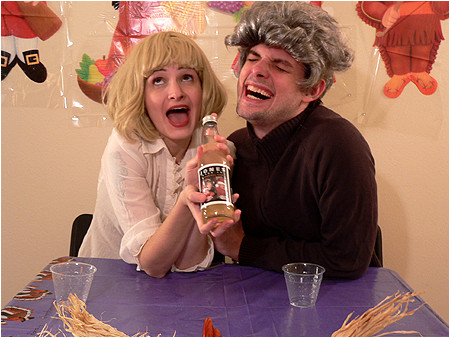 Chip: You've gotta be kidding me! "Dinner Roll" soda?
Kelly: I don't know how they fit the rolls into these little bottles, let alone turned them into liquid!
Chip: It's probably the same way they fit those model boats into bottles too.
Kelly: You know what? I think you're right! Yeah!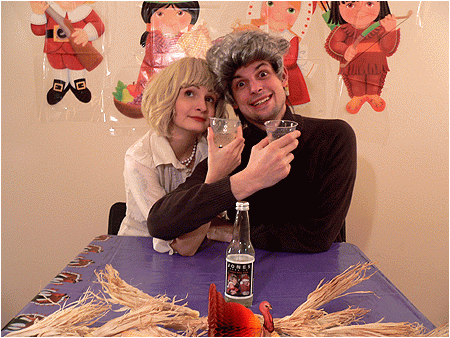 Kelly: Eww! That was like drinking infected yeast! A yeast infection!
Chip: Just because I've tasted my own bile before doesn't mean I'd want it carbonated, bottled and sold to me for 10 bucks a pack!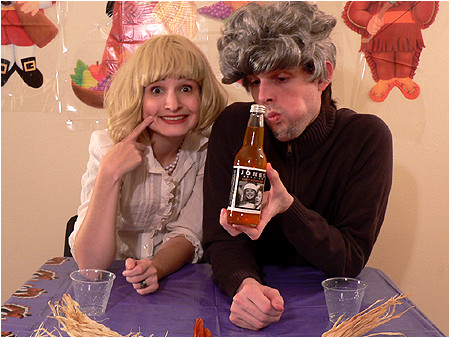 Kelly: One potato, two potato, three potato, four! Five potato, six potato, "Sweet Potato" soda!
Chip: How do you like your potatoes, Kelly? Mashed, baked, or liquefied?
Kelly: I think we're about to find out, Chip!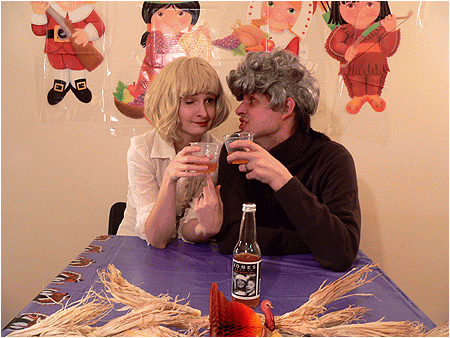 Chip: Yep; that was definitely sweet potato. It smelled like sweet potato, it tasted like sweet potato... it was sweet potato. Only problem is that sweet potato makes for a really bland soda.
Kelly: Sweet potato? More like Sweet Lord no!
*UNCONTROLLABLE LAUGHTER*
HEY FOLKS! THERE'S STILL MORE SODAS LEFT!
CLICK HERE TO CONTINUE TO PAGE 3 OF THE
JONES SODA HOLIDAY AND DESSERT PACK TASTE TEST!
---
help support I-Mockery by supporting our sponsors:

---
Running a big site like I-Mockery takes a lot o' time and costs moola too.
Want to help show your support?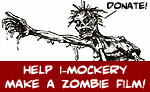 DONATE TO OUR ZOMBIE MOVIE!
Come talk about this piece & more on our Message Forums!