...CONTINUED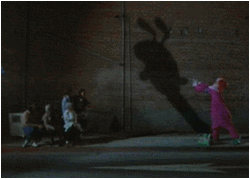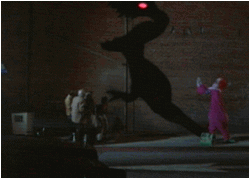 Now this is easily one of my favorite scenes in the entire movie. A clown is entertaining a bunch of people while they wait for the bus to arrive at their bus stop. He puts on an impressive display of skillful shadow puppetry upon the brick wall. Bunnies, elephants, and historical scenes are all part of his shadow puppet repertoire. But he saves his best one for last: a giant dinosaur with red glowing eyes that actually eats the people! If that's not a classic b-movie moment, I don't know what is.
Ok, now it's time for some more great fun with Mooney...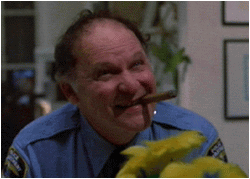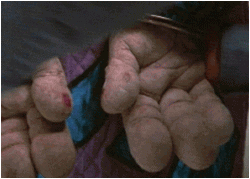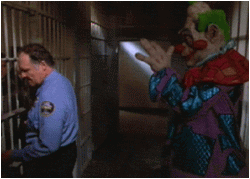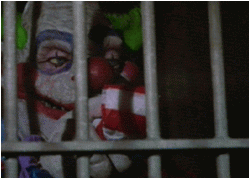 A big clown walks into the police station and Mooney is amused that someone dared to try to play this clown prank on his turf. Even though the clown is informed that he's in Mooneytown and doesn't have any rights, the big clown relentlessly toys with Mooney, driving him more insane by the minute. It all starts with the classic "squirting flower" gag. But let's be realistic here for a second: if a clown walks up to you with a bouquet of flowers, what do you really think is gonna happen!? It's a clown for chrissakes. So either Mooney has been hitting the sauce awfully hard this month, or he's far too much of an imbecile to be in a position of authority. The guy can't see a squirting flower gag coming in the hands of a clown, and he's expected to solve crimes? I feel real safe knowing that these are the kind of people who are protecting me.
Next, he puts the clown in some handcuffs only to have the clown walk away and leave Mooney standing there with fake clown hands in his hands. Furious now, Mooney then leads the clown to a holding cell and while he's opening it, the clown makes some more clowny hand gestures towards him. This really pisses off Mooney, and he belts the clown over the head with his nightstick. The clown isn't about to take that kind of crap however, even if Mooney is about as bright as a blackout. The clown pulls out one of his many party tricks and blows, but as you might expect, it's not your usual novelty item. This one comes with "cop-strangling" action. Sorry, you won't find these ones at your local dollar store.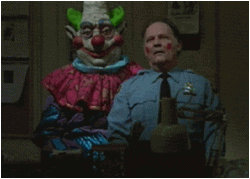 Well, I did say Mooney was pretty dumb, so it's only fitting that the clown decided to turn him into a dummy. By digging his fingers into the back of Mooney's skull, the clown is able to manipulate him like a ventriloquist dummy. "We only want to kill you." he tells a freaked out Dave.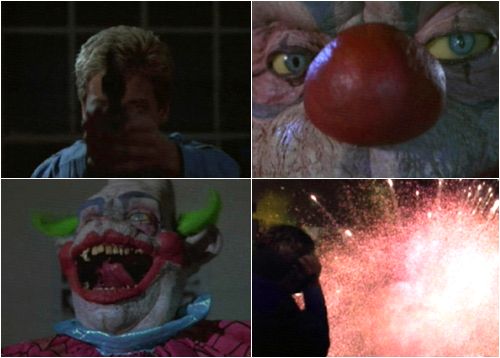 As much as our hero cop Dave didn't like Mooney, he's not about to let some overgrown bozo push him around in his own police headquarters. He plugs away at the clown, but the shots to his chest aren't doing anything. Then he decides to shoot the clown right on his big shiny red nose. The clown screams in clowny agony and is vaporized shortly after. So there you have it, now you know the weak spot of killer clowns... er klowns.

Now the clowns are having a parade on the streets, but instead of the regular kind, it's more of a "collection" parade. They have a giant clownmobile with a built in vacuum so that they clowns can suck up and transport all of the cotton candy cocoons that they've created so far with ease. Between the awesome clown outfits, the laser guns, and now the badass clownmobile, I'm frankly amazed that these guys never got their own toyline. Seriously, these things would be a hit with the kids. Or at least with me.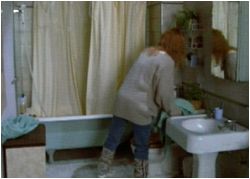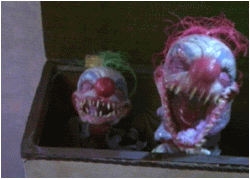 Now even though all that time has passed, Debbie is just now getting out of the shower. She takes her clothes over to the laundry hamper, but discovers that there's more horrific things in there now than just dirty underwear. A bunch of mutant snapping clowns with wiry necks, jumping out to bite her. What happened to those cute little pieces of popcorn? I guess it's just like with babies... they're only cute until they grow up. Then they're ugly little bastards who should be killed.

Debbie makes a run for a nearby window, but a bunch of clowns are waiting below for her with a safety net to catch her in. Damn, the clowns really have their act together.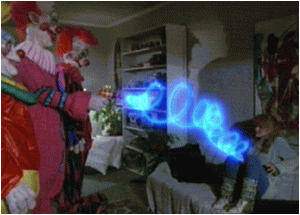 So they corner Debbie in her apartment, and it looks like she's done for. But instead of turning her into a cotton candy cocoon, they inflate a balloon around her. Why? Beats the hell out of me. We don't see the clowns do that to anybody else in the entire movie. I think it's safe to say that the clowns did it so the other guys would have a chance to save her later on. She is one of the main characters after all, and the our world would implode on us if she were to die, right? Gah!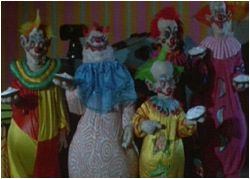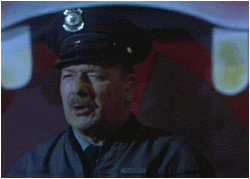 So they haul the ballooned babe off to a nearby amusement park. I guess that tent out in the woods was only a temporary residence? Who knows. Anyway, there's a security guard telling the clowns that the park is closed and that they have to leave. Then they whip out a bunch of pies and the guard actually asks, "What're ya gonna do with those pies, boys?" I'll give you three guesses mister security guard.
mister security guard: "Oh I know! They're gonna eat 'em!"

NOPE.

mister security guard: "Ew! They're gonna stick their willies in 'em like in that American Pie movie!?"

NO!

mister security guard: "Don't tell me they're actually gonna throw those pies at me."

YUP!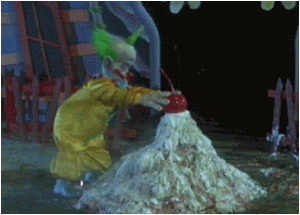 The clowns hurl a seemingly unending supply of pies at the security guard, and instead of just making him sticky, the pies actually MELT him! Then our adorable little clown friend walks up to the pile of melted human flesh and pie creme, and tops it with a big cherry. That little clown is by far my favorite of the group. He's going places I tell ya.

Ok, I lasted a pretty long time without mentioning those damned Terenzi brothers, but I had to mention that they end up at the amusement park along with Dave and Tobacco boy in search of Debbie. The Terenzi brothers actually get turned on by two clowns, one of which has inflatable balloon breasts. Pathetic. Please let this be the end of them, ok?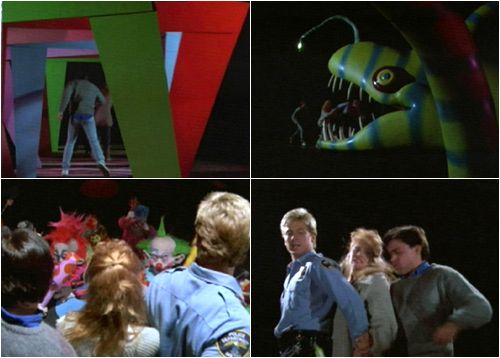 Meanwhile, Dave and Mike manage to find the balloon that Debbie is stuck in, and *gasp* she's still alive! What a shocker! But the clowns have spotted them and they have to make a fast escape. After running through a huge maze of twisted doors and large sculptures that look like something straight out of the mind of Tim Burton, (back when he was still making insanely cool movies like "Pee Wee's Big Adventure"), they find themselves corned in a big open room. Oh well, I guess it's curtains for the good guys. Oh crap, what's that sound? NO! It's the sound of a goddamned ice cream truck.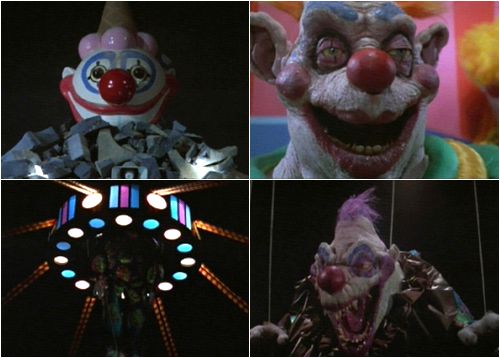 Yep, the fucking Terenzi brothers show up to save the day as their ice cream truck bursts through a wall. But the clowns have another trick up their sleeve as they all look up at the strange contraption on the ceiling. It opens up and begins to lower a gigantic string puppet to the ground. OH MY GOD, IT'S CLOWNZILLA!
I'm happy to report that Clownzilla hates the Terenzi brothers and their ice cream truck just as much as I do. It picks up the truck and flings it across the room, and it explodes upon impact. YES! THE END OF THE TERENZI BROTHERS! THANK YOU CLOWNZILLA!

Now that the state troops have arrived, the clowns decide to leave, so their spaceship that was hidden inside the amusement park starts to lift off. And while Debbie and Tobacco somehow made it out of there, Dave is still stuck inside.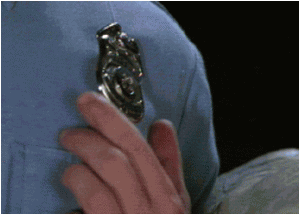 Clownzilla, the destructor, picks up Dave in his mighty grasp. But just when you think Dave is about to become Clownzilla's late night snack, he tears off his badge and stabs Clownzilla in his one weak spot - THE NOSE! Sure enough, it works and Clownzilla explodes along with the rest of the ship. So Dave is dead too right? Wrong.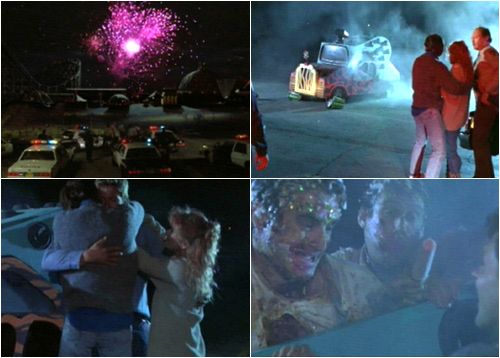 Again, somehow a tiny clownmobile manages to fall from the sky with Dave safe inside it. That's great 'n all, but I have some bad news. The Terenzi brothers are in there too. They claim to have survived the firey explosion of their ice cream truck by hiding inside the ice cream freezer when it happened. I know, complete bullshit right? What can you do, it's a b-movie, and other than the Terenzi brothers, it's a pretty goddamned good one at that if I do say so.
So will the Killer Klowns ever come back to kill again or have they been defeated? You know what? I'll let you figure that one out on your own.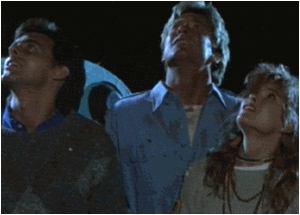 the end.
---
WANT TO OWN KILLER KLOWNS FROM OUTER SPACE? NO PROBLEM!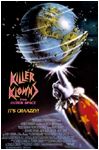 CLICK HERE TO ORDER IT ON AMAZON.COM!
---
help support I-Mockery by supporting our sponsors:

---
Running a big site like I-Mockery takes a lot o' time and costs moola too.
Want to help show your support?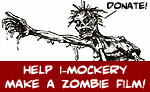 DONATE TO OUR ZOMBIE MOVIE!
Come talk about this piece & more on our Message Forums!
click here for more minimocks!

---


[Minimocks] [Articles] [Games] [Mockeries] [Shorts] [Comics] [Blog] [Info] [Forum] [Advertise] [Home]


Copyright © 1999-2007 I-Mockery.com : All Rights Reserved : ()
No portion of I-Mockery may be reprinted in any form without prior consent
We reserve the right to swallow your soul... and spit out the chewy parts.