So this past Sunday night I was driving home from the "Asssscat" show at the Upright Citizens Brigade theater. Seeing their insane improv shows would normally be more than enough entertainment to satisfy me for one evening, but on my drive home I stumbled onto something else. As I was driving down Olive Avenue in Burbank, I noticed some high-powered spotlights shooting up into the sky off in the distance. At first, I figured it was just some car dealership trying to attract people to their realm of lies and woe, but as I came closer to the lights, I quickly realized this was no car dealership. Nope...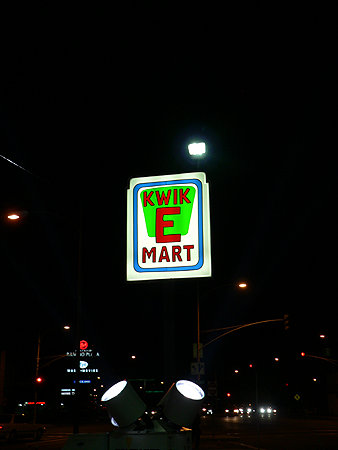 It turns out the 7-Eleven right down the road from me is one of the twelve stores that have been converted into a Kwik-E-Mart (11 in the US and 1 in Canada) to help promote the upcoming Simpsons movie! Seeing the Kwik-E-Mart sign glowing, I sped on home to grab my camera and head back out to capture all the hoopla. So here's a lil' treat for those of you who don't live close enough to one of these converted 7-Elevens; my photo gallery from the event.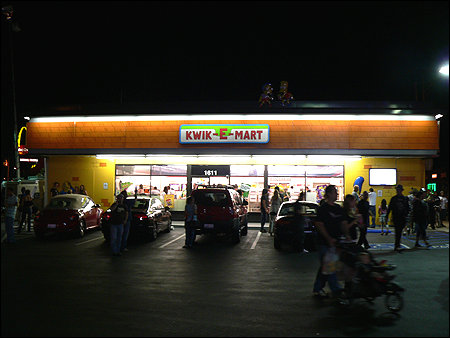 As you can see, they really went all out with making the outside of the store look exactly like the Kwik-E-Mart from The Simpsons, complete with the faux brick lining. Walking up to a place that I had seen in cartoons for so many years was surreal as hell to say the least.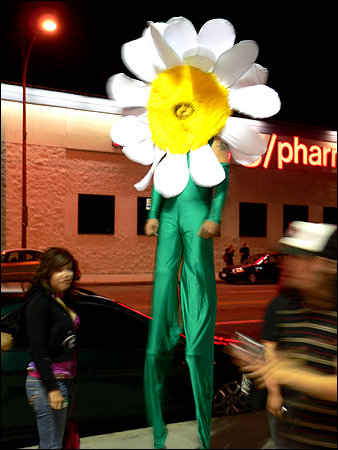 Ok, while I haven't seen every single Simpsons episode ever made, I've seen enough of them to be fairly certain this guy isn't part of the show, and he's definitely not "El Seed" from The Tick. Stilty McFlowerguy, as I like to call him, was just walking around the area to take pictures with everybody. I'm not sure if he was paid to be there or he was trying to crash the Simpsons' promotion and give himself some exposure. You know, because it's hard finding a work when you're a guy on stilts... dressed like a flower.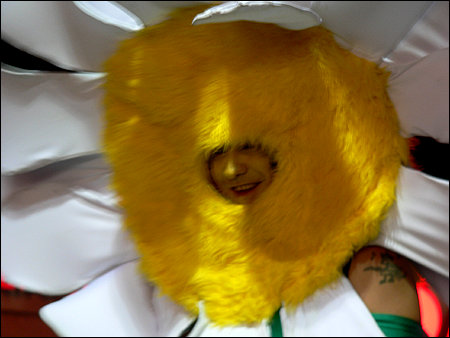 But hey, at least he was high in spirits... or maybe he was just high.
(both mentally and physically)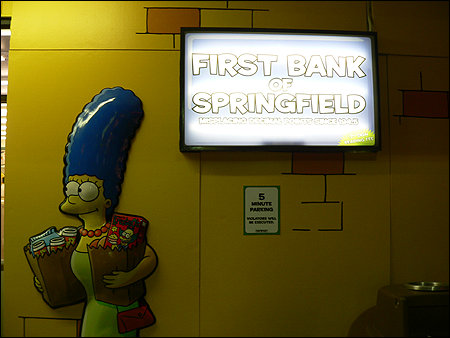 Outside of the Kwik-E-Mart were plenty of decorations to further separate your mind from reality to make you think you were in the Simpsons world. As you can see here, an ad for the First Bank of Springfield (misplacing decimal points since 194.5).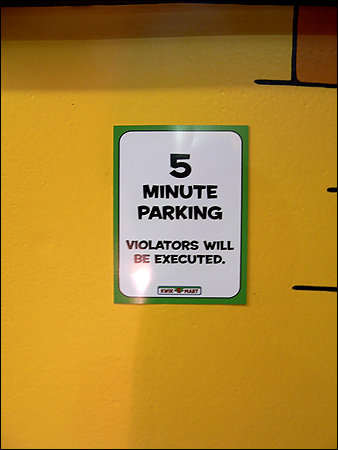 The parking sign was part in jest, but they definitely didn't want people parking there for too long so that other people could have a chance to check the place out. Didn't matter though, people were parked all up and down the side streets in the area just so they could come see one of their favorite cartoon shows in the real world.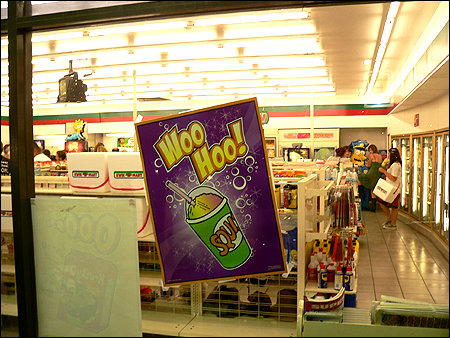 Ahhh, an ad for a Squishee in the window. Woo Hoo indeed!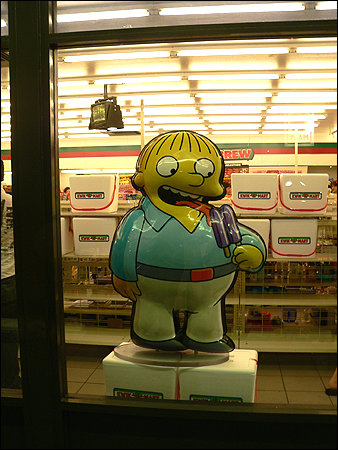 You'd think he'd be eating Elmer's paste or something.
I guess Ralph's tastes are finally growing up? Say it ain't so!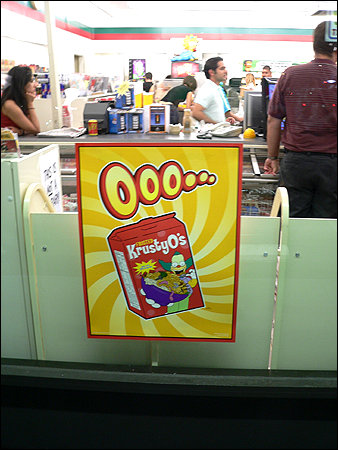 Krusty O's were also on sale inside the store, along with Buzz Cola, but they sold out extremely fast. The manager, however, informed me that this Kwik-E-Mart makeover will be up for the entire month and that they should be getting in some more of these Simpsons-themed treats in stock. So for any of you who are hoping to get some of these items, there's still hope. Of course, you can always head to eBay and find some people who are sadly trying to cash in on this stuff.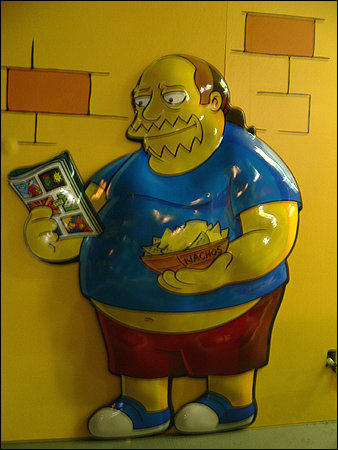 "Best. Movie Promotion. Ever."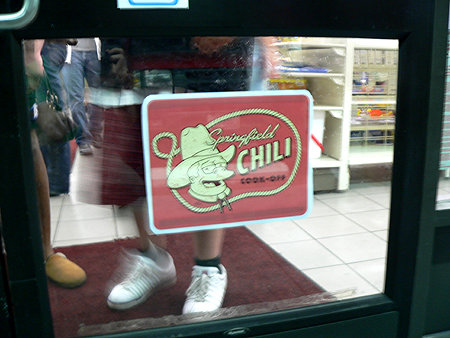 Simpsons themed or not, the day I eat any kind of chili from a 7-Eleven is the day they'll seal me up in a coffin.
If only Radioactive Man was really there at the store. At the very least, he would've been a hell of a lot more fitting than Stilty McFlowerguy.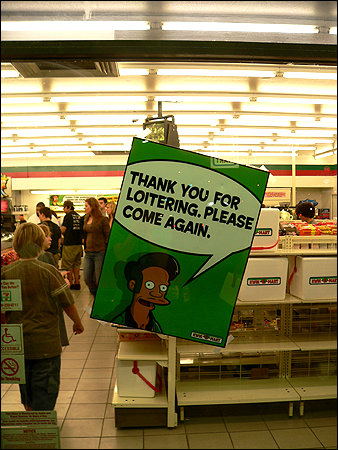 Enjoy it while you can, people, for this is one of the few times the 7-Eleven employees won't yell at you for loitering. They will, however, still yell at you for trying to refill your Squishee after drinking half of it while roaming the store.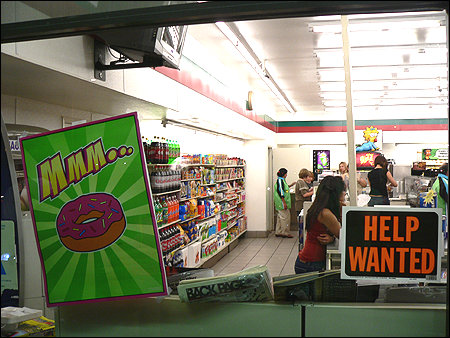 By the way, the Kwik-E-Mart is hiring. They only require two things: 1) You work there 24 hours a day, 7 days a week and 2) Your name is Apu Nahasapeemapetilon, Jr.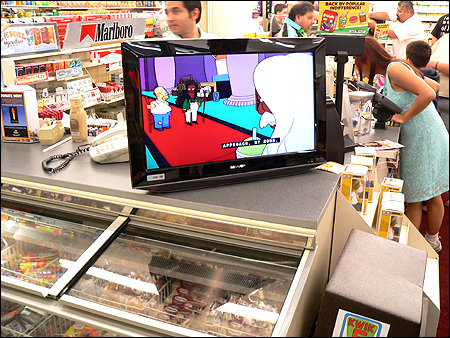 To further ensure loitering, they had a flat screen TV playing episodes of The Simpsons (complete with subtitles) for customers to enjoy while in the Kwik-E-Mart.
Aside from the obvious movie promotions, they also had plenty of Simpsons gear to unload. My guess is that a lot of this stuff has been sitting in the discount bins at Spencer Gifts and/or Hot Topic for a long time. Well, except for the cookies and fruit snacks. I hope those weren't sitting anywhere for too long.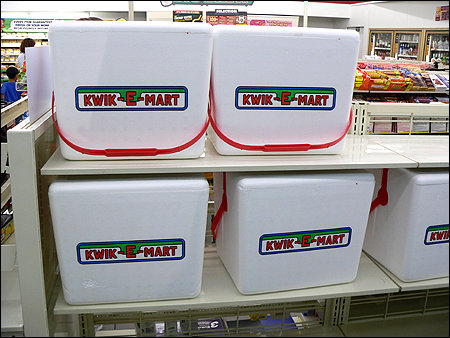 Of course, if you kept them in these custom Kwik-E-Mart styrofoam coolers, those cookies and fruit snacks would keep forever.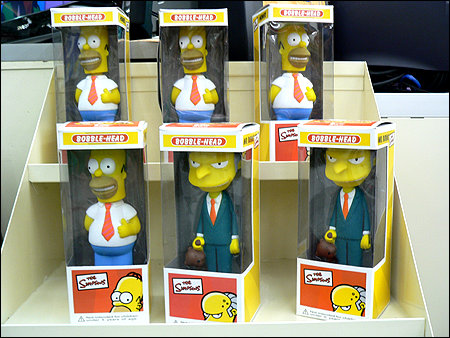 Some extremely excited kids were running around the store with these in hand as if they had never actually seen a Bobble-Head figure before. I guess some things need no real explanation... they just sell themselves.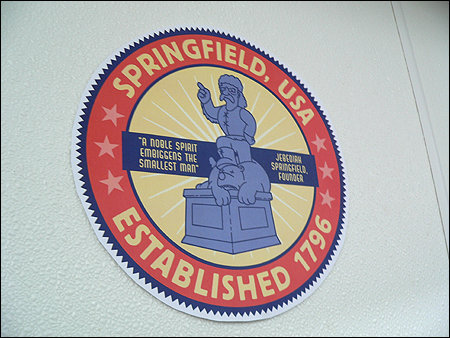 Another random Simpsons sign to help remind you that you were in Springfield.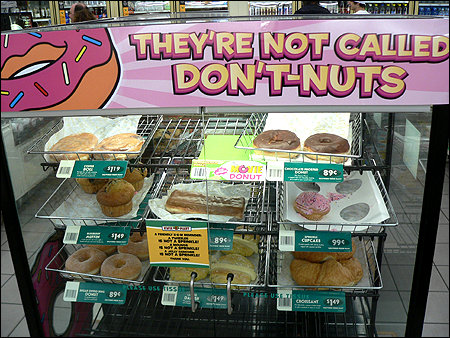 Clearly people were listening to the sign because...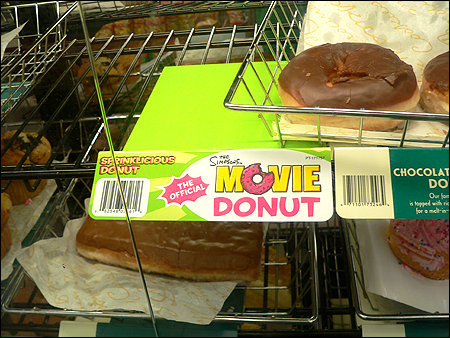 Somebody snagged the last "official" Simpsons movie donut. Granted, it's just a regular donut with neon pink frosting and multi-colored sprinkles, but everyone still wanted one. I mean really, how often can you say you ate an "official" donut of any kind?
"What's that you're eating there, Roger?"

"Oh this? It's a donut."

"Yeah but what kind of donut?"

"Sorry, it's an official donut. I'm here on official business."
Everything else in the store, however, makes a perfectly good garnish.
Adding to the fun of things were a slew of tongue-in-cheek signs throughout the store.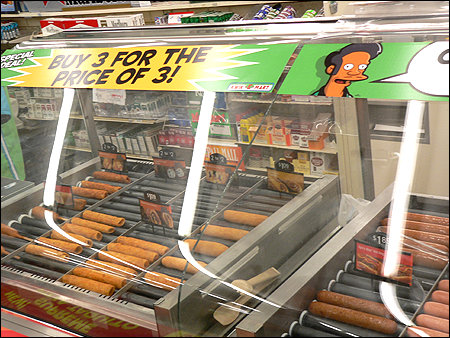 What a deal!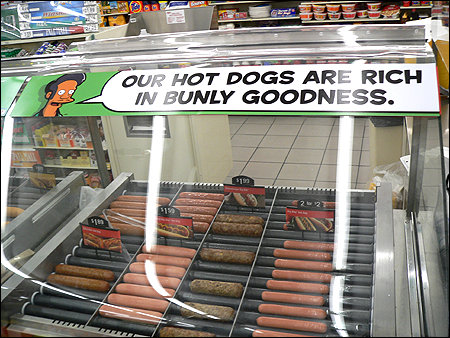 If I were you, I'd just stick with the buns and forget the hot dog.
Not a good mix with the Squishee.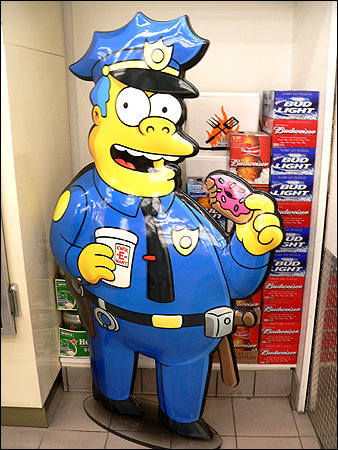 Chief Wiggum was on the job, eating donuts and guarding the beer. Surprisingly enough, they didn't put out any 6 packs of Duff beer for this promotion. A glaring oversight if you ask me. I mean, granted, I can understand them wanting to keep things all "innocent" for the kids who are fans of the show, but there are just as many adults who watch the show (if not more) and I'm sure they'd all like to buy some Duff from the Kwik-E-Mart.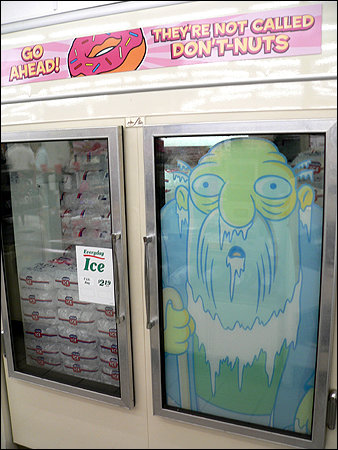 Of all the character standees in the store, this
Jasper one in the freezer was easily my favorite.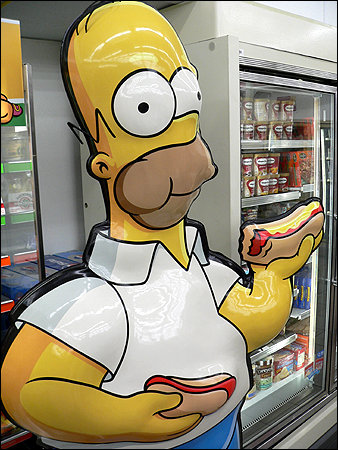 Two hands. Two hot dogs. It's only logical.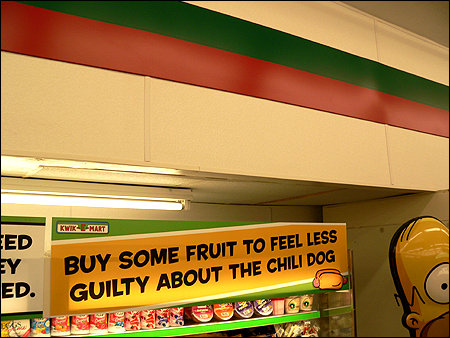 And as you can see, all of the yogurt fruit cups remained unsold that night.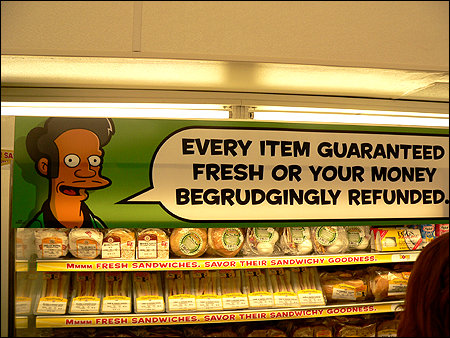 I'm sure there's somebody out there who actually would try to return a Squishee...
and what a sorry bastard he must be.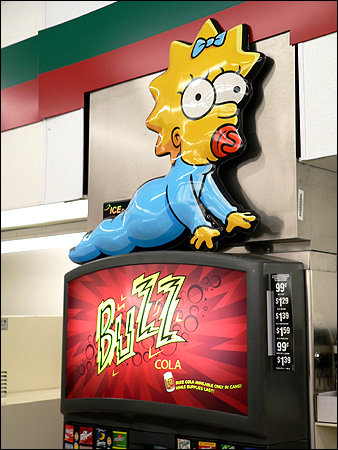 Buzz cola dispenser!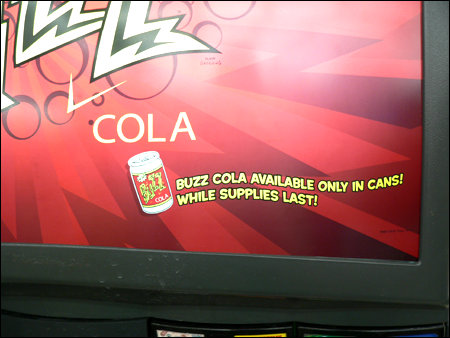 DOH! Denied. You could only get it in cans, and they were fresh sold out.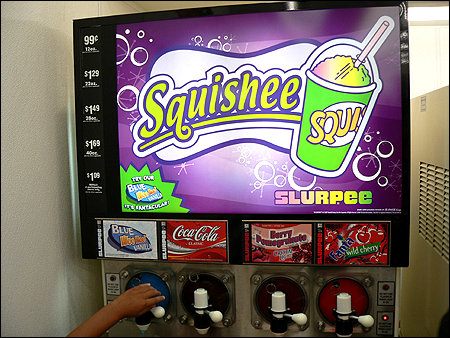 But the one thing I truly wanted to see was rip-roarin and ready to serve! Yes indeed, the Squishee machine was in full working order with a brand new flavor: Blue Woo Hoo Vanilla! Let me tell you, this stuff tastes GREAT, and I'm not just saying that because I have a soft spot for any blue drinks... it really is damned good. Normally I prefer the Coca-Cola flavored Slurpees, but the vanilla flavoring is another perfect fit. But...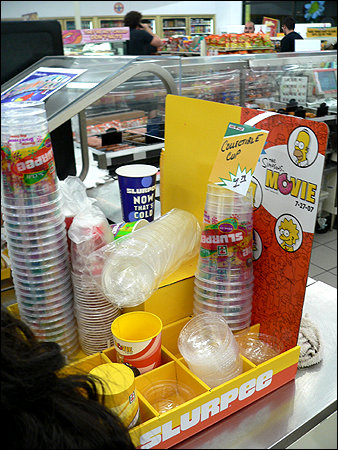 Almost all of the collectible cups were sold out. This baffled me because the collectors cups had the Simpsons characters all over them. Why would you want those when you could get the ultimate cup at no extra charge...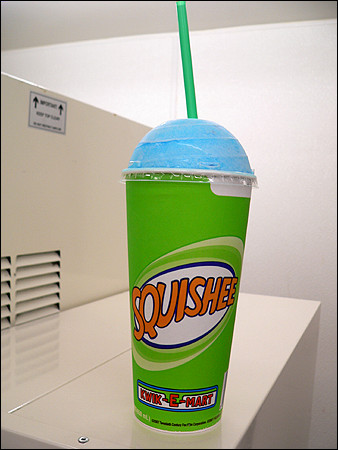 THE ORIGINAL SQUISHEE CUP!
Seriously, it's a thing of beauty and you should've seen me propping that thing up on top of the machine to make sure it got the proper lighting it deserved... scowling at anybody who ever dared to step near it and disturb the Squishee. I wish it could stay like that forever, but no, it had to enter my stomach. Still, at least we'll always have this photo to look back on. It's the best photo I took all night. Actually, no, it's the best photo I took in my entire life. Well... almost.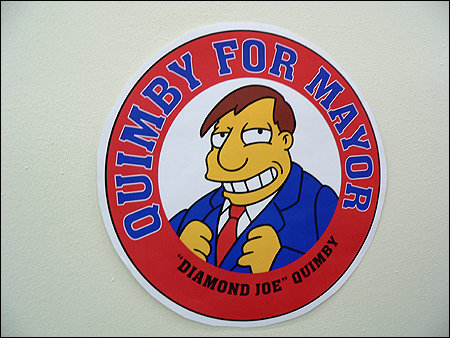 You know, it'd be nice if they could keep politics out of our entertainment just once.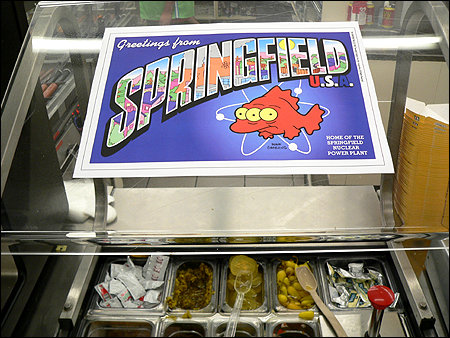 I'm sure it's just wishful thinking, but I'm hoping that Blinky's body parts didn't make their way into the condiments.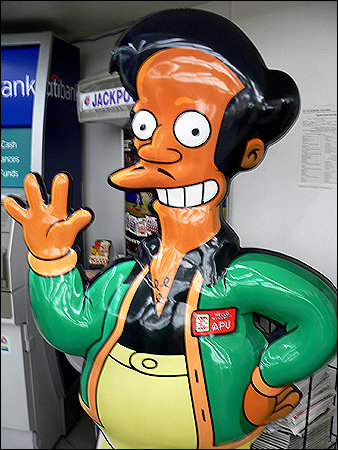 "Thank you, come again!"
And that's all for the photos I took from the grand opening of the Kwik-E-Mart here in Burbank, CA. If you want to see some more excellent photos of this same shop but during the day, you can check out this cool photo set on Flickr. You'll get to see some of the extra stuff they had there before it sold out. Big kudos to 7-Eleven and the marketing team behind The Simpsons movie for putting this thing together. Whether you're a fan of the show or not, there's no denying that this is hands-down one of the greatest, if not THE greatest, movie promotions of all time. Personally, I'd love to see them all of these Kwik-E-Marts stay like this forever instead of changing them back into 7-Elevens. We have plenty of 7-Elevens... why can't we keep our dozen Kwik-E-Marts?
Well either way, let's just hope McDonald's doesn't do some kind of Ratburger promotion if they ever make Demolition Man 2. Eh, who am I kidding... we all know that's what's in those burgers anyway. Now if you'll excuse me, I'm parched... I think it's high time I hit up the local Kwik-E-Mart for another vanilla Squishee!
By the way, for those of you who are wondering, you can try most of these Simpsons promotions such as the glorious Squishee at just any 7-Eleven store all month long - they're not just reserved for the ones that were converted to Kwik-E-Marts. Drink up!
Have any questions or comments about this piece?
Email -RoG-
---
If you enjoyed this piece be sure to check out:
and


THE 2007 "I AM 8-BIT"
OPENING RECEPTION PHOTO GALLERY!
---
help support I-Mockery by supporting our sponsors:

---
Running a big site like I-Mockery takes a lot o' time and costs moola too.
Want to help show your support?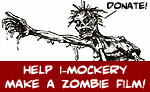 DONATE TO OUR ZOMBIE MOVIE!
Come talk about this piece & more on our Message Forums!