by: -RoG-
...CONTINUED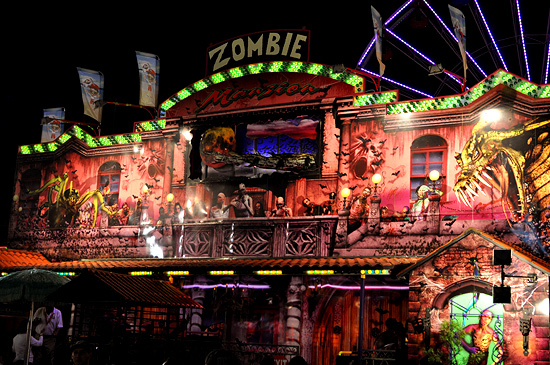 Attraction #2: Zombie Mansion!
Our second stop is Zombie Mansion, and while it was the weakest of the three Halloween attractions at the L.A. County Fair, it still has more then enough going on to keep your eyes occupied for a while. Let's take a closer look at it...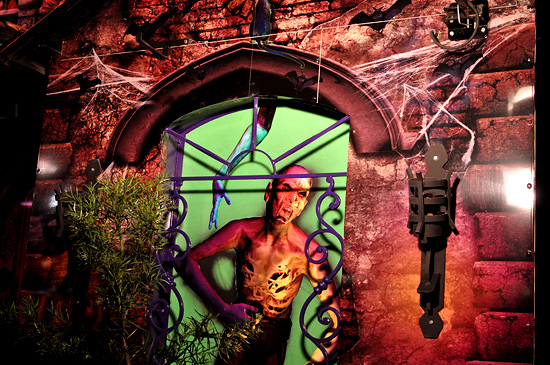 Alright, so we're starting off with a random cardboard zombie cutout in front of a glowing green window, or maybe it's a green screen and he's auditioning for a role in the next Romero flick. Whatever the case may be, I'm as okay with this guy as I am with the shiny faux brick walls that surround the window he's standing in.
Blurry photoshopped images, including a mysterious guy peering through a cracked window, serve as the backdrop for some candles and the carts you enter the ride in.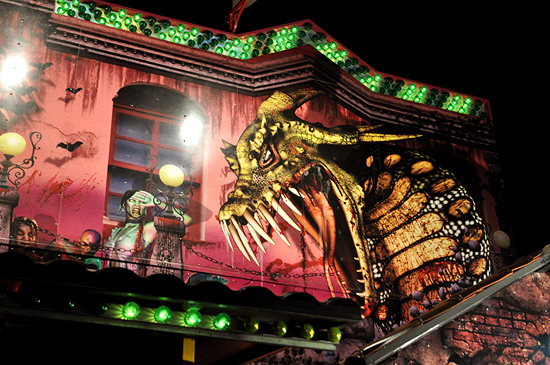 Now this is definitely the highlight for me - a giant cobra-dragon hybrid about to attack a zombie lady on the top right side of the mansion. And who is to say that cobra-dragons don't survive by maintaining a steady diet of zombie flesh? Have you ever seen a cobra-dragon? Didn't think so. I'm also not sure if that zombie lady is fretting about the cobra-dragon or the bright light in front of her. Either way, she's not going to be bothered by either one for much longer, since she appears to be first on the ol' smorgasbord.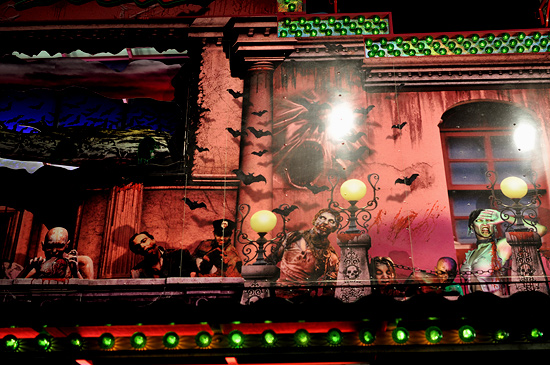 Here are some more of the zombies, just kind of hanging out while bats fly around them and faces pop out out of the walls. One zombie is a cop, or at least a security officer, so I was surprised they didn't just rip the art from Maniac Cop for this one.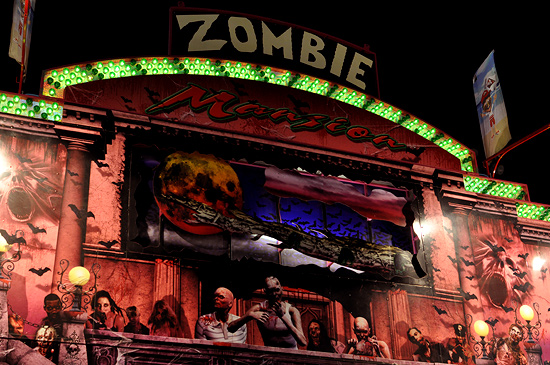 Of the three attractions, this photo shows you that Zombie Mansion just didn't get much love. Much like the zombies standing there, gnawing on old bones, this place appears to have gotten all the leftovers that weren't used on the other two haunts. After all, the Zombie Mansion title isn't even lit up, and a lot of people had trouble even reading the word "Mansion" since it was poorly lit and blended in with the background. Still, it's nice to see that even zombies can afford to live in luxury, what with such a nice big window view of a full moon and a big tree branch.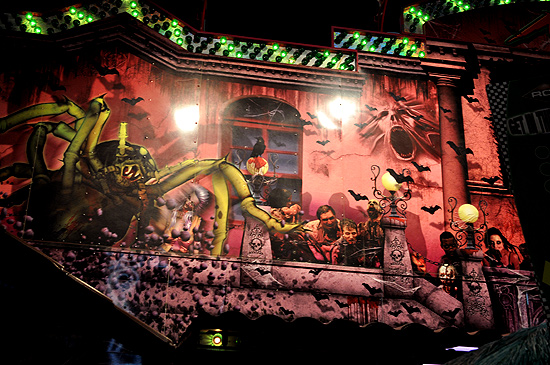 Oh crap! As if the cobra-dragon on the right side wasn't bad enough, now there's a behemoth spider bursting through the walls of their mansion on the left! I hope these zombies have a really solid homeowner's insurance policy. Then again, considering they're about to be devoured by spiders and cobra-dragons, they probably could use some life insurance. Oh wait... they're dead already, so I guess that's not gonna do 'em any good. No matter how many financial advantages they may have over us, make no mistake about it: it's not easy being a zombie in a mansion.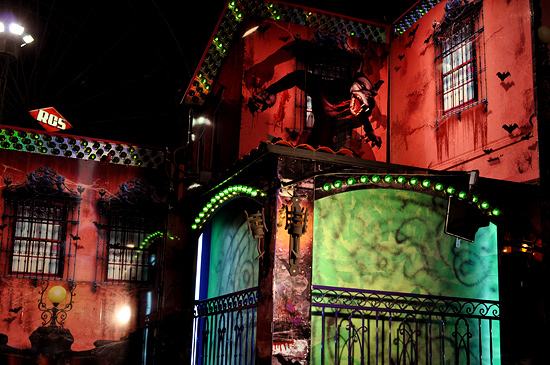 Is that a werewolf on the far left corner of the mansion? Why yes... yes it is. If it bites a zombie, does the zombie become a were-zombie? If a zombie bites it, does it become a zombie-wolf? So many questions left unanswered here!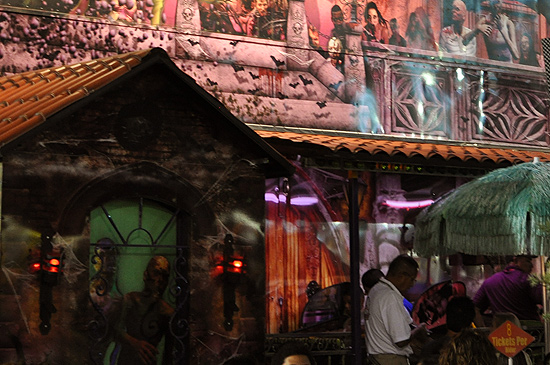 I don't know why, but I just love that there's a straw tiki island umbrella setup for the ticket guy to reside under. Yes, come to the tropical paradise that is Zombie Mansion!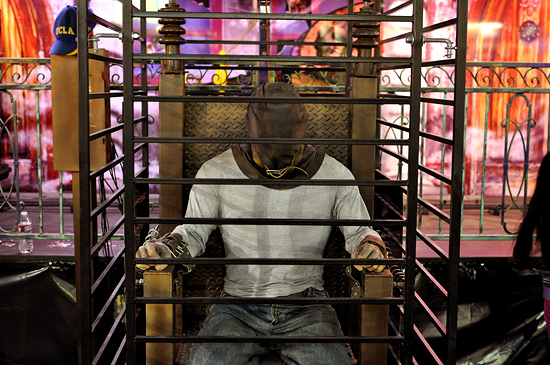 So what do rich zombies do to keep themselves entertained? They torture this poor bastard by keeping him strapped into an electric chair within a metal cage, and fry him bit by bit throughout the night. Perhaps this is how they cook their human meat before they eat it?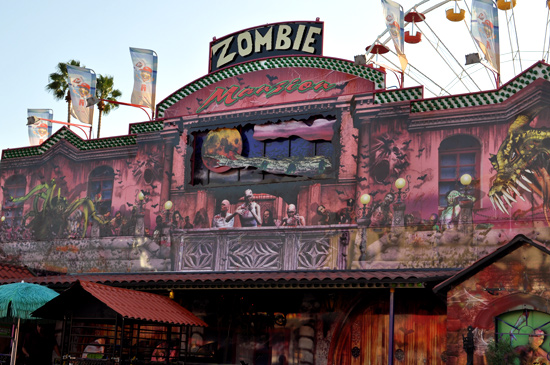 As you can see from this daytime shot, the zombie mansion just isn't nearly as vibrant as the Haunted Mansion was. The colors aren't that strong and appear to have been a bit sun-bleached over time. Poor zombies... they already look decrepit enough as it is, so why make them deal with lackluster aesthetics in their living quarters?
Well don't worry, because I've saved the absolute best for last. It's time to head to the final page to view the Creep Show!
There's still more L.A. County Fair horror to see!
Click here to continue onward to page 3!