by: Dr. Boogie
...CONTINUED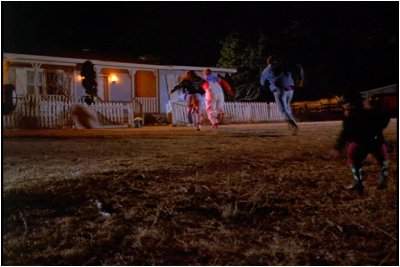 For Nathan, the plan is "heal your leg, then run like hell", and he follows through nicely. Only falls down once. I'm so proud of him.
Even though the whole lot of them have legs that are about as long as the Leprechaun is tall, they still barely make it back to the house before he catches up to them. Part of him even makes it through the door.

Only part, though. At first, it seems like a bad move on the part of the Leprechaun, but then his severed hand climbs up the door and unlocks it from the inside. Being the spor that he is, the Leprechaun doesn't use this opportunity to sneak inside and finish off the gang. Instead, he just hisses at the door and runs off.
Inside, the gang is planning their next move. They failed at killing the Leprechaun, and they managed to get their truck rolled by a go-kart, so they decide to call in some outside help instead. The phone lines have been cut, but Tory still has her fist-sized cell phone. Sadly, those early 90s cell phones had a battery life of around fifteen seconds.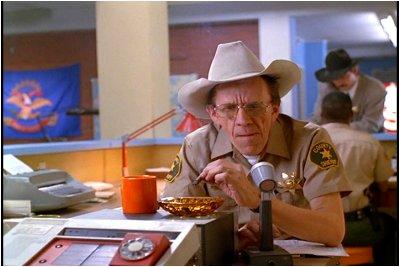 On the plus side, that fifteen seconds was just long enough to convince the sheriff that he needs to send a man down to the house to look around.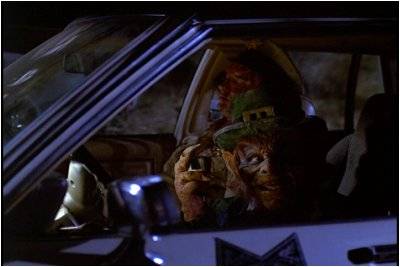 Unfortunately, the cop he decides to send out is the same one that the Leprechaun took care of a few scenes back. Once again, the Leprechaun has outdone himself: not only did he backtrack all the way back to the dead lawman, but he picked the guy up, dragged him all the way back to his car, propped him up in the passenger's seat, then jumped in the driver's seat himself just in time to do a perfect impression of the man to respond to the sheriff. Is there anything this magical Irishman can't do, apart from waste a bunch of losers in a brightly-colored house?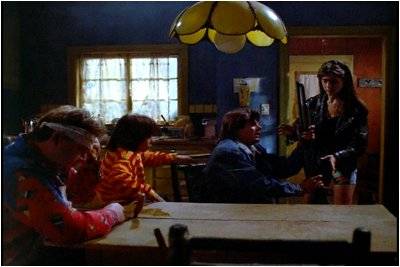 Speaking of which, I suppose we have to check back in with them. What follows is another excruciating scene where everyone is stupid. Here's a quick summary:
Tory states that, despite the fact that the creature that attacked them was dressed like a leprechaun, demanded his gold be returned, and spoke with an Irish accent, it is most definitely not a leprechaun.


Ozzie accidentally mentions the stolen gold pouch.


Alex has to tell the whole story of how they found the gold and hid it in the wall (thankfully, the film cuts away for this), and after hearing the story, Tory is convinced that giving the creature its gold back will solve their problem. Even though it clearly is not a Leprechaun. Just a really industrious midget who takes dismemberment and shotgun blasts to the chest really well.


Nathan's leg wound once again becomes severe enough that he can barely move and sweats a lot.
Moving on...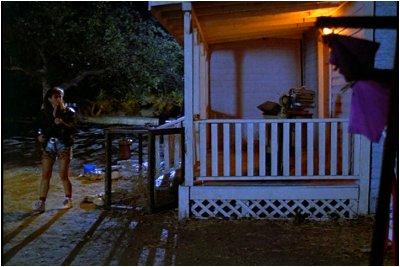 Being once more in no shape to be walking around, Nathan gives the shotgun to Tory and sends her to get the gold out of the well. That she doesn't accidentally shoot a hole in the roof is surprising. To her credit, though, she manages to hold the shotgun and walk across the yard at the same time with stumbling over anything and landing in a damn bear trap, so she's already more competent than Nathan. "You ever work one of these things before?" Up yours, Nathan, up yours.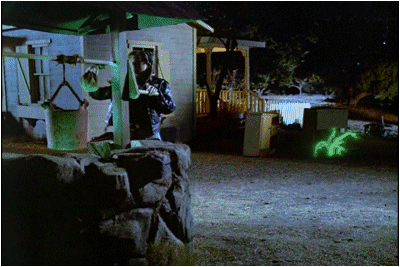 Finally abandoning the idea of any more clever reveals, the Leprechaun simply teleports into the scene. Still not up to speed, Tory asks what kind of creature he is, who can teleport at will and craft limericks at the drop of his green top hat. He reminds her of the title of the movie, then demands his gold, which she is all to happy to hand over.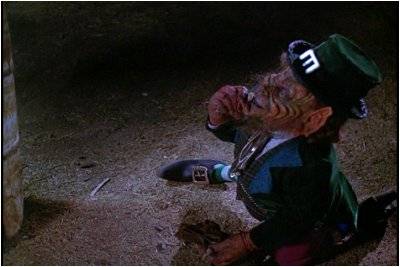 "It sounds like me gold, it looks like me gold, it smells like me gold, it tastes like me gold!"
He's not such a bad guy, you know. He gives Tory a little peck on the check before going off to count his "golden delicious gold".
So that's it, movie over, right?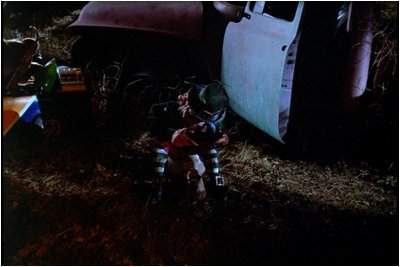 Wrong. The Leprechaun discovers that he's a coin short of a purse. Time to serve the gang a plate of corned beef and whupass.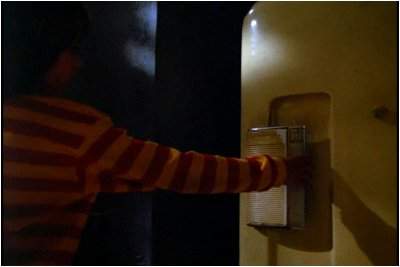 Yeah, go get some water out of the fridge, why don't ya? You know what's in the vegetable crisper?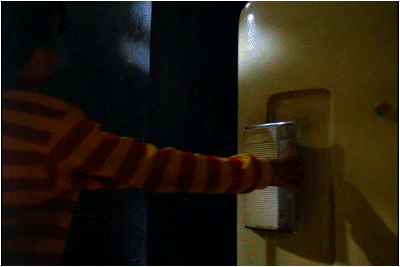 More Leprechaun, that's what. The Leprechaun manages to wrestle Alex to the ground, but soon after, Nathan grabs him and tosses him off.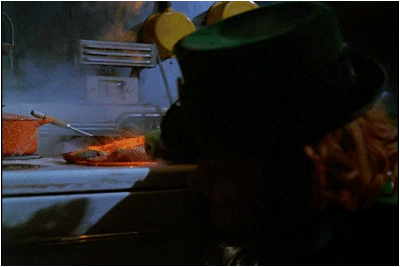 "We're cookin' now, kids! Ha ha!!"
Then he puts his hand on the stove for some reason, I guess to give himself another handicap in the fight against these feebs.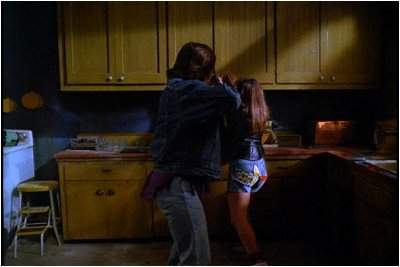 "Oh god, he's in the cabinets!"
Yes, you'd better get him before he poisons your food supply! Seriously, though, what follows is a short sequence in which the Leprechaun humiliates Nathan.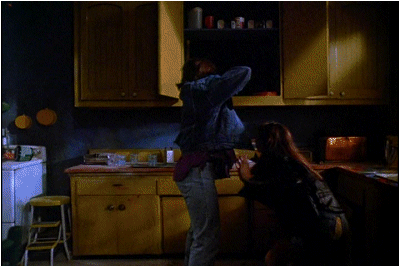 Nathan nearly shoots Tory several times while she opens cabinets for him, then the Leprechaun grabs Nathan right in his own coinpurse, then he almost gets Nathan to shoot Alex and Ozzie. Which I would've liked to have seen.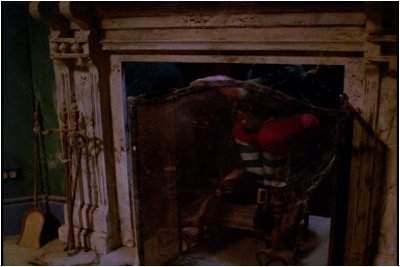 "Ho ho ho! I'm right here, and I ain't no Santa Claus!"
Hiding in the Chimney works pretty well, except that it winds up earning him another shot in the chest.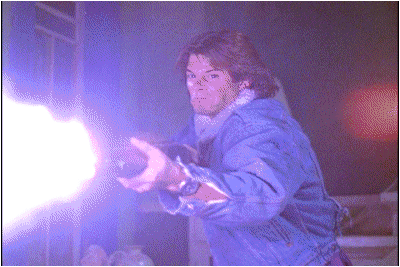 "We got the sucker!"
Of course you did! Why wouldn't this time be different from the previous time? He's dead though, right? "Yeah, he's dead," Nathan says.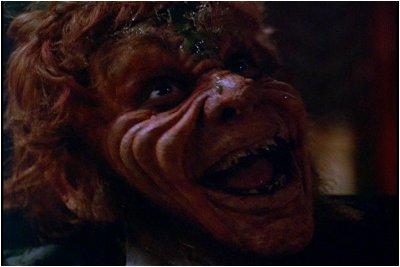 So dead. He runs off singing "fiddly diddly dee, a leprechaun is me!" The hunt is on again!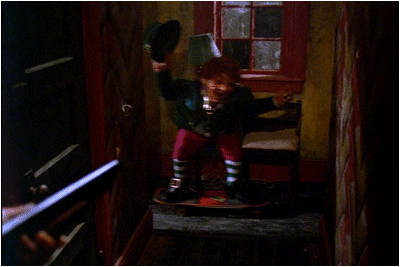 Nice shooting, loser. I wish the Leprechaun would roll a propane tank in front of you.
Then the Leprechaun disappears again, and it sounds like he's in the basement. Better listen closely...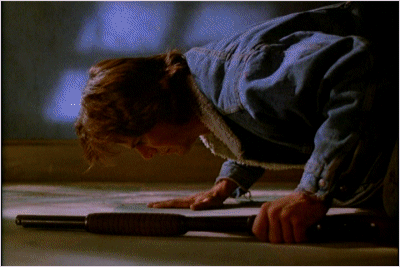 Keep in mind, while all this is happening, no one is really coming out ahead. Sure, with this latest move, the Leprechaun catches them off guard, but he still gets shot in the chest again. So he resorts to prank phone calls.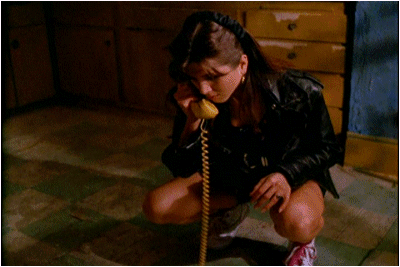 "Having problems? Need a hand?"
Sure, Tory is disgusted, but she sounds more angry than scared at this point. Ozzie finally admits that he had the last coin in his stomach, but they can't let him face a foe as dangerous as the Leprechaun by himself. Always thinking ahead, Ozzie has a solution they can all agree on: find old man O'Grady and ask him how to kill the Leprechaun. After all, he was probably the one who put the creature in the crate. Hey, great idea, guys. I wonder why O'Grady didn't think of that himself? Oh, that's right: because he's just as big of a dumb fuck as all of you put together!!!
*ahem* So the new plan is to get Tory to drive to the rest home where O'Grady lives, while Nathan and Ozzie distract the Leprechaun. And how will they do that?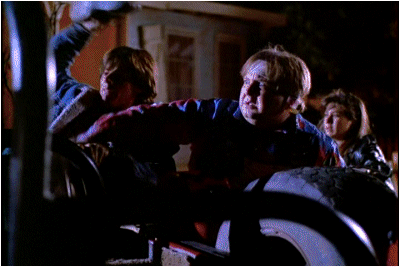 By throwing him shoes to polish. Does that sound like a stupid idea to you? It shouldn't, because it works better than anything they've done thus far in the movie: They throw the shoes, the Leprechaun polishes all of them, and Tory drives away.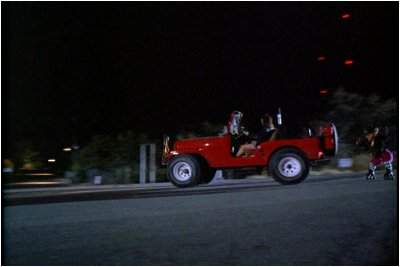 Okay, it almost works, except that the Leprechaun puts on some roller skates and decides to hitch a ride behind the jeep. He's doing alright until he loses his grip.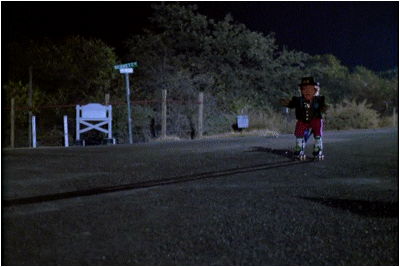 Once again, I want to point out that someone who was involved in making this film felt it was a horror title.
Tory manages to shake the Leprechaun's pursuit and makes it to the nursing home without further hijinx. She even manages to find O'Grady's room all by herself.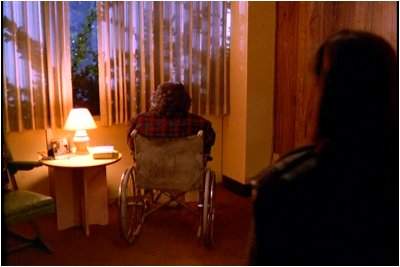 She tells him that the Leprechaun has escaped, and O'Grady says there's only one way to kill a leprechaun, but he'll never tell. You know why? Of course you know why.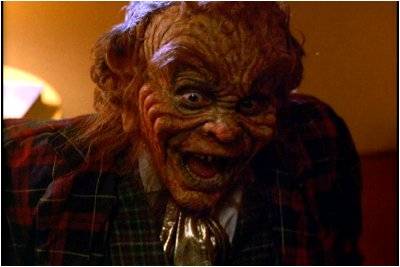 Because it's the Leprechaun in disguise, exactly. Tory takes off running, with the Leprechaun close behind in his wheelchair.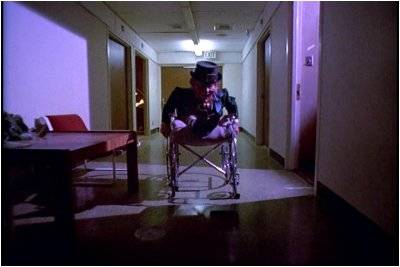 Not since Ben-Hur has there been a racing sequence so epic! So epic and so long. The Leprechaun is pumping those little arms like mad, but he can never seem to catch up to Olympic sprinter, Tory. She manages to duck into an elevator just before the Leprechaun catches her. So this whole nursing home trip has been kind of a bust, you'd say.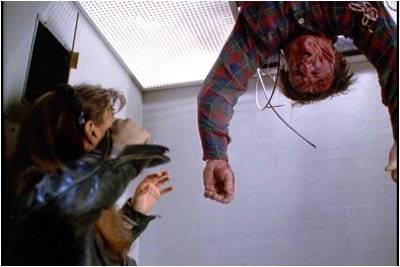 Not so. She found old man O'Grady, just not where she was expecting. Look at that man: he's on the verge of death, covered in blood and dropped through the ceiling of an elevator, and all by the Leprechaun. I told you he was an even bigger failure than the rest of the movie's "heroes". His final act of contrition for being such a load is that he imparts the secret of killing the Leprechaun on Tory: pluck a four-leaf clover, put it on the Leprechaun, and he will become mortal. Also, make sure to kill him immediately if you're at risk for a stroke.

There's still more madness to Leprechaun!
Click here to continue onward to page 5!