by: -RoG-
...CONTINUED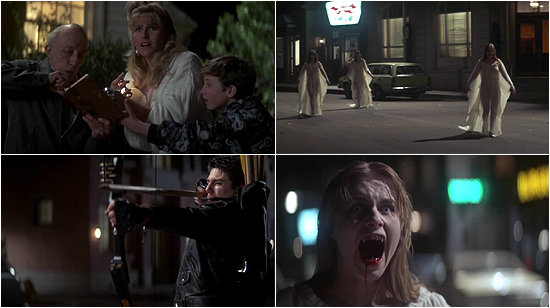 When the Monster Squad arrives at the church, they discover it's locked. Damned god; never there when you need him. As a result, they decide to just perform the ritual with the amulet right there on the street instead. Only problem is, they've now got company. Dracula's she-vamps have just arrived, but they're walking just slowly enough so that Rudy "I'm in the goddamned club aren't I?" McBadass can fire stakes directly into their hearts while Patrick's sister (the self-proclaimed virgin) reads the German passage from the Van Helsing's diary. Do all creatures of the night have to walk so absurdly slow? Can't any of them be in a hurry like the rest of us once in a while?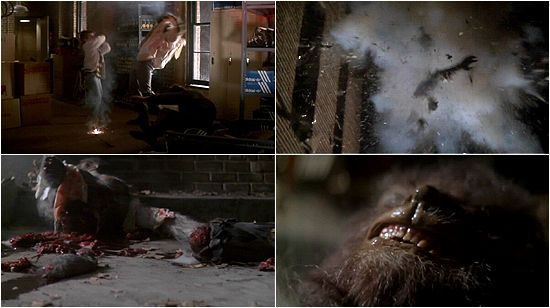 Meanwhile, Dracula (in bat-form) flies down upon the town only to be shot by Sean's dad as he pulls up in his car. The wounded Drac-bat crashes through a window in a nearby building and dad goes up there to finished the job. But before he can toss some dynamite of his own onto Drac, the Wolfman shows up out of nowhere and starting beating the crap out of him. Luckily, Sean comes up to help out his father by smacking the wolf in the face with a pipe. With the Wolfman temporary distracted, Sean's dad shoves a stick of dynamite into his crotch and pushes him out the window. Sure, Wolfie is blown to smithereens, but that was no silver bullet. His body parts slowly start to slide back together and he'll be good as new soon. Ah well, at least it was a nice excuse to show us some real gore for a change.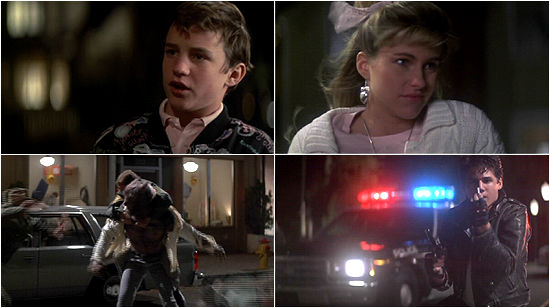 Back down on the street, Patrick's sister finishes reading the German passage but nothing happens. The monsters are still there. Where's the vortex to suck away all the monsters? Why didn't it work? Oh yeah, that's why... she's not a virgin. Big shocker.
More cops show up on the scene, but so does Wolfie and he completely manhandles them. So, once again, we must call on our resident badass, Rudy, to finish the job. He grabs a gun from one of the unconscious cops and loads it with a silver bullet. Wait... he made silver bullets, but didn't bring a gun? What, was he going to do... throw the bullets at the Wolfman!? Well I guess minor details like this are the things that a badass like Rudy just doesn't have time to worry about.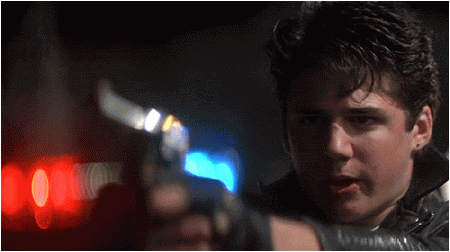 And just like that, with one bang, Wolfie is out for the count. Before he dies though, he thanks Rudy for finally ending the curse which plagued his life. So a silver bullet is the only way to kill a werewolf, but how do you kill a Creature from the Black Lagoon? I have one word for you my friends... HORACE.

After crushing the head of one unlucky cop, the Creature starts heading for Horace. I should note that this is probably the best view you'll get of the Creature during the whole movie, and the costume really is nice, so kudos to the f/x team for the job they did on him. With tons of highly detailed scales and an amazing animatronic face, it's always been my favorite version of the Creature - or "Lagoony" as I like to call him.
Anyway, Horace grabs a shotgun from a dead/unconscious cop and aims it at the creature. When he realizes he's got nowhere else to go, he blasts away.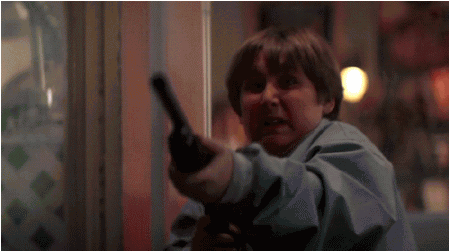 I repeat: How do you kill a Creature from the Black Lagoon?
Answer: HORACE.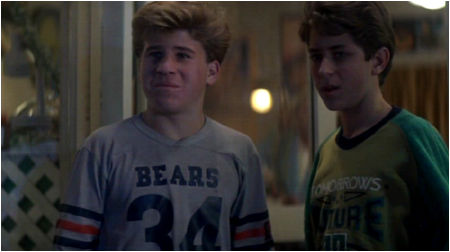 During the showdown with the creature, E.J. and his bullying buddy were cowering inside a restaurant. After Horace kills the Creature, E.J. comes out and says "Hey fat kid, good job!"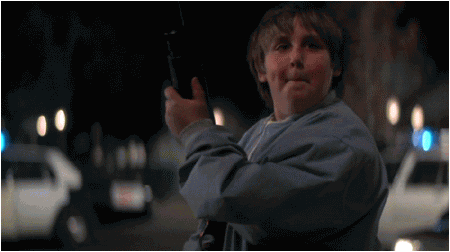 With more machismo than a Gold's Gym, he stares them dead in the eye and proudly proclaims, "MY NAME... IS HORACE!" Perfection. Absolute perfection. In all honesty, they should've just ended the movie right then and there. I mean really; after a moment like that, you've got nowhere else to go but downhill. In fact, Hollywood should've stopped making movies altogether after that moment. That's how good it was. Brent Chalem... Horace... you were taken from this world at a young age simply because the gods saw this movie and realized you were meant for greater things than what the earth could provide. Still, we miss you Horace and your legend lives on forever. We'll never forget.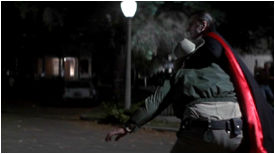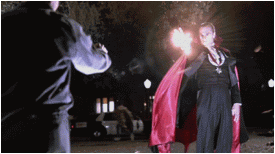 That leaves one last bad guy to stop, the baddest of them all... Dracula! He's recovered from his in-flight gunshot wound and he's not extremely pissed off. With Patrick's sister not being a virgin, Scary German Guy helps Phoebe recite the German ritual words since she's definitely a virgin. But can she finish reading it before Dracula makes his way to her?
Dracula is walking through the cops like a hot knife through warm butter... tossing them aside, snapping their necks and breaking their arms as if they weren't even there. He then blasts Scary German Guy with some kind of magic beam of light, which doesn't kill him, but knocks the wind out of him. Sure, he'll kill plenty of cop extras, but when it comes to any major character, he just hurts them a little bit.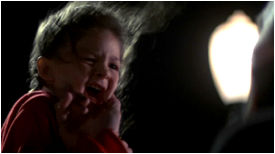 This still poses a problem though; with Scary German Guy out of the way, Phoebe can't finish reciting the words to send the monsters into oblivion. Dracula walks up to her and picks her up by her chubby little cheeks and this moment still surprises me to this day. He looks this little girl dead in the eye and says, "Give me the amulet you BITCH!" Yes, that's right, Dracula just called a little 5-year-old child a bitch. But it looks like someone didn't like what he called her. In fact, I think someone believes what he said was...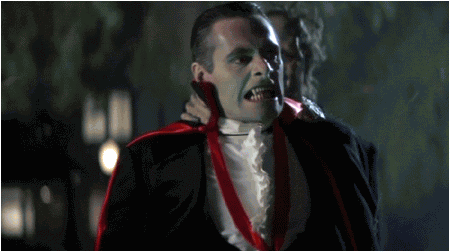 Hooraaaaaaaay! Frankie is back to save the day! As he finishes telling Dracula about how "bogus" that was, Frankenstein throws him up into the air.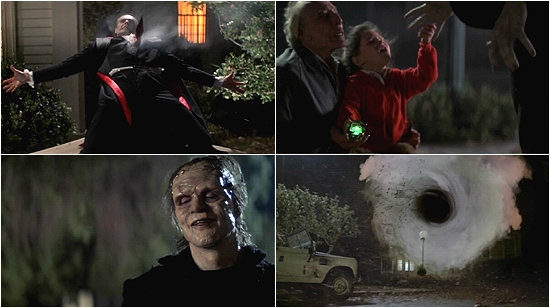 Dracula then falls down and is impaled on one of the metal church crosses. Frankenstein knows it's time to go, so he hold Phoebe's hand as Scary German Guy helps her finish reading the passage. When she finishes reading it, the amulet flashes a rainbow of colors and a vortex opens up. Not only does it suck away the monsters, but it sucks away cars and lamp posts and whatever else is around. You know, whoever makes these monster-eating vortex spells really needs to make some modifications. Every time you run one of these things, they cause more property damage than the monsters normally would if you just let them do their thing. Personally, I'd be pretty pissed off if someone opened up a vortex near where I lived. I don't recall any clause in my insurance policies for "damage from a monster consuming vortex." Damn, I gotta talk to my agent about that.

Anyway, Dracula has managed to de-impale himself and grab Sean. They both start sliding on the ground towards the Vortex and even though Dracula had no problem killing full-grown men, he's struggling here with a 12-year old kid. Sean grabs a wooden stake that just happens to be on the ground near him, drives it into the heart of Dracula and then runs to safety.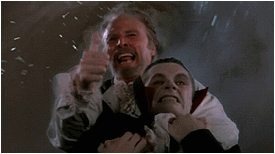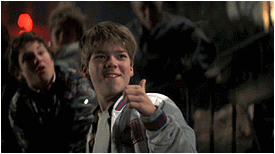 Then, from out of nowhere, Van Helsing himself appears and grabs Dracula by the neck to ensure that he's sucked back into the Vortex and banished forever. On his way out, Van Helsing gives a big thumbs up and Sean gives a hearty one right back at him. A passing of the monster-fighting torch if you will.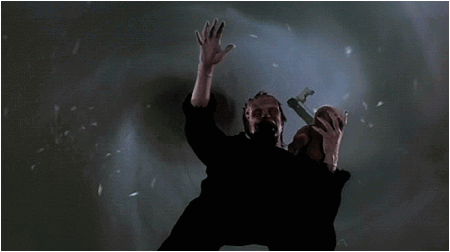 Now it's time for another semi-sad Frankenstein moment as he gets sucked into the Vortex and says "Byeeeeeeee Phoeeeeeeeeebeeeeeee!" Phoebe tosses her teddy bear to him and he looks like a big undead happy camper. Bye Frank, we'll miss you.

With the monsters all gone, everything appears to be AOK, and that's when the army shows up. Their leader informs the Eugene that they received his letter and they're here to help with the monsters. Hey, if Dracula can call a child a bitch, then the army can send troops in response to a letter written in crayon, ok? Sean tells the army guy that he can explain what's going on here. The army guy then asks, "who are you?" to which Sean says with a grin, "We're the Monster Squad!" Cue the cheesy Monster Squad rap music along with some high fives and that's the end of one of the greatest movies you'll ever see in your life.
It's been a pleasure reminiscing about this movie with you guys, but before I leave you I thought I'd share some important lessons I learned from Monster Squad...
Important lessons I learned from Monster Squad:

1) It's ok to steal stuff as long as you're using it to fight monsters.
2) Spitting soda in a moment of shock is more commonplace than you might think.
3) Frankenstein knows how to work a camera.
4) Dork = penis. Dorked = had sex.
4) Dracula likes dynamite.
5) The Army responds quickly to letters written in crayon.
6) Wolfman's got nards.
7) His name is Horace.
12/09/97 - NEVER FORGET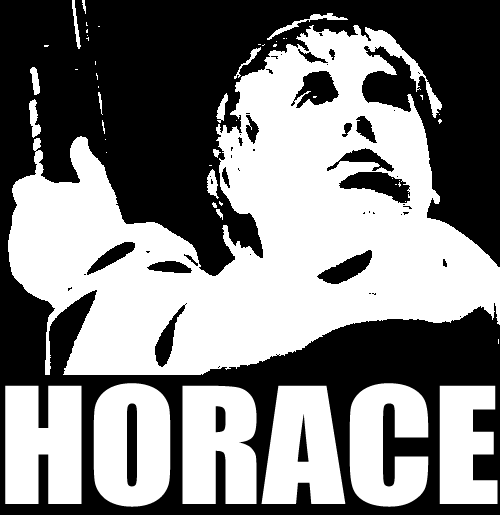 BONUS DOWNLOAD!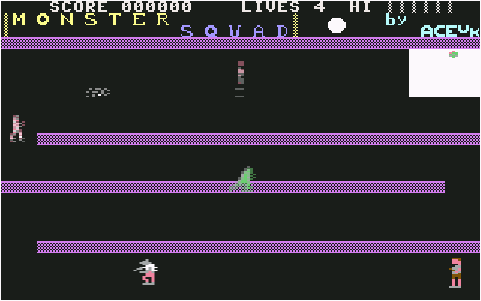 I actually managed to track down an old, unreleased "Monster Squad" game from
1987 for the Commodore 64 and now you can give it a try! It's a really bad game
but you'll surely recognize all of your favorite monster characters in there!
The default controls are as follows:
File -> Load C64 Files -> Disk Drive -> Device 8

ENTER to select game
SPACE to start game after it's loaded

J = left
K = right
I = up
M = down
SHIFT = shoot wooden stakes
[Click here to download the Monster Squad Game]
[Click here to download the Commodore 64 Emulator]
Have any questions or comments about this piece?
SHARE YOUR THOUGHTS IN THE READER COMMENTS SECTION BELOW!