by: -RoG-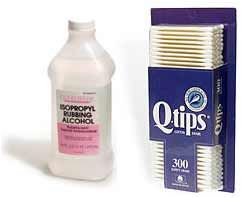 Rubbing Alcohol and Q-Tips.
Sure, it's not an officially licensed product of Nintendo, but spending 10-15 bucks on one of the NES "cleaning kits" was, is, and always will be a complete waste of your money. All you need is a bottle of Rubbing Alcohol and Q-Tips. Dip the Q-Tips in the alcohol and rub them on the exposed chip portion of any game cartridge that you can't get to work. The game will then work, guaranteed. No more futile process of blowing on the games in a desperate attempt to get them to load. Use these two simple items and your game loading problems will be a thing of the past.
But, if I may make one suggestion... please don't use the same Q-Tips in your ears that you plan on using for your games. Definitely not a good idea.
---
help support I-Mockery by supporting our sponsors:

---
Running a big site like I-Mockery takes a lot o' time and costs moola too.
Want to help show your support?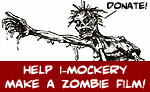 DONATE TO OUR ZOMBIE MOVIE!
Come talk about this piece & more on our Message Forums!