by: -RoG-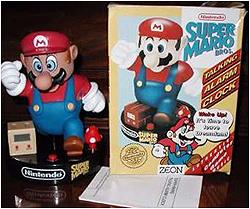 The Super Mario Bros. Talking Alarm Clock!
For those of you who wanted the first waking moment of your day to have something to do with Nintendo, there was the Super Mario Bros. Talking Alarm Clock. Not only did it tell time, but it woke you up by saying (in a bad Italian accent) "Time to wake up! Time to leave dream land!" and playing the theme song. Boy oh boy, Nintendo really cornered the market when it came to people who had fantasies of waking up next to a fat Italian plumber.
On a related note, plans for a Ninja Gaiden alarm clock were cancelled when one of the test clocks slit the throat of a kid for "the dishonorable act of not waking up on time."
---
help support I-Mockery by supporting our sponsors:

---
Running a big site like I-Mockery takes a lot o' time and costs moola too.
Want to help show your support?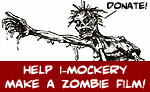 DONATE TO OUR ZOMBIE MOVIE!
Come talk about this piece & more on our Message Forums!