by: -RoG-

The Nintendo Turbo Blaster!
Why anybody would spend money on this thing when they could get a NES Advantage controller instead is beyond me. All this box did was give your regular NES controllers turbo-fire. It ran for $15 - $20 in stores, so why not spend the extra $5-$10 on a REAL controller? I may be part Scottish, but even I'm not that fucking cheap.
I'd like to say more about these, but come on... all they do is give you turbo-fire. Yay.
---
help support I-Mockery by supporting our sponsors:

---
Running a big site like I-Mockery takes a lot o' time and costs moola too.
Want to help show your support?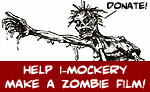 DONATE TO OUR ZOMBIE MOVIE!
Come talk about this piece & more on our Message Forums!