by: -RoG-


The Electronic Game & Watch Series!
These things were so fucking cool. Before portable systems like the Gameboy came out, we had the Game & Watch series. Now, I don't know a single person that ever really used the Alarm clock function on these things... but maybe it was a good way to get the parents to buy it:
kid: "Hey mom, I need a new alarm clock! Can you buy me this one?"
mom: "This doesn't look like an alarm clock, it looks like a game."
kid: "Oh yeah, look at the name of it! Game and WATCH! It's got an alarm!"
mom: "Well ok then, I'm sold!"

(1 week later)

kid: "Hey mom, I need a new alarm clock! Can you buy me this one?"
mom: "What!? I just bought you one a week ago!"
kid: "Yeah, but I want this new Donkey Kon... er... I mean, the alarm on that one isn't working anymore, so I want to get this new one."
The games themselves were very basic, but still a lot more interesting than looking out the car window while your dad tried to take one of his famous "shortcuts" that ended up adding a half-hour to your trip. My favorites were Balloon Fight (one of my all-time favorite NES games) and Popeye. Other games included Donkey Kong, Mario Bros., Turtle Bridge, and Parachute.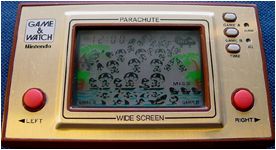 DINNER IS SERVED!
Parachute was great if you were in a bad mood (or just an evil kid), because the object of the game was to catch the sky divers in your boat, otherwise they'd land in the water and get eaten alive by sharks. SHARKS! Mattel recently re-released their classic handheld football game... I can only hope that some day Nintendo will wise-up and re-release all their entire Game & Watch series too.
---
help support I-Mockery by supporting our sponsors:

---
Running a big site like I-Mockery takes a lot o' time and costs moola too.
Want to help show your support?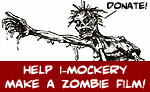 DONATE TO OUR ZOMBIE MOVIE!
Come talk about this piece & more on our Message Forums!