by: -RoG-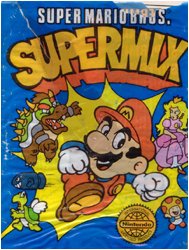 Super Mario Bros. SuperMix!
Believe it or not, there was even a Super Mario Bros. Mϋsli mix. Trying to hide health food inside a package that looked like it would be filled with candy goodness is just plain wrong. Here's what you could find inside each pack of Super Mario Bros. SuperMix:
Coconut Flakes (stale!)

Raisins (the kind that don't dance and sing the same Marvin Gaye song over and over)

Bananas (actually, it tasted more like the skins of bananas than the actual ones)

Pineapple (dried to the point where it got crusty and crispy on the outside and stringy and stretchy on the inside. *gag*)

Dates (the food you moron, not what you've been hoping to score with a supermodel)

Papaya (probably just the seeds from inside them, not the actual papaya)

Sugar (no amount of sugar can hide the fact that you're still eating health food)

Cocoa (no amount of cocoa can hide the fact that you're still eating health food either)

Pecans (Ok, I've got nothing against 'em)
*thanx to Pjalne for finding me the list of ingredients and the photo.
I think it's safe to say that Super Mario Bros. SuperMix was pretty bad, especially when you could buy Mario ice cream bars or Pac Man cereal at the time.
---
help support I-Mockery by supporting our sponsors:

---
Running a big site like I-Mockery takes a lot o' time and costs moola too.
Want to help show your support?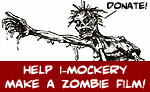 DONATE TO OUR ZOMBIE MOVIE!
Come talk about this piece & more on our Message Forums!