...CONTINUED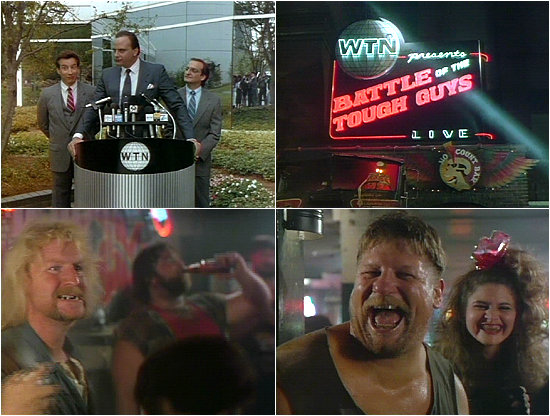 The very next day, Brell holds a press conference and announces that the World Television Network is putting on a brand new show: The Battle of the Tough Guys! With a name like that, how can it fail? Basically, the show invites all tough guys in America to come to the No Count Bar and fight to see just how tough they are. The winner of the contest will receive $100,000 tax free. This of course draws in tough guys who drive big rigs, hang out in pool halls, work in steel factories and a variety of other "tough guy" things. And they have tough guy names like "Brock Chisler", "Bulldog McPherson" and "Klondike Kramer". Many of the competitors are clearly supposed to be "crazy" - as evidenced by the semi-toothless Kramer who keeps spraying his entire head with aerosol while laughing.
And guess who's still there? That's right, Bubba and his sister! When they see Unger and Ordway walk by, Bubba shouts out, "Well if it ain't the teeny wangers!" And his sister even chimes in with a thick Southern accent as she laughs, "TAYNEEE! TAYNEEE!"
By the way, the UFC wasn't the first network to show televised fights in an octagonal ring, it was the Battle of the Tough guys on WTN!
So the show goes on as planned and the tough guys duke it out for a while until some giant guy (Zeus!) kicks down a wall (yes a WALL) and enters the bar. Everything goes silent and one of the waitresses goes up to talk to Zeus, but he picks her up by the face and tosses her aside. Attention Writers/Directors: if there's one thing we need to see more of in movies today, it's people getting picked up by their faces and then being tossed aside like garbage.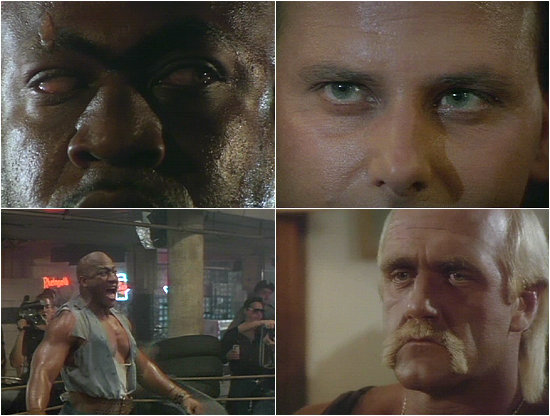 Brell decides to allow Zeus to fight, and he quickly destroys everybody in the ring. Rip is at home watching this on TV with his trainer, and he tells Rip that he used to coach Zeus but he had to let him go because he just couldn't control him. He goes on to tell Rip about how Zeus got "sent away" for a while because he killed some kid in the ring after the bell. Now we all know that the Hulkster loves kids and it's no surprise that his "Rip" character in this film does too. So there you have it, these two titans are going to clash at some point. But first, back to the Battle of the Tough Guys!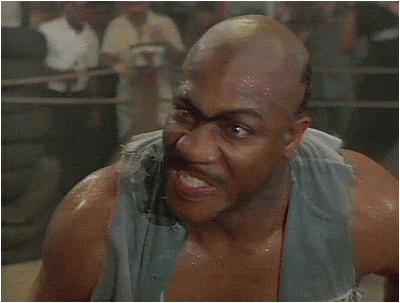 Our good friend Bubba becomes enraged when he sees Zeus destroying everybody in the ring, so he tries to attack Zeus. Sorry Bubba, but this just isn't your day. Zeus not only beats the crap out of Bubba, but after he knocks him unconscious he rips off a large chunk of his hair and shows it to the crowd. Makes you wonder if Bubba went up to Zeus in a bathroom one day and made fun of him for having a "teeny weenie" and this brutal beatdown is it coming back to bite him in the ass. Bye bye, Bubba. You will be missed.

With Zeus winning the first Battle of the Tough Guys, Brell announced that they were #1 in their time slot. So, week 2 of the show goes on and Zeus goes to fight a big guy named "Lugwrench Perkins" who, yep you guessed it, carries a big lugwrench on his own turf in an industrial arena. Zeus is now sporting some kind of chainmail vest, a belt with a big "Z" on it and some iron gauntlets that he loves clanking together.
note: Lugwrench Perkins? Goddamn I love these names!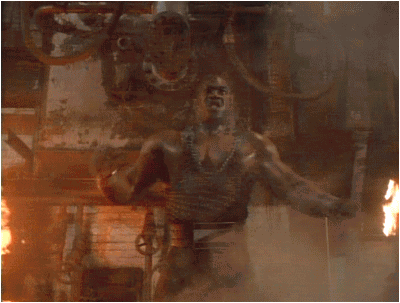 Zeus makes short work of Lugwrench Perkins, and then just does the other thing aside from fighting that he does best: he yells a lot. Rusty metal pipes, fire and a tortured soul yelling his ass off at nobody in particular. This, my friends, is what REAL movie bad guys are made of.
Elsewhere, during a trip to sign autographs for his fans, Rip takes Sam out to one of his favorite diners that he used to go to all the time. Problem is, after they sit down, some robbers come in and want everybody to give them their valuables. It's time for Rip to show these would-be robbers who's boss!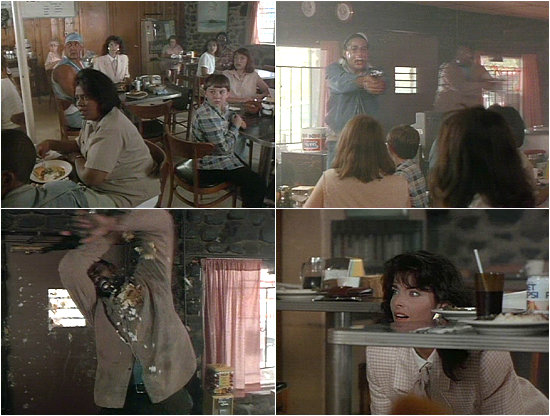 So the how does the Ripster beat these armed robbers? He throws pies at them. PIES. These two robbers, both armed with guns, were defeated by PIES. If that doesn't win the award for "Worst. Criminals. Ever." I don't know what does. Well it's like they say; the pen is mightier than the sword and the pie is mightier than the gun.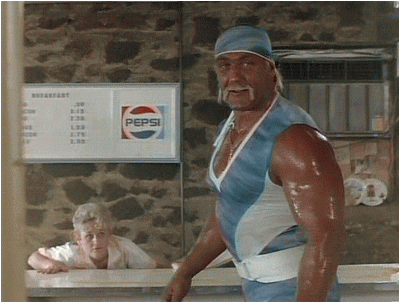 RIP 'EM, BROTHER! WOO!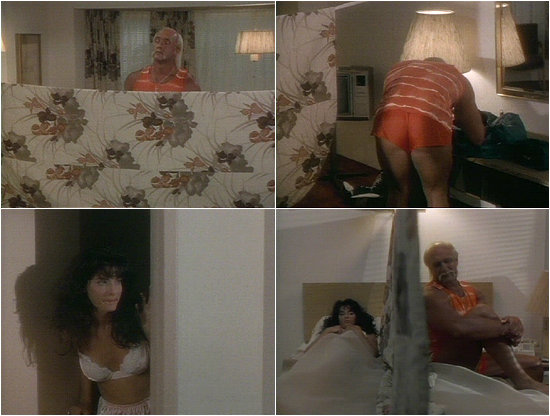 Samantha and Rip get to the hotel later that evening only to discover that the hotel has only one room left and that they'll have to share a bed. So, Rip sets up a divider using some tape and a bed sheet (he's a real MacGyver!) while Samanta takes a peek at his ass. Man oh man does she love staring at his ass.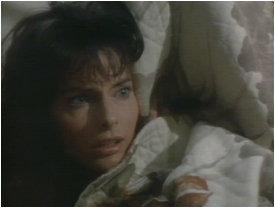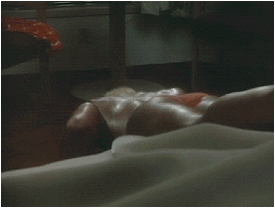 No, I mean she REALLY likes staring at it. Later on, Rip's weight breaks the bed and Sam ends up falling on top of him. She yells at him thinking he did it on purpose, so he tears down the divider he made and says, "You don't need this... you built up bigger walls than I ever could!" Oh SNAP! That line was soap opera quality right there!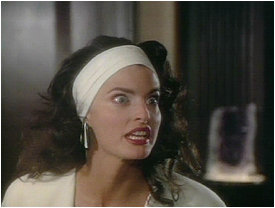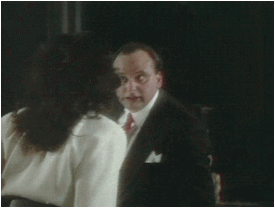 Well, it turns out that Sam's agency was hired by Brell and he wanted her to seduce Rip. But she's had a change of heart (along with a change of head attire apparently) and doesn't want to hurt Rip because he's a nice guy. Brell then does the only thing an evil boss can do in a situation like this: he smacks his bitch up.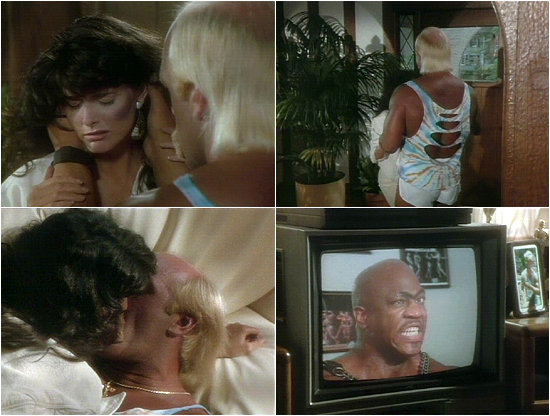 Sam then goes to Rip's house and tells him everything. He sees the bruise on her face and tries to console her. Well, one thing leads to another and they end up kissing on the couch even though he's wearing that ridiculous outfit - a torn, tie-dyed shirt and silk boxers with slits on the sides. Easy there ladies, he's a married man in real life. Sorry. I guess you'll just have to find some other guy in a torn, tie-dyed shirt and silk boxes with slits on the sides. Dime a dozen, right?
Anyway, just when it looks like Rip might get some action, Zeus appears on the TV and says, "Riiiip! I know you out there! I'm waiting! Yessss! A challenge! Ahhhhhhh!"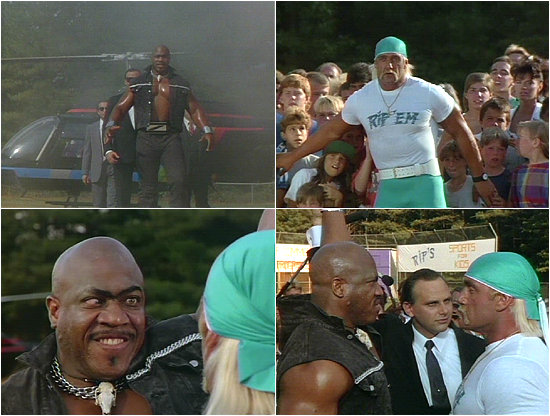 The next day at some kind of outdoor field day sporting event for kids, Rip is there encouraging them to try their best. Just then, a helicopter lands in the middle of the field and out walks Zeus and Brell. He tells Rip that Zeus is waiting for his answer, but Rip says nothing while staring at Zeus. Brell then declares Zeus as the undisputed champion of the world. DRAMA!
Now I'm all for the strategy of bringing the fight to Rip, but there's just one thing...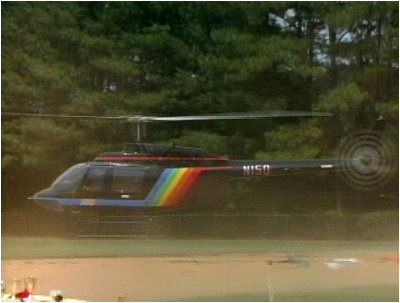 Zeus would probably come off like much more of a badass if he didn't fly away in a helicopter with a rainbow pattern painted on it. Really, who had the bright idea to fly in Mr. Psycho in the rainbow-copter of glee? They should've made that helicopter look like it came from the bowels of hell, not something you'd see Elmo flying away in during an episode of Sesame Street.
WILL ZEUS SHOWER THE CITY WITH SUNSHINE, LOLLIPOPS AND RAINBOWS?
WILL YOU GET TO SEE MORE OF RIP'S BUTTOCKS?
WILL THROWING PIES SAVE THE DAY ONCE AGAIN?
CONTINUE TO PAGE 3 TO SEE! CLICK HERE!
---
help support I-Mockery by supporting our sponsors:

---
Running a big site like I-Mockery takes a lot o' time and costs moola too.
Want to help show your support?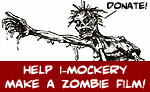 DONATE TO OUR ZOMBIE MOVIE!
Come talk about this piece & more on our Message Forums!