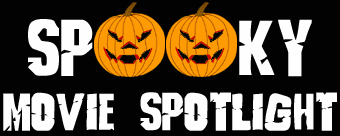 ---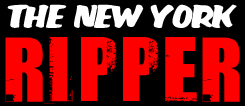 by: Killing Joke
Ahh yes…Halloween, a fine time to curl up on the couch with your loved one (be it animal, mineral or vegetable) and watch a scary movie to make yourselves cuddle closer to each other. Maybe if it's boring enough at some parts, you might even get lucky! Ok, maybe this is not the most perfect date movie to snuggle up to! That is unless your date is turned-on by extremely misogynistic gore and a fetish for a murderous beloved American character/icon. The chances of you getting laid any time soon are slim to none pal. However, this is definitely a unintentionally hilarious movie by Lucio Fulci with a feeble plot (if you'd like to call it that), sleepy badly dubbed dialogue parts, lots of female nudity, gallons of wonderful gore, and murderer everyone has grown up with!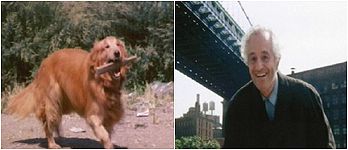 The movie starts-off innocently enough, with a happy old man enjoying a wonderful jaunt in the park with his dog. Maybe this movie won't be so bad after all, right? That is until Fido decides to trade in that boring old stick for a human hand!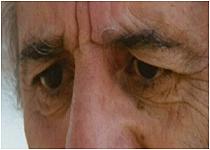 "Say boy, what's that you got there in your mouth? Hey, That's no stick!"


So which one is the most similar to Taco Bell meat?
The dog or the rotted hand? It's too close to tell!
At this point the movie kicks in with the title and the most bitchin` theme music starts up. It's like a mix between ChiPs and the sleaziest 70's porn all mixed into one. You'd think Ponch was gonna ride up on his motorcycle at any moment! I only wish I had some way to capture the music and burn it on a disc, because all the homeboys in the low riders going to wanna hear this one.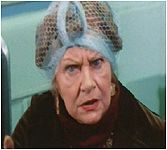 "I swear he sounded like a duck!"
Now this where the feeble plot tries to kick into gear... with an old lady trying to tell this world weary detective about this prank caller one of her tenants had. And yes, she says that he sounded like a duck! You didn't misread this, nor was I completely drunk when I wrote this review. I shall say it again… A damn duck! But maybe this is just a red herring trying to throw you intelligent gore movie fans off! Ha ha!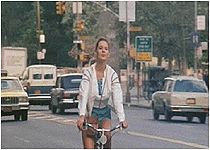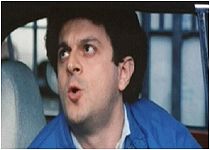 "Hey lady! You've got the brain of a chicken!"
(more fine insults like this can be found in those zany "1001 insults" books!)
So, you see this girl riding her bike and collides clumsily into a car where the white guy with the afro decides to give her a speech that "keeps those damn women in their place", and finalizing it with the absolute damning epithet, "you've got the brain of a chicken!" At this point, you are starting to wonder to yourself if the writers of the film suffered from the same affliction or is a chicken brain too advanced for them.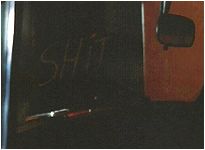 Oh no! A wordy dirty!
Yes, the first bit of true horror comes into play, the first CUSS WORD of the movie! The girl decides to get back at that mean man, on a local ferry, when he's not in his car! She writes the word "Shit" on his windshield with her lipstick. But someone comes back and decides to talk to her…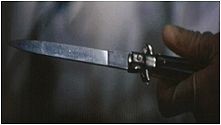 Man, the Ratings board are certainly getting
tougher when it comes to profanity these days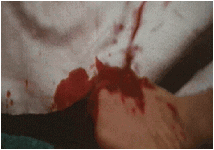 Geez…normally my mom just washed my mouth with soap
when I did something like that, isn't that a tad extreme?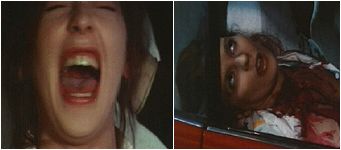 Of course, this girl deserved to die, I mean if some stranger comes up to you sits in the car, and starts talking like a perverted duck on crack. Are you going to stick around? Hell no! Not to mention, normally when someone pulls out a knife, I would try a little harder to get out of the car. Much less when someone jabs another individual with the switchblade…an intelligent person would think about moving out of the way, right? Not this girl, she lies there like…dead chicken. Hrm… maybe white afro-man was right after all! Wait a second…first a duck and now a chicken. Man this seems kinda fishy! Oh my god, I just brought up a fish! Too many animal references… Ahhhhh! [bangs head into keyboard]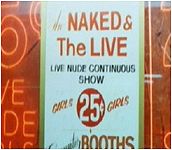 The NAKED and The LIVE? Well… at least they aren't screwing dead people.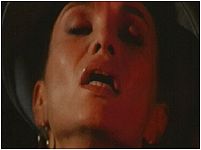 Ok, now this is where the plot starts to get extremely fuzzy while Fulci tries to be all crafty and fool you into thinking who the real killer is. But of course it, like all his films it comes across as a complete jumbled mess. The movie goes to the seedy "sex club" scene where people sit and watch two people screw their brains out for money. You wanna see pictures from it? Then hash out the $26.99 for the DVD (yes I paid that much for it, kill me) and look at it yourself, Mr. Pervert! Well anyway, at least by looking at the face of one of the patrons, it looks like everyone is having a good time…

Must have not been a very good performance. Actually, scratch that last
comment. Broken bottles in the crotch tend to sour anyone's evening.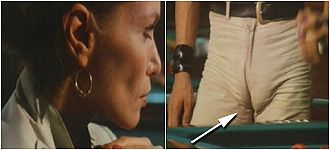 MALE. CAMEL. TOE.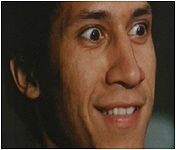 You like a da' camel toe I gotz, eh?
At this point, the chick that was watching the pornofied action in the club decides to let some seedy Latino guys get all sleazy with her in a shithole bar. Of course, she tries to resist their advances, but she is hypnotized by their super tight jeans and hideous camel toes. Can guys even get that? I mean look at that thing! It's a huge male camel toe! Geez! Of course, before anything gets too freaky, she runs away… but to where or whom? (I know the suspense is just killing you)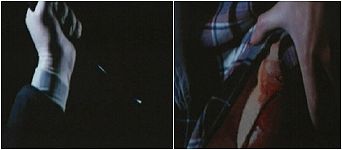 There's easier ways to shave your legs... I think.


Hi, I'm playing the role of Mr. Concerned Boyfriend, how can I help you?
After that moment of psychosexual boredom, another random girl gets slashed up on the street and then accosted in a movie theater. Only to fool you to think she died, she survives since most of scene was a dream. Oh Lucio Fulci, you crafty old whip, always keeping us on our toes and confusing us with those crazy dream sequences. Hitchcock has nothing on you! (Except maybe an extra hundred pounds).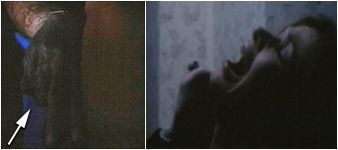 And now, for some damn random reason, porno theater woman decides to pork the guy in the guy in the sex club. How did they know each other in the first place?! Was he friends with Mr. Camel Toe? Did they meet on the teen singles hotline? Anyway, after they fornicate, as they lay there in post-copulation slumber a radio DJ mentions for some random reason that the killer only has two fingers on one hand. Of course porno lady thinks she just made it with the killer by the fact that he only has...<GASP> TWO FINGERS!! However, if she had half a brain, she'd know had them folded under his hand, look and see for yourself. So she runs out of the room naked, only to meet her doom with the REAL duck killer in the elevator. Good riddance I say...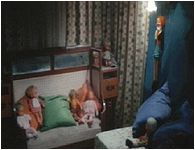 Now you've found that, what are you going to do next lady? Sniff his underwear?!
Now we go to the girl that survived the attack, she's wandering around her boyfriend's house and comes across a child's room with multiple medical bills. Wow, isn't that a great relationship? I just love it when I have a girlfriend that snoops around my house all day. I definitely think that the violation of loved one's privacy should be the cornerstone of any good relationship.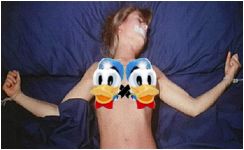 (Duck Boob-Covering technology ©2002 I-Mockery.com)
Alright, it's time for the main gore scene where the duck-killer decides to kill a prostitute that the detective was banging earlier. I'm starting to believe that this killer has some serious issues with women, but I'm not quite sure yet. They've kinda hinted at it lightly, but I can't put my finger on exactly what tipped me off first. He must of not gotten a puppy when he was a kid… damn shame… I never got a puppy either. :(

Funny thing about this actress, Daniela Doria, is that she's been killed in THREE other different Fulci movies. She vomited up her intestines in "Gates of Hell," she had a knife driven through the back of her head in "The House by the Cemetery," and faces another gruesome end in "The Black Cat."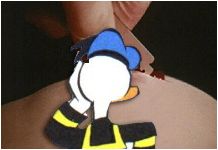 Nipple piercing gone horribly wrong.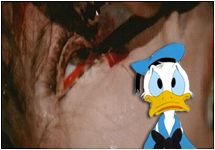 Man, what a lousy way to take out a contact!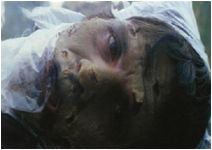 Oh no, Mr. No-Fingers ends up dead too!
Who could be the killer?
Now our supposed heroine (I think she gets that title, because she's the only living female character in this movie at this point) stumbles onto a little girl who is fatally ill, and is being read a story about a duck. Oh my! Could this be the crucial clue, to who the killer could be? Maybe if you are lucky, we'll give you a hint…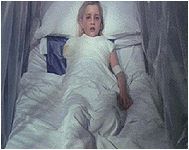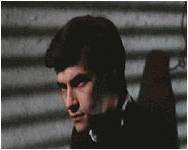 Of course, the final clue is when heroine picks up the phone and overhears her boyfriend talking in "the duck voice" to the little girl about going on doing some more killing! My god, how annoying, regardless if he's the killer or not, he should just kill her for the fact that she's a lousy girlfriend. First she snoops around his house and now she is eavesdropping on his conversations. How inconsiderate can you get!?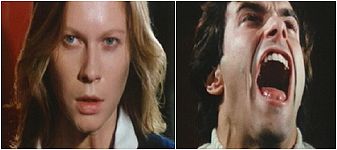 I definitely see a few cavities in there...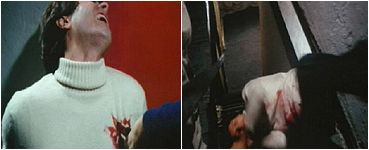 You'd think asking him about the killings would be a little more considerate than this.

Well ok, she made a lucky guess. After she walks down the steps to do the infamous "hey let's check to see if he's really dead!" move, he jumps on her with a knife and starts talking in the duck voice (even though at this point it sounds like a mix between Donald and Mickey's voice), calling her pretty and sweet. Well… at least he was complimenting her before he starts to slam the knife down her when all of a sudden…

KER-BLOOOOEY!
What? No warning shot?

"Ok, let's flip a coin to see who is going to clean this mess."
The nitwit detective and professor blow his head off right in the knick of time! Oh yeah, a professor was in this movie? Geez, did I leave that out? Silly me, you read this entire review and I left out a main character! I guess that really screws things up for you, eh? Well... tough, deal with it! This movie is hard enough to make sense of without the review.
Anyway, they surmise that the boyfriend cracked because of his dying daughter would never grow up to be a woman, so he killed women. Therefore, he went on a murderous rampage using the duck voice as the one that took up the guilt of those murders. Isn't that just neat and tidy! I guess that means he must have been a pretty good father when he wasn't slaughtering women with broken bottles and knives. Not that it matters now, since most of his cerebral cortex is sprayed all over the basement floor.
Definitely not the most rewarding film in the world, but there are actually some morals to the story. Morals? In this movie? You bet:
Never trust anyone that sounds like a duck.


Make sure all broken bottles are put in the proper receptacles.


Make sure to snoop around the house, you might find out that your loved one is a vicious serial killer. And then you'll finally have an excuse to murder them like you've been wanting to do for so long anyway.


Being killed in four different movies by the same director only makes your famous with horror movie geeks


When you shoot someone in the head it makes a really great mess! So, be sure to capture it on film so you can show it at future parties.
However, the kid gets to learn the greatest lesson in life…


"Hey kid, you are going to live your short assed life alone and miserable.
Quit your whining, deal with it, and get a goddamned job!"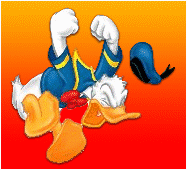 "Quack! Quack! I'll be Back!"
The end (I hope).
---
Running a big site like I-Mockery takes a lot o' time and costs moola too.
Want to help show your support?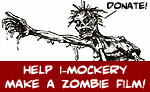 DONATE TO OUR ZOMBIE MOVIE!
Come talk about this piece & more on our Message Forums!
click here for more minimocks!

---


[Minimocks] [Articles] [Games] [Mockeries] [Shorts] [Comics] [Blog] [Info] [Forum] [Advertise] [Home]


Copyright © 1999-2007 I-Mockery.com : All Rights Reserved : ()
No portion of I-Mockery may be reprinted in any form without prior consent
We reserve the right to swallow your soul... and spit out the chewy parts.