THIS IS NOT THE REAL VERSION. THIS IS A HORRIBLY MANGLED VERSION OF THE VIDEO THAT SOMEBODY SENT IN HOPES OF PROTECTING YOUR VIRGIN EARS FROM WORDS LIKE "HELL".

* CLICK HERE TO VIEW THE REAL VERSION! *
YOU NEED MACROMEDIA FLASH TO VIEW THIS PAGE!
ALSO BE SURE TO HAVE YOUR SPEAKERS TURNED ON!
HAVE ANY COMMENTS ABOUT THIS FLASH MOVIE?
COME TELL US IN OUR MESSAGE FORUMS!
Like the song?
Can't get enough of -RoG-'s soothing voice?
DOWNLOAD THE MP3 HERE!
---
Running a big site like I-Mockery takes a lot o' time and costs moola too.
Want to help show your support?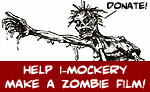 DONATE TO OUR ZOMBIE MOVIE!
Come talk about this piece & more on our Message Forums!
click here for more minimocks!

---
---


[Minimocks] [Articles] [Games] [Mockeries] [Shorts] [Comics] [Blog] [Info] [Forum] [Advertise] [Home]


Copyright © 1999-2007 I-Mockery.com : All Rights Reserved : ()
No portion of I-Mockery may be reprinted in any form without prior consent
We reserve the right to swallow your soul... and spit out the chewy parts.