by: -RoG-
...CONTINUED
Now here's a surprise, they didn't even list Cher on the guest list for this big special, but there she is! And it looks like she's been threatening to wear the same outfit that she wore in her "If I Could Turn Back Time" video if Conky doesn't cough up today's secret word. For those of you who are still attempting to evolve from a puddle of primordial ooze, the way the secret word of the day worked was simple: Conky the robot would spit out a word, and then anytime somebody said the word during the remainder of the episode, everybody would scream at the top of their lungs.
The problem for parents was, their kids would keep screaming anytime said this word for the entire week, until another episode aired and another secret word was unveiled. I guarantee you that this show was partially responsible for the popularity of Nuprin amongst adults back in the day.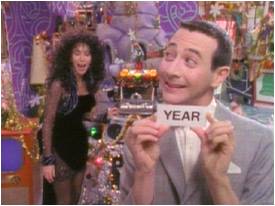 OK EVERYBODY! TODAY'S WORD IS... YEAR!
AHHHHHHHHHH!!!!!!!

Ok, this next one might be the most uneventful of the guest appearances. The King of Cartoons shows up to put on one of his classic cartoons from yesteryear, and when they turn on the TV, Joan Rivers is there to greet them with a sweater that says "Merry Christmas" in big red letters. They put the old cartoon on shortly after. That's how much love they really have for Joan. Poor Joan.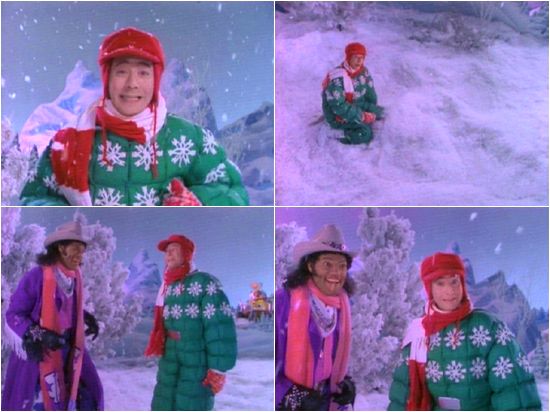 After the cartoon ends, Pee-wee heads outdoors extremely excited to discover that it's snowing. I guess he didn't notice the blizzard that apparently already hit the playhouse earlier on. Well anyway, outdoors Pee-wee bumps into Morpheus... er... ahem... I mean Pee-wee bumps into Cowboy Curtis. They've always been the best of friends, and by the looks of it, they share the same tastes in clothing. But look who else is outdoors enjoying the winter weather!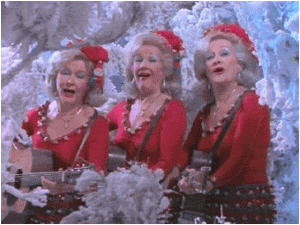 Why it's the Del Rubio Triplets and man oh man... can these old ladies thrash!

While the triplets play some spirited sleigh-bell songs, Pee-wee and Cowboy Curtis build a snowman. Curtis tells what must be a tale of cowboy folklore: "If you stare at a snowman long enough, it'll come to life!" Sure enough, the snowman comes to life and uses one of Pee-wee's own lines to scare the crap out of them both:
WHY DON'T YA TAKE A PICTURE? IT'LL LAST LONGER!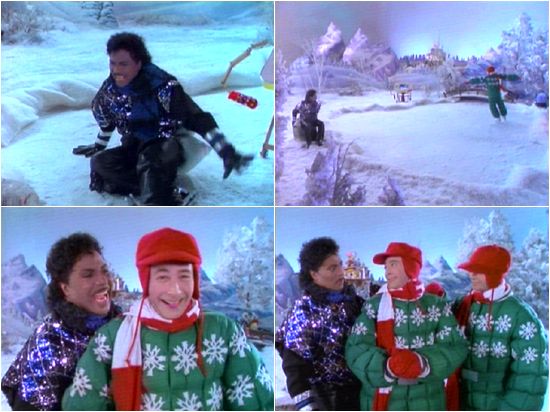 Elsewhere, Little Richard is freaking out as always with that high-pitched shrill voice of his. The fact that he's falling on the ice constantly doesn't help, so he's decided to give up on ice skating... until Pee-wee shows him how it's done. Pee-wee does an amazing ice-skating routine. Well, his stunt double Hanz actually deserves the credit, but my guess is that Little Richard was too hopped up on god knows what to really notice.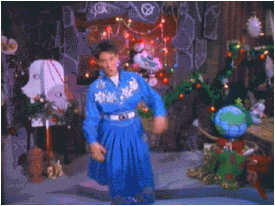 Next up on the road to madness is K.D. Lang! She tries her best to act like Elvis while she performs "Jingle Bell Rock", but you can only wonder at what point did she lose her mind. But hey, if you're gonna lose your mind, lose it in Pee-wee's playhouse and you'll blend right in! Way to go Lang!

Now Pee-wee is tacking up everybody's Christmas stockings, but his stocking is just a tad bit larger than everyone else's. Well, that and he has one stocking for each foot. Damn that's a good idea, I've gotta remember that one. Soon after, we're treated to the most famous of the claymation cartoons featured in Pee-wee's Playhouse: Penny. Unfortunately, you cannot be told what Penny is. You have to see it for yourself... Neo.
Cowness then shows up and delivers Pee-wee another fruitcake, and who shows up with her? Zsa Zsa Gabor! I guess they made the connection between Zsa Zsa and the Cow because of the old Green Acres show. Either that or they were trying to say something mean about Zsa Zsa... or the cow.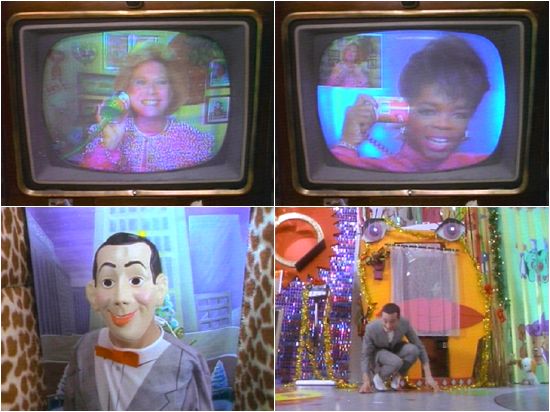 Pee-wee gets some more calls on the videophone, but this time it's Oprah Winfrey (with one of the worst hairdos I've ever seen) and Dinah Shore. Pee-wee quickly hangs up on Oprah to listen to Dinah Shore sing "The Twelve Days of Christmas", but she keeps going and going and going... way beyond 12 days. Like I said, people just lose their minds in the playhouse. Fortunately, Pee-wee is prepared for this as he leaves a dummy in the videophone booth so Dinah Shore can sing to it for the rest of her days without ever knowing that Pee-wee snuck away.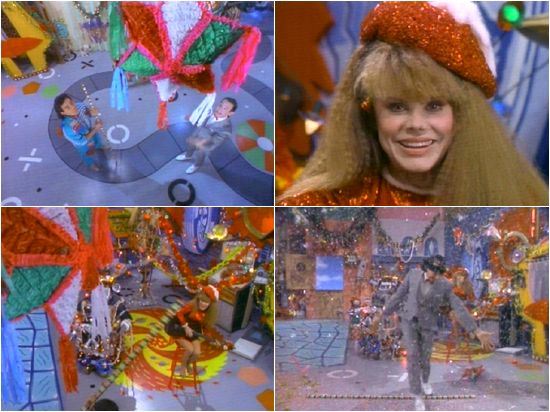 He may have been able to escape the singing of Dinah, but he can't escape the latin beat of Charo! That's right, Charo is now in the playhouse and she's here to play some Christmas music on her classical guitar while Pee-wee tries to smash the piñata to celebrate Christmas just like the kids in Mexico do. The best part about it? She's singing the "I wanna wish you a merry Christmas" song while Conky backs her up, but I think Charo must've misunderstood how the lyrics go.
"I wanna wish you a merry Christmas from the bottle of my heart" -Charo
I shit you not. I thought maybe it was just her strong accent at first, but after she said it several more times, it was obvious that she hadn't a clue about what she was saying. You really have to hear her sing it, it'll become your favorite Christmas song ever.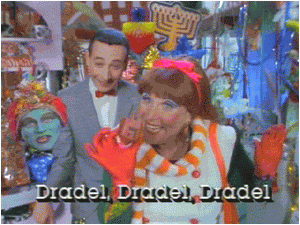 Mrs. Renee then shows up with a wheelbarrel of fruitcake, all for Pee-wee. As if that's not enough, she also gives Pee-wee a Dradel - and so begins the Hanukkah portion of the show. And what more could a Jewish kid want more during the holiday season than to hear the Dradel song for the 15,000th time in his life. Don't worry kids, if you still don't know the lyrics, you can sing along by following Jambi's bouncing head!
***NEWS FLASH***
SCIENTISTS HAVE JUST DISCOVERED THAT DINOSAURS WERE JEWISH!
MORE ON THIS STORY AS IT DEVELOPS...

As soon as Hanukkamania ends, they quickly steer the show back towards Christmas by having a sit down with Randy. We learn that the true meaning of Christmas is all about the birthday of the Christ child. Well, it's about that and making child actors look extremely unhappy because they're being forced to act in a nativity scene. But hey it's nothing more fruitcake can't solve, am I right kids??? RIGHT!
So Pee-wee announces that he's finally discovered a use for all of the fruitcake that he's received this year...

I have to say, this was the one truly disappointing scene in the entire Christmas special for me. When Pee-wee announced that he found a use for all of the fruitcakes he was given, the first thing that came to my mind was, "Oh shit! He's gonna make the world's largest Fruitcake Ball! YES!!!" Yeah well, that didn't happen. Instead, he added a new wing to the playhouse that was made entirely of fruitcakes. While that's fine 'n dandy, I was expecting a giant nasty balled mass of fruitcake that would rival the size of his infamous tinfoil ball. Damnit, you had a golden opportunity there Pee-wee!!!

Now it's time for the other star of the show to make an appearance: it's Santa! Of course, Pee-wee is first in line with a huge plate o' cookies and milk to help butter-up the jolly old fella in hopes of getting more Christmas gifts. Santa informs Pee-wee that he did bring him all of his gifts, but unfortunately, Pee-wee asked for so many gifts that now Santa doesn't have enough gifts for any other children in the world. Oh no! Take a time-out Pee-wee! Think about what you're doing!

The lights go dim and Pee-wee stares up at the playhouse Christmas tree while he battles with himself. His conflicted thoughts of both wanting a million new toys and having all the kids in the world be happy are obviously a real struggle for the lil' guy. But in the end, the spirit of Christmas wins him over and he decided to let Santa give all of his toys away for this Christmas. Saint Pee-wee, you're an honorable young lad. As if almost knocking out Charo during a blindfolded piñata smashing game wasn't enough fun for him, Pee-wee has just been asked by Santa to help him deliver the toys to all the children of the world. I can only imagine hearing a combination of jingle bells and "ahhhhhhh!" on my rooftop come Christmas eve.
In the end, Jambi asks Pee-wee what his other wish for the day is. "My wish is that there's peace on earth and that everybody has the very merriest of Christmases and a happy new YEAR." AHHHHHHHHHHHH!!!! Hey Jambi, it's been well over 10 years... any chance you can hurry up with that "peace on earth" wish? We're still waiting.
Pee-wee Herman left behind an incredible show, along with one of the most brilliantly crafted movies ever to grace the big screen. It's a body of work deserving all the praise one can muster, and truly magical Christmas specials like this one are seemingly a thing of the past. I'm just glad it's finally on DVD so everyone can see the madness and the magic of Pee-wee's Playhouse over the holiday season once again.
Merry Christmas to all of you...
from the bottle of my heart.


Have any questions or comments about this piece?
SHARE YOUR THOUGHTS IN THE READER COMMENTS SECTION BELOW!