by: Protoclown
Last year I did a series of pieces featuring 10 Things I Like about each of the original Star Wars movies. They were some of the most popular pieces I've ever done, and I got a lot of emails requesting that I tackle the prequel trilogy as well. I naturally assumed they would have to be lists of the most awful things about the movies, but surprisingly, I got an almost equal number of people who wanted to see me list the awful things, and others who felt that would be too easy, so they wanted to see what on earth I would possibly come up with for positives when discussing those movies.
Since it's utterly impossible to do a list of ten good things about any of the prequels (because let's face it, there just aren't that many) and doing a list of things that suck would be far too easy, I decided to do an even split between the two. I would challenge myself to find five things I actually like about each movie, and I would somehow pare down all the bad things into a list of only five. Equally challenging both ways!
Five Things I Like About The Phantom Menace:
If you ask me, there are only two good things that came out of this movie: Qui-Gon Jinn, and the Destroyer Droids. And Lucas, in all his infinite wisdom decided to eliminate one of the two by the end. Merely listing those two things would be far too obvious, so I opted to mention more subtle elements in the movie that make me smile. Actually finding five of those things to talk about was not easy, by the way. Here goes:
1. Padme's Cool Blaster Noise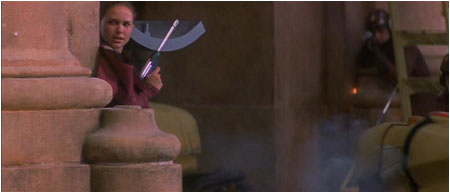 (click on the image to hear her blaster sound!)
Queen Amidala and her guards have got some of the coolest blasters in all of the Star Wars movies, and it's not really so much the look that's responsible for that, although they do look cool with their spare, sleek design. But no, it's the fact that they make such a bizarre, unique sound that I like so much. Pretty much every blaster in the Star Wars universe makes a similar sound; even Chewbacca's bowcaster sounds like the other blasters, so these pistols really stand out for being different. The first time I saw the movie, it took me a while to even identify that the weird noise I was hearing was the blaster pistols. It's just a fun alternative to the "pyew pyew pyew!" we're used to.
2. Lightsaber Key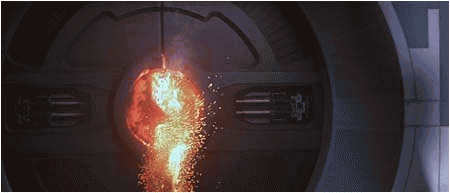 On the Trade Federation ship, when the cowardly Federation goons send battle droids after the Jedi and hide behind their blast doors, Qui-Gon uses his lightsaber in a way we haven't seen before. Rather than slashing at the heavy doors, he thrusts the lightsaber straight into the door, causing the metal to overheat and start melting. It's the first time we get an idea of what a fully trained Jedi is capable of. Unfortunately, as we later learn, the more trained the Jedi, the greater the propensity for them to sit on their lazy ass in their little knitting circle and do nothing.
3. "Process them!"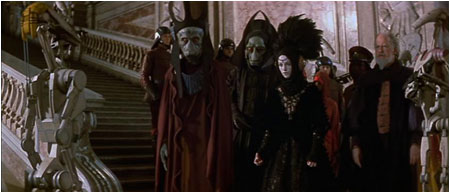 This little moment always makes me laugh, where Queen Amidala and some of her aides are confronted by the main Trade Federation guy, Nute Gunray, on a staircase in her palace. He tells her to sign the treaty, she refuses, and in anger, he tells a battle droid to "process them!" but he says it in a sinister manner that actually makes it sound like some horribly painful fate awaits them rather than a guy with a pen ready to take down their name and other information.
4. Spider Chair

You only see the Spider Chair briefly, but it was enough to make me want one of my own. Nute Gunray is living it up in the Queen's palace on Naboo, and he's at least smart enough to know that if you're going to get around in style, you need a creepy Spider Chair to do it in. Heaven forbid someone in a position of power actually walk around on their own when they can be lazy about it. The only thing that would top the Spider Chair is a litter carried by slaves, but since the Trade Federation has tons of cheaply made droids, they have no need for slaves. And a litter pulled by droids is hardly worth a tinker's damn: hence, the SPIDER CHAIR!
5. Tusken Raider Snipers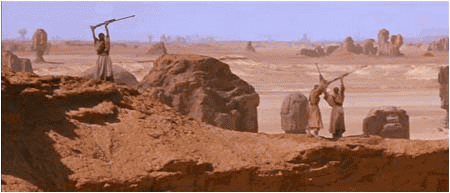 This is easily the most enjoyable part of the entire movie for me, and the fact that it only lasts for about two seconds doesn't speak well of the rest of the film. During the pod race on Tatooine, the racers come out of a canyon into a wide open plain only to find that they're on the receiving end of potshots coming from some Tusken Raiders camped up along the neighboring cliff. I remember this scene got a lot of laughs in the theater, and the audience can enjoy the vicarious thrill of shooting at some of those goddamned annoying alien cartoon characters. If only their aim had been a little better when they were shooting at Anakin. Alas.
Five Things I Hate About The Phantom Menace:
As difficult as it was coming up with five things to talk about for the positive half, narrowing this down to five negatives was a lot harder. There are plenty of websites that list all the shitty things about these movies (and do a damn fine job of it), so I don't feel like I need to repeat those. Sure, I could mention the obvious things that suck, like every painful second that Jar Jar Binks is on screen, Jack Lloyd's "acting", the fact that Jabba the Hutt looks and sounds nothing like he does in Return of the Jedi, all the shitty poop humor, FUCKING midichlorians, transparently racist aliens, the ridiculous immaculate conception of Anakin, the uselessness of Darth Maul ("he just stood there!"), the child Greedo alien with the comically oversized head, "Wizard!", the two-headed douchebag pod race announcer, Ben Quadrinaro (the dumbest looking alien ever created), Anakin "accidentally" destroying the Trade Federation control ship, and so on.

If I went down that path, I wouldn't have time to write anything else for the site, so I've decided to call out a few unusual things that stick out like sore thumbs to me, things that I haven't necessarily heard a lot of people complaining about in the face of the more glaring elements mentioned above, but they're still stupid and deserve to mocked. I'm already expecting a ton of emails telling me I "forgot this or that", but let me tell you, I didn't forget these things (yes, I noticed that Jar Jar sucks, thank you)--I just wanted to talk about something different, that's all.
1. "Always two there are."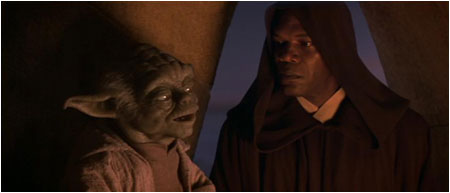 At Qui-Gon's funeral, Yoda and Mace Windu are talking about the "mystery warrior" that killed him and how he appeared to be a Sith. Windu questions whether the Sith have made a big return and Yoda says "Always two there are...no more, no less. A master and an apprentice." Now, if Yoda had simply said this line without the "no more, no less", it would make sense, because that would be a rather circuitous way of inferring that if there's one, there has to be somebody out there who trained him, who sent him, and so on. But no, apparently what Yoda is actually saying is that there can only be TWO Sith at any one time. And all I have to say is WHAT KIND OF STUPID FUCKING RULE IS THAT? Let's see, there are hundreds of Jedi running around, so I can just see the Sith recruitment officer confronting the line of prospective recruits saying "Hrmm... let's see, we're up to two members now. Sorry, gang, we're all full up!" One of them, let's say Christopher Lee, speaks up: "But--but--I hate the Jedi! I want to sign up too!" And the recruiting officer says "Sorry, I'm afraid there's nothing I can do. But soon as this Darth Maul chap (the recruitment officer is British) kicks off, you'll be first in line for the sign-ups. Cheerio!" No wonder the Sith suck so much, trying to fight an army of Jedi with two fucking guys.
2. Mr. Jump-To-Conclusions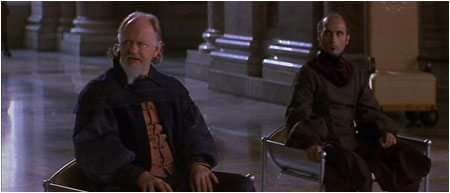 Queen Amidala is talking to Senator Palpatine via the holographic comm, and suddenly the signal becomes garbled and cuts out. One of the guys sitting around blurts out "A communications disruption can mean only one thing--invasion!" Okay, fair enough, his suspicions turned out to be correct, but that's the only possible explanation for the signal cutting out? Really? My friend Sam imagined a scenario where somebody responded to him by saying "Woah there, Frank! Remember last week when the tower was down and you created a panic by sounding the air raid siren? Let's just hold our horses a moment, shall we?" It seems like he's jumping the gun just a bit here. Maybe he cheated and read the script ahead of time. And it turns out this guy's name is Sio Bibble. Let me say that again: Sio Bibble. There would be no place in my planetary government for a man (and I use that term loosely) named Bibble.
3. A Congratulations for R2-D2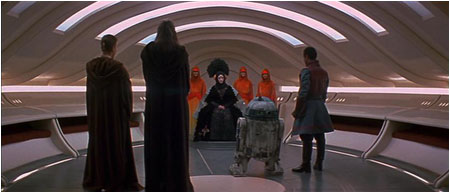 What a stupid contrived scene this is. When Amidala and her people are making a run for it past the Trade Federation blockade, the ship's shield generator goes down, so a bunch of astromech droids are dispatched to the ship's exterior to repair the damage. The only droid who survives of course is the familiar R2-D2, who gives plenty of meaningful looks to the camera just in case we weren't sure. Because the droid served his purpose, they make a big deal out of it and everybody gathers around so that they can read off his name and the queen can formally congratulate him. This is ridiculous, as it basically equates to holding a ceremony for your toaster and thanking it for successfully making you some toast. The "queen" (who is really the decoy) makes the real queen clean the droid off, which I guess is some kind of revenge for all the shit that she's had to do in the name of the queen over the years. Also, because Artoo did his job, he then gets to tag along with the main characters for the rest of the movie. I realize that Lucas had to work R2-D2 into it somehow, but this shit is the best he could come up with? Seriously?
4. "He can help you...he was meant to help you."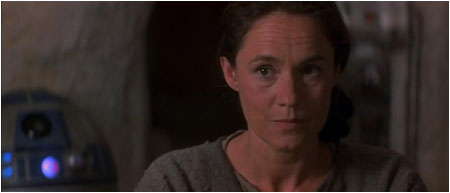 Qui-Gon, Padme, and the wretched abomination are having dinner with Anakin and his mother, and Qui-Gon explains how they need to raise money to buy a new hyperdrive for their ship. Anakin offers to do a pod race to make them the money, but his mother disapproves, citing that the pod races are far too dangerous. Qui-Gon says that they'll find some other way to get the money and suddenly Anakin's mom does an about face and says "No, he can help you... he was meant to help you." And nobody pauses or thinks to ask "Why are you suddenly talking like a crazy person, lady?" Seriously, what the hell does that even mean? I mean, the lady has already claimed that there's no father, so apparently she thinks her kid is Jesus or something, and then she basically says that his purpose in life is to help raise Qui-Gon some money? Maybe she uses that line all the time though, and says things like "Anakin, you have no father. You are a miracle baby. You were meant to give your mother a foot massage. Come on, hurry up. These dogs are barkin'!"
5. Explosive Peace Ball

At the end of the movie, they have a stupid celebration scene that serves as a ham-fisted mirror of the award ceremony in A New Hope. The centerpiece of this one, however, is a glowy ball filled with magical light, like those ones at the Science Museum that you can touch and your hair stands on end because of the static electricity. Boss Nass (ugh) picks up the ball at the end, holds it up in the air for everyone to see, and shouts "Peace!" The whole scene smacks of being written by a fifth grader (so just how old was Lucas's adopted son at that time anyway?), but what gets me about it is how similar the "peace" ball looks to the Gungans' explosive ammunition balls. It would have been a simple matter for them to accidentally swap them out, or for a suicide bomber to approach Boss Nass with an explosive ball instead. I really wish that was how the movie ended.
So now it's begun. I got paid to do this, to watch The Phantom Menace again. And you know what? I don't think it was worth it. But I'm going to sit through the other two prequels later this year - not for the money, mind you. But for you guys. The fucking sacrifices I make for you people, I swear. Anyway, sound off below and let me know what things you personally would add to either list. And if you're some kind of deluded fanboy who wants to "defend the honor of the movie", for the love of god please post something below, because I could use a good laugh.
Have any questions or comments about this piece?
SHARE YOUR THOUGHTS IN THE READER COMMENTS SECTION BELOW!