by: -RoG-
...CONTINUED

This is Calder. He's probably my favorite character in the entire movie just because he has the best laugh in the world and shows his big pearly whites every time he does it. Unfortunately for him, he's just walked into Miss Lisa's room. Or should I say, Miss "I'm a psycho mind-controlled zombie typist" Lisa's room. Not to toot my own horn, but I consider myself a damned fast typist. I made Mavis Beacon my bitch a long time ago. But zombie Lisa is running circles around my best typing speeds. She's just in a trance as she types insanely fast and Calder moves in for a closer look...

I don't know who the god "Plutonium" is, but I'm sure he's pissed off that Doc was using some to power the time machine. My suggestion to Calder would be to get the hell out of there right away, but it's already too late for my favorite laughing guy. Both Lisa and Susan quickly overpower him and then he's on his way to zombieville. But there's good news! It turns out Chuck survived being stabbed with a pair of scissors numerous times, because he's standing outside and calling to everybody.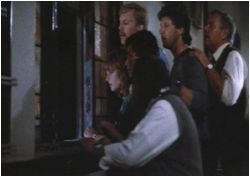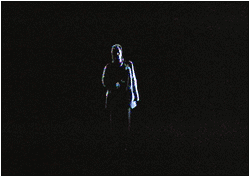 Er, wait, something's definitely wrong here. First off, his voice has changed to sound more like a guy who is gurgling water (or perhaps Scope?). Secondly, he's definitely looking a bit pale. And then he speaks much to the horror of the remaining survivors inside the church: "I've got a message for you, and you're not going to like it. Pray for death." Then Chuck's head falls off as he is consumed by all sorts of bugs that were inside his body. Easily one of the coolest moments in the movie, and one of the many scenes that freaked me out when I was a kid. Pray for death indeed.
And here's my pal Calder again. He returns looking awfully sweaty while showing off those pearly whites of his, and starts to sing a very unsettling rendition of Amazing Grace. I say unsettling because it quickly goes from this...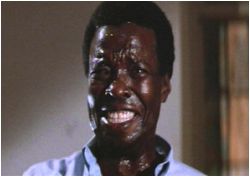 HAPPY!
to this...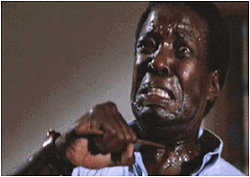 SAD! :(
I guess he really didn't like the taste of that zombie Scope mouthwash, because he rips off a big piece of wood from a nearby staircase and slits his throat with it. Damn, that's really going to have a negative effect on his singing voice. Poor Calder.

Back in Kelly's room, the two Zombie girls have brought a friend to keep her company while she sleeps - the giant Cylinder of green liquid! And now it's created a new pool on the ceiling which is emptying itself into Kelly's face!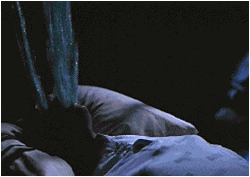 Looks like she's going to be the host for one hell of a big mouthwash party.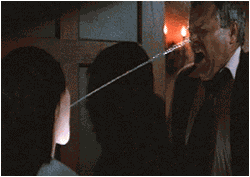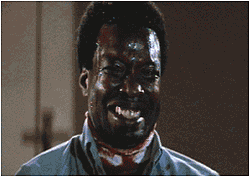 Dr. Paul Leahy then gets a squirt in the mouth too and even Calder is back. Even with his throat slit, his badass laugh is still in tip top shape. He just stands there... sweating, smiling, and laughing. What more could you ask for in a supporting character? I'm telling you, he rules!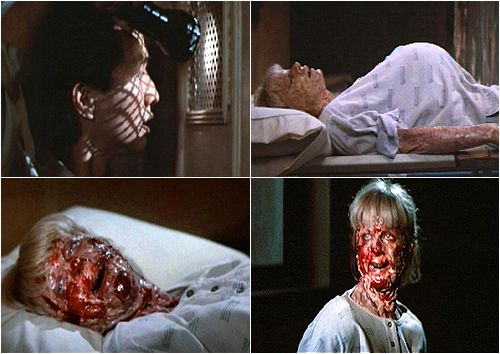 Now Walter is trapped inside the closet in Kelly's room, so all he can do is watch her. It finally looks as though she's had her fill of the green liquid and eventually her stomach returns to normal size as if the liquid was absorbed into her skin. Whatever the stuff is, it sure as hell doesn't do much for her complexion. She looks like a pizza-faced maniac now, and she can move things with her mind!

In the next room over, Birack and the others have barricaded themselves in, but they decide to open the door to see if the zombies are still out there. Sure enough, one of them comes in and spits some more of that liquid into one of their mouths. You'd think they'd learn to keep their mouths closed by now. Anyway, they soon do away with this zombie by stabbing him in the eye with a pencil. And for the record, only a #2 pencil will kill a zombie.
They do try to escape through the windows, but all of the homeless people just try to attack them. It turns out that not only can the green stuff move some objects, but it can control simple minds - which explains the insects. So I guess what John Carpenter was trying to say here was that homeless people and insects have the same mental capacity. Excellent.
Anyway, Walter starts to freak out (ie: badly act like he's really scared) and they start digging a hole in the wall to free him. And it is at this point when we see a movie first: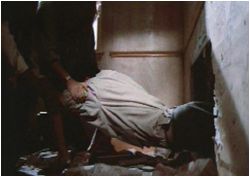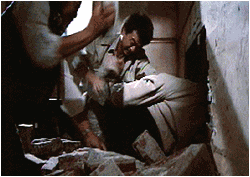 BEATING DEMONS WITH BRICKS!
My friend Lucas and I are still determined to start a band with the name "Beating Demons With Bricks". There's just something really catchy sounding about it, but I digress.
And now the whole story comes together when we see that pizza-faced Kelly is trying to pull faaaaaaaaaaaatherrrrr into the real world. Only she has the power to bring him into the real world from the other side of the mirror. She tries pulling him in through a compact make-up kit, but quickly realizes that it's not quite big enough. Smart. So, she moves into a nearby room where there's a nice big mirror and she starts to reach for him when out from behind a furnace comes Father Loomis to the rescue!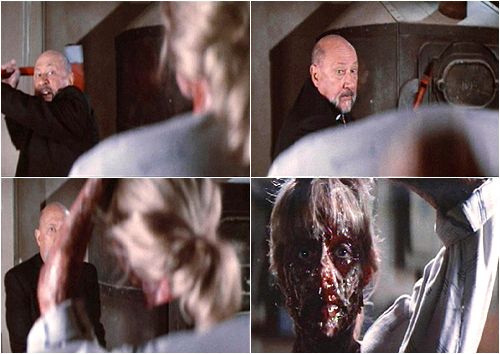 He chops off her arm and then her head with an axe. Unfortunately, she just laughs it off as she grows another arm instantly and puts her head right back on. Looks like Loomis has met his match. She uses her mind power to move the furnace and pin him up against the wall.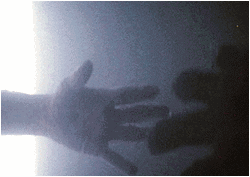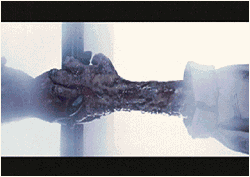 She then returns to her mirror mojo and we get a glimpse of father. And let me tell ya, father has one big fucking hand. I never thought the end of the world would come in the form of a giant hand, but it certainly looks like that's what's going on here. Strangely, the hand looks much smaller once it reaches the other side of the mirror - the real world. In all seriousness though, it's a really awesome looking shot.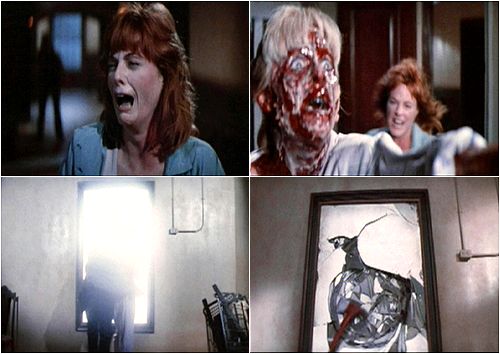 Being the only one who isn't wrestling with a Scope-puking zombie, Catherine realizes that it's now up to her to save the world from Satan. When confronted with the choice of either a) diving onto Kelly and pushing her into the the mirror or b) letting the world fall to the evil of a giant hand and who knows what else, she jumps right on in. I'm not sure why Catherine couldn't just shove Kelly into the mirror without diving in herself, but she does. Father Loomis then throws his axe at the mirror and the world is saved...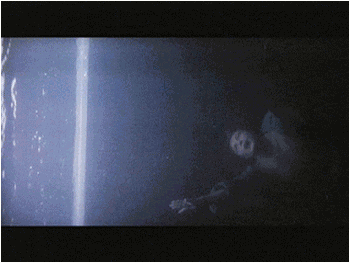 ...but Catherine is now trapped on the other side of the mirror forever. And it is this very image that gave me many-a-nightmare when I was a kid. Something about it is just absolutely haunting to me and only by watching the movie will you understand. It still gives me the creeps to this day, and the atmosphere alone that Carpenter and company created with this little gem has still yet to be beat in my book. So it's really no surprise why this film really stands out in my mind on the short list of truly scary horror films.

Cut to that same dream "neural radio transmission" sequence from before and now the shadowy figure in the doorway appears to be Catherine. She saved us all and Brian is alone with nothing but her memory, his mustache, and...


AHHHHHHHHHHHHHHH PIZZA FACE! PIZZA FACE! PIZZA FACE!
Actually that was just a dream within a dream. Relax Brian... Satan is stuck on the other side of the mirror and your mustache is safe once again.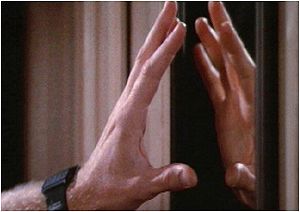 OR IS IT?
Have any questions or comments about this piece?
Email -RoG-