by: -RoG-
...CONTINUED

I'll always have a soft spot for the old Ben Cooper style Halloween costumes and masks.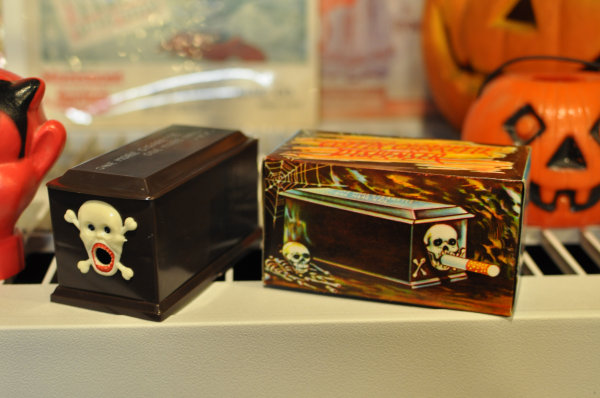 The skeleton on the box looks scary and intimidating.
The skeleton on the actual product looks like a blow-up doll.
Seriously, what's with the lipstick?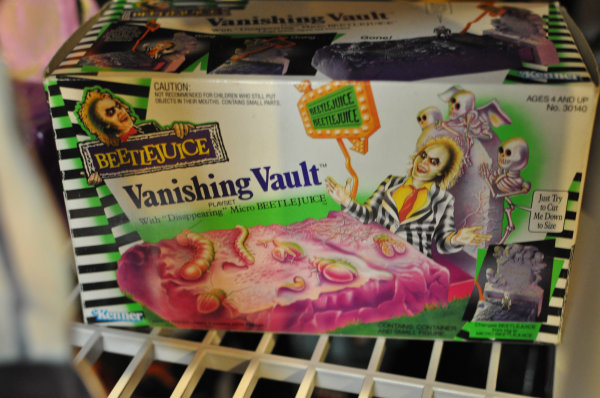 Beetlejuice had a fantastic toy line, and the Vanishing Vault was no exception.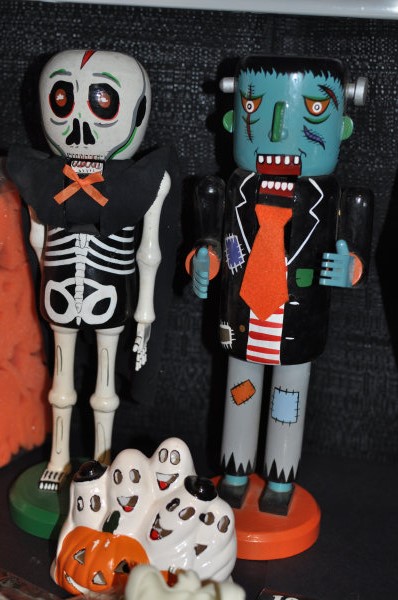 Monster nutcrackers!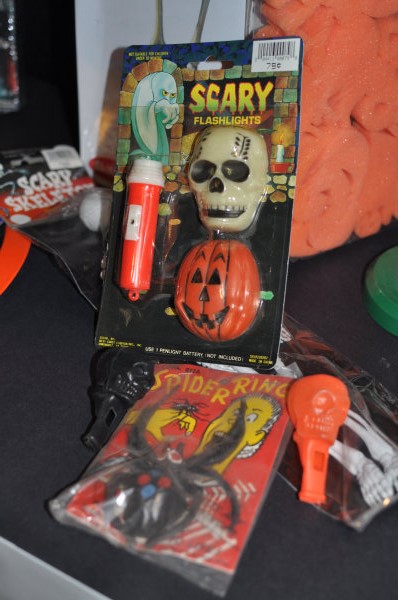 A spider ring, skeleton whistle, and scary flashlights.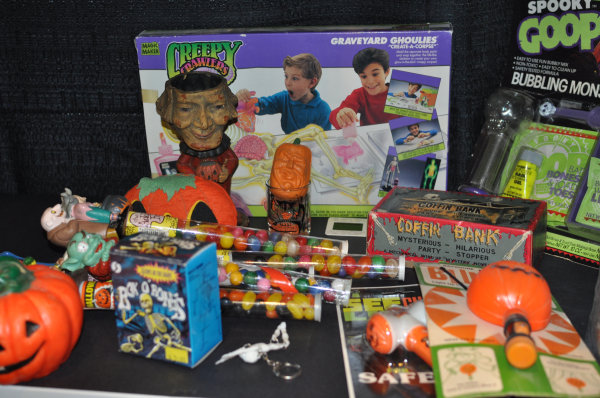 More random Halloween novelties including a classic coffin bank, box o' bones, and Creepy Crawlers Graveyard Ghoulies.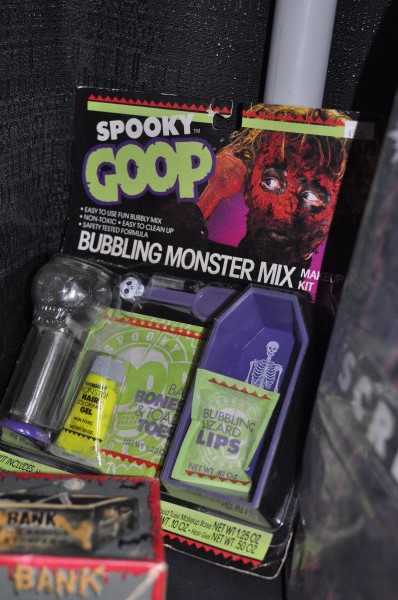 Spooky Goop bubbling monster mix!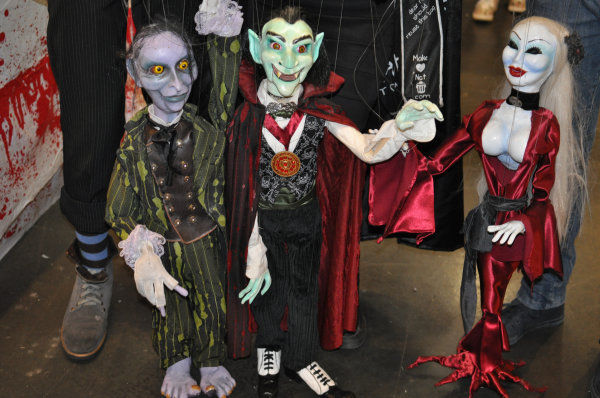 Loved this set of horror-themed marionette puppets!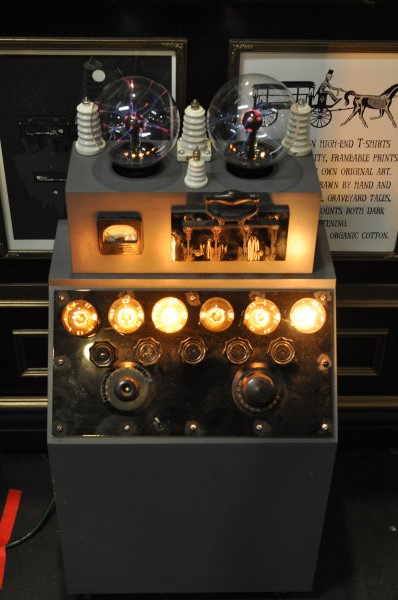 The Mighty Squirm had some nice t-shirts, and I can only assume they were created with this scientific equipment.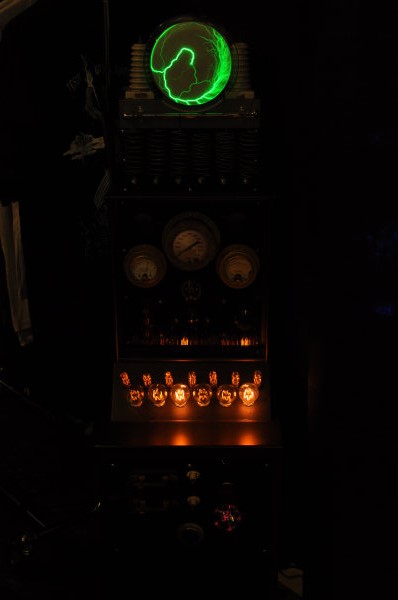 SCIENCE!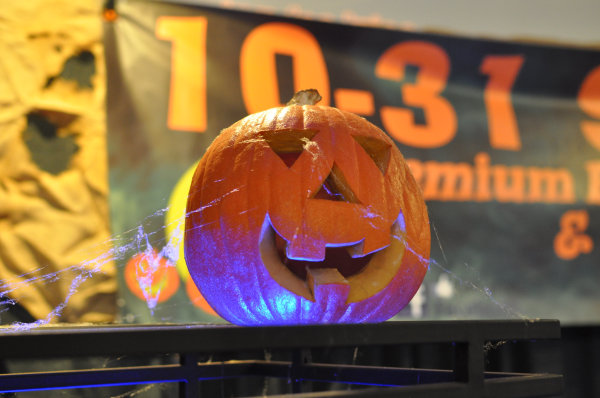 Just happened to catch this shot at the right time when the purple glow was hitting
the jack-o-lantern covered in cobwebs with the 10-31 banner hanging behind it.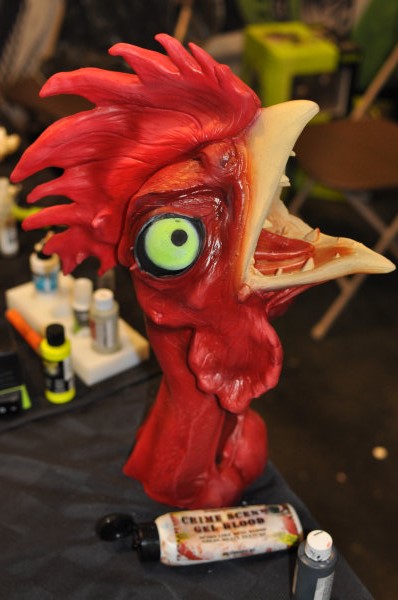 Poultrygeist 2 perhaps?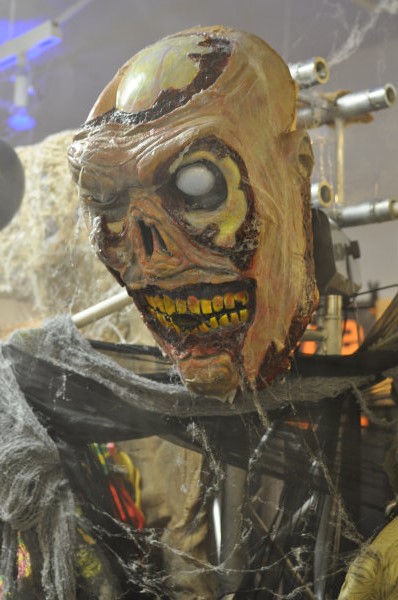 This thing spurted out lots of fog as people walked on by.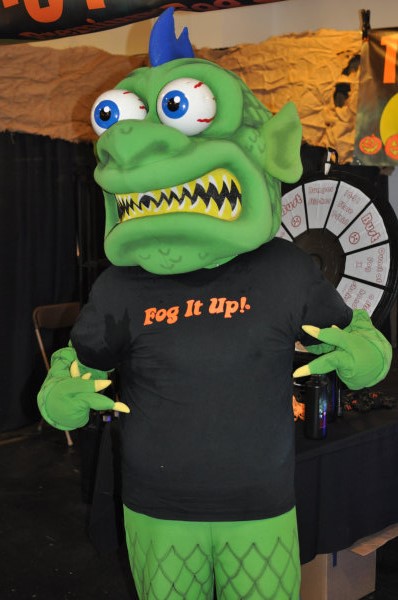 Yep. That's certainly one effective way to promote your line of fog machines.

Yep, they even had some miniature haunts the people lined up for, such as this "Curse of Devil Swamp" one.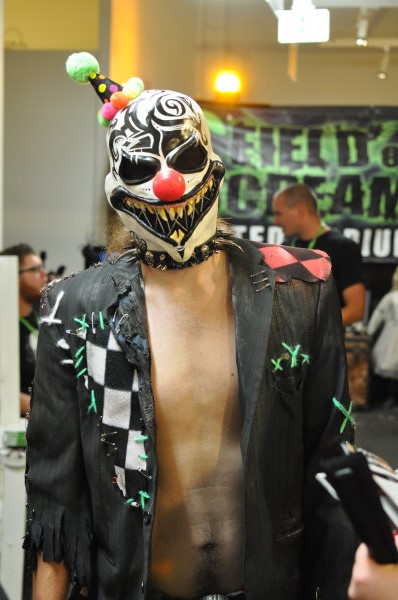 I decided to try out the "Hellevator" attraction from the creators of "Field Of Screams" in Lake Elsinore
since this clown worked so hard to coax me into it. After all, you can always trust a clown... right?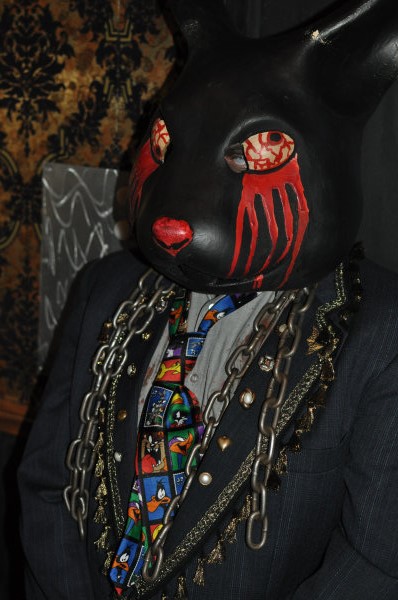 It was a fun little ride where you stood in a makeshift elevator that shakes around wildly while there are moans, screams, and other monstrous noises taking place. Oh, and there's this bleeding eyes rabbit guy who was wearing a suit with a Looney Tunes tie standing inside with you the entire time. Guess I can check that off the ol' bucket list!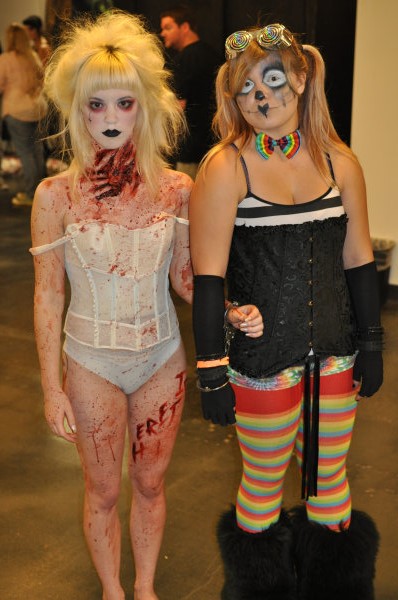 This is certainly one of those cases where you think to yourself, "Well, it sure is good they found each other."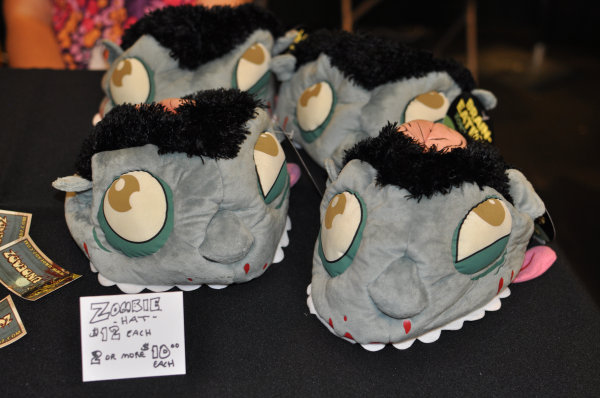 Zombie hats keep your heads warm. Or maybe they don't.
Either way, you don't know cuz they're eating your brains.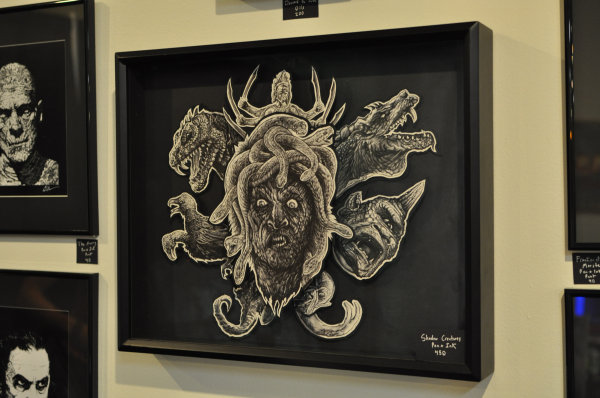 Nice 3D Medusa piece!

More ScareLA attendees clowning around.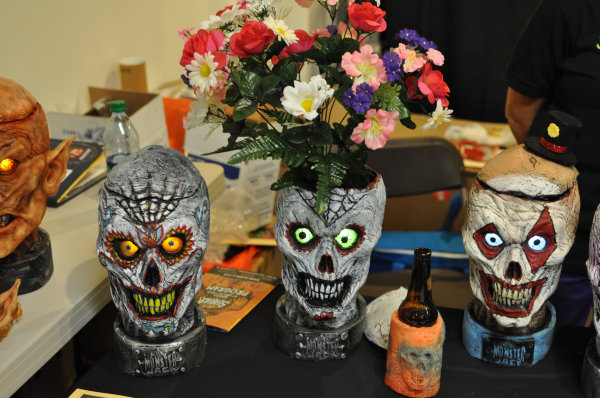 I know what somebody's getting for Valentine's Day next February!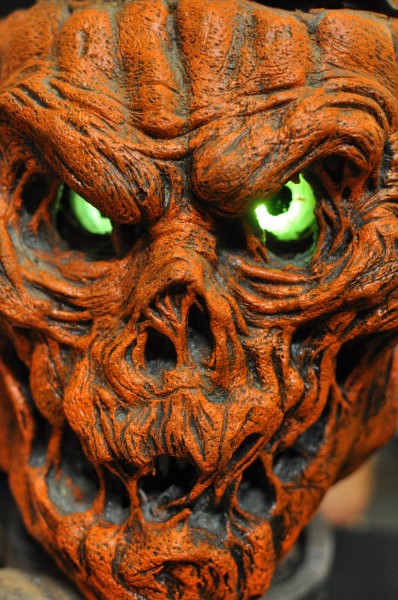 Here's lookin' at you, kid.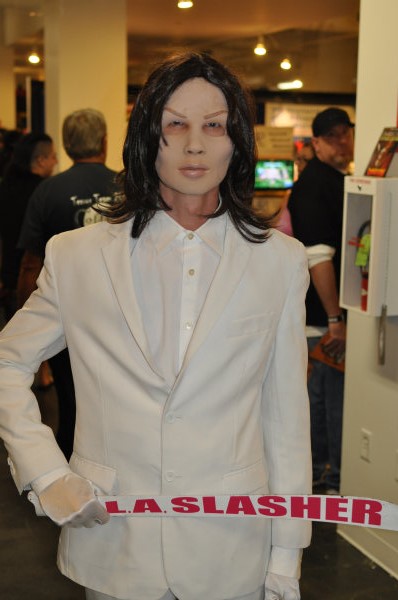 The L.A. Slasher - one of the simpler, yet creepier masks you'll come upon.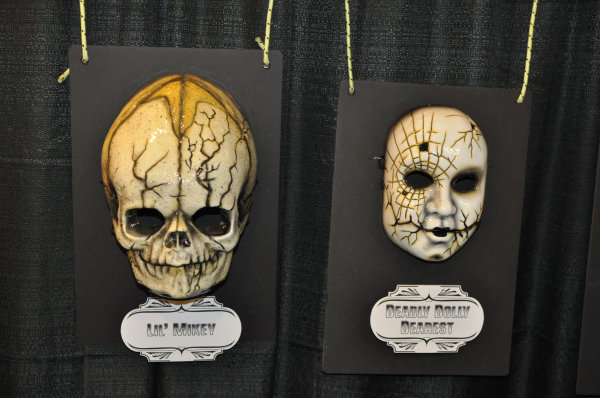 Speaking of creepy masks...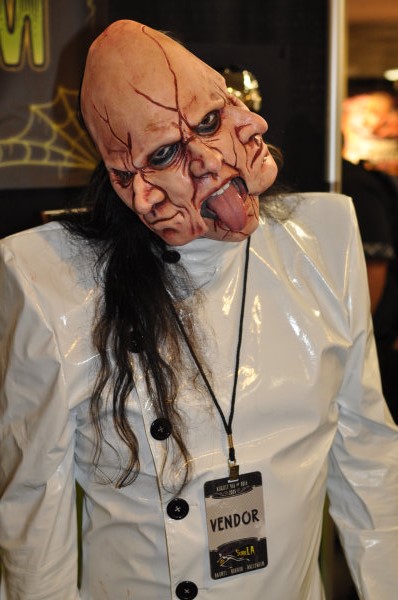 Three faces are better than one.

Look! I think he likes you!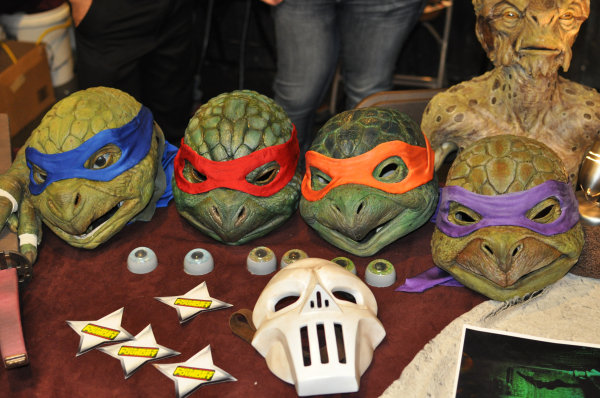 Not really for a horror convention, but an interesting take on the Teenage Mutant Ninja Turtles nevertheless.
Digging that Casey Jones mask too.
There are more photos from ScareLA 2014 to see!
Click here to continue onward to page 3!