by: -RoG-
...CONTINUED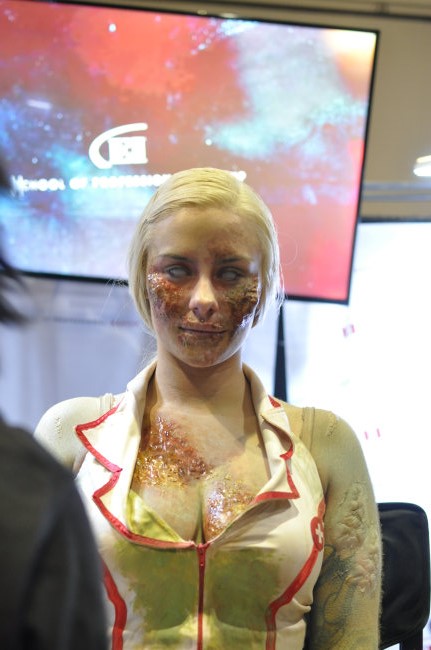 I think somebody needs to nurse this nurse back to health.

DC really needs to stop messing with Harley Quinn's design.

The cat adoption booth is always one of my favorites to visit.
I WANT THEM ALLLLLLLL!!!!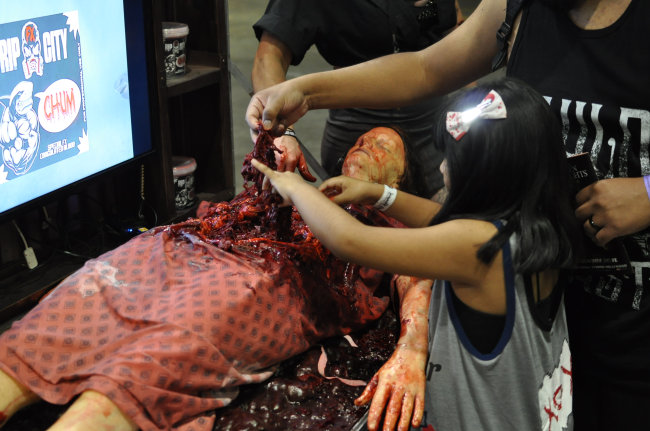 A young girl performs a bloody autopsy without even flinching. Way to go, kid!

This zombie scarecrow was trying his luck with airbrushing.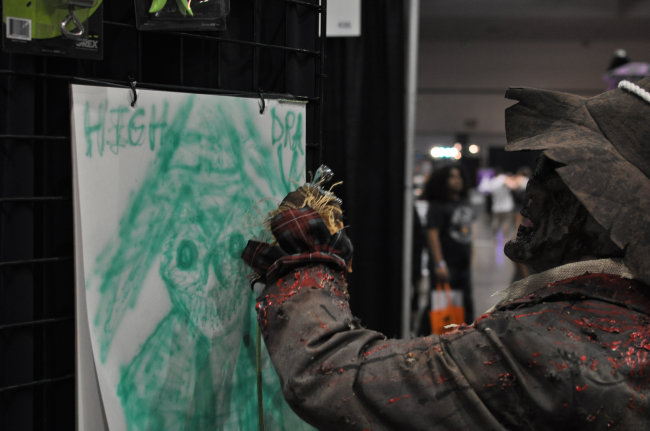 Not too shabby.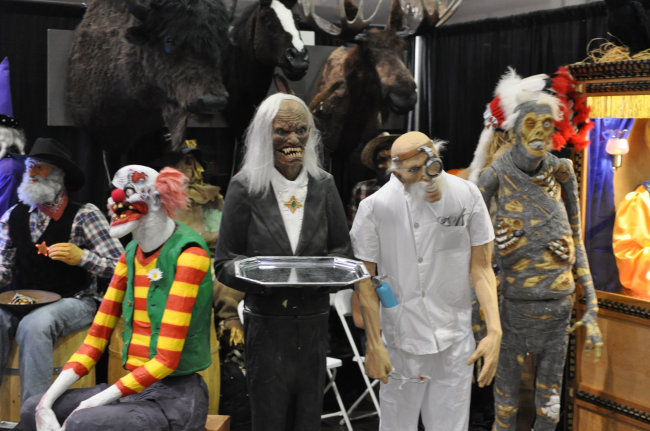 I never get tired of seeing these twitching monsters every year.

An adorable knit Sam from Trick 'R Treat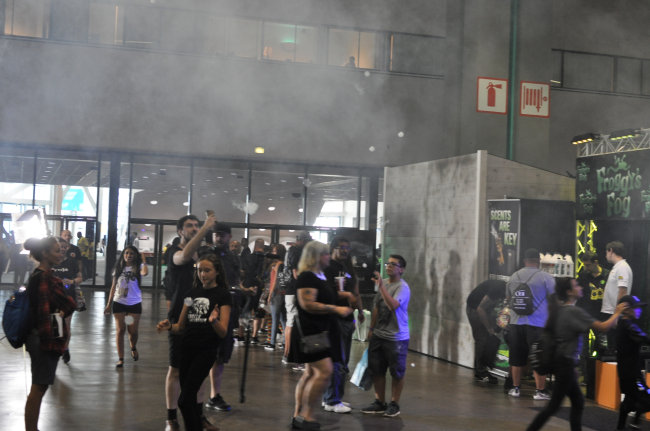 It's hard to make 'em out, but they were shooting smoke bubbles into the air.
(don't worry, you'll see 'em much better in my video down below)

They must be black metal fans from Norway.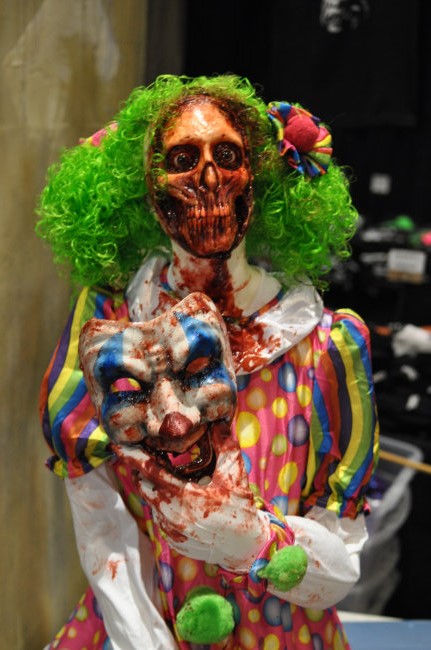 I'm sure some people still think she's scarier with the mask on.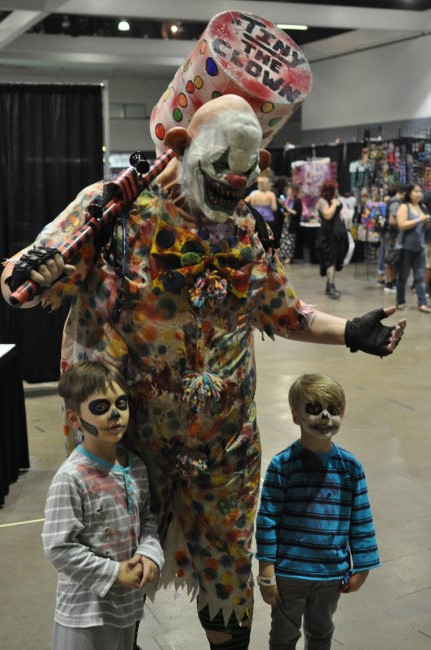 Tiny the Clown hangs out with some skeleton clowns who are actually tiny.

At least Tiny is making all kinds of new friends.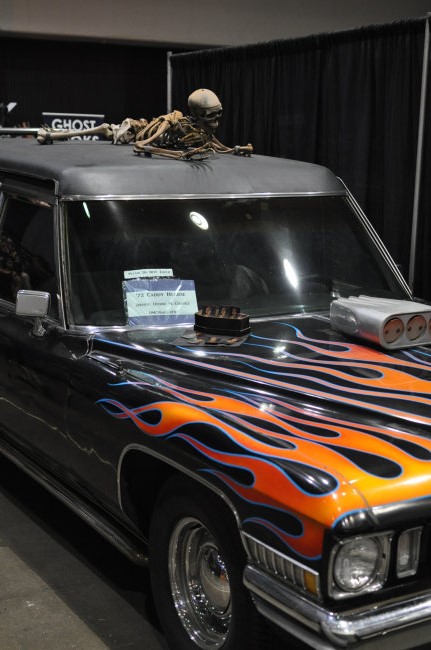 Looks like somebody wants to get inside this '72 Caddy Hearse.

Aww, I think it's camera shy.

The Asylum put on a nice little escape room mini-game where they put you in an actual straitjacket.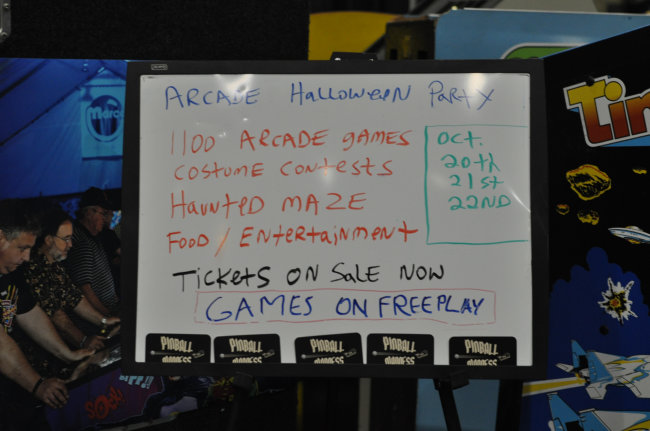 An arcade Halloween party? Sign me up!

What, no Ghosts 'n Goblins? No Chiller? No Death Race? No Splatterhouse? No Typing of the Dead?
Come on! At least one one horror-themed arcade game!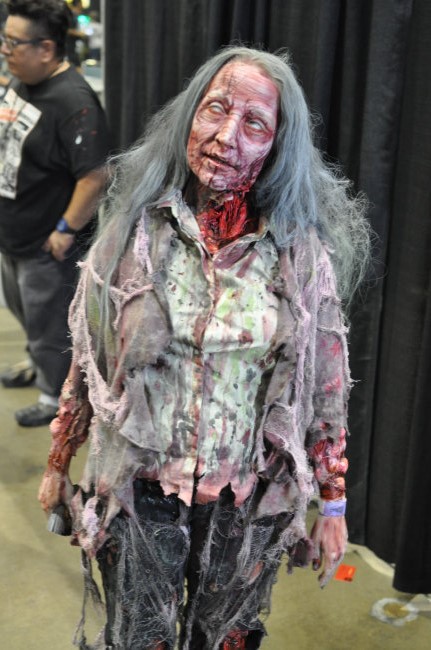 Diggin' this zombie and how she kept rolling her eyes back for anybody taking a photo.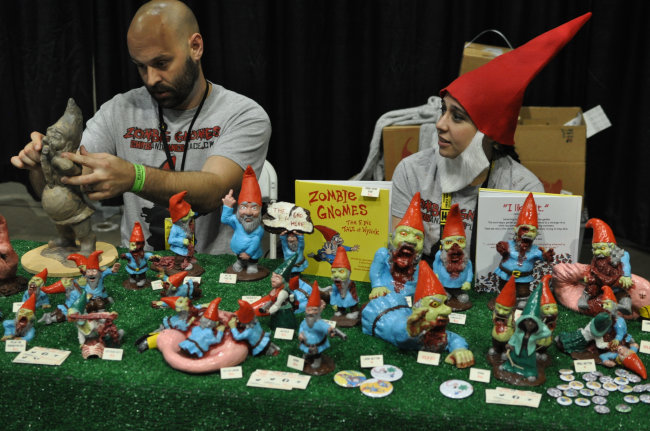 Zombie Gnomes. They won't eat the plants in your yard, but they just might eat you.

You can look angry as you want, Santa, but it's not Christmas, so you're just gonna have to wait.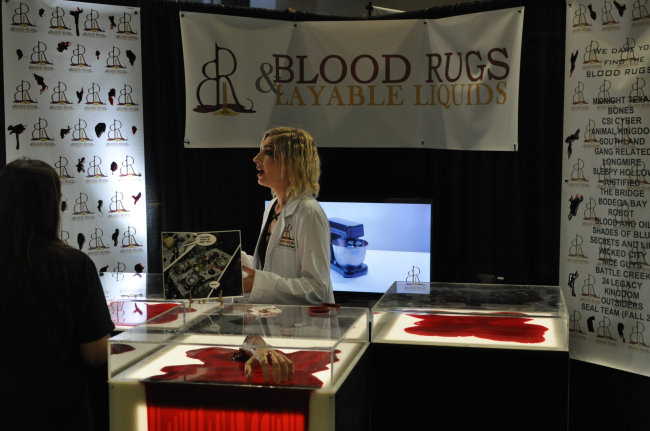 Blood Rugs layable liquids looked pretty fantastic.

All the realism of a bloody mess, without the hassle of a lengthy clean-up!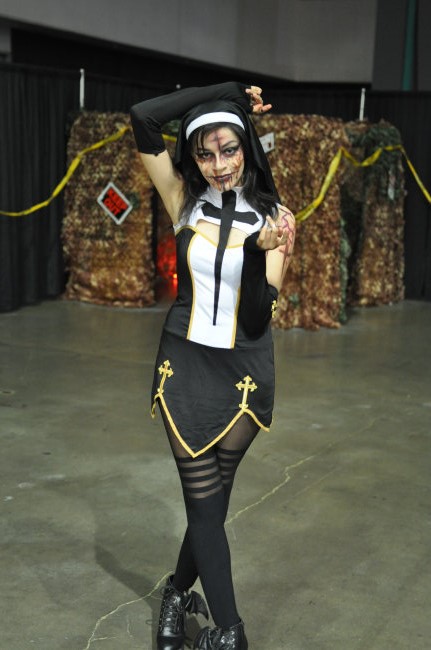 She'll pray for your death.

A Crite from Critters 2!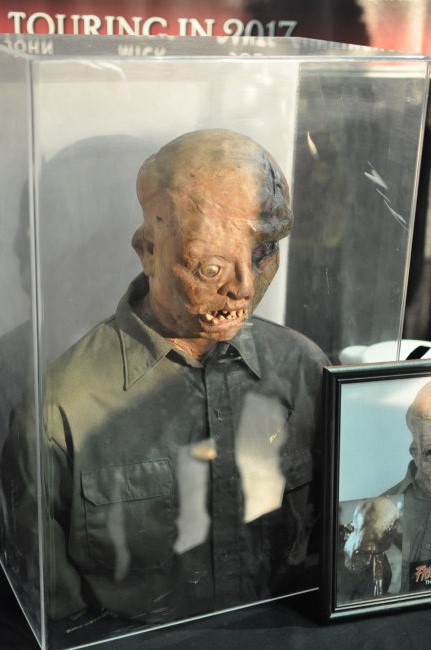 Everyone's favorite Camp Crystal Lake camper, Jason Voorhees!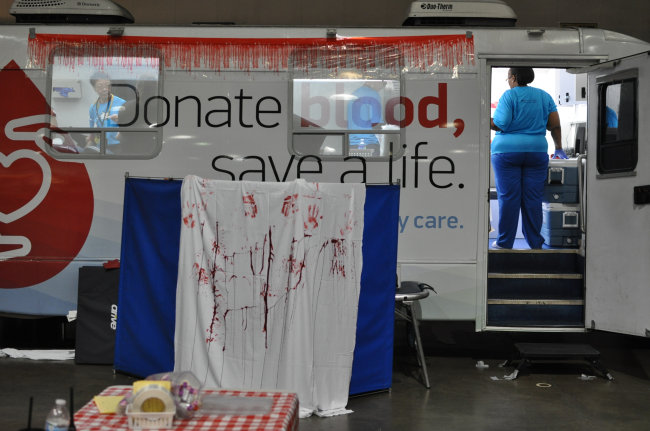 I would donate, but judging by that sheet, most of the blood is getting wasted with some serious arterial spray.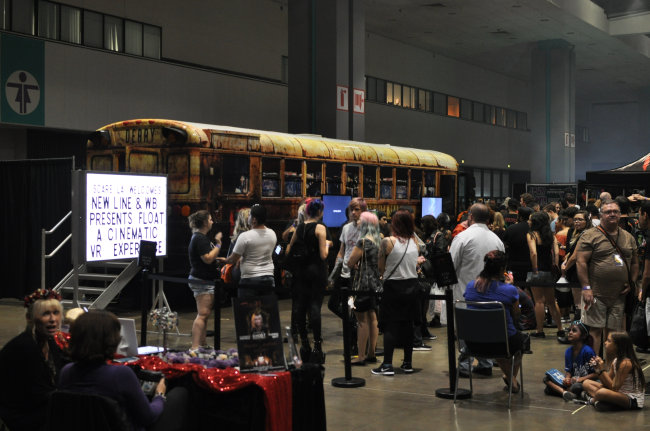 I had to ride the bus when I was a kid... no way am I waiting in a line like this to ride one as an adult.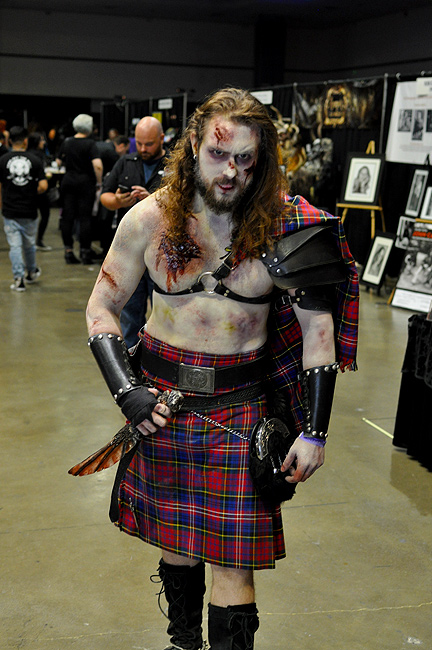 He'll give you freeeeeeeeeeedooooommmmm from being alive.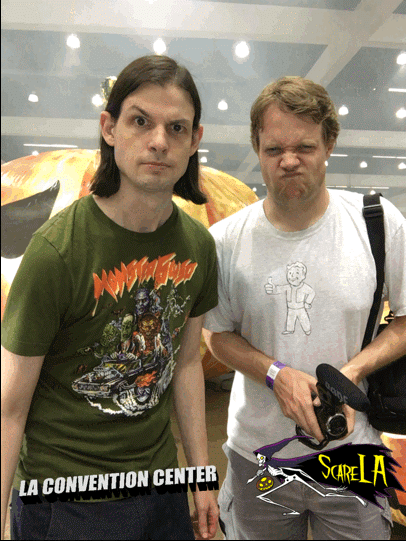 Nice of ScareLA to provide us with a parting GIFt before we left!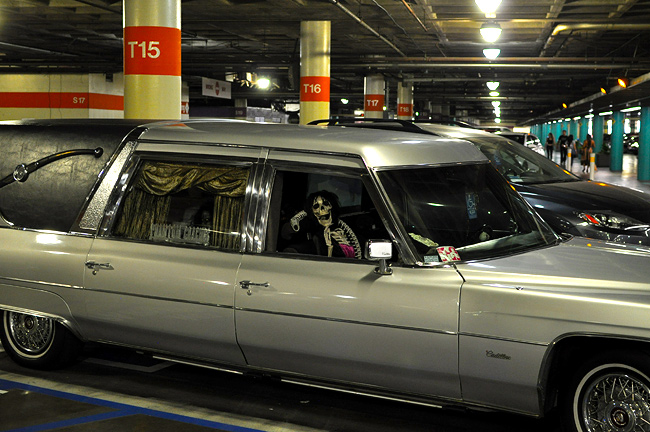 As we walked back to our car, we thought we'd seen the last of ScareLA, but sure enough,
there was a hearse with a skeleton passenger to tickle our funny bones one last time.
And now, I'm happy to present you with my special ScareLA 2017 Halloween video!
ScareLA is always a perfect way to get amped up for the Halloween season each year. If you haven't checked it out yet, and you're located around SoCal, be sure to check it out next year, as it's a wonderful way to celebrate haunted attractions, mask & creature creators, and all things horror, while getting in the spirit of Halloween during early August. I really hope they bring it back to Pasadena next year (after all, it is where the Michael Myers house resides), but I'll be there either way.
Thanks again for inviting us as always, ScareLA, and see ya in 2018!
If you've enjoyed all the years of free content I-Mockery has provided, please consider purchasing a copy of our all new Halloween horror game, Grave Chase, now on Steam for PC, Mac, & Linux! It helps us out and you'll have a blast playing it!
Have any questions or comments about this piece?
SHARE YOUR THOUGHTS IN THE READER COMMENTS SECTION BELOW!