RING KING!
Gotta get this one out of the way first - it's probably the most well-known unintentional sexual moment in classic videogames. "Ring King" for the NES started out as just an average boxing game. You begin by training for fighter in power, speed, and stamina. After that it's into the ring you go for your first round of good ol' button-mashing fisticuffs. And that's when it all starts to go downhill.

"May I have this dance?"
Whenever you get too close to your opponent, you start to hug up on each other real close and do a little dance. I like to think of this as their way of turning each other on before the real action begins. A little foreplay if you will. Well boys, it was a really well-fought (and well-danced) round, now what say you two head on over to your corners for...

ORAL SEX?
I thought boxing was all about "the eye of the tiger" not the "one-eyed monster", but apparently I was wrong. In between rounds, both boxers are treated to a lil' wobble-gobble. I mean, there's really no other reason for those assistants to be down there, moving like that. Normally, the assistants will hold a bucket for the boxers to spit in or replace their mouthpieces or what have you. But no, these fellows have become the mouthpieces. I have a hard time believing that this was unintentionally sexual... it's downright blatant if you ask me. The censors must have been drinking pretty fucking heavily the day they let this one slip by. But I'm no ringside announcer by any means, so let's see what they make of the situation.

Well there you have it. If the ringside announcers think the boxers are getting blowjobs, then it's gotta be true. And just look at how excited some fans are:


"WEEEEE HEEEE!"
Dancing in the ring, blowjobs in the corners, people in the crowd jerking off... man, boxing sure was different back in the 80's. Nowadays it's all just a bunch of rough sex involving biting, but back then it was something pure. Let's never forget that.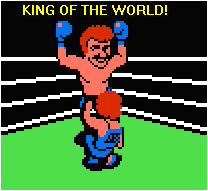 ---