MIKE TYSONíS PUNCH-OUT!!
Ah, what can be said about Punch-Out that hasnít been said on this site already? That it cures ulcers maybe, but that would be a lie. Little Macís epic struggle against a series of boxing champions from all over the world, each of which was about three times his size, his only aid a balding fat coach that dropped him sarcastic hints in between rounds. The game was mostly just a little offensive towards various nationalities and races, though at one point you came across an opponent who was so much more than that...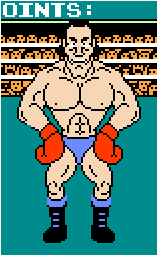 Iím talking of course about Super Macho Man. An animated gif really canít do justice to the speed at which his pecs flex. This is definitely something that made me uncomfortable as a kid. It was like he was trying to hypnotize me into doing unspeakable things. Trying to...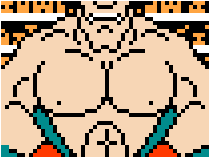 ...to make me... make me do... naked... make... manboobs...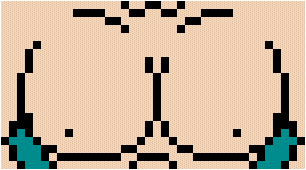 ...Macho Man... I... am yours... do with me... as you please... your wish... my command.
Even King Hippo agrees: "Thereís no way to combat those madcap man-breasts. Itís no wonder I got pummeled in most of my fights with Super Macho Man. And consequently was woken up by my bewildered parents who demanded to know why I was lying blacked out and pantsless in front of the television."

I guess thatís it. Oh, one more thing: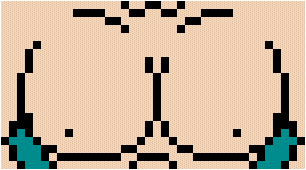 YOU LOVE I-MOCKERY.COM.
NOTHING GIVES YOU MORE PLEASURE THAN DONATING MONEY TO
I-MOCKERY.COM. YOU CANíT GET ENOUGH OF SENDING ĖROG- YOUR MONEY.
YOU WILL GIVE ALL YOUR MONEY TO I-MOCKERY.COM.
---