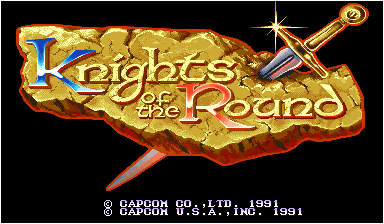 KNIGHTS OF THE ROUND!
A true arcade classic that was later released on the SNES (but it slowed down badly on the SNES when you had 2 players playing at once, plus you could have 3 players at once in the arcade version). For any of you who enjoyed the multi-player button-mashing fun of the Teenage Mutant Ninja Turtles and Simpsons arcade games, Knights of the Round would surely be up your alley as well. In the game, you play as one of three characters: Arthur, Lancelot, and Perceval. Each have their strengths, but in the end, as long as you have enough quarters, you're gonna make your way through the game just fine.
Your objective is to obtain the holy grail, but before you can do so, you must fight all sorts of medieval warriors, magicians, and a few huge bosses. In addition to that, you'll sometimes encounter MAD TIGERS.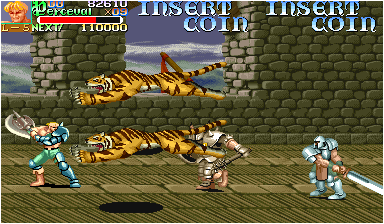 As you can see, these mad tigers seem to be your run-of-the-mill beasts that are hungry for flesh. Oh but how looks can be deceiving. When you decide to battle these angry creatures, you're in for quite a surprise.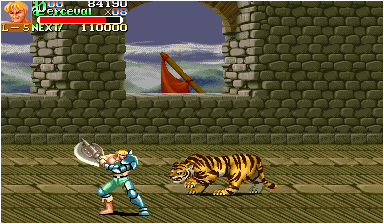 Did you catch it? No? Very well then, allow me to give you a closer look.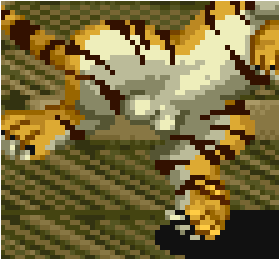 MAD TIGER BALLS!
Yep, whenever you attack one of the mad tigers and send it flying backwards, you get a nice shot of their mad tiger balls. They're just so in your face there's no ignoring it. I mean really, did they have to draw in those balls with such detail? Furthermore, does anybody really want to shell out a bunch of quarters only to be rewarded with glimpses of said balls? I hope the quest for the grail was worth it...
---