When you get older, there's nothing more annoying than having to wake up a half-hour earlier just so you can scrape all the ice and snow off of your car in a futile attempt to make it into work on time. Your face feels numb and you're wondering if your piece of shit car will even start after you've taken the time to remove it from an icy tomb. And then even if it does find some miraculous way to turn on, you probably won't be able to pull out of your driveway because you happen to live on the ONE street that wasn't plowed. Isn't snow fun?

Well... if you don't have to go to work at the ass-crack of dawn in the winter, yes, yes it is insanely fun. There's nothing like waking up without a care in the world and running out into the snow with your trusty sled. Eating, sleeping, and even pissing all become non-factors in your day when you're a kid with a sled and a huge snowy hill. Your only concern is riding down that hill as fast as you possibly can, as many times as you possibly can before the snow melts away.

Sledding is easily one of the greatest things you or I will ever experience in life, but if you don't have the right sled in your hands, that experience can be dulled — or even worse — it can be a death trap just waiting to happen. But fear not fellow sledding enthusiasts, for I've created this handy breakdown of some classic sleds and some brand new sleds to help you choose exactly which one is right for you!

THE FLEXIBLE FLYER
Gotta start off with the classic. The Flexible Flyer is probably the most recognizable sled in the history of sleds. It's stood the test of time with a sturdy construction and a very distinctive look. With long blades on the bottom, if you're on an icy hill or street with tightly packed snow, you can expect an extremely fast ride on this thing. But if you're in areas where the snow is much deeper, you're more likely to get stuck due to the weight of the thing. And speaking of the weight, dragging this bulky beast up a hill all day long gets really tiresome. On a positive note, this sled will destroy any other sled (or human) in its path. So if you're looking for a potential sledding death machine to use on slick icy surfaces, this one just might be right up your alley.

THE RIVA SPORTS WARP FACTOR SLED
If you want to have a sled that looks like one of the racers from F-Zero, be my guest and pick up this sled. I'll be sure to laugh at you as I go speeding by while you sit there, whimpering on your overpriced hunk o' plastic that you thought would be oh-so-speedy. Trust me, aesthetics have nothing to do with sledding, and most sleds like this one tend to crack easily and move at mediocre speeds at best.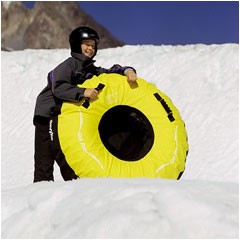 THE SNOW TUBE
While I'm always wary of inflatable sleds, snow tubes can be pretty damned fun pending you're on the right surface. Just as long as the snow is deep enough you really don't have to worry too much. A lot of ski resorts actually have sectioned off areas on the mountains just for snow tubing. So even if you don't know how to ski or snowboard, you can go snow tubing all day long on some of the best sledding hills you'll ever get to experience. But for speed enthusiasts who like going down tightly packed snow on a steep local street hill without having to buy a lift ticket, these things can either a) flip over easily and kill you, or b) pop when running over a rock... and kill you.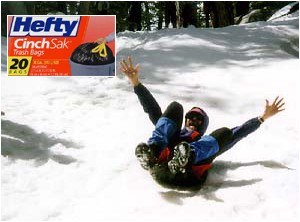 THE GARBAGE BAG PSEUDO-SLED
I know it sounds insane, but I've seen people do this. They simply wrap a garbage bag around their lower torso and go flying down a hill. Of course, this only lasts for a little while, and after hitting a few rocks, they've got bruises all over their body that rival the ones of any woman who has been in a relationship with Mike Tyson.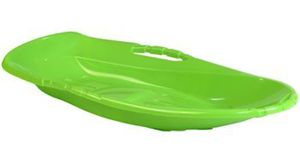 THE PELICAN SNOW RUNNER SLED
These are actually pretty decent on just about any surface and can reach some fairly impressive speeds. Plus, they don't weigh a lot so it's not hard carrying them back up the hill all day long. And with plenty of room to spare, you can try a number of different sledding styles in these things: lying down, head first, 2-3 people at once, and even the death-defying "standing" style. I've tried standing on these things as if they were snowboards while I went down the hills, but I always ended up falling on my ass within seconds. Surfer I am not. Now the only real drawback of these things is that they're notorious for getting cracked, which can easily slow down your ride. On a side note: I've also found the large size of these sleds really useful for transporting large amounts of snow all at once for building some extremely impressive "snow forts".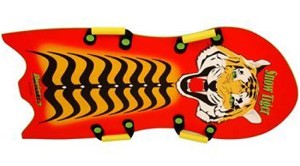 THE SNOW TIGER SLED
If you think you're gonna ride down a hill on something called the "Snow Tiger" and not expect to get your ass kicked by every other sledder within a 5-mile radius, well then more power to ya. Have fun, Corky.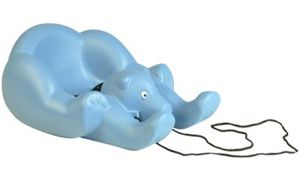 THE SNOW BEAR SLED
Ok, even someone who was flamboyantly insane enough to ride the "Snow Tiger" sled would kick your ass for riding this thing. It really doesn't get any worse. No. Just... no.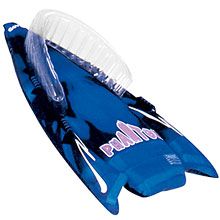 THE SEVYLOR PHANTOM INFLATABLE SLED
When it comes to snow sledding, a good rule of thumb to follow is: if it looks like it belongs in the water, rather than the snow, then it probably does. This sled is a perfect example of that. Even all that crap aside, I cannot contain the rage within me when I see a sled with a "clear, protective inflatable windshield". Listen up and listen good... part of what makes sledding so much fun is the joy of staring snowy death right in the face and screaming "GIMME YOUR BEST SHOT PAL, I CAN TAKE IT!" If you're that much of a nancy-boy that you need a windshield to protect your precious face from the occasional blast of snow, then you don't belong on the hills to begin with. Snowy hills are reserved for mighty sledding warrior gods who fear nothing but the evil sun which threatens to melt their treasured snow away — not for wimps who can't even take the slightest bit of powder on their pampered puss'.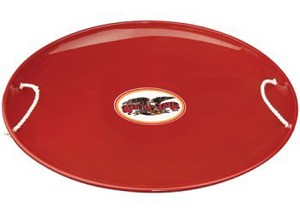 THE FLYING SAUCER
This is probably my second favorite sled to ride and another classic. The flying saucer is one of the speediest sleds you'll ever have the satisfaction of riding. It also introduces the exciting element of "there's no way in hell you can control where this thing is going." Sure, you can dig your hands down into the snow as it bombs down the hill, spinning you around wildly, but that's only gonna do but so much. These things are a blast and they come in many plastic forms, but I've always found the original metal ones to be the best. It also make a perfect shield whenever snowball fights happen break out. Gotta love a speedy, multi-purpose sled like this baby.

THE MOUNTAIN BOY KICKSLED
Unless you've got a pack of ferocious huskies to drag your ass around while killing anyone who dares to cross their path, I can't see any reason as to why you would want to ride on this thing. One ride down a steep hill on the kicksled and you're likely to find yourself impaled on shards of sled-wood and blades within minutes. But hey, if you can find some rabid huskies to feast on the flesh of any nearby sledding bullies who don't want to share the hill with you, then by all means go for it. Hell, you wouldn't even need the sled for that. Just have the husky dogs eat the bullies and then steal their sleds. It's really a win-win situation.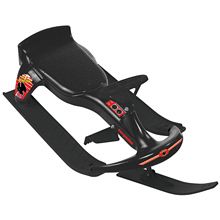 THE TORPEDO PT BLASTER SLED
For chrissakes, sleds aren't supposed to have steering wheels or foot brakes like a car, that's what your hands and feet are for damnit! Sure, I can see how these would look really cool to a kid, but take my word for it, they're not really fast at all. Not only that, but these things flip over the second you start to lose control of them. Overpriced, tacky, wannabe-snowmobile pieces of crap.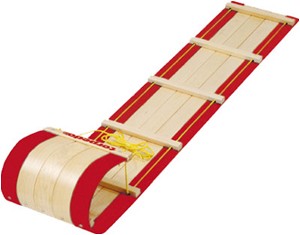 THE TOBOGGAN
Yet another classic sled, and while you may not have the slightest chance in hell of steering it, if you're fortunate enough to have a straight hill that you can charge down, this one is guaranteed to give you and your pals a damned good ride. Word to the wise though, ride in the back, because it's always the guy in the front who gets brutalized whenever these things wipe-out. At least when you're in the back, you can bail out easily before the toboggan runs head-on into a tree because your group wasn't able to steer away from it. Good times, good times!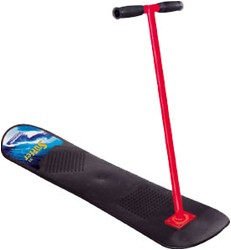 THE SNOW SCOOTER
Snow scooter? Let's give it a more fitting name... hmmmm... oh I dunno... hmmm... maybe something like... THE NUT SMASHER™. That's right, THE NUT SMASHER™, because whether you like it or not, sooner or later those handlebars are gonna end up smashing your nuts as you writhe in pain, face down in the snow. So unless you're planning on snapping off the handlebars and riding down the hill Marty McFly style, stay the far away from this useless thing.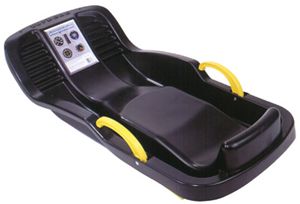 THE WINTER HEAT SLED
This is one of the first sleds I ever rode on, and part of the allure was the side brakes that you could yank to do a really good spinout with. The problem was, that these breaks often didn't pop back into place properly or they'd drag a little bit, so getting your sled moving at high speeds wasn't easy unless you had a really big hill. And of course, like many other plastic sleds of this nature, they were notorious for cracking easily. I will give them credit for being one of the most comfortable sleds to sit in though. But if I want comfort, I'll attach some ski's to a friggin' La-Z-Boy chair.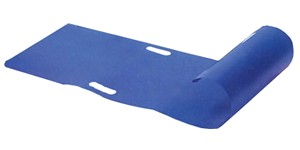 THE ROLL-UP TOBOGGAN
Here it is... the #1 absolute best sled in my book. The roll-up toboggan may look simple and cheap, but man oh man does it ever make for a fun ride down just about any hill. These things only cost a measly $3 - $8 at most, and they're perfect in every way. Just a super-thin layer of plastic between you, the snow, and one hell of a ride. It's also extremely easy to turn and do some crazy spins on your way down the hill with this thing. And out of all the sleds I've been on, these roll-up toboggans are by far the fastest of the bunch. The fact that they're so lightweight makes it extremely each to carry it back up the hill all day long. You can even wear it on your arm and claim it to be your "ROBO-SLEDDING-ARM!" until you're ready to bomb down the hill once more. Affordability, simplicity, and perfection all in one awesome little sled.
So there you have it; a look at some of the best and worst sleds on the market today. Now that you have the knowledge that took many years of research and even more broken bones to uncover, it's time for you to hit the hills with your sled of choice. But choose wisely. The last thing an expert sledder like myself needs is to waste his time shoveling the dead carcass of some chump with a "snow bear" off the sledding path.
Have any questions or comments about this piece?
Email -RoG-
---
help support I-Mockery by supporting our sponsors:

---
Running a big site like I-Mockery takes a lot o' time and costs moola too.
Want to help show your support?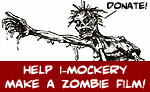 DONATE TO OUR ZOMBIE MOVIE!
Come talk about this piece & more on our Message Forums!
click here for more minimocks!

---


[Minimocks] [Articles] [Games] [Mockeries] [Shorts] [Comics] [Blog] [Info] [Forum] [Advertise] [Home]


Copyright © 1999-2007 I-Mockery.com : All Rights Reserved : ()
No portion of I-Mockery may be reprinted in any form without prior consent
We reserve the right to swallow your soul... and spit out the chewy parts.