by: -RoG-
So after paying off the clerk to not report our badly beaten pal Jaeger to the cops (which ended up costing much more than the crap he tried to sneak out of the store), we headed back home with our Slurpees to enjoy the fruits of our labor.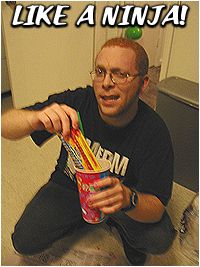 A Butterfinger and a pack of Starburst, not a bad haul for a Slurpee that was less than a buck eh? Actually, the Slurpee did manage to penetrate the Starburst package, so a few of them were drenched. Fortunately, it didn't effect the taste of the Starburst. If anything, they were even better than before. Ah, the sweet taste of thievery!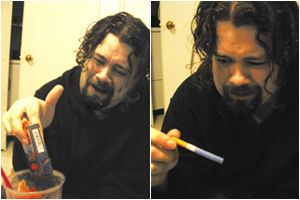 Wish I could say that Jaeger had better luck with his Slurpee though. He cried for about an hour after he realized that his pack of cigarettes was soaked through with Slurpee. Could Slurpee juices prove to be more effective than a NicoDerm patch?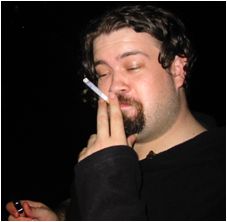 NOPE!
He smoked 'em anyway, and even more amazing, he seemed to enjoy the new flavor added to the tobacco. So, I guess it was a successful heist for him after all. Rock on.

Next up was my snack cake. Sorry, but after removing this Tastycake snack from the Slurpee, it no longer looked very "tasty". It had been soaked completely through with the blue Slurpee. The cake actually looked like it had been sitting outside for a few weeks. It was practically falling apart as I pulled it from the cup. And worst of all, the blue Slurpee actually made it look nauseatingly moldy. But, if Jaeger could smoke his new Slurpee-flavored cigarettes, I could at least try my Slurpee-flavored cake right?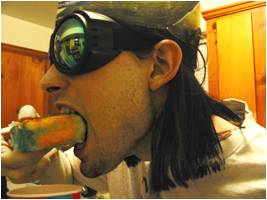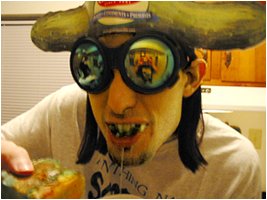 WORST. MEAL. EVER.
Words cannot describe how sickening it felt to bite into this soggy mass of what used to be cake. Disgusting. Absolutely disgusting. See, when you take a bite of cake, it's not supposed to have liquid gush out and dribble down your chin. It's not supposed to feel like you're eating a cold sponge. The things I do for you assholes...
Well, I wasn't about to settle for soggy, moldy-looking, blue cake. I did have a backup Slurpee with my Ring-Pop in it, and I was going to enjoy it no matter what! Yes indeed. The Ring-Pop was unharmed by the Slurpee due to its perfect wrapping. But nothing, NOTHING could prepare me for what was about to happen next.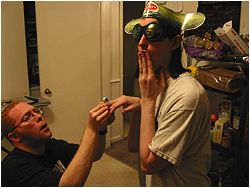 Rog? Will you marry me?
Protoclown got on one knee, snatched the candy Ring-Pop, and slid it onto my finger. He was proposing to me! I couldn't believe my eyes. It was such a beautiful ring!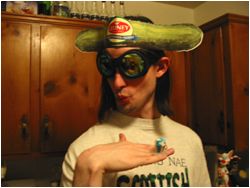 JEALOUS YET, BITCH?
Yep, I got the rock. It looked so good on me. In fact, it looked a little too good...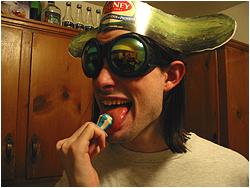 Protoclown ran out of the house crying as I dined on the ring he proposed to me with. I couldn't help it though! I just had to eat something to help get rid of the flavor from that nasty cake. I couldn't possibly marry him anyway... he'd never put out.
the end.
---
Running a big site like I-Mockery takes a lot o' time and costs moola too.
Want to help show your support?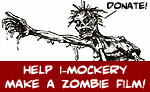 DONATE TO OUR ZOMBIE MOVIE!
Come talk about this piece & more on our Message Forums!
click here for more minimocks!

---


[Minimocks] [Articles] [Games] [Mockeries] [Shorts] [Comics] [Blog] [Info] [Forum] [Advertise] [Home]


Copyright © 1999-2007 I-Mockery.com : All Rights Reserved : ()
No portion of I-Mockery may be reprinted in any form without prior consent
We reserve the right to swallow your soul... and spit out the chewy parts.