by: -RoG-
...CONTINUED

Now we've arrived at yet another bizarre segment that I refer to as, "The Julia Childs on Crack" scene. In an attempt to get her mind on something else than her missing shaggy carpet, er husband, Malla decides to start following a cooking program. Chef Gormaanda (played by Harvey Korman, the funny guy from the old "Carol Burnett Show") is on the screen preparing to make a tasty meal called the Bantha Surprise. "It's not only a very hearty, nourishing dish, but it's very economical, too. So all those hungry mouths in your household will be going yummy yum for their tummy tum if you just follow along with me as I prepare this popular favorite." But following Chef Gormaanda is a bit harder than you might think.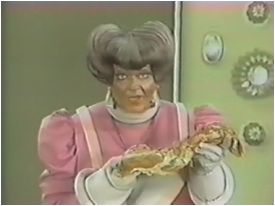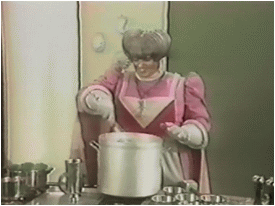 After describing how the Bantha loin and Bantha rump are very tasty, Chef Gormaanda cuts them up into bite-size morsels and throws them into the pot with some other made-up alien seasonings. That's when the madness begins. "Stir, stir, stir, stir, stir, stir stir!" Gormaanda exclaims as she stirs the pot. Then with the other hand she begins to whip. "Stir, whip, stir, whip, whip, whip, stir!" You can tell Malla is already having trouble keeping up when Chef Gormaanda decides to increase the tempo. She's moving so fast now that her hair is flying all over the place.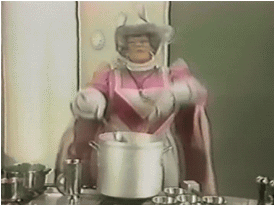 "Stir, whip, stir, whip, whip, whip, stir!
Stir, whip, stir, whip, whip, whip, stir, waaaaaah!!"
Malla starts crying out in a panic as she tries to keep up with Chef Gormaanda, when all of a sudden, another arm appears from inside the chef's outfit.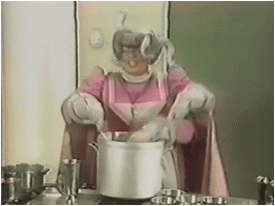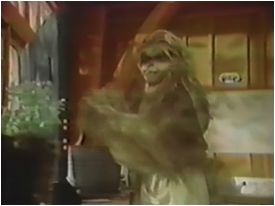 "Stir, whip, stir, whip, whip, whip, stir, beat!" she shouts as the meal of madness instruction continues along. Soon, another arm appears from Gormaanda so that she can taste the meal while she's making it. Finally, Malla decides she's had enough of trying to keep up with the 4-armed psycho chef, turns off the screen, and finishes making the "Bantha Surprise" on her own.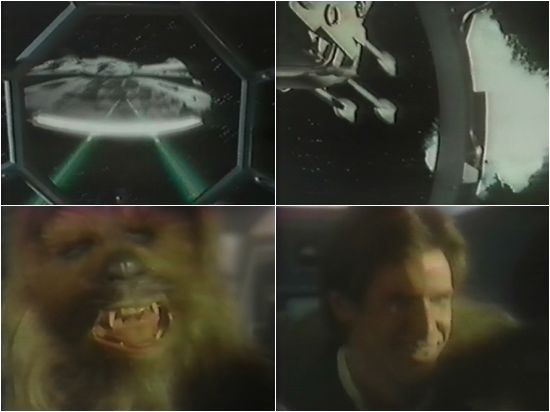 Meanwhile, just as the Millennium Falcon comes out of hyperspace, they realize they've just ended up in the center of an Imperial convoy. Looks like they're gonna have to fight their way out of this situation. Why they don't just make the jump to light speed again is beyond me, but I'm sure there's some Star Wars geek out there who knows every nook and cranny of the Millennium Falcon's flight capabilities. That person will probably email me a 10-page essay/rant on why making the jump to light speed so quickly after coming out of hyperspace is impossible. If only they had a flux capacitor in the Millennium Falcon. I'm sure that last statement made the heads of some hardcore sci-fi fans explode. Good.
Anyway, they gun down a TIE Fighter with the remote cannons. I thought the Falcon only had manual cannons, but I guess that's yet another rant for some Star Wars historian to send me an angry email about. Well, the cannons suddenly go offline for no apparently reason. while Han goes back to operate them manually, Chewie just sits there and does what he does best... makes a lot of noise.

Back in the tree house, the Wookiee family are interrupted by an Imperial Officer on the screen announcing that martial law has gone into effect and that no ships will be permitted to land or take-off until further notice. Guess that's gonna delay Chewbacca a bit longer. Oh no! But what about Life Day? They're doomed!
Saundan arrives at their home shortly after bearing gifts for all of them. While Lumpy and Malla go off to look at their gifts, Saundan has a very special gift for old man Itchy. Yes, he's brought Itchy the gift of Wookiee porn. I know, I know, this was supposed to be a family special... but I shit you not, this is clearly the gift of Wookiee porn. Just you wait and see.

While this chair looks like something you'd find in a futuristic Wookiee salon, I assure you it's no hair dryer. What you're looking at is the latest advancement in the porn industry. Just pop the porno disc into the chair, put the visor over your head and it's off you go to a world of virtual Wookiee porn.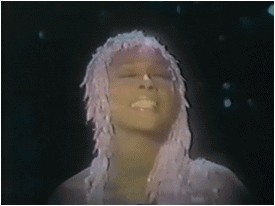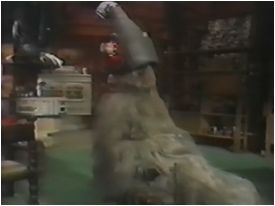 Meet Mermeia (played by Diahann Carroll who you might remember from the show "Dynasty"), the hologram fantasy of every Wookiee in the galaxy. She does her best to talk in a soft, sexy voice... "Am found in your eyes only eyes only. I am in your mind as you create me. Ohhh yes... I can feel my creation... Oh... oh... we are excited, aren't we? I'll tell you a secret... I find you adorable! I am your fantasy... I am your experience... so experience me. I am your pleasure... so enjoy me!"
Unfortunately, it fails in the most horrible way imaginable when they constantly cut back to shots of grandpa Wookiee grunting and rotating his jaw. And while you're thinking about this, just imagine the kids, the young Star Wars fans seeing this on TV.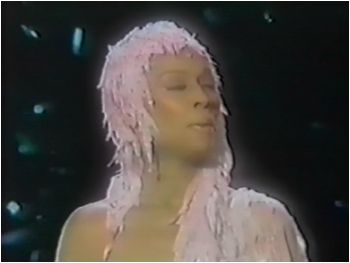 NO.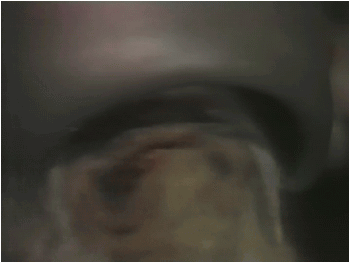 NO.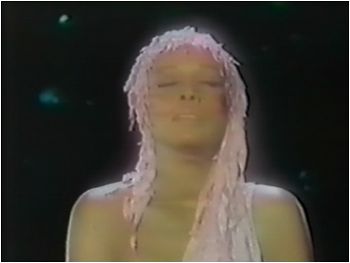 NO.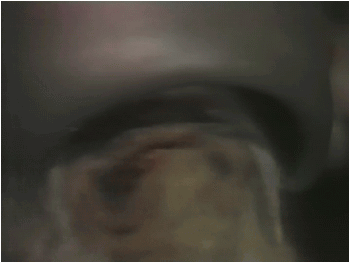 NOOOOOOOOOO!
I don't know what else to say except that this scene has completely shattered my soul. All my happy childhood memories of Star Wars? Vaporized. Hope for a better tomorrow? Gone. The eye of the tiger? I just plucked it out and stomped on it in hopes that I'll never see an atrocity like this again for as long as I live.

Now it's Princess Leia's turn to appear in the holiday special, but at least her scene isn't some reused footage from the movie. She is calling to wish the Wookiee's a happy Life Day, but soon realizes that Malla is upset after C3-PO tells her that Chewbacca hasn't arrive yet. Leia then speaks with Saundan to make sure he'll look after them until Chewbacca gets home. With scenes like this one and Mark Hamill's, you get the feeling that they didn't have any ideas for what their characters could do in the show. As a result, they just wrote something real quick to ensure that all of the most popular characters made at least one appearance during the special.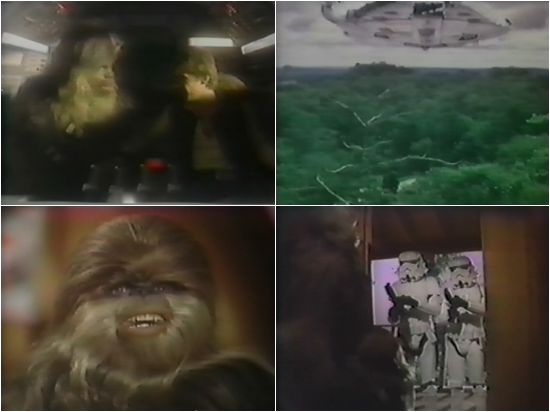 Chewbacca and Han Solo somehow make it through all the security on the planet (don't ask me how, they just do) and decide to land on the North side because it's safer. This means they'll have to walk a little ways to get to Chewie's house, but at least they'll be ok. As the Millennium Falcon flies over the trees, the Wookiee family hears the ship and they get all excited because dad is almost home. Shortly after there's a knock on the door and they assume it must be Chewbacca. But wait! Oh no! It's the Stormtrooper bad guys and they're going door-to-door inspecting every home for Rebel activity per Darth Vader's instructions! Fortunately for the Wookiees, Saundan is there to talk his head off in an attempt to make the bad guys less suspicious.

While the Imperials continued to search their home, Malla picked up the portable hologram player that Saundan gave her to move it. The stormtroopers aim their guns at Malla, but Saundan steps in to save the day and shows the Imperial Guard that it's just a harmless hologram show. Actually, considering the performance, I'd say a weapon would be more harmless. Yes indeed, it's none other than Jefferson Starship!

Oh how the Imperial Guard loves the homoerotic performances of Jefferson Starship!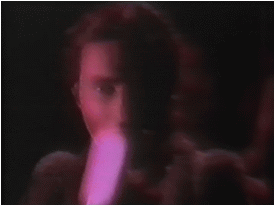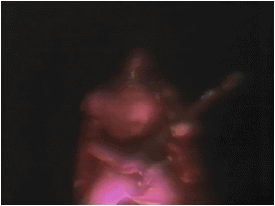 "Will you light the sky on fire? Haaaaaaaaaaaaaaaaa!
Will you light tonight like you did the night before, babe!
You take me higher than the diamonds in the sky!
Take me, light in the sky and we'll vanish without a trace!
And we'll all see god then."
All in all, it's pretty much the worst Jefferson Starship song I've ever heard. "We Built This City" it is not. "Sara" it is not. "Nothing's Gonna Stop Us Now" it is not. It's just some horribly performed song in which the entire band is glowing pink, and the singer performs way off key while he holds his phallic glowing pink mic. You know something? I think I'm actually starting to miss those jugglers.
WILL THE WOOKIEES FINALLY GET SOME BETTER TASTE IN MUSIC?
CONTINUE TO PAGE 3 TO SEE! CLICK HERE!