by: -RoG-
...CONTINUED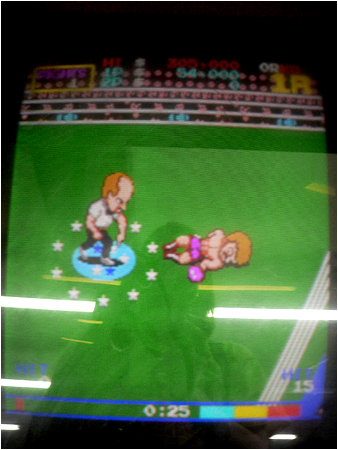 From what I saw, Ring King in the arcade didn't have the same unintentional perversion that the NES version had. Damn.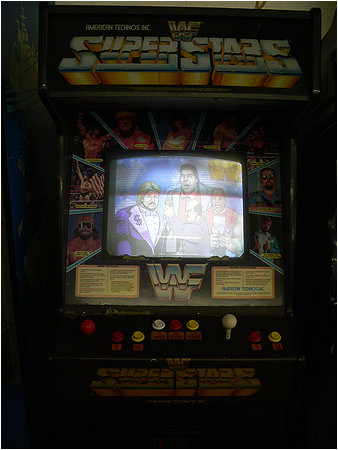 WWF Superstars! One of the great classic wrestling arcade games, and I'm happy to
report that I played as the Ultimate Warrior and kicked the Honky Tonk Man's ass.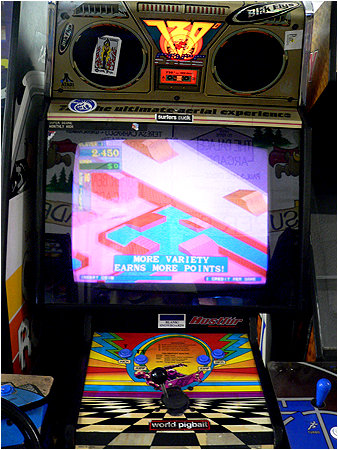 SKATE OR DIE!!!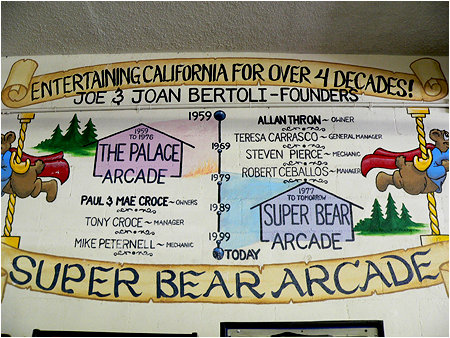 You won't find to many arcades that have been in operation in one form or another since 1959.
Again, this place should be turned into a historical landmark.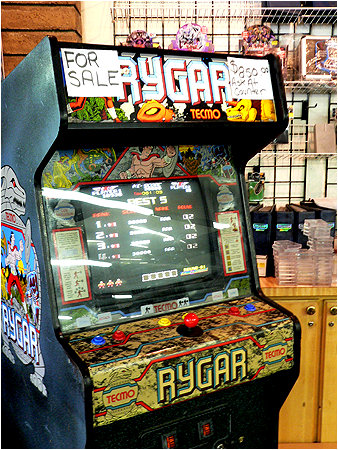 Why they would want to sell a perfectly good Rygar cabinet is beyond me.

This old palm reader actually looks kind of scary. Don't let the rainbow of colors fool you... word on the street is if
you press the male and female buttons simultaneously, it swallows your soul and you become one with the machine.

Now here's a great thing to show kids who may be future paintball enthusiasts:
SHOOT INNOCENT ANIMALS WITH YOUR PAINTBALLS TO WIN POINTS!
Ok, so the skunk had it coming...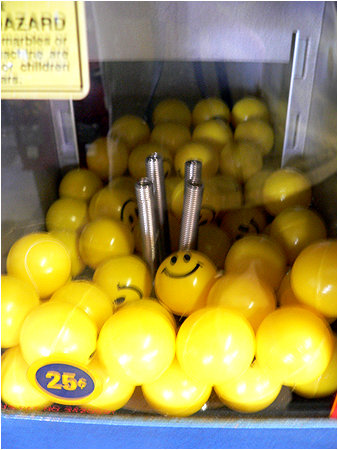 HAPPY BALLS! HAPPY BALLS! HAPPY BALLS!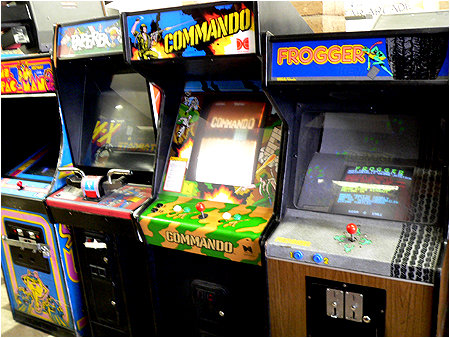 Some more classics that you can't go wrong with.
And just as I reported in my big Top 50 Arcade Cabinets article, Paperboy's rubber handles were predictably stolen.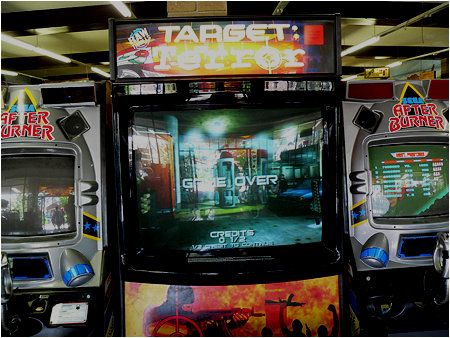 The war on terror begins and ends in arcades with Target: Terror.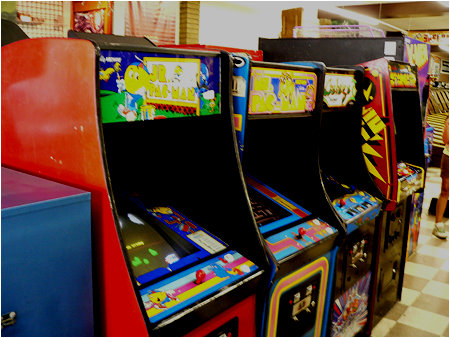 I always relish the opportunity to play Jr. Pac-Man since it's not one that's common in most arcades.
Then again, neither is the classic Stargate machine at the end of the row there either.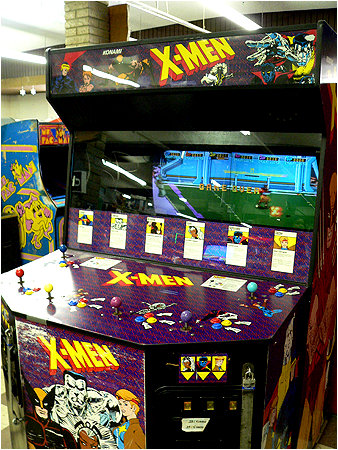 The mammoth 6-Player version of X-Men!? Next time I visit, I'm forcing 5 friends to come along with me just to
play this game all the way through. They actually had TWO of these bad boys in the arcade, but one was shut off.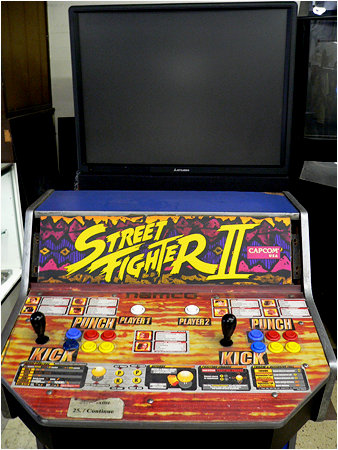 Can't go wrong with some Street Fighter II action... unless the game isn't turned on.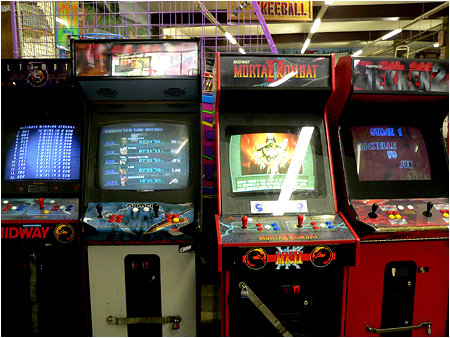 There were plenty of other fighting games for those of you with an insatiable bloodlust.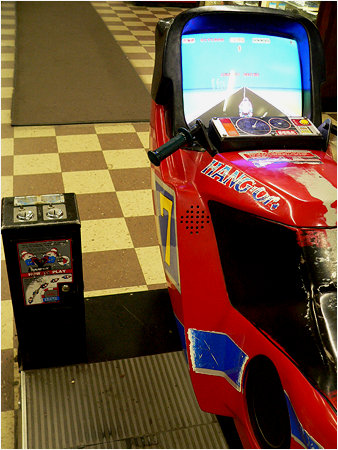 The original sit-down riding version of Sega's Hang-On. Accept no substitutes.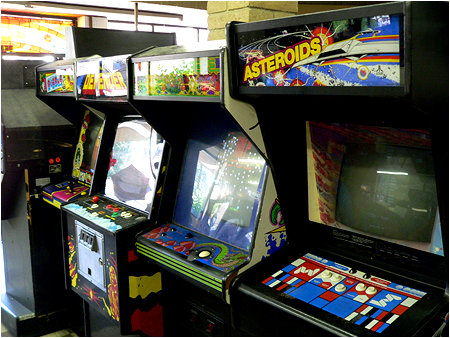 More colorful classics including a vintage Asteroids machine that was in great condition.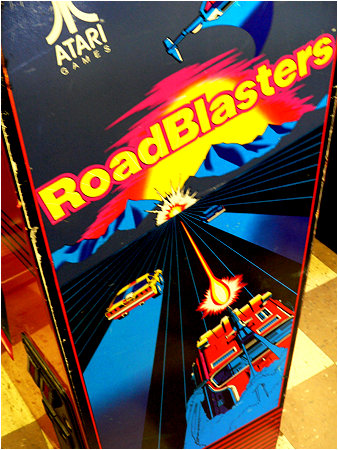 The sit-down version of Road Blasters! I haven't seen this in an arcade in ages!
I can't say how much for sure, but many a quarter of mine found their way into this machine on that day.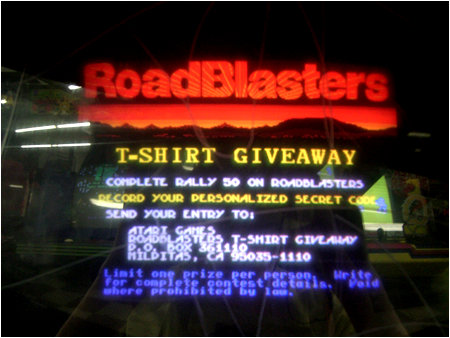 Somehow I think the T-Shirt giveaway that was programming into this thing way back in 1987 is no longer valid.
But hey, let me know if you enter the contest and hear anything back, ok?

Do I want to hunt deer or dinosaurs? Man... that's a tough decision.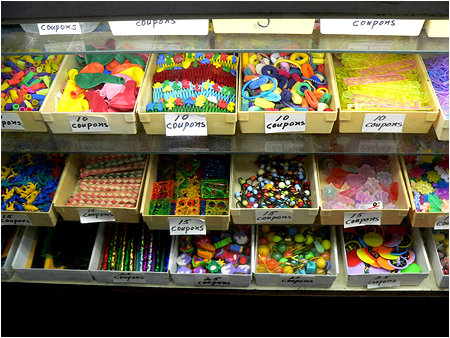 Of course, no arcade is complete without a selection of cheap prizes you can win, but
Super Bear Arcade goes above and beyond the call of duty when it comes to selection as you'll soon see.
There are still many more
Super Bear Arcade photos to see!
Click here to continue onward to page 3!