by: -RoG-
...CONTINUED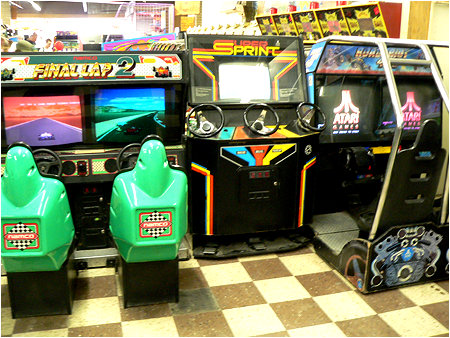 Still need more racing games? No problem, they've got you covered.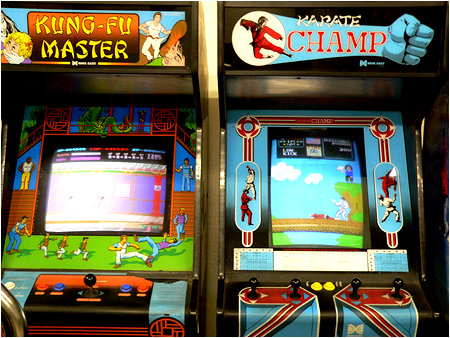 All they needed was Yie Ar Kung-Fu and the classic martial arts game trifecta would be complete.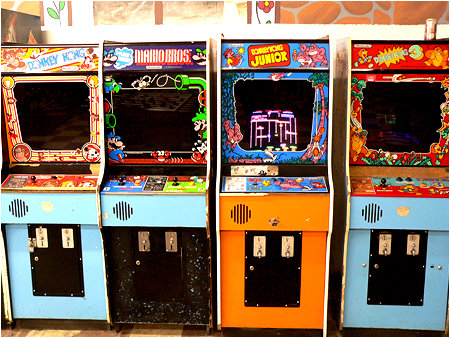 Mario and his struggles with Donkey Kong were readily available, though something was seriously
wrong with the Donkey Kong 3 game. The screen was moving around as if it was underwater.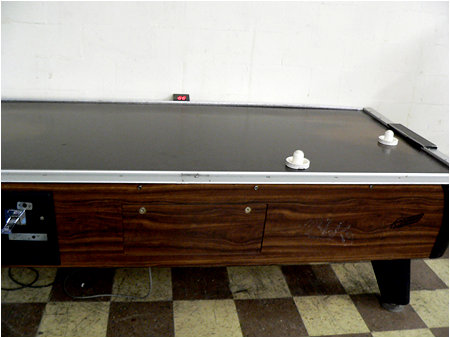 It may not look all that visually appealing, but this air hockey game was in fine working order.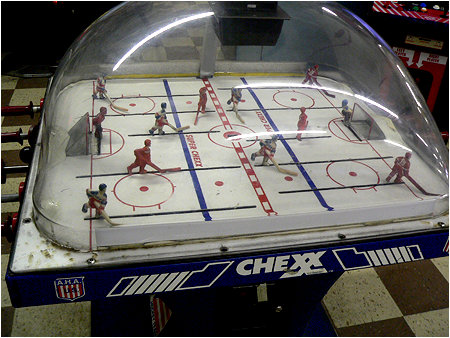 Of course, if air isn't your thing, they had other hockey options as well.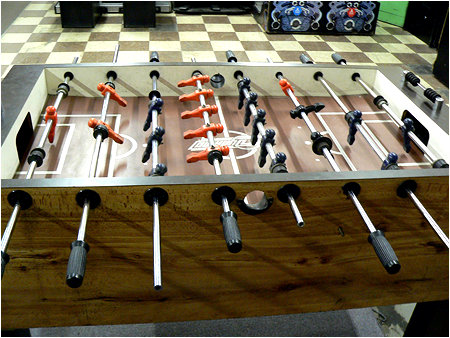 As I've mentioned before, foosball is an old favorite of mine but
I was too busy drooling over the arcade games to play this time.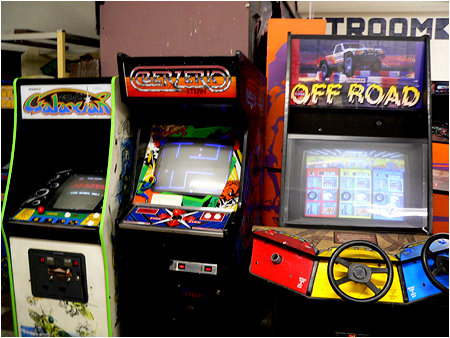 More quality classics. If you thought people stealing the rubber handles
from Paperboy was bad, somebody stole an entire WHEEL from Off Road.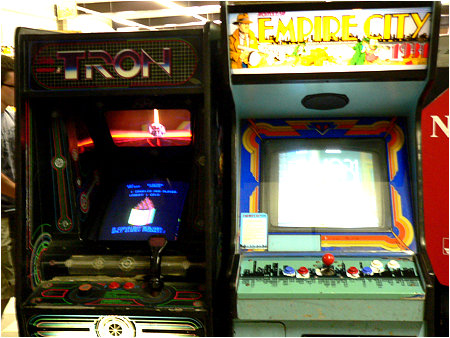 Empire City is nifty 'n all, but it hardly compares to the almighty Tron.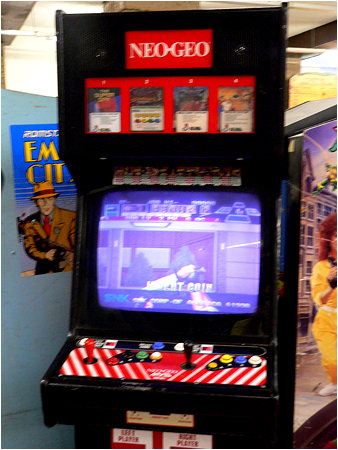 No arcade would be complete without at least one Neo Geo MVS cabinet.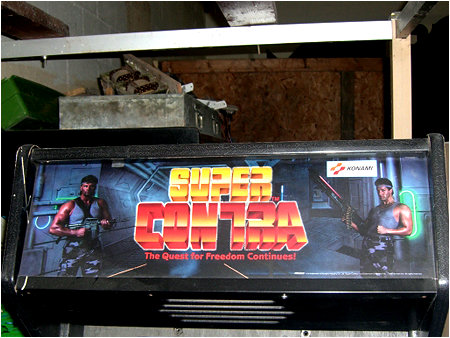 Unfortunately, Super Contra was tucked away in the back behind some boards 'n stuff.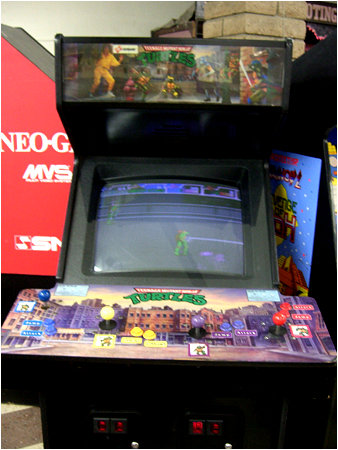 6-player X-Men is great, but the Teenage Mutant Ninja Turtles 4-player arcade game is nothing to shake a stick at either.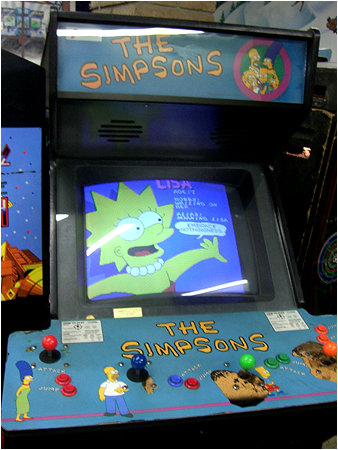 Nor is The Simpsons arcade game , though it looks like some of the control panel art was torn off.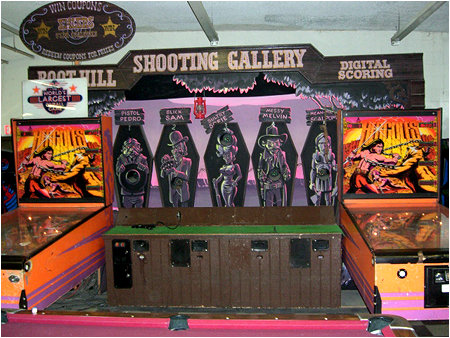 The owner of the place informed me that a blind artist from Hollywood designed this entire shooting gallery by hand. Pretty impressive since I can see and can barely draw a stick figure. Also take notice of the two giant Hercules pinball machines!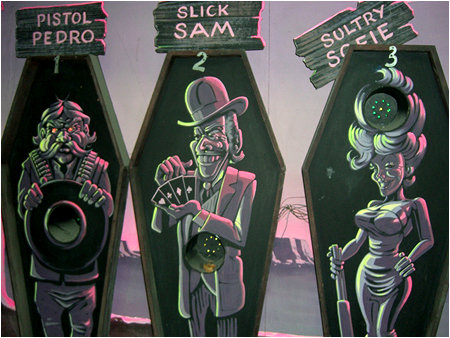 A blind man made these? I wish I had that kind of artistic skill.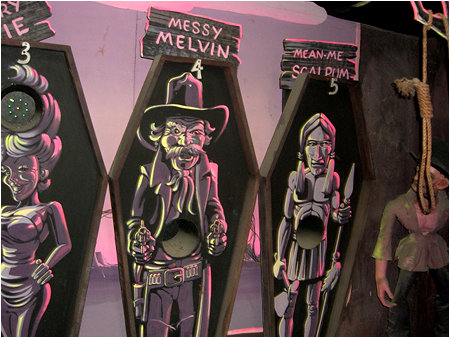 Notice the creepy figure off to the right? Apparently he's Dracula's right hand man.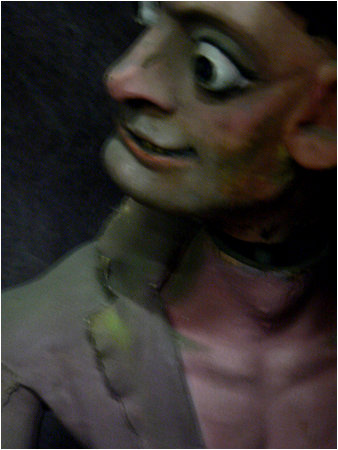 Creepy as hell!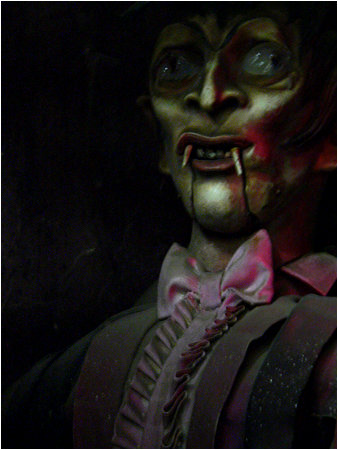 Yo Dracula... looks like you could use a little sun, pal.

In case you didn't know, Hercules is the largest pinball machine.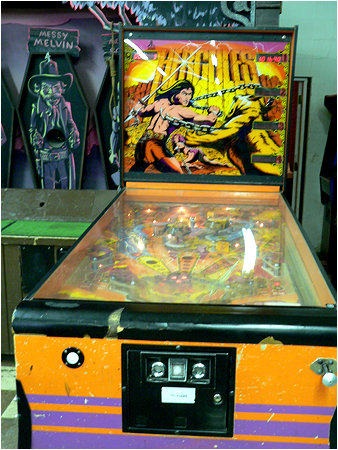 And what a behemoth it really is. You could use this game as a makeshift coffin and bury a person in it.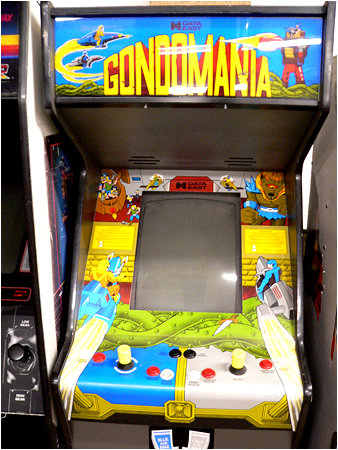 I've never played Gondomania before, and sadly it was turned off because...

...I really wanted to battle the cyclops werewolf.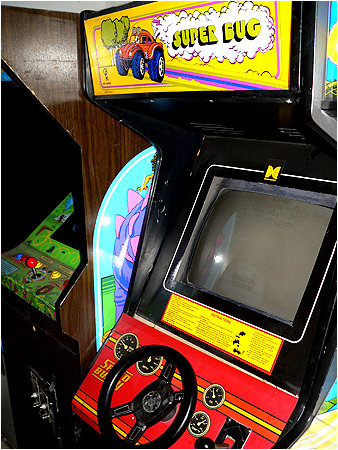 Any game dedicated to one of the greatest cars in history (the Baja Bug) is aok in my book.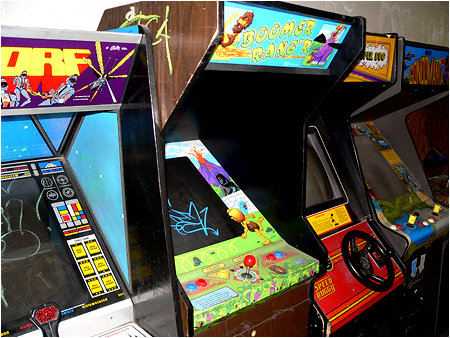 For the record: I'm all for artistic expression through graffiti, but when you're tagging the
screens on vintage arcade games, you're not being an artist... you're being a dick.
There are still many more
Super Bear Arcade photos to see!
Click here to continue onward to page 5!