BEHOLD!
THE CHRISTOPHER WALKEN PUMPKIN!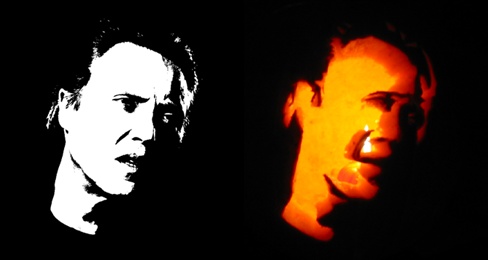 ---
This Halloween we wanted to have a pumpkin that would strike fear in the hearts of any kids that were out to do some "smashing". What better way to make a kid run in fear than with a Christopher Walken pumpkin! Imagine a kid walking up to a pumpkin with a baseball bat and then seeing Christopher Walken's face...

"Hey, you... FUCKHEAD. Drop... the bat or... I'll carve you up... real good!"

It had to be done. So my wife, the artistic one, took one of our Christopher Walken stickers and was able to carve the image of his face on a pumpkin. I think it came out pretty fucking good. If you like it, be sure to let her know. She has an art site at www.strangepuppets.com and you can contact her there.
---
*CLICK HERE TO BUY THE I-MOCKERY CHRISTOPHER WALKEN STICKER!*
---
Running a big site like I-Mockery takes a lot o' time and costs moola too.
Want to help show your support?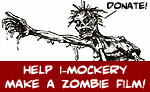 DONATE TO OUR ZOMBIE MOVIE!
Come talk about this piece & more on our Message Forums!
click here for more minimocks!

---


[Minimocks] [Articles] [Games] [Mockeries] [Shorts] [Comics] [Blog] [Info] [Forum] [Advertise] [Home]


Copyright © 1999-2007 I-Mockery.com : All Rights Reserved : ()
No portion of I-Mockery may be reprinted in any form without prior consent
We reserve the right to swallow your soul... and spit out the chewy parts.