Whether you call it the "Wii," the "Revolution" or the "$250 I can't afford to spend but will anyway," the long-awaited new Nintendo system has arrived. We found out late in the week that Nintendo was throwing a big Wii launch party on the West coast over the weekend. Turns out, they were holding the party at the EB Games in Universal City Walk. Living only 10 minutes away from Universal City in Hollywood, we quickly hopped in the car to see exactly what Nintendo stuff was going on there. So here ya go; a photo gallery of some of the things we saw at the big West Coast Nintendo Wii launch party!
While this may appear to be a long corridor of lost souls, it's actually just a small portion of the ridiculously long line of people hoping to get their hands on a Wii system.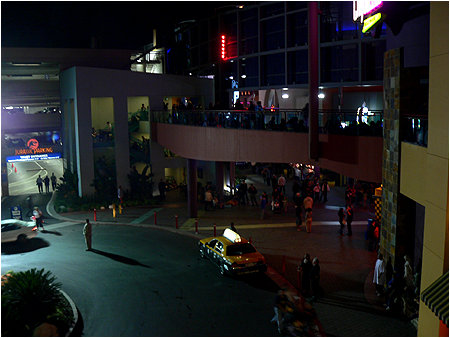 The line continued across another bridge, down a flight of stairs and out into the main city walk area. The line then split and then reformed behind a pathway of metal railings so people who actually weren't there for the Wii could walk on by.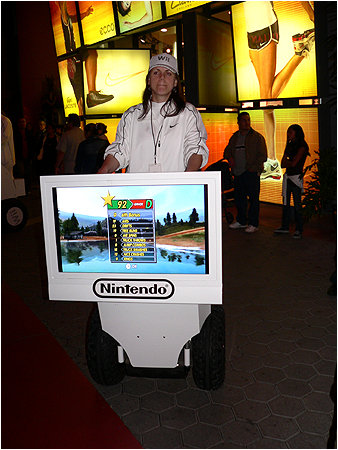 There were several of these Nintendo Segways (or "SegWii" as I'm sure the promoters would call them) rolling around the City Walk streets to demonstrate the Wii games.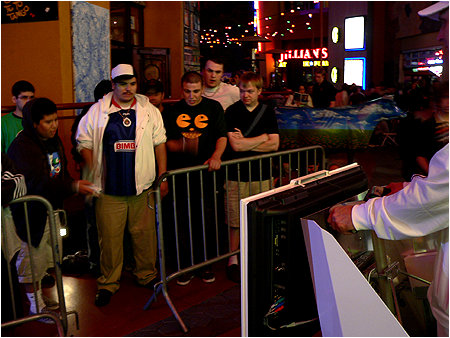 What's nice is the Segway riders actually had the Wii controllers with them and would stop so that people who had been waiting in line for god knows how many hours could actually try out the system.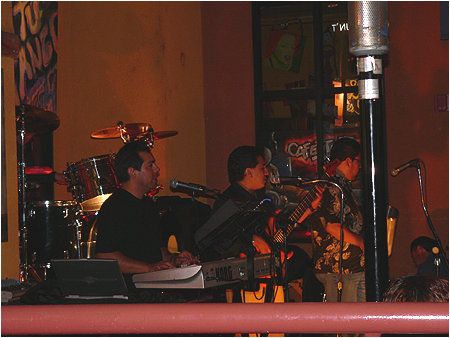 A salsa band also tried their hardest to entertain everybody at a dinner club along with the people waiting in line...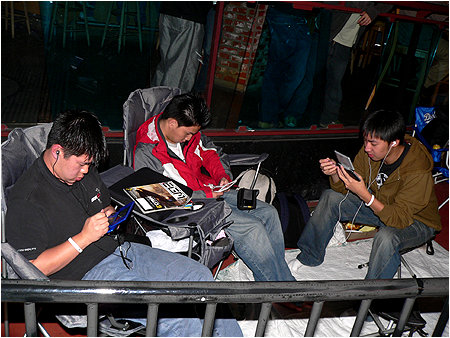 ...but as you can see, most of the people in line had other things on their mind. On a related note; I've never seen more Nintendo DS systems together in one location. It seemed like every other person in line had one, and that's no exaggeration.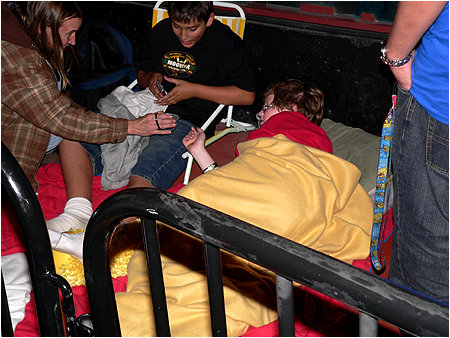 Other campers tried sleeping away the time, hoping that when they awoke, they'd have a brand new Nintendo Wii in their hands. These are the kind of pipe dreams that only Mario should have.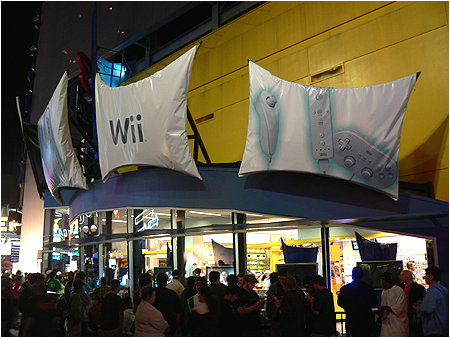 And speaking of sleep, they apparently decided that a good way to promote the Wii was to have some giant inflatable pillows outside of the EB Games store.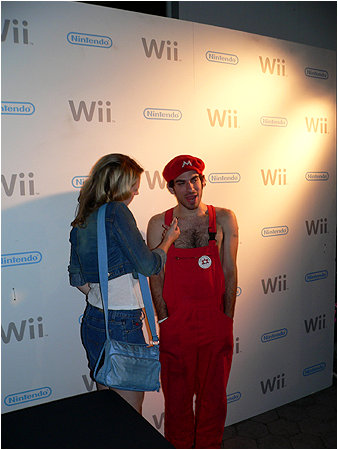 A lot of people were talking to this guy because he was the first in line and had apparently been camping out for the Wii for 40 hours. If you're wondering why he wasn't wearing a shirt, it's because he clearly has no job and had to sell it for food.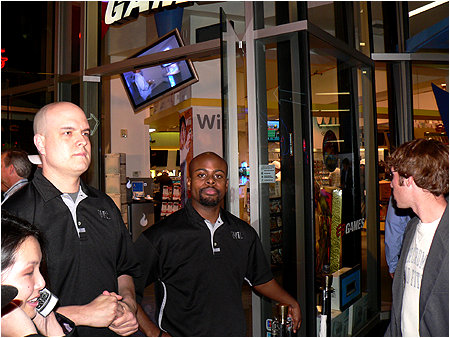 These two guys were in charge of blocking off the entrance of EB Games until the stroke of midnight. This also meant that they had to endure an entire evening of questions such as, "Are there enough Wii's for everybody?" and "Where does the line for the Wii start?" As you can see, they were very happy about it. Very happy.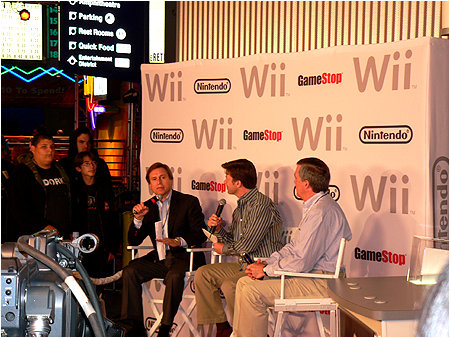 Here they are interviewing some executives from GameStop/EB Games about the new system... because so many kids care about the thoughts of some rich old guys who would most likely use the Wii systems as wheel chocks for their private jets rather than actually play 'em.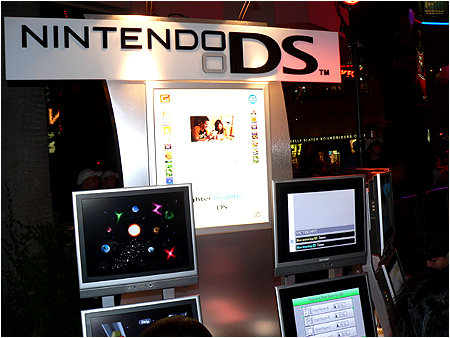 If you weren't one of the five-thousand people who brought a DS to the party, there were still plenty of kiosks set up where you could try out the latest games.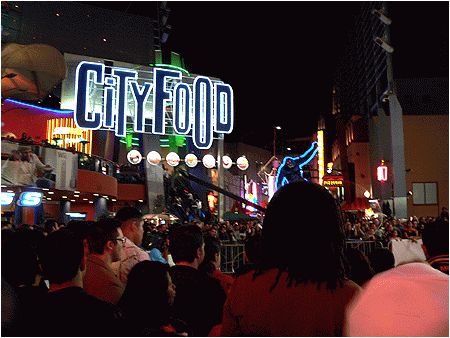 Many people gathered around the courtyard to watch some of the acrobatic performers that were hired for the event. Not sure what that really had to do with the Wii, but I guess they gotta find some kind of use for circus performers.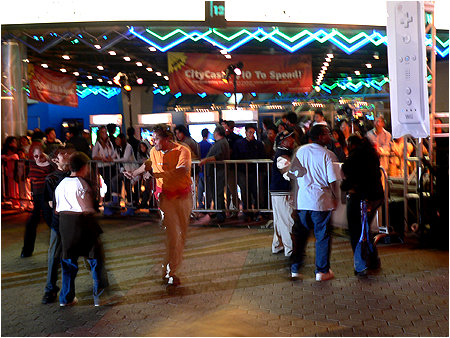 After the acrobats were done performing, the DJ cranked up the music (which included techno music versions of "Smells Like Teen Spirit" and "Message In A Bottle") and the security guys then opened up the gates and begged allowed people to come up close to the DJ and dance the night away! My hat goes off to the man in orange because he was dancing up a storm! Even though roughly 15 people out of a crowd of hundreds actually danced to the music at first, he wasn't gonna let that stop him from lettin' loose! Me thinks he had one too many margaritas from the nearby Bubba Gump Shrimp Co. restaurant. And if you want to see him in action, I'll be including a video clip of the drunk man in orange dancing up a storm at the end of this photo gallery!
There's still more Wii launch party photos to see!
CLICK HERE TO CONTINUE TO PAGE 2
OF THE Wii PHOTO GALLERY!
---
help support I-Mockery by supporting our sponsors:

---
Running a big site like I-Mockery takes a lot o' time and costs moola too.
Want to help show your support?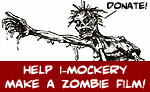 DONATE TO OUR ZOMBIE MOVIE!
Come talk about this piece & more on our Message Forums!