You wanted it, you got it! I-Mockery's *SHINY* stickers have arrived!
---
We gave a ton of these shiny stickers out at the 2005 San Diego Comic-Con and they were a huge hit. Problem is, not everyone in the world had the opportunity to attend the convention and they were all worried that they'd never get to be happy. Well fret not, lost souls! I'm happy to announce that we're now carrying those same shiny stickers here on I-Mockery! Now you too can find the key to true happiness... all in the form of some shiny stickers. And all these years you thought that happiness could only be found in true love or money or something. Hah! Live and learn...
The "I-Mockery Gave Me Something Shiny" Sticker:
4.25" x 2.75"
$5.50 for a 5-pack or $9.50 for a 10-pack!
PLUS FREE SHIPPING ON ANY SHINY STICKER PACKS!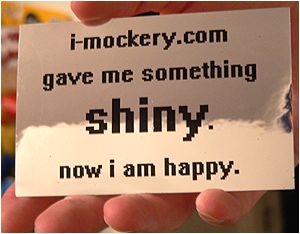 5-pack of "I-Mockery Gave Me Something Shiny" Stickers only $5.50!

10-pack of "I-Mockery Gave Me Something Shiny" Picture Stickers only $9.50!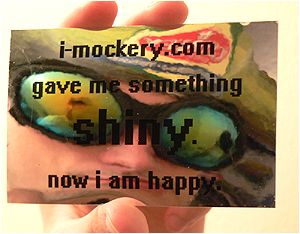 See yourself in the shiny stickers!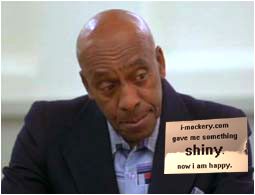 Now you too can SHINE!
Have any questions about these shiny stickers? Just drop me an email!
---